Dancers, Are You Making Any of These 8 Common Money Mistakes?
Getty Images
There's an image that the Institute of Financial Wellness for the Arts likes to use during group presentations: a picture of someone with their head in the sand. The financial services company—launched by TheaterMania and OvationTix co-founder Darren Sussman and his brother Erik, a veteran of the financial services industry—finds that too many artists simply ignore their finances.

The Sussmans started IFWA to try to change that. Today, they offer free online resources and give group workshops catered specifically to artists—including one held tomorrow at The Washington Ballet that's open to any and all professional dancers.
---
The Sussmans told Dance Magazine that when they meet with dancers throughout the country, they often encounter the same eight financial mistakes: Are you guilty of any of these?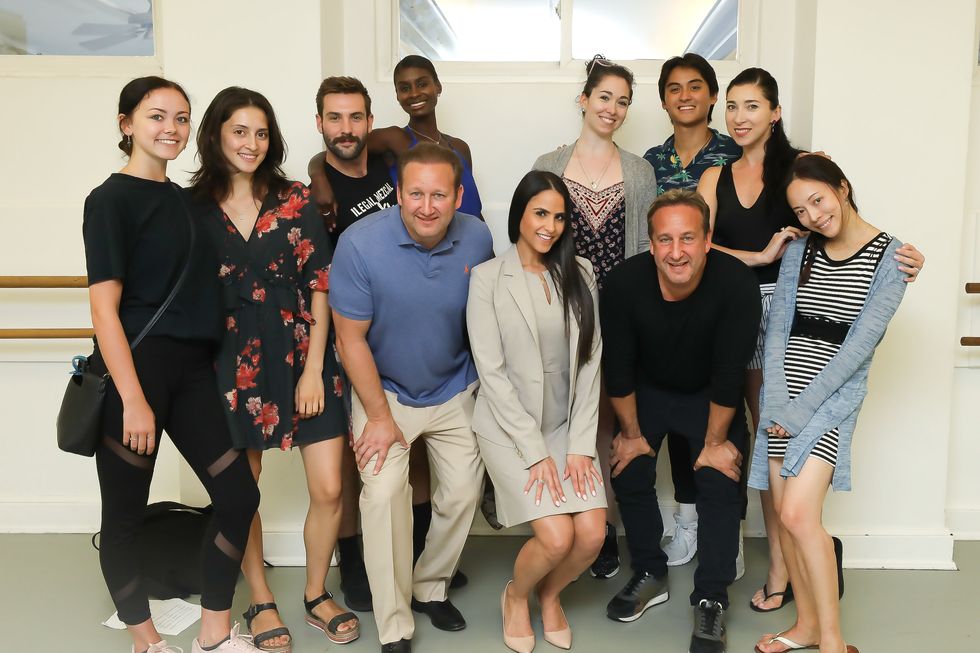 The Washington Ballet hosted an IFWA session in August for their company members. It was so helpful that TWB brought the team back for a session open to the entire DC dance community.
Troy Powell, Courtesy IFWA
Mistake: Not starting to save early on.
Dancers make a lot of sacrifices at a very young age, sometimes skipping the final years of their education to jump-start their careers. But all too often, they don't take capitalize on their early entry into the workforce.
"One of great advantages many dancers have is that they're earning money at a young age," says Erik. "One of the key components to financial planning is the earlier you start saving, the earlier the magic of compound interest starts."
Mistake: Not knowing your budget.
Too many of us don't take the time to write down our expenses, and compare the total number to our actual income. "If you see that you're $200 short, it's a fact that you're going to go into debt," says Darren. This simple exercise is something you should repeat whenever your financial circumstances change.
Mistake: Not knowing what you want your future to look like.
Many dancers live in the moment—but they also might eventually want things like houses and kids. Erik suggests writing down when you want to buy your first house, when you might want to have kids, when you think you will retire from dance and when you want to retire from working altogether. "If you don't know where you want to be, how can you plan for that?" he asks.
Mistake: Not saving for that "rainy day."
Working in the dance field is rarely a stable profession. IFWA suggests all artists have at least three to six months' worth of personal expenses saved in an emergency account.
Mistake: Spending whatever's in your checking account.
The biggest challenge for freelancers or artists with seasonal gigs can be figuring out how to pay the same expenses every month when their paycheck constantly seesaws. To prepare for both the highs and the lows, IFWA suggests funneling your income into what it calls a "wealth orchestration account," which feeds your checking account with the same amount each month. You're effectively paying yourself a regular salary that you can depend on. "It provides consistency in an inconsistent world," says Darren.
Mistake: Following your colleagues' lead. 
Even if two choreographers receive the same unrestricted grant, the best possible way to use that money might look completely different for each person. "Financial planning is unique to everyone's situation," says Darren. Maybe paying off loans might need to be your priority, or maybe it's better to invest the money for the future. Don't base your decisions off of what someone else does with their money.
Mistake: Assuming that art and money are incompatible.
When you're in the throes of the creative process, spending too much time considering how much something might earn versus how much it will cost could affect your work in ways you might not want. But that doesn't mean you should never think about finances.
"There's this false belief that if you're thinking about money, you won't be as creative," says Darren. "We dismantle that by sharing stories of highly creative geniuses who were able to compartmentalize and do both." While rehearsal may not be the time to itemize your expenses, don't let your identity as an artist hold you back from planning prudently.
Mistake: Not reaching out for help. 
Many artists have never been taught about finances, so they figure it's just not part of who they are. Or they fear what they might find if they dig too deeply.
"Traditional financial service companies don't target arts organizations because they don't understand what we do, and they don't realize that there are so many people who make their livings as career artists," says Darren. It's up to you to get the advice you need. If you don't know where to begin, check out IFWA's free one-on-one coaching online.
From Your Site Articles
Related Articles Around the Web
Getty Images
Dancers are understandably obsessed with food. In both an aesthetic and athletic profession, you know you're judged on your body shape, but you need proper fuel to perform your best. Meanwhile, you're inundated with questionable diet advice.
"My 'favorite' was the ABC diet," says registered dietitian nutritionist Kristin Koskinen, who trained in dance seriously but was convinced her body type wouldn't allow her to pursue it professionally. "On the first day you eat only foods starting with the letter A, on the second day only B, and so on."
Keep reading...
Show less
Ailey II artistic director Troy Powell teaching an Ailey Workshop at NYCDA. Courtesy NYCDA
Back in 2011 when Joe Lanteri first approached Katie Langan, chair of Marymount Manhattan College's dance department, about getting involved with New York City Dance Alliance, she was skeptical about the convention/competition world.
"But I was pleasantly surprised by the enormity of talent that was there," she says. "His goal was to start scholarship opportunities, and I said okay, I'm in."
Today, it's fair to say that Lanteri has far surpassed his goal of creating scholarship opportunities. But NYCDA has done so much more, bridging the gap between the convention world and the professional world by forging a wealth of partnerships with dance institutions from Marymount to The Ailey School to Complexions Contemporary Ballet and many more. There's a reason these companies and schools—some of whom otherwise may not see themselves as aligned with the convention/competition world—keep deepening their relationships with NYCDA.
Now, college scholarships are just one of many ways NYCDA has gone beyond the typical weekend-long convention experience and created life-changing opportunities for students. We rounded up some of the most notable ones:
Keep reading...
Show less
Rehearsal of Yvonne Rainer's Parts of Some Sextets. Photo by Paula Court, Courtesy Performa.
Yvonne Rainer's Parts of Some Sextets (AKA "the mattress dance") hasn't been revived since it premiered in 1965. Nor has Rainer had any wish to do it again, to ask performers to heave 10 mattresses around while carrying out 31 tasks that changed every 30 seconds. It was an unwieldy, difficult dance. (Even the title is unwieldy.) But Emily Coates, who has danced in Rainer's work for 20 years, became curious about this piece and was determined to see it again—and to dance in it. She will get her wish November 15–17, when the mattress dance will be performed as part of the Performa 19 Biennial.
Keep reading...
Show less
Left: Hurricane Harvey damage in Houston Ballet's Dance Lab; Courtesy Harlequin. Right: The Dance Lab pre-Harvey; Nic Lehoux, Courtesy Houston Ballet.
"The show must go on" may be a platitude we use to get through everything from costume malfunctions to stormy moods. But when it came to overcoming a literal hurricane, Houston Ballet was buoyed by this mantra to go from devastated to dancing in a matter of weeks—with the help of Harlequin Floors, Houston Ballet's longstanding partner who sprang into action to build new floors in record time.
Keep reading...
Show less