Cuban Flamenco Star Irene Rodríguez on Sacrifice, Her Pillow Program and What American Flamenco is Missing
Photo by Alfredo Cannatello, courtesy Rodríguez
Mention "flamenco" to anyone in the Cuban dance scene, and they are likely to bring up Irene Rodríguez. Artistic director of Compañía Irene Rodríguez, Cuba's premiere flamenco company, Rodríguez has shared the stage with such renowned flamenco artists as Eva Yerbabuena, María Juncal and Antonio Gades. She is also a faculty member at Havana's Fernando Alonso National Ballet School, and has served as a choreography consultant at Ballet Nacional de Cuba.
Starting this week, she's stateside to direct the flamenco and Spanish dance program at Jacob's Pillow.
---
What makes for a good flamenco dancer?
Leg strength is of primary importance because of the percussion our feet create; likewise, coordination and musicality. But most important is will and determination. A true calling, along with talent, self-rigor, effort and constant discipline, are necessary. Ours is a very short career, full of sacrifice, so we must be focused and not miss a day of training and the opportunity to perform.
Describe how you condition yourself and offer a flamenco curriculum to students and company members.

I prepare myself for my work day with an hour and a half warm-up in classical ballet or Cuban contemporary dance technique, then an hour of flamenco technique: all the foot and arm work that this style entails. Each day of the week, there is a different class based on tabla steps, according to a variety of styles and rhythms. Tablas are complex, progressively harder foot soniquets [variations]. Company rehearsals follow. Then my school and company tasks and oversight of our Malecón studios begin. I do special gymnastic exercises geared to flexibility and the lyricism of Spanish classics, especially leg and foot clawing and forcefulness in complex flamenco taconeos [brushes].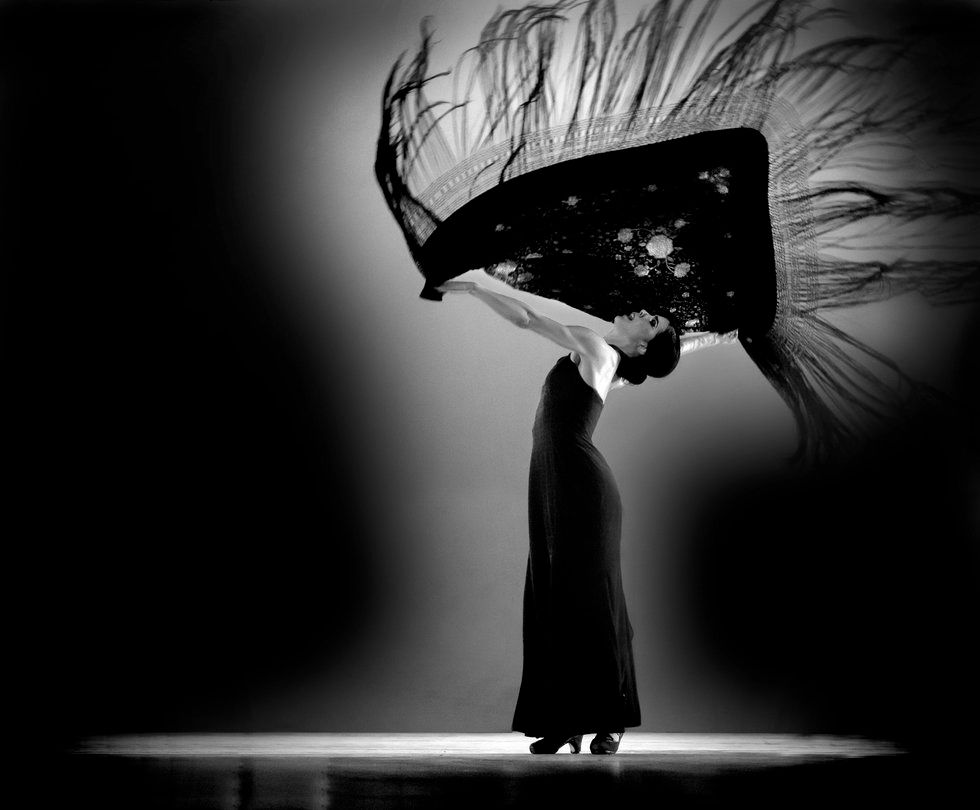 Courtesy Irene Rodríguez
Whose style and technique do you most admire?
Alicia Alonso heads the list as a symbol of perseverance and dedication; José Manuel Carreño, Viengsay Valdés, so hard-working and self-sacrificing; Eva Yerbabuena, Rocío Molina and María Juncal, who have very defined styles, and of course Antonio Gades is my reference point for choreographing and mounting a storyline.
Why do we not see more full-length works along the lines of those that Antonio Gades and Cristina Hoyos danced?
Not many of the newer choreographers have followed their example. Gades' Bodas de Sangre, Fuenteovejuna and Carmen archive represent the jewels in the crown of Spanish choreography. Choreographers from our genre do not value the full vocabulary with which you can interpret all manner of themes. In this sense, modern and contemporary dance choreographers have gotten out ahead of us, and are much more innovative in their overall approach to dance theater.
Do you prefer to perform on stage or in a café?
I prefer the large stage, but my intention is to make each audience member feel as if they are my only spectator. I do not dislike any performance space, nor those who work in them. The flamenco tablaos do not always receive the respect they deserve, and many do not appreciate the dancer, less than a meter away, feeling their sweat and listening to their panting.
For those trained in ballet or modern, what are the biggest obstacles to learning flamenco?
My students at the Fernando Alonso National Ballet School complain that vigilant coordination and control of the arms is the most difficult. And that's not counting when they receive castanet lessons and play them while dancing.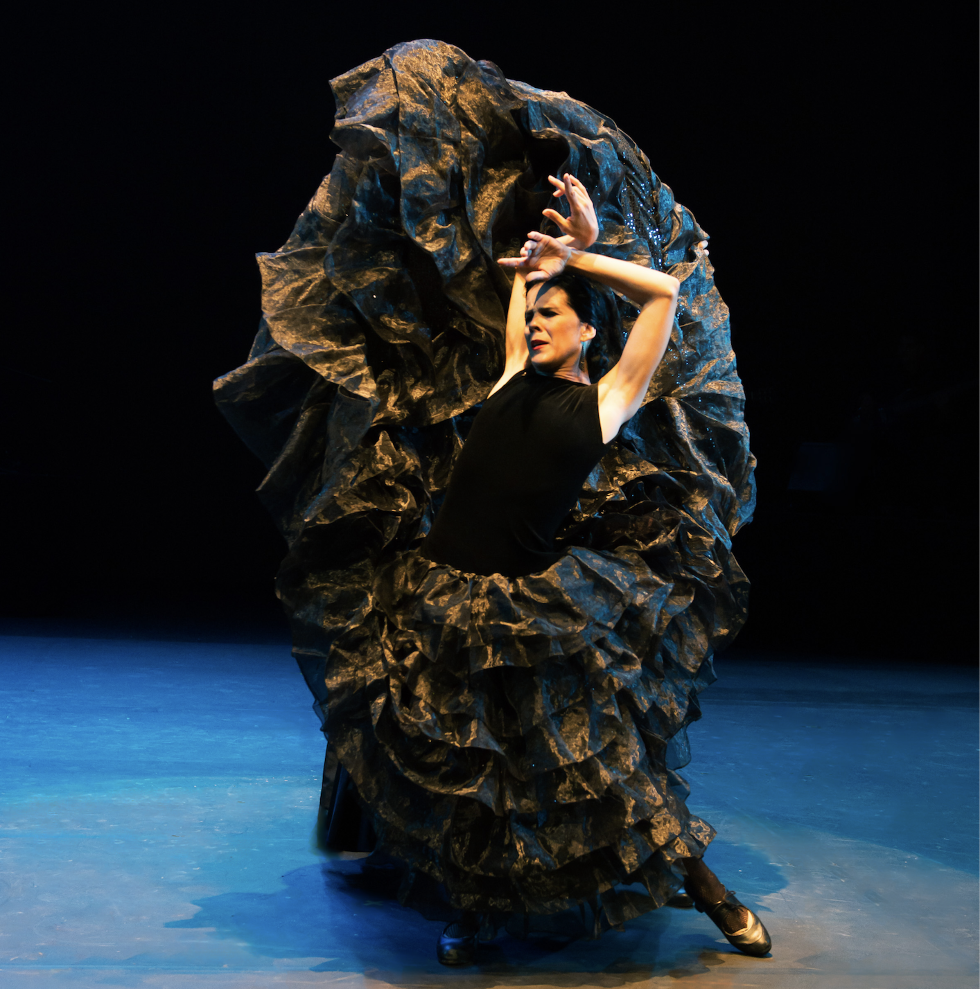 Christopher Jones, Courtesy Rodriguez
You use somewhat unconventional music. Does it widen flamenco's appeal?
I am not very conventional! Flamenco is a way of feeling, being and expressing oneself, with music that really puts you in a mood to come alive. Flamenco is ever-evolving, and its coming of age enriches and expands its theatrical vocabulary, making it more current, and not confining it to one folkloric style. The cajon [box] was introduced by Paco de Lucía in the 1970s. Its origin is not Spanish, but Peruvian. Now, there is no flamenco dancer or company that dances without a box!
What flamenco events have you planned for the Jacob's Pillow festival?
In six performances at the Ted Shawn Theater, my own company will be presenting a virtuosic repertoire including U.S. premieres and a world premiere commissioned especially for this festival. Daniel Doña Compañía de Danza will perform on the Inside/Out stage. This year, I am proud to say that the festival has chosen the flamenco theme for its magazine cover, on which my picture appears.
During more than 60 hours of classes the 25 dancers selected to participate in the school program will fine-tune their knowledge of flamenco and Spanish stylized dance, including use of the shawl, castanets and the Pericón; as well as the colorful Bata de Cola. Among the guest teachers are Carmen Ledesma and Carmela Greco. Participants will also receive percussion classes, lectures and attend my company's performances. At the week's end on Jacob Pillow's outdoor stage, they will demonstrate the work they have done.
Have you changed the estimate of North American flamenco companies that you expressed in this video?
Certainly in the United States, there are excellent flamenco companies and individual dance and music artists. Without listing them all, I will cite Flamenco Vivo Carlota Santana, Noche Flamenca, A Palo Seco Flamenco, Gabriela Granados, Edwin Aparicio, the Encinitas Family, the National Flamenco Institute, the Yjastros Company, María Benítez, the singer Vicente Griego, the guitarist Cristian Puig or Sergio de Lope and his ensemble, all of whom I admire indisputably.
What I meant with these remarks, which I feel were misinterpreted, is that there is no national Danzas Españolas company in the United States. No one company represents Spanish art in all four of its styles: Bolero, Spanish stylized dance, folk dance and flamenco. It would be wonderful if all companies and centers throughout the Americas could be more unified and collaborative in order to share experience and knowledge, because in truth, we have the same goal and passion, which is to keep Spanish art alive, wherever we live.
Related Articles Around the Web
A flyer showing Alberto Alonso, Fernando Alonso, Benjamin Steinberg and Alicia Alonso. Photo courtesy the author
Alicia has died. I walked around my apartment feeling her spirit, but knowing something had changed utterly.
My father, the late conductor Benjamin Steinberg, was the first music director of the Ballet de Cuba, as it was called then. I grew up in Vedado on la Calle 1ra y doce in a building called Vista al Mar. My family lived there from 1959 to 1963. My days were filled with watching Alicia teach class, rehearse and dance. She was everything: hilarious, serious, dramatic, passionate and elegiac. You lost yourself and found yourself when you loved her.
Keep reading...
Show less
Left: Hurricane Harvey damage in Houston Ballet's Dance Lab; Courtesy Harlequin. Right: The Dance Lab pre-Harvey; Nic Lehoux, Courtesy Houston Ballet.
"The show must go on" may be a platitude we use to get through everything from costume malfunctions to stormy moods. But when it came to overcoming a literal hurricane, Houston Ballet was buoyed by this mantra to go from devastated to dancing in a matter of weeks—with the help of Harlequin Floors, Houston Ballet's longstanding partner who sprang into action to build new floors in record time.
Keep reading...
Show less
Hansuke Yamamoto in Helgi Tomasson's Nutcracker at San Francisco Ballet, which features an exciting and respectful Chinese divertissement. Photo by Erik Tomasson, Courtesy SFB
It's Nutcracker time again: the season of sweet delights and a sparkling good time—if we're able to ignore the sour taste left behind by the outdated racial stereotypes so often portrayed in the second act.
In 2017, as a result of a growing list of letters from audience members, to New York City Ballet's ballet master in chief Peter Martins reached out to us asking for assistance on how to modify the elements of Chinese caricature in George Balanchine's The Nutcracker. Following that conversation, we founded the Final Bow for Yellowface pledge that states, "I love ballet as an art form, and acknowledge that to achieve a diversity amongst our artists, audiences, donors, students, volunteers, and staff, I am committed to eliminating outdated and offensive stereotypes of Asians (Yellowface) on our stages."
Keep reading...
Show less
Allegra Bautista in Nevertheless, by ka·nei·see | collective. Photo by Robbie Sweeny
An audience member once emailed Dallas choreographer Joshua L. Peugh, claiming his work was vulgar. It complained that he shouldn't be pushing his agenda. As the artistic director of Dark Circles Contemporary Dance, Peugh's recent choreography largely deals with LGBTQ issues.
"I got angry when I saw that email, wrote my angry response, deleted it, and then went back and explained to him that that's exactly why I should be making those works," says Peugh.
With the current political climate as polarized as it is, many artists today feel compelled to use their work to speak out on issues they care deeply about. But touring with a message is not for the faint of heart. From considerations about how to market the work to concerns about safety, touring to cities where, in general, that message may not be so welcome, requires companies to figure out how they'll respond to opposition.
Keep reading...
Show less