News
Oct. 17, 2019 02:02PM EST
7 Reasons to Love William Forsythe's Quiet Evening of Dance
Rauf "RubberlLegz" Yasit and Parvaneh Scharafali. Photo by Mohamed Sadek, courtesy The Shed
William Forsythe is bringing his multi-faceted genius to New York City in stripped down form. His "Quiet Evening of Dance," a mix of new and recycled work now at The Shed until October 25, is co-commissioned with Sadler's Wells in London (and a slew of European presenters).
As always, Forsythe's choreography is a layered experience, both kinetic and intellectual. This North American premiere prompted many thoughts, which I whittled down to seven.
---
Watching them work
Forsythe introduced the evening by thanking the audience for coming "to watch us work." And the work is fascinating. The first half of the program, several duets in near silence (bird twittering plus Morton Feldman's "Nature Pieces from Piano No. 1"), draws your attention to the deliciously erratic movement. The dancers make you care about each attenuated shape, each elbow jab into negative space, each sly-but-energized glance at a partner. Although they never settle into unison, they seem to ride the same electric current. As the pace speeds up, slows down, goes haywire, they focus on this shared current, not on the audience.
Watching them play
In the second half, with music by the 18th-century composer Jean-Philippe Rameau, the mode shifts from work to play. Now, they open up to us, the audience. They are dancing for us, and that conspiratorial wink between them is gone. Or is it? As the 10 dancers careen around the stage in trios or larger groups, this section seems to be a sly spoof of performance itself.
It's about the dancers 
The dancers have the freedom to be entirely themselves. In an interview included in the program notes, Forsythe says, "The dancer is absolutely everything." We get to imbibe the assured fluidity of Jill Johnson, the sometimes comic buoyancy of Brigel Gjoka, the impish quality of Ayman Harper. Forsythe trusts the dancers to take the material and run with it—briefly. So we see short spurts of improvisation that might take a dancer skittering around the room in escape from a tight duet.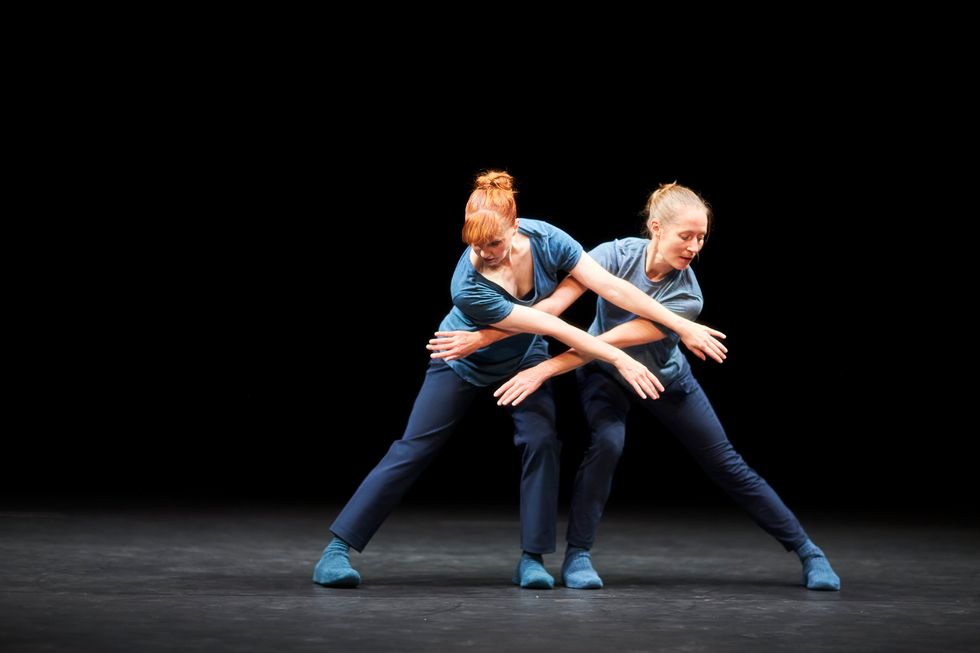 Jill Johnson and Brit Rodemund
Mohamed Sadek, Courtesy The Shed
A space for seeing
The intimate yet expansive Griffin Theater allows us to really see this complex dancing and the choreography. Many of Forsythe's productions at Brooklyn Academy of Music, whether with Ballett Frankfurt or The Forsythe Company, have incorporated text, video, acting and/or large props. (See BAM digital archive to trace his productions there since 1998.) Those works were thrilling for what one might call big edginess. But with "Quiet Evening," Forsythe has returned to pure dance. (Okay, I know that's a term from the '70s, but I happen to find it exciting when dance itself surges into the foreground.)
Meshing/messing with a b-boy
Forsythe is a master at integrating different genres into his choreography. This time, Rauf "Rubber Legz" Yasit, with his own brand of b-boying, contributes extremes of pretzelization—different from, yet compatible with, Forsythe's own extremes of balletic torque. In duets, Yasit helps create a symbiotic bundle of oddly tangled limbs.
Non-binary costuming
The costumes become more colorful as the evening progresses, with bright socks covering sneakers and equally bright long-sleeved gloves covering fingers. The gender-neutral aspect of these outfits is partly what puts the production into the post-modern category.
It's ongoing
"This is not done." This is what Bill told me at a post-performance gathering on Tuesday night. The dance changes a little bit every night. He is not into making masterpieces. He is into following his curiosity and the dancers' ability to focus on a string of mercurial tasks. Like Forsythe's entire artistic life, it's about process.
Ailey II artistic director Troy Powell teaching an Ailey Workshop at NYCDA. Courtesy NYCDA
Back in 2011 when Joe Lanteri first approached Katie Langan, chair of Marymount Manhattan College's dance department, about getting involved with New York City Dance Alliance, she was skeptical about the convention/competition world.
"But I was pleasantly surprised by the enormity of talent that was there," she says. "His goal was to start scholarship opportunities, and I said okay, I'm in."
Today, it's fair to say that Lanteri has far surpassed his goal of creating scholarship opportunities. But NYCDA has done so much more, bridging the gap between the convention world and the professional world by forging a wealth of partnerships with dance institutions from Marymount to The Ailey School to Complexions Contemporary Ballet and many more. There's a reason these companies and schools—some of whom otherwise may not see themselves as aligned with the convention/competition world—keep deepening their relationships with NYCDA.
Now, college scholarships are just one of many ways NYCDA has gone beyond the typical weekend-long convention experience and created life-changing opportunities for students. We rounded up some of the most notable ones:
Keep reading...
Show less
We knew that Ivo van Hove and Anne Teresa de Keersmaeker's production of West Side Story would challenge our preconceived notions about the show.
But a recent Vogue story gives us a taste of just how nontraditional the Broadway revival will be. Most notably, van Hove is cutting "I Feel Pretty" and the "Somewhere" ballet, condensing the show into one act to better reflect the urgency of the 48-hour plot. (The choice has been approved by the West Side Story estate, including Sondheim, who has "long been uncomfortable" with some of the "I Feel Pretty" lyrics.)
Keep reading...
Show less
Left: Hurricane Harvey damage in Houston Ballet's Dance Lab; Courtesy Harlequin. Right: The Dance Lab pre-Harvey; Nic Lehoux, Courtesy Houston Ballet.
"The show must go on" may be a platitude we use to get through everything from costume malfunctions to stormy moods. But when it came to overcoming a literal hurricane, Houston Ballet was buoyed by this mantra to go from devastated to dancing in a matter of weeks—with the help of Harlequin Floors, Houston Ballet's longstanding partner who sprang into action to build new floors in record time.
Keep reading...
Show less