Site Network
Nov. 30, 2018 04:00PM EST
NYCB's Georgina Pazcoguin on Her New Initiative to Eliminate Asian Stereotypes in Ballet
New York City Ballet soloist Georgina Pazcoguin. Photo by Nick Nakahara, Courtesy Pazcoguin.
As conversations in the ballet world about race and representation have opened up in the past few years, its most beloved holiday tradition, The Nutcracker, has come under scrutiny as well. Last year New York City Ballet made changes to its second act Chinese Tea variation, removing elements of racial caricature from both the costume and makeup and the choreography.
NYCB soloist Georgina Pazcoguin, who is part Filipino, was one of the voices fighting for that change. This year, as companies and schools worldwide are gearing up for Nutcracker season, Pazcoguin, along with former dancer and arts administrator Phil Chan, is back with a new campaign. Final Bow For Yellowface is an online platform dedicated to educating companies and schools on how to veer away from offensive Asian stereotypes (yellowface) and providing resources on how to make those changes. The site also lets readers join dance world luminaries including Virginia Johnson, Julie Kent, Adam Sklute, Troy Schumacher and Christopher Wheeldon in signing a pledge to end the practice of yellowface onstage. We touched base with Pazcoguin to hear about how this initiative came to be, and what she and Chan have in the works for the future.
---
How long has Final Bow for Yellowface been in the works?
The idea for the site came about following New York City Ballet's diversity initiative. I helped plant a seed that turned into a meaningful conversation last November. Former director Peter Martins invited Phil in to discuss how to modify NYCB's Tea variation to be less insensitive. We thought, if NYCB is open to change, why not everyone else? The pledge is a way for us to consolidate conversations that are already happening in communities all across America and lead by example. Over the past year, we have reached out to many major ballet companies to start conversations about Nutcracker (and other ballets that include caricatures of Asians).
What are your thoughts on NYCB's changes to the Tea variation?

While the variation has removed the caricature, it now lacks some of the character. I think there is opportunity to explore more character development, but in a respectful way. It is the Kingdom of the Sweets after all; why not lean into a more confectionary direction?
Phil and I worked with dance historian Doug Fullington at Pacific Northwest Ballet, who was able to go back to the Stepanov notation from the early 20th century and recreate the original Chinese dance. To see it on live bodies, even on film, was very powerful for me. The variation is fun, spritely, crisp, wickedly difficult and dazzling. The best part was there was not a whiff of caricature at all. It just demonstrated that so much of what we have put into the ballet over the years, like the problematic "Fu Manchu" depictions, has come from outside the original choreography. Seeing the playfulness in the original helped me regain my faith in the ballet.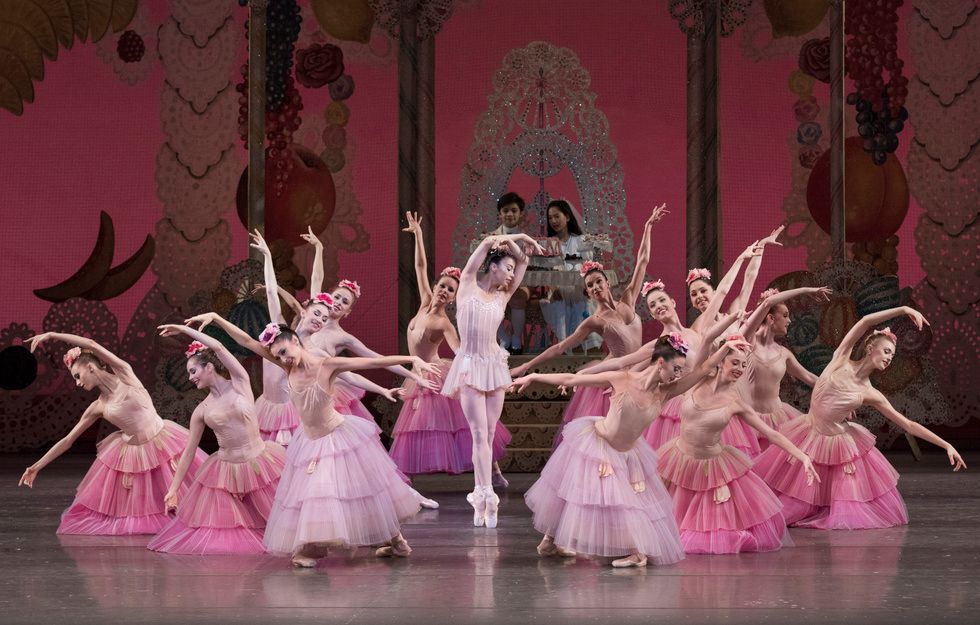 Pazcoguin as Dewdrop in NYCB's "Nutcracker." Photo by Paul Kolnik, Courtesy NYCB.
What do you think it means to have a dancer spearheading this campaign? How are you using your personal experience to make a difference?
I think it delivers remarkable impact. Dancers aren't accustomed to using their voices to express themselves. There seems to be this idea that our power is in the images we create with our bodies, and that our opinions aren't as important or articulate. This is clearly a falsehood.
I know what it's like to be the outlier in the rehearsal room. That's where my branding "The Rogue Ballerina" came from: recognizing my differences, be it the shape of my body or the shade of my skin, which others have seen as negative, and spinning them into positive attributes. I've been with the company for 18 years, so I have seen it change dramatically. The heightened interest in diversity in dance, and the rising profiles of so many other dancers of color had me asking questions about my own experience with race. Yellowface is very much a part of that conversation for me on a personal level.
If you could send a call to action to dancers, what would it be?
Don't be afraid to start discussions with your teachers, studio owners, and artistic directors about yellowface or other cultural representations in your local Nutcracker. I doubt that anyone is intentionally trying to offend anyone or make anyone uncomfortable, but rather that there's a lack of awareness. Start with compassion, and have a constructive conversation about how to make your production more inclusive. If folks out there need help getting the conversation started, we have a lot of resources on the page.
San Franzisko Ballett Der Nussknacker youtu.be
Pazcoguin and Chan note that San Francisco Ballet's Chinese variation is a strong example of how to respect and evoke Chinese culture without falling into offensive stereotypes.

What's next for Final Bow for Yellowface?
Phil and I focused in on Asian culture, but there are so many other caricatures that could be respectfully tweaked while maintaining the original integrity of the work. Applying these updates only enhances a masterpiece and allows all to enjoy it. There are a lot of conversations within Nutcracker around the Arabian variation that are also in this vein. We will have to start asking ourselves about some of the 19th century warhorses like Le Corsaire and La Bayadère, as well. And there are still some issues with blackface in Petrushka and Othello. I'm hoping my own company will review its American and Asian portrayals of Aurora's suitors in our upcoming production of Sleeping Beauty.

I think our larger goal is already being accomplished. Whether companies are signing on to our pledge or not, we are talking about these issues now as a larger national dance community, and the conversations that have been happening across the country have been consolidated into positive action. We realize this is a multi-year conversation, and are happy to be a resource to any companies who want to make sure they are portraying Asians respectfully. Then when it's time to put up the Christmas lights and entertain our children with holiday tradition, we do so with the respect inherent in a global citizen's lens.
The "Merde" bag. Courtesy Scenery
Jennifer Kahn knew the theater industry could do better. As a professional stage manager for 17 years she worked on regional, off-Broadway and Broadway shows. Nearly each time a show closed, something unsettling happened: "I would watch them throw away our shows. All of the beautiful artwork by my friends in the paint shop would go in the trash." The elaborate backdrops? Gone.

But she had an idea: What if the material used in the backdrops and legs could be upcycled into something new? And what if theater lovers could literally keep a piece of a beloved show?
Keep reading...
Show less
Left: Hurricane Harvey damage in Houston Ballet's Dance Lab; Courtesy Harlequin. Right: The Dance Lab pre-Harvey; Nic Lehoux, Courtesy Houston Ballet.
"The show must go on" may be a platitude we use to get through everything from costume malfunctions to stormy moods. But when it came to overcoming a literal hurricane, Houston Ballet was buoyed by this mantra to go from devastated to dancing in a matter of weeks—with the help of Harlequin Floors, Houston Ballet's longstanding partner who sprang into action to build new floors in record time.
Keep reading...
Show less
News
Oct. 18, 2019 11:54AM EST
Photo by Gabriel Davalos, Courtesy Valdés
For decades the name Alicia Alonso has been virtually synonymous with Ballet Nacional de Cuba, the company she co-founded in Havana in 1948. Alonso died on October 17, just shy of what would have been her 99th birthday. In recent years, she had stepped back from day-to-day decision-making in the company. As if preparing for the future, in January, the company's leading ballerina, 42-year-old Viengsay Valdés, was named deputy director, a job that seems to encompass most of the responsibilities of a traditional director. Now, presumably, she will step into her new role as director of the company. Her debut as curator of the repertory comes in November, when the troupe will perform three mixed bills selected by her at the Gran Teatro de la Habana Alicia Alonso. The following has been translated from a conversation conducted in Spanish, Valdés' native tongue.
Keep reading...
Show less
Sara Mearns in the gym. Photo by Kyle Froman.
New York City Ballet principal Sara Mearns wasn't sure she was strong enough. A ballerina who has danced many demanding full-length and contemporary roles, she was about to push herself physically more than she thought was possible.
"I said, 'I can't. My body won't,' " she says. "He told me, 'Yes, it will.' "
She wasn't working with a ballet coach, but with personal trainer Joel Prouty, who was asking her to do squats with a heavier barbell than she'd ever used.
Keep reading...
Show less