Remembering Gillian Lynne, Choreographer of Cats and Phantom of the Opera
Gillian Lynne (center) at a curtain call for Phantom of the Opera alongside producer Cameron Mackintosh and composer Andrew Lloyd Webber. Photo courtesy DKC/O&M
This morning, we woke to hear the sad news that British choreographer Gillian Lynne passed away last night at age 92. The original choreographer of Cats and Phantom of the Opera, Lynne worked on more than 60 shows on Broadway and the West End in her lifetime, and will be dearly missed by the dance world.
As news of her passing hit, dance and theater stars flooded the internet with tributes.
---
Lynne was born in 1926 in Kent, England. Despite her success in musical theater, she began her career as a ballet dancer at age 16, performing with Sadler's Wells Ballet, which later became The Royal Ballet. She was a leading soloist and became known for roles including the Black Queen in Checkmate and Queen of the Wilis in Giselle.

Her first choreographic credit came in 1963 with a work called Collages. Throughout the '60s she continued choreographing, creating ballets for companies including the Northern Ballet, the Bolshoi Ballet and Australian Ballet, as well as working on musicals on Broadway (The Roar of the Greasepaint – The Smell of the Crowd, Pickwick and How Now, Dow Jones).
In 1981, she began working on Cats with Andrew Lloyd Webber—and the rest is history. Her jellicle moves became iconic and solidified Webber and Lynne's bond as an official collaborative duo. The show is now the fourth-longest-running Broadway show of all time, and recently played a revival in 2017.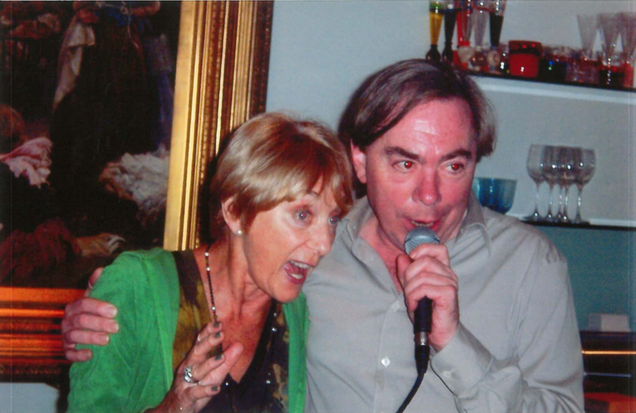 Lynne and Webber were close collaborators. Photo courtesy DKC/O&M
She paired with Webber again for Phantom of the Opera in 1986, and many argue it showcases her best work. The musical is currently still performing in its 30th year on Broadway. Lynne also later worked with Webber on Aspects of Love, the stage version of Chitty Chitty Bang Bang.
Lynne is well-known for her work in Barbara Streisand's film Yentl and worked on various TV and film projects including "The Muppet Show," and the BBC dance drama "A Simple Man," which celebrated painter L.S. Lowry, and for which Lynne won a BAFTA award.
Throughout her storied career, Lynne was presented with scores of awards, including an Olivier award in 1981 for Cats, two Tony nominations for her work on Cats and Phantom of the Opera, and a special Olivier award in 2013. She was also named a Dame Commander of the British Empire in 2014 for her services to dance and musical theater.
Last month, Webber and Cats producer Cameron Mackintosh honored Lynne by renaming the original London theater home of Cats. The New London Theatre is now known as the Gillian Lynn Theatre, making Lynne the first non-royal woman to have a West End venue in her namesake.

Thank you, Gillian, for bringing more dance joy into this world. You will be greatly missed.
From Your Site Articles
Related Articles Around the Web
Dorfman in his Come, and Back Again. Ian Douglas, Courtesy Dorfman
I hate asking for money. I am tired of feeling like we, as dance practitioners, are constantly begging for every morsel of sustenance. We are often seen as the poor stepchildren of the arts, usually thought of as having nothing tangible to sell.
Keep reading...
Show less
Tarkan Seregül Photography, Courtesy Smyth
I have to admit, I've had a wonderful career. I've danced with The Royal Ballet and The Joffrey Ballet, done a stint on the West End in An American in Paris, played the Snow Cavalier in Disney's The Nutcracker and the Four Realms with Misty Copeland, and will soon be performing as Older Billy in the Australian tour of Billy Elliot: The Musical.
How did I get in this position? Through the eight international ballet competitions I've entered.
If you want to travel the world performing and doing what you love, competitions are your ticket to finding the freedom to dance wherever you want to go.
Keep reading...
Show less
Getty Images
By the Sunday evening of a long convention weekend, you can expect to be thoroughly exhausted and a little sore. But you shouldn't leave the hotel ballroom actually hurt. Although conventions can be filled with magical opportunities, the potential for injury is higher than usual.
Keep your body safe: Watch out for these four common hazards.
Keep reading...
Show less