Dancer Voices
Feb. 06, 2018 10:50AM EST
How Illness Made Me Realize That What I Love Most Is Going To The Ballet
A collection of the author's programs
I've had a sticky note on my desk since 2013 with a horoscope that reads, "What would you do if you made happiness your number one priority?"
Like many things in life, at least for me, there is no single, simple answer to that question, which is perhaps why it's still sitting there.
The past year, I was very sick. You wouldn't have necessarily known it to look at me, but I was. The kind of sick that prompts soul-searching, and meaning-of-life searching. The kind of sick that has you thinking, "There has to be a takeaway from this awful experience; I can't have gone through this for nothing."
---
So I started thinking about what I liked, what I enjoyed—in part because it seemed like a positive way to get through six miserable months of treatment. I like a whole lot of things, chief among them dessert and Harper's Bazaar UK. But what I really like is going to the ballet.
This was not a shocking realization.
Many of my best memories are of wonderful performances—the first time I saw The Royal Ballet, seeing Alessandra Ferri in Manon, watching my friends dance their first principal roles in Nutcracker. Going to the ballet has in many ways defined my life. Performances I have seen serve as landmarks when I look back. I've traveled across the country just to go to the ballet, as I did last summer when I went to see Jewels at Lincoln Center. And if I'm already planning a trip, I always make sure that there is a performance to see while I'm there.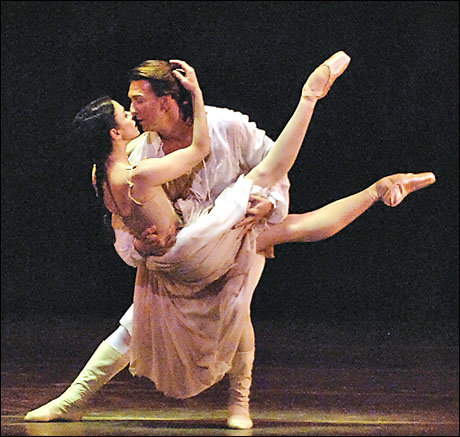 Alessandra Ferri and Julio Bocca in Manon. Photo by Gene Schiavone
When I was in my first year in Nashville Ballet 2, artistic director Paul Vasterling choreographed Carmina Burana. I wasn't cast in it, and I wasn't understudying it either. I was disappointed—but also, secretly, relieved. I could tell that Carmina was going to be a big production, and I deliberately didn't watch rehearsals, wanting to wait and see it onstage.
And when I did—oh, what a thrill! The ballet was a spectacle, by turns dramatic and romantic. When the curtain came down, the audience leapt to its feet. As I stood applauding with the crowd, I felt genuine pleasure to be an audience member. My delight at watching was as great as what I felt when dancing.
Anyway, I was sick, although I felt well enough to go to the ballet. And it just so happens that I work for a ballet company, Smuin Contemporary American Ballet, and that in addition to all of Smuin's performances, I was sick during San Francisco Ballet's season. So between November and May, I saw a total of 17 ballets at SFB, of which 13 were new to me and four were world premieres. Two performances featured retirements, which is always a special thing to see. At Smuin, I saw The Christmas Ballet and Dance Series 02 about a dozen times each.
When Dance Series 02 ended, I felt like I was in withdrawal. I'd gotten accustomed to watching those ballets every night! When the curtain went up, I would fall into the world onstage while my realities melted away. For those two hours, I was free. I wasn't a patient or a carefully contained wreck. I was just me, sitting in the dark, watching the dancers move.
The famous line from A Chorus Line, "Everything is beautiful at the ballet"—maybe this is what the character meant. Not merely that ballet is beautiful, but that whatever unpleasantness is present in your life dissipates while watching it. The magic of the theater is that you can leave your life behind.
Now that I'm done with treatment and moving forward, it's time to prioritize happiness. To that end, I launched Going to the Ballet. I'll be writing about performances I see and, hopefully, interviewing people about why they go.
If we can express why we love ballet, perhaps we can get other people to love it too. I hope to see you at the ballet!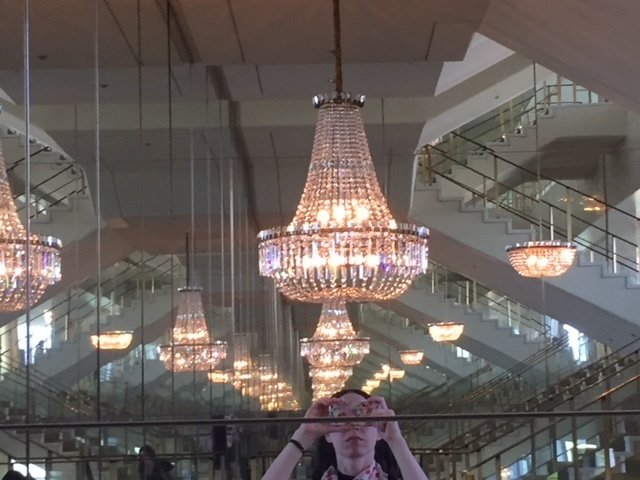 The author taking a photo at a BalletNext performance
News
May. 24, 2018 01:26PM EST
New York City Ballet dancers will be led by the interim leadership team for at least several more months. Here, the company in Justin Peck's The Times Are Racing. Photo by Paul Kolnik, Courtesy NYCB.
Since December an interim artistic leadership team has been guiding New York City Ballet, and in January, Peter Martins officially resigned. But only now has the search for Martins' permanent replacement begun. Here's what we know about how the process will unfold.
Keep reading...
Show less
Dance As Activism
May. 24, 2018 11:54AM EST
Rebecca Warthen teaching at a public school in Dominica. Photo courtesy Peace Corps
Rebecca Warthen was on a year-long assignment with the Peace Corps in Dominica last fall when a storm started brewing. A former dancer with North Carolina Dance Theatre (now Charlotte Ballet) and Columbia City Ballet, she'd been sent to the Caribbean island nation to teach ballet at the Dominica Institute of the Arts and in outreach classes at public schools.
But nine and a half months into her assignment, a tropical storm grew into what would become Hurricane Maria—the worst national disaster in Dominica's history.
Keep reading...
Show less
News
May. 18, 2018 12:05PM EST
The inimitable Alicia Alonso, now 97, remains at the helm of Ballet Nacional de Cuba. Photo by Leysis Quesada, Courtesy BNC
On the occasion of its 70th anniversary, the Ballet Nacional de Cuba tours the U.S. this spring with the resolute Cuban prima ballerina assoluta Alicia Alonso a the helm. Named a National Hero of Labor in Cuba, Alonso, 97, has weathered strained international relations and devastating fiscal challenges to have BNC emerge as a world-class dance company. Her dancers are some of ballet's best. On offer this time are Alonso's Giselle and Don Quixote. The profoundly Cuban company performs in Chicago May 18–20, Tampa May 23, Washington, D.C., May 29–June 3 and Saratoga, New York June 6–8.
The baby swan can help strengthen your serratus anterior. Modeled by Marimba Gold-Watts, photographed by Jayme Thornton
Ever wonder why some dancers' port de bras appears to be disconnected from their body? It typically comes down to how they stabilize their shoulder blades, says Marimba Gold-Watts, Pilates instructor to dancers like Robert Fairchild.
"Dancers often hear the cue to pull down on their latissimus,"—the biggest muscle in the back—"which doesn't allow the shoulder blades to lie flat," she says. "It makes the bottom tips of the shoulder blades wing, or flare out, off the rib cage."
Keep reading...
Show less
In The Studio
May. 24, 2018 11:26AM EST
Choreographer Sidra Bell, Photo courtesy David Flores Productions
Sidra Bell is one of those choreographers whose movement dancers are drawn to. Exploring the juxtaposition of fierce athleticism and pure honesty in something as simple as stillness, her work brings her dancers to the depths of their abilities and the audience to the edge of their seats.
We stepped into the studio with Sidra Bell Dance New York as they prepare for their upcoming season at New York Live Arts.

Keep reading...
Show less
Rant & Rave
May. 23, 2018 04:25PM EST
Jessica Lang's Her Notes, one of ABT's few recent commissions from women. Photo by Rosalie O'Connor
A few weeks ago, American Ballet Theatre announced the A.B.T. Women's Movement, a new program that will support three women choreographers per season, one of whom will make work on the main company.
"The ABT Women's Movement takes inspiration from the groundbreaking female choreographers who have left a lasting impact on ABT's legacy, including Agnes de Mille and Twyla Tharp," said artistic director Kevin McKenzie in a press release.
Hypothetically, this is a great idea. We're all for more ballet commissions for women. But the way ABT has promoted the initiative is problematic.
Keep reading...
Show less


Get Dance Magazine in your inbox