How Taking Class With 300 Dancers in Front of the "Good Morning America" Studios Reminded Me Why I Love Ballet
Many of this morning's students outside the "GMA" studios with the five teachers in the front row. Chava Lansky.
At 6:30 this morning, I exited the subway in Times Square and walked towards the group of dancers gathered outside the "Good Morning America" studios. The moment I entered the fray, any lingering early morning grogginess disappeared; the energy in the crowd was palpable. By 7 am, the time that "GMA" goes live to millions nationwide, over 300 dancers of all stripes had gathered, and class began.
---
Last Thursday, the dance world exploded in response to "GMA" host Lara Spencer's flippant on-air remarks about 6-year-old Prince George's love of ballet class. The ballet community objected not only to the continued stigmatization against male dancers, but to a public figure bullying a child for doing what he loves. As the news spread, dancers took to social media to share their anger, their personal stories of being victims of bullying, the benefits of training dance for boys and to call for a response from Spencer.
Though Spencer posted a generic apology to her personal Instagram page last Friday, it did little to soothe the nerve her comments had struck. She later conducted an interview with influential male dancers Robbie Fairchild, Travis Wall and Fabrice Calmels, which "GMA" aired on today's show.
Fairchild and Wall, joined by Alex Wong, Sam Quinn and Charlie Williams, built on the momentum by organizing and teaching today's impromptu ballet class. In a rallying cry shouted into a megaphone before pliés began, the leaders stressed that the aim of the class was positive, designed to put the stigmatization of male dancers on a nationwide platform for the first time.
One argument raised in the past few days against Spencer's actions has been that dance training is undeniably beneficial; a change.org petition with more than 35,000 signatures so far is urging "GMA" to use its immense resources to produce a segment on just that. While moving in a mass of 300 dancers this morning, I was reminded of just a few of those benefits.
Discipline
In their opening remarks, the class' leaders read a message that Mikhail Baryshnikov had shared for the occasion, including the line, "Ballet taught me everything I know." As dancers of all ages, dressed in everything from sneakers and sweatpants to leotards and pointe shoes, dutifully stretched in the chilly morning air, I was struck by the incredible work ethic that ballet imparts on its students. These dancers voluntarily left their homes before sunrise to get themselves to Times Square (a place I try to avoid at any time of the day) to take class on a concrete plaza riddled with potentially dangerous columns and sculptures. And better yet, they seemed unfazed, exhibiting complete focus and pausing only to laugh at the absurdity of their makeshift studio.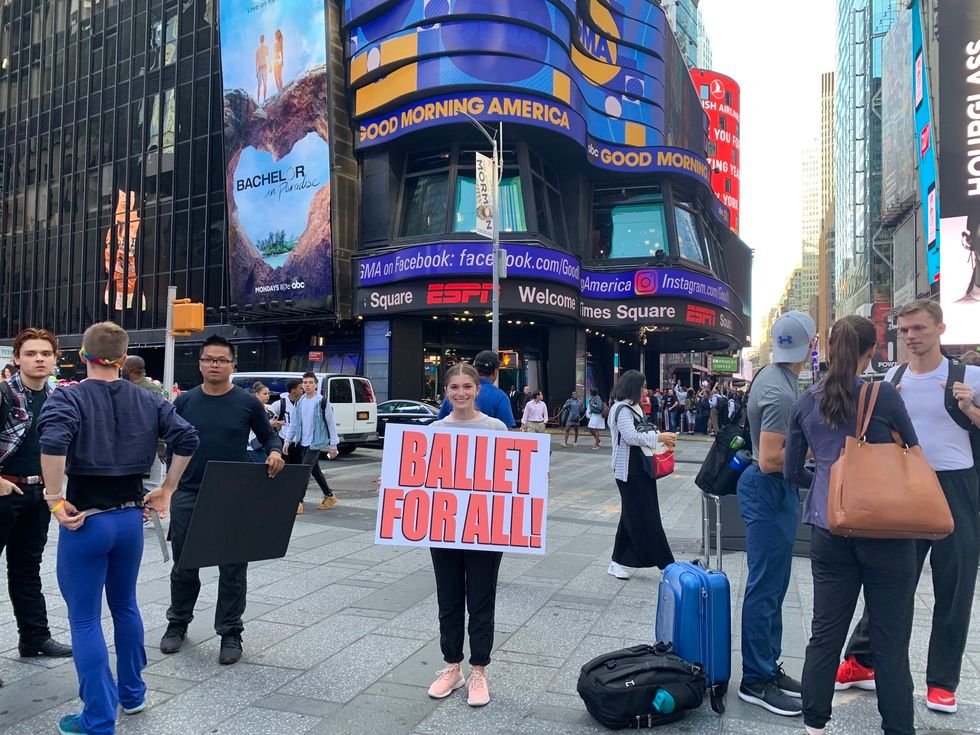 Chava Lansky after class
Caroline Shadle, Courtesy Lansky
Confidence
Ballet forces even the shyest among us to put ourselves on display. Today, everyone, no matter their level of training, had an equal chance to present themselves. After class I approached 11-year-old School of American Ballet student Alex Stahl, one of the many young boys in attendance. He cautiously answered my questions before his mother, Heather Stahl, jumped in. "As you can see he's kind of a quiet kid, but he comes alive when he's in class and when he's dancing," she said. "That is why he had to be here and be a part of all of this."
Collaboration
The five teachers came up with combinations together, excitedly building on each other's ideas. This sense of collaboration reminded me of a central tenet of ballet: Before a dancer can become a star, they have to learn to be a part of the group. This idea extended to every aspect of this morning's class: When the back few rows of dancers couldn't hear what was being said, participants closer to the front would turn around and translate, shouting the steps or demonstrating with their hands. When the sounds of the pianist were drowned out by drilling from a nearby construction site, everyone jumped in, clapping and singing in rhythm to allow the final groups to finish their turn across the "floor" (sidewalk). As 12-year-old Julian Correa, a student at Ballet Hispánico, told me, "This brought male dancers together and made us even stronger, believing even more in each other and in ourselves."
Community
The ballet community may be small, but it's shown itself yet again to be mighty. An ephemeral art form, its preservation is deeply reliant on intergenerational communication. It was thrilling today to watch young students dance so closely to their idols. During grand allégro, New York City Ballet soloist Harrison Coll partnered a young School of American Ballet student, lifting him high off the ground in a grand jeté, much to the delight of both dancers. "This all brought me back to when I was a kid; I lost a lot of friends for doing ballet," Coll said later. "You're forced to be brave and resilient. This seemed like an opportunity to inspire those younger boys who are going through that."
At the end of the class, I touched base with Wong, asking him what the organizers were hoping to get out of the class. "More than anything this was just kind of more for us, for the boys who heard those comments or didn't even hear them, to feel that support from so many dancers," he said. "We just wanted to make it something special to show the support in the dance community."
A flyer showing Alberto Alonso, Fernando Alonso, Benjamin Steinberg and Alicia Alonso. Photo courtesy the author
Alicia has died. I walked around my apartment feeling her spirit, but knowing something had changed utterly.
My father, the late conductor Benjamin Steinberg, was the first music director of the Ballet de Cuba, as it was called then. I grew up in Vedado on la Calle 1ra y doce in a building called Vista al Mar. My family lived there from 1959 to 1963. My days were filled with watching Alicia teach class, rehearse and dance. She was everything: hilarious, serious, dramatic, passionate and elegiac. You lost yourself and found yourself when you loved her.
Keep reading...
Show less
Left: Hurricane Harvey damage in Houston Ballet's Dance Lab; Courtesy Harlequin. Right: The Dance Lab pre-Harvey; Nic Lehoux, Courtesy Houston Ballet.
"The show must go on" may be a platitude we use to get through everything from costume malfunctions to stormy moods. But when it came to overcoming a literal hurricane, Houston Ballet was buoyed by this mantra to go from devastated to dancing in a matter of weeks—with the help of Harlequin Floors, Houston Ballet's longstanding partner who sprang into action to build new floors in record time.
Keep reading...
Show less
Hansuke Yamamoto in Helgi Tomasson's Nutcracker at San Francisco Ballet, which features an exciting and respectful Chinese divertissement. Photo by Erik Tomasson, Courtesy SFB
It's Nutcracker time again: the season of sweet delights and a sparkling good time—if we're able to ignore the sour taste left behind by the outdated racial stereotypes so often portrayed in the second act.
In 2017, as a result of a growing list of letters from audience members, to New York City Ballet's ballet master in chief Peter Martins reached out to us asking for assistance on how to modify the elements of Chinese caricature in George Balanchine's The Nutcracker. Following that conversation, we founded the Final Bow for Yellowface pledge that states, "I love ballet as an art form, and acknowledge that to achieve a diversity amongst our artists, audiences, donors, students, volunteers, and staff, I am committed to eliminating outdated and offensive stereotypes of Asians (Yellowface) on our stages."
Keep reading...
Show less
Allegra Bautista in Nevertheless, by ka·nei·see | collective. Photo by Robbie Sweeny
An audience member once emailed Dallas choreographer Joshua L. Peugh, claiming his work was vulgar. It complained that he shouldn't be pushing his agenda. As the artistic director of Dark Circles Contemporary Dance, Peugh's recent choreography largely deals with LGBTQ issues.
"I got angry when I saw that email, wrote my angry response, deleted it, and then went back and explained to him that that's exactly why I should be making those works," says Peugh.
With the current political climate as polarized as it is, many artists today feel compelled to use their work to speak out on issues they care deeply about. But touring with a message is not for the faint of heart. From considerations about how to market the work to concerns about safety, touring to cities where, in general, that message may not be so welcome, requires companies to figure out how they'll respond to opposition.
Keep reading...
Show less