Got Tight Hips? 5 Exercises to Find Relief
Jim Lafferty
When a muscle is tight, most dancers' natural response is to stretch it. But when it comes to your hip flexors, stretching won't provide a long-term cure, and it could even make the problem worse if the muscle is inflamed.
Often, a more effective fix is building strength in the stabilizing muscles. As a Pilates instructor who specializes in working with dancers, here are five of my favorite exercises to relieve hip tightness—and increase mobility.
---
Toe Taps on a Foam Roller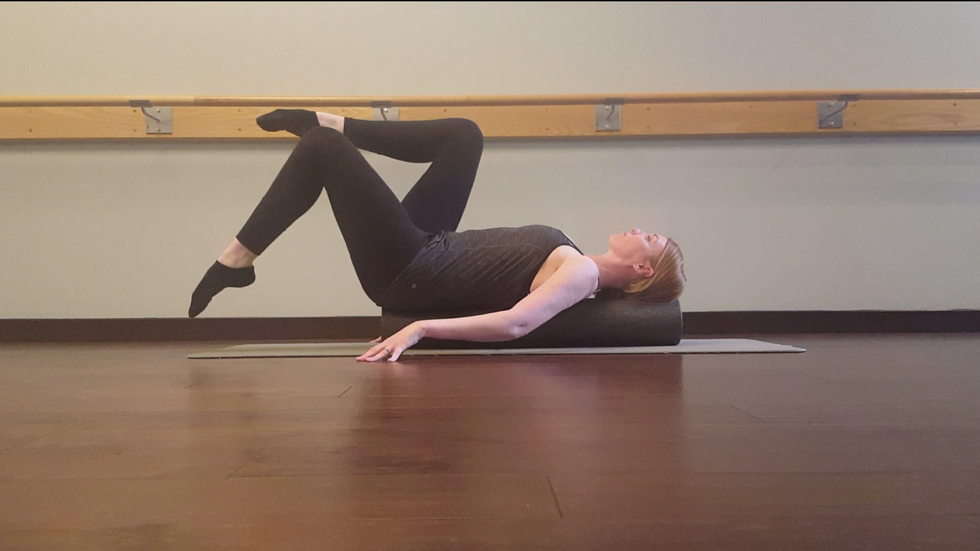 1. Lie on a foam roller in the center of your head and spine. Start with your legs in tabletop position, your pelvis neutral and your fingertips resting on the floor.
2. Keeping your torso still and abdominals flat, lower one leg toward the floor. Go only as far as torso position can be maintained.
3. Return to tabletop, then repeat with opposite leg. Aim for 6–8 taps on each leg, alternating each time.
Single Leg Extension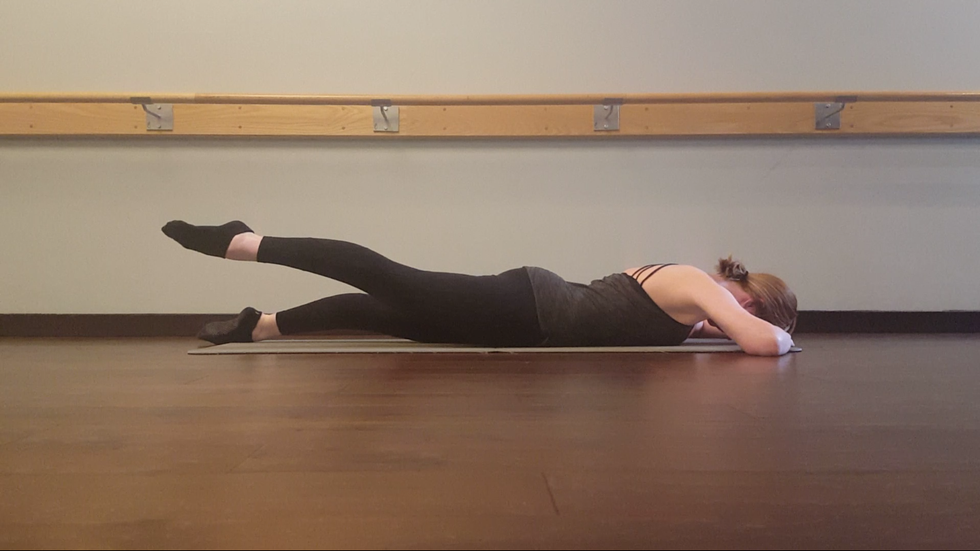 1. Lie face down with your fingertips resting on your forehead. Your leg are turned out, but can be together or hip distance apart.
2. Maintaining a stable pelvis, reach one leg long and off the mat. Be careful to only extend the leg as far as a neutral pelvis can be maintained. Your low back should remain relaxed.
3. Return to start, then repeat with opposite leg. Aim for 6–8 reps with each leg, alternating each time.
Shoulder Bridge Prep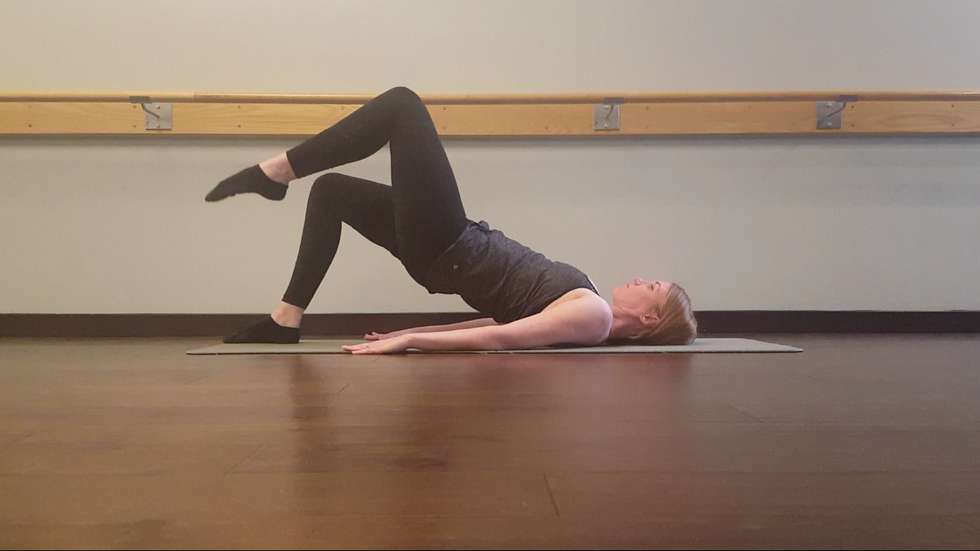 1. Stabilize your pelvis and spine in a neutral position, then extend your hips to lift the pelvis off the mat, creating a diagonal line from shoulders to knees. Be careful to not extend the spine.
2. Lift one foot off mat, making sure that there is no dropping or movement of the pelvis.
3. Return to start, then repeat with opposite leg. Aim for 3–6 reps with each leg, alternating each time.
Heel Squeeze Prone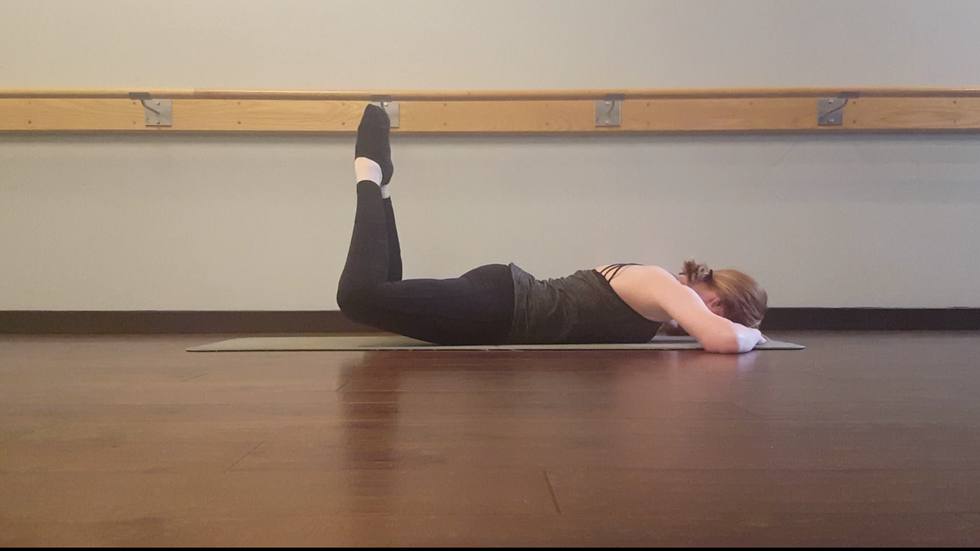 1. Lie on your stomach with spine and pelvis in neutral, fingertips resting on forehead. With your knees slightly wider than hip-distance, bend them at a 90-degree angle.
2. Squeeze heels together and lightly lift your thighs off the mat as far as a neutral pelvis and spine can be maintained.
3. Hold for a second, then return to starting position and repeat for 8–10 repetitions.
Clam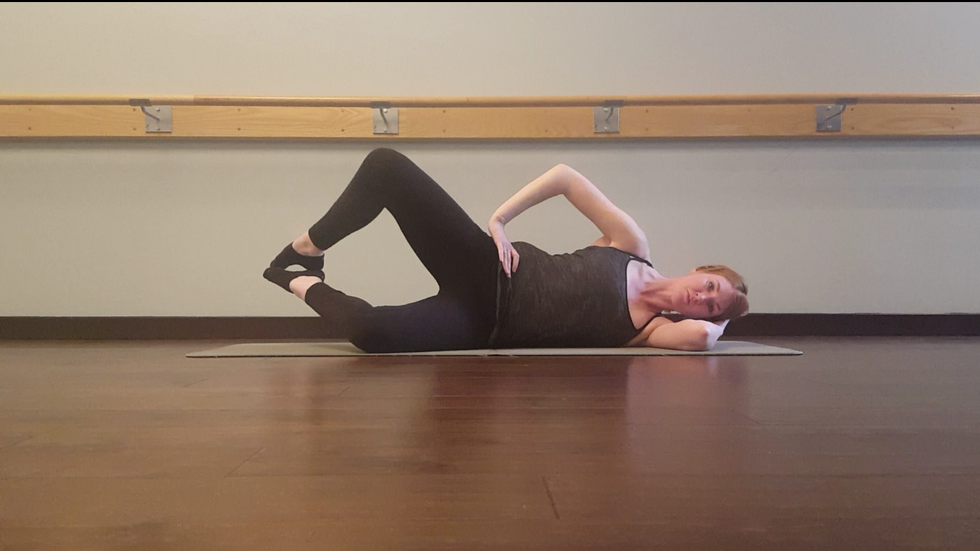 1. Lie on your side with spine and pelvis in neutral, knees bent and together and your bottom heel lifted slightly.
2. Keeping your pelvis neutral and your heels together, lift the top knee.
3. Hold for a second, then return to start. Aim for 8–10 repetitions.
4. Repeat on opposite side.
Rant & Rave
May. 23, 2018 04:25PM EST
Jessica Lang's Her Notes, one of ABT's few recent commissions from women. Photo by Rosalie O'Connor
A few weeks ago, American Ballet Theatre announced the A.B.T. Women's Movement, a new program that will support three women choreographers per season, one of whom will make work on the main company.
"The ABT Women's Movement takes inspiration from the groundbreaking female choreographers who have left a lasting impact on ABT's legacy, including Agnes de Mille and Twyla Tharp," said artistic director Kevin McKenzie in a press release.
Hypothetically, this is a great idea. We're all for more ballet commissions for women. But the way ABT has promoted the initiative is problematic.
Keep reading...
Show less
Cloud in Beth Gill's Catacomb. Photo by Brian Rogers, Courtesy Gill
Some dancers move to New York City with their sights set on a dream job: that one choreographer or company they have to dance for. But when Maggie Cloud graduated from Florida State University in 2010, she envisioned herself on a less straightforward path.
"I always had in mind that I would be dancing for different people," she says. "I knew I had some kind of range that I wanted to tap into."

Keep reading...
Show less
News
May. 18, 2018 12:05PM EST
The inimitable Alicia Alonso, now 97, remains at the helm of Ballet Nacional de Cuba. Photo by Leysis Quesada, Courtesy BNC
On the occasion of its 70th anniversary, the Ballet Nacional de Cuba tours the U.S. this spring with the resolute Cuban prima ballerina assoluta Alicia Alonso a the helm. Named a National Hero of Labor in Cuba, Alonso, 97, has weathered strained international relations and devastating fiscal challenges to have BNC emerge as a world-class dance company. Her dancers are some of ballet's best. On offer this time are Alonso's Giselle and Don Quixote. The profoundly Cuban company performs in Chicago May 18–20, Tampa May 23, Washington, D.C., May 29–June 3 and Saratoga, New York June 6–8.
Dance in Pop Culture
May. 17, 2018 10:12AM EST
Participants show off their plié. Screenshot via YouTube
We all know that the general population's knowledge of ballet is sometimes...a bit skewed. (See: people touching their fingertips to the top of their head, and Kendall Jenner hopping around at the barre.)
Would your average Joe know how to do ballet's most basic step: a plié? Or, more to the point, even know what it is?
SELF decided to find out.
Keep reading...
Show less
What Wendy's Watching
May. 22, 2018 02:50PM EST
PC Paul Kolnik
New York City Ballet is celebrating the Jerome Robbins Centennial with twenty (20!) ballets. The great American choreographer died in 1998, so very few of today's dancers have actually worked with him. There are plenty of stories about how demanding (at times brutally so) he could be in rehearsal. But Peter Boal has written about Robbins in a more balanced, loving way. In this post he writes about how Robbins' crystal clear imagery helped him approach a role with clarity and purpose.
Keep reading...
Show less
92Y Harkness Dance Center is hosting the first festival dedicated to dance films captured on mobile devices. Photo by Adam Grannick, Courtesy 92Y
Who says you need fancy equipment to make a festival-worthy dance film? Right now, two New York City–based dance film festivals are calling for aspiring filmmakers to show their stuff—and you don't need anything more cumbersome than a smartphone to get in on the action.

Here's everything you need to know about how to submit:
Keep reading...
Show less


Get Dance Magazine in your inbox