If You're Watching "Fosse/Verdon," Look Out for this Gift to Gwen from Jack Cole
Michelle Williams as Gwen Verdon. Photo by Eric Liebowitz/FX Networks
You can see them in "Fosse/Verdon" episode one. Michelle Williams, playing Gwen Verdon, wears them with a cool, retro, forest-green jumpsuit. Tucked beneath a mop top of tousled Gwen Verdon locks, Williams sports a pair of discreet and tasteful onyx drop-earrings—the dancer's favorites. Verdon wore them all her adult life, according to her daughter Nicole Fosse, a co-executive producer of the FX series that puts a spotlight on a great woman of American dance.
"I have very little memory of my mother wearing other earrings. They were her Gwen Verdon earrings," says Fosse, speaking by phone from her home in Vermont. "She's wearing them in 99 percent of the pictures of her performing."
---
The earrings were a treasured gift from Verdon's hard-bitten mentor and boss Jack Cole. They arrived at an important juncture of her life and career. She was transitioning from six years as a Cole dancer. When she burst forth on Broadway, her Jack Cole pedigree and pizazz served her well. Triumphing in a second-lead role in Can-Can (she initially deprecated the show's choreographer Michael Kidd as not Cole's equal), Verdon began her long reign as Broadway's queen of musical-theater. Although she returned to Los Angeles to again work with Cole, New York did not easily forget. Soon came Damn Yankees—and a new choreographer, Bob Fosse.
Cole had been nearly flippant in encouraging Verdon to audition for Can-Can. "Go ahead," he told her, releasing her from duties at 20th Century Fox in the midst of a high-stakes project (for him), Gentlemen Prefer Blondes. "You'll get a free weekend in New York."
Verdon got more than a weekend. To the shock of all, especially Cole, she got the job.
Cole and Verdon had worked hand-in-glove on a roster of films, not as equals but as master and protégée, first at Columbia Pictures in Cole's legendary resident dance company. Replacing Carol Haney, Verdon became a vital member of The Jack Cole Dancers traveling the nation in 1947 in Cole's sizzling, sexy nightclub act. Then, at 20th Century Fox, Verdon danced for Cole, and assisted him, in On the Riviera, David and Bathsheba, Gentlemen Prefer Blondes, The Farmer Takes a Wife, How to Marry a Millionaire and Gentlemen Marry Brunettes.
For Gentlemen Prefer Blondes, Cole had relied heavily on Verdon to coach Marilyn Monroe and Jane Russell, both non-dancers, in the rigors of his beat-by-beat musical stagings. Verdon was Monroe's 'dance-in' (an unconfirmed rumor has Verdon's pert derriere doubling for Monroe's large-ish one in "Diamonds are a Girl's Best Friend"). Finally, Verdon herself danced in Cole's lengthy "Four French Dances," a Folies Bergère-style number that heartbreakingly was cut. In it, ironically, Verdon danced a can-can.
Given this background, it is unsurprising that after Verdon's casting in Can-Can, Cole greeted her with a punch. He pulled that punch by attending Verdon's opening night, May 7, 1953—and sending a small gift box backstage.
In it was Cole's handwritten note to his muse: "You really know how to do it. And you did it."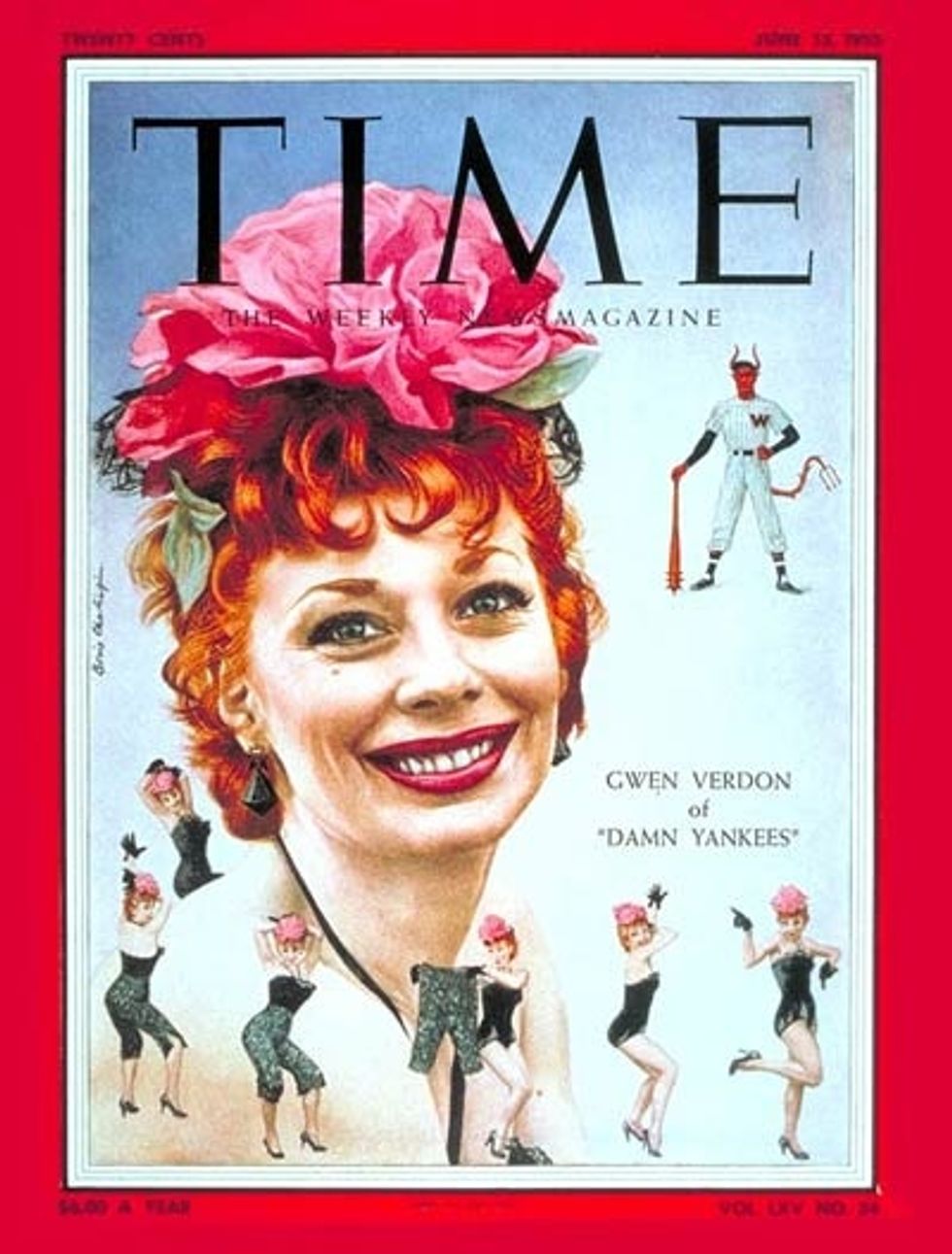 The earrings remained in Verdon's life both off and on-stage, as a cherished memento. She incorporated the very '50s black dangles into her brand, along with her flaming red hair.
"I wear them on the cover of Time magazine. I wear them on the cover of Life magazine," Verdon is quoted in 1985's "Only the Best: A Celebration of Gift Giving in America."
"When she was being Gwen Verdon—at dinner or awards function, a benefit or on stage—she wore them," remembers Nicole Fosse. "When she was being herself—Gwen the friend, Gwen the mom, or Gwen the dancer, sweating with other dancers—she didn't wear them."
Hollywood never gave Verdon the love she got on Broadway. She became an inveterate New Yorker, never looking back. The earrings marked this turning point, as well as her complex feelings about Cole. While the eight-episode "Fosse/Verdon" seeks to clarify Verdon's influence on her husband Bob Fosse's hugely successful career, the earrings represent another layer of influence hiding in plain sight, that of Jack Cole on Verdon—and via Verdon on Fosse.
(Jack Cole is present in "Fosse/Verdon" episode three, airing tonight, in a brief cameo role played by Christopher Tocco. The episode also includes a Cole-style jazz number smartly choreographed by Andy Blankenbuehler.)
Upon the death of her mother in 2000, Fosse inherited the earrings. She brought them to the attention of FX's costumer Melissa Toth, who had them replicated for Williams to wear in the television series. The replications are markedly lighter, says Fosse. "The original ones are quite heavy. They really pull on your ear."
It would be difficult to dance while wearing them. But that tug at the ear—and possibly at her heartstrings—was a bittersweet weight Gwen Verdon clearly was ready to bear.

From Your Site Articles
Related Articles Around the Web
We knew that Ivo van Hove and Anne Teresa de Keersmaeker's production of West Side Story would challenge our preconceived notions about the show.
But a recent Vogue story gives us a taste of just how nontraditional the Broadway revival will be. Most notably, van Hove is cutting "I Feel Pretty" and the "Somewhere" ballet, condensing the show into one act to better reflect the urgency of the 48-hour plot. (The choice has been approved by the West Side Story estate, including Sondheim, who has "long been uncomfortable" with some of the "I Feel Pretty" lyrics.)
Keep reading...
Show less
Ailey II artistic director Troy Powell teaching an Ailey Workshop at NYCDA. Courtesy NYCDA
Back in 2011 when Joe Lanteri first approached Katie Langan, chair of Marymount Manhattan College's dance department, about getting involved with New York City Dance Alliance, she was skeptical about the convention/competition world.
"But I was pleasantly surprised by the enormity of talent that was there," she says. "His goal was to start scholarship opportunities, and I said okay, I'm in."
Today, it's fair to say that Lanteri has far surpassed his goal of creating scholarship opportunities. But NYCDA has done so much more, bridging the gap between the convention world and the professional world by forging a wealth of partnerships with dance institutions from Marymount to The Ailey School to Complexions Contemporary Ballet and many more. There's a reason these companies and schools—some of whom otherwise may not see themselves as aligned with the convention/competition world—keep deepening their relationships with NYCDA.
Now, college scholarships are just one of many ways NYCDA has gone beyond the typical weekend-long convention experience and created life-changing opportunities for students. We rounded up some of the most notable ones:
Keep reading...
Show less
Jayme Thornton
It's a much-repeated part of Francesca Hayward's origin story that she discovered ballet at age 3, when her grandparents bought a video of The Nutcracker to keep her occupied and she immediately started dancing around the room. What's less well-known is that there was another video lined up next to The Nutcracker that Hayward liked to dance along to: Cats. "I really just did the White Cat bit and fast-forwarded the rest," she remembers. "I'd make my friends who came around be the other cats."
Twenty-four years later, she's not only become a Royal Ballet principal, but has been cast as Victoria the White Cat in Tom Hooper's new movie adaptation of the Andrew Lloyd Webber musical, out in theaters on December 20. "I remember the director telling me I'd got the part: 'Just to let you know you're the lead in a Hollywood film,' he said." Hayward laughs. "This is crazy!"
Keep reading...
Show less
Left: Hurricane Harvey damage in Houston Ballet's Dance Lab; Courtesy Harlequin. Right: The Dance Lab pre-Harvey; Nic Lehoux, Courtesy Houston Ballet.
"The show must go on" may be a platitude we use to get through everything from costume malfunctions to stormy moods. But when it came to overcoming a literal hurricane, Houston Ballet was buoyed by this mantra to go from devastated to dancing in a matter of weeks—with the help of Harlequin Floors, Houston Ballet's longstanding partner who sprang into action to build new floors in record time.
Keep reading...
Show less