One night in high school, Heather McGinley got a last-minute opportunity to see the Paul Taylor Dance Company perform in her hometown of St. Louis, Missouri. "It was the company premiere of Black Tuesday, and a dance teacher had something come up, so she couldn't use her ticket," McGinley recalls. To this day, she remembers watching Annmaria Mazzini perform the "Boulevard of Broken Dreams" solo. Little did she know then that years later, after auditioning for the company five times, she would succeed Mazzini to dance the role herself.
Since earning a spot in PTDC in 2011, McGinley has had "what feels like a million memorable per­for­­­­mances," she says. It's something she credits both to Taylor's cho­reography and her fellow dancers. "It's a real community, and I think that is largely because it's inherent in Paul Taylor's work—it's not going to come out as well if we don't really see each other and trust each other."
---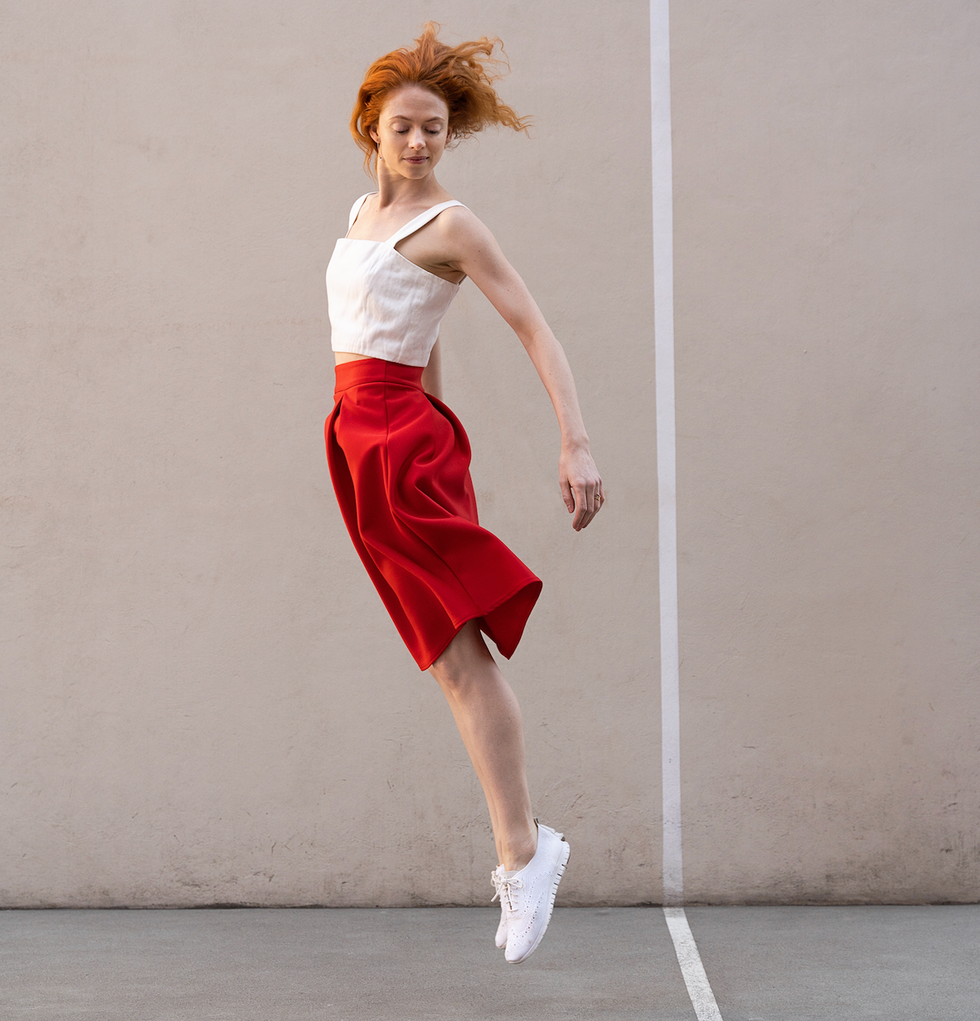 Quinn Wharton
Getting into PTDC: "It was the fifth time I attended a women's audition that I was hired. I got further and further every time; I never really felt rejected by not getting the job because Paul had his entire company watching the auditions and they were all so encouraging."
What's on her playlist: "Early in the pandemic I was listening to Fiona Apple's Fetch the Bolt Cutters on repeat, but it really ranges from Louis Armstrong to Radiohead."
Pre-performance routine: "It's a mix of giving myself plenty of time to get ready and not doing too much reviewing of steps or checking archival video. I really try to keep myself from getting in my head."
Her coffee order: "An Americano with lots of room for whole milk."
A standout performance: "My very first show with the company was in Paul Taylor's Cloven Kingdom, in Izmir, Turkey. I had only been in the company for one week. I had four days of rehearsal and then we were off."
Favorite place to travel to: "Italy—I've even been practicing Italian on Duolingo."
When she's not dancing: "I love to paint with oil pastels."
Favorite artist: "Jackson Pollock."
Dream choreographer to dance for: "Mats Ek."
Working with Paul Taylor: "You never forget any words that he told you. It was so important that you show him yourself and really trust your instincts—and that you get your spacing right! If he wanted you on center, you'd better be exactly on center."