News
Sep. 10, 2018 09:00AM EST
How a Hurricane Led to a Historic Collaboration in Houston
Houston Ballet rehearsing Theater Under The Stars' Oklahoma! choreographed by Stanton Welch. Photo by Lawrence Knox
Rodgers & Hammerstein's classic 1943 musical Oklahoma!, now celebrating its 75th anniversary, brought a bounty of firsts: Rodgers and Hammerstein's first collaboration, Agnes de Mille's first dream ballet, the first time that a Broadway choreographer got a credit as a choreographer.
This week, there will be another first: the first time Houston Ballet and Theatre Under the Stars, Houston's home for musical theater, worked together to put on a show.
---
The collaboration came out of the aftermath of Hurricane Harvey. TUTS's new artistic director Dan Knechtges, a veteran Broadway choreographer, was just starting the job in August 2017 when the hurricane hit. Suddenly, he found himself thrust into meetings with the local chiefs of Houston's arts organizations as they scrambled to rescue their seasons due to the massive flooding in the Theater District. TUTS's home at the Hobby Center for the Performing Arts was one of the few theaters that escaped the flood waters.

"Dan burst into the room like a breath of fresh air with his 'let's put on a show' attitude," says Houston Ballet artistic director Stanton Welch.
Knechtges remembers the day somewhat differently: "It was my second day on the job and I am a room with all of Houston's arts bigwigs. Most everyone had just lost their season and was in shell shock. I knew who Stanton was, and I was a fangirl." Knechtges reached out to Welch with one crazy, wild idea: collaborate on a production of Oklahoma!
Knechtges had come to TUTS with a vision of returning the organization to its roots: developing new shows rather than just presenting touring productions. He also made a promise to use 50 percent Texas talent during each season.
Choreographing a musical had always been on Welch's bucket list, and he quickly said yes. "I got my start on stage in Oliver," he boasts. He grew up backstage watching his father, Garth Welch, in the role of Zack in A Chorus Line.
Directing this production is Knechtges' longtime colleague Kevin Moriarty, artistic director of the Tony Award-winning Dallas Theater Center. Welch has enjoyed supporting someone else's vision for a change, a first for him since helming Houston Ballet. "It's a relief in a funny way; it took some pressure off me."

Like de Mille, Welch is in his element with the dream ballet. He's a master of adding a psychological dimension to his story ballets. "Dream ballets are a common device in ballet—consider 'Kingdom of the Shades' in La Bayadere, and The Merry Widow."
In this update, Laurey is in charge of her own life and not a victim, a very different approach than de Mille's treatment. "You can really see the updating in Stanton's partnering, especially in the way the women interact with each other, it feels so much more contemporary," says Knechtges. "I also love that it's on pointe. People are not used to seeing this level of dancing in a musical."
Welch's dream ballet is also more integrated into the action, with the dream characters appearing in other scenes, and Laurey, the actor, present during the actual ballet. "You see her facing her psyche and trying to figure things out," says Knechtges.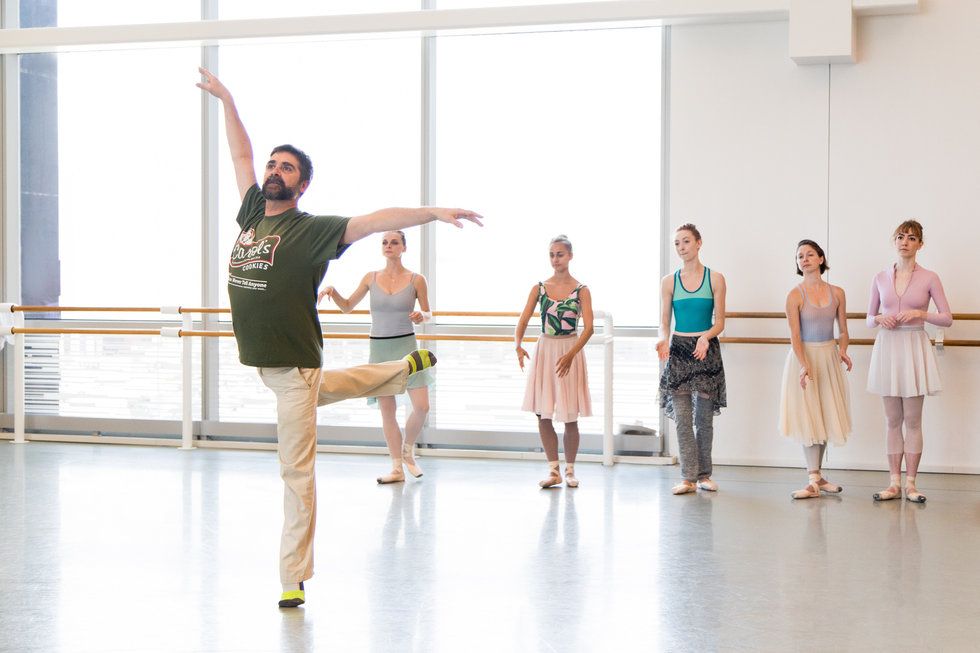 Stanton Welch rehearsing the dancers. Photo by Lawrence Knox
As natural as it was for Welch to be steeped in drama, he would be the first to admit that there was a learning curve. "I don't usually choreograph to words," he says. "Really, everything about this process is new. But I love to learn new things, and the dancers are soaking everything up like a sponge."
Houston Ballet principals Ian Casady and Charles Yoshiyama dance the role of "Dream Curly," while Jessica Collado and Melody Mennite take on "Dream Laurey," and soloist Christopher Coomer and demi soloist Brian Waldrep perform "Dream Jud." Fifteen additional company members are part of the ensemble.
At the end of the day, Oklahoma!'s message feels right for today's deeply divided political sphere. "At its heart, it's about coming together for the greater good and that certainly relates to the time we are living in," adds Welch.
One of the most powerful ways a city can heal is through the arts. As we move past the one-year anniversary of the tragedy of Hurricane Harvey, Houston has set a stunning example in Oklahoma! A beautiful morning indeed!
Catch Oklahoma! September 11-23 at the Hobby Center for the Performing Arts.
News
Sep. 16, 2019 11:00AM EST
Teaċ Daṁsa in Michael Keegan-Dolan's Loch na hEala. Photo by Marie-Laure Briane, courtesy Walker Art Center
The 2019–20 season is here, and with it more performances than any one person could reasonably catch. But fear not: We polled our writers and editors and selected the 31 most promising tickets, adding up to one endlessly intriguing year of dance.
Keep reading...
Show less
Taylor Stanley in Apollo. Photo by Erin Baiano, Courtesy New York City Ballet
You nominated your favorite dance moments so far in 2019, and we narrowed them down to this list. Now it's time to cast your vote to help decide who will be deemed our Readers' Choice picks for the year!
Voting is open until September 17th. Only one vote per person will be counted.
Keep reading...
Show less
The USC Kaufman graduating class with Mikhail Baryshnikov. Gus Ruelas/USC
Just four years ago, the University of Southern California's Glorya Kaufman School of Dance welcomed its first class of BFA students. The program—which boasts world-class faculty and a revolutionary approach to training focused on collaboration and hybridity—immediately established itself as one of the country's most prestigious and most innovative.
Now, the first graduating class is entering the dance field. Here, six of the 33 graduates share what they're doing post-grad, what made their experience at USC Kaufman so meaningful and how it prepared them for their next steps:
Keep reading...
Show less
Original photos: Getty Images
Keep reading...
Show less