How This Dancer Fought Cancer—and Used His Experience to Give Back
Freddie Kimmel
Freddie Kimmel's musical theater career was just taking off when he woke up one morning with a pain in his groin. A trip to the doctor assured him it was nothing of concern, even though the sensation returned a few months later. As a dancer, Kimmel was used to pushing through discomfort, so he kept going to dance class to "work it out."
But the pain persisted. During a run of The Full Monty at Westchester Broadway Theatre, Kimmel was diagnosed with advanced metastasized cancer. Ten tumors had infiltrated his body.
---
Surgery and chemo treatments required Kimmel to return to his hometown. "I hadn't let go of New York, of music theater," he recalls. "The doctor said, You're not a performer right now. You're battling cancer." So with the same fervor he applied to becoming a dancer, Kimmel battled his cancer.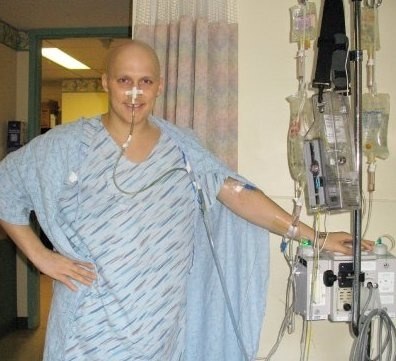 Kimmel in the hospital
It took a year and a half before he could get back on stage. For him, the experience shed light on what it meant to rely on others. As a survivor, Kimmel wanted to become the helping hand he couldn't find. He felt he had a responsibility to help others.
Today, Kimmel's career is thriving. He recently tapped his way through the Off-Broadway hit musical Cagney, as the standby for the title role. And he uses his successes to support others battling disease.
While on the 25th anniversary tour of Phantom of the Opera, Kimmel met Reese—a young girl with end stage terminal cancer who was a huge Phantom fan. Kimmel helped get tickets to the show for Reese and her family. He brought her backstage to meet the cast, take a tour and even try on costumes.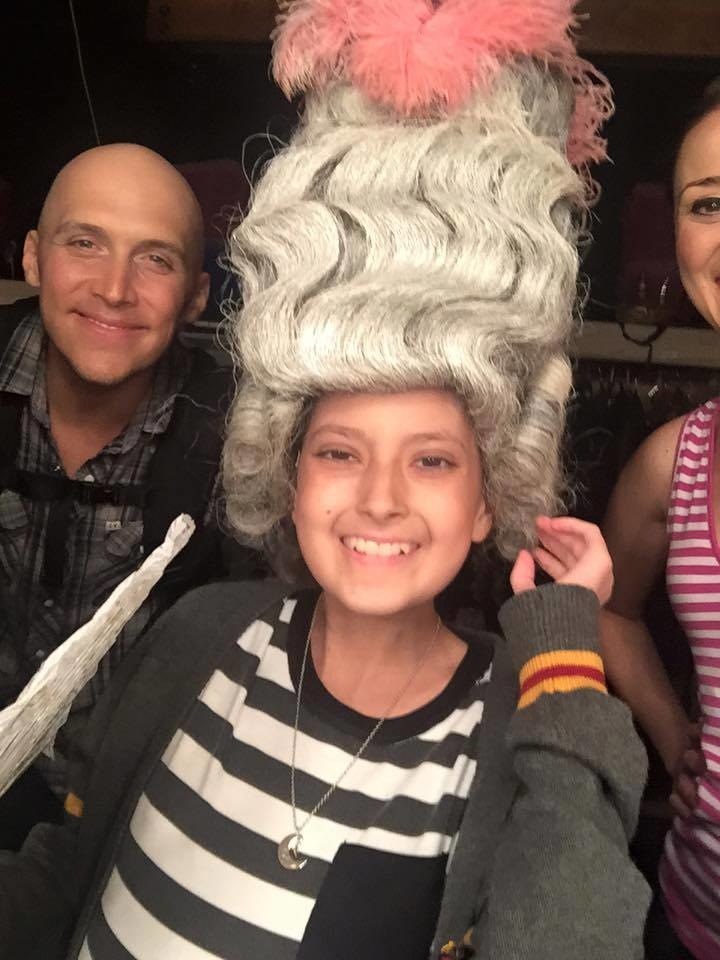 Kimmel backstage with Reese
Back in New York after the tour, Kimmel met a woman whose granddaughter was battling leukemia and the family was struggling with medical bills. Without a second thought, he started a GoFundMe campaign, raising over $1,200 to give the family some relief. Today, that young girl is a healthy first-grader.

Even before he was strong enough to return to the stage, Kimmel created Sing For Your Seniors as an outlet for performing. The program, still running, travels around New York and New Jersey performing in senior centers, hospice care, cancer hospitals and veteran centers. "The magic of the experience is the perfect exchange between performer and audience member," he says.
Kimmel lives for those moments of connection. "You set out to give people a helping hand, but they end up becoming a light for you because they're so inspiring," he says. "It's pure joy; the perfect moment."
Related Articles Around the Web
Many of the dancers of 10000 Gestures weren't wearing much clothing when they started climbing on audience members. Photo by Ursula Kaufmann via nyuskirball.org
Some of my favorite experiences as both an audience member and a dancer have involved audience participation. Artists who cleverly use participatory moments can make bold statements about the boundaries between performer and spectator, onstage and off. And the challenge to be more than a passive viewer can redefine an audience's relationship to what they're watching. But all the experiences I've loved have had something in common: They've given audiences a choice.
A few weeks back, I had a starkly different experience—one that has caused me to think deeply about how consent should play into audience-performer relationships.
Keep reading...
Show less
This high school dance team's Harry Potter routine has gone viral. Screenshot via ThePac Walden Grove's YouTube channel.
What happens when you mix two really good things together? Sometimes, it can be magical. It's practically guaranteed when one of those elements is the wizarding world of Harry Potter, and the other is—wait for it—dance-team–style hip hop.
Keep reading...
Show less
News
Oct. 12, 2018 11:04AM EST
Adam McKinney's HaMapah/The Map. Photo by Lafotographeuse, Courtesy McKinney
When the Bible spoke of the "ingathering of the exiles," it didn't have dance in mind. Yet, this month, more than 100 dancers, choreographers and scholars from around the world will gather at Arizona State University to celebrate the impact of Jews and the Jewish experience on dance. From hora to hip hop, social justice to somatics, ballet to Gaga, the three-day event (Oct. 13–15) is "deliberately inclusive," says conference organizer and ASU professor Naomi Jackson.
Keep reading...
Show less


Get Dance Magazine in your inbox