How Do You Find The Strength To Be Vulnerable Onstage?
Tsai-Wei Tien in Bausch's Rite of Spring. Photo by Alexandra Campeau, courtesy Tanztheater Wuppertal
In a sheer red slip—dirt-covered and exposed—the Chosen One frantically pleads with the community encircling her, wildly dancing until she at last succumbs to an inevitable death. Part of Pina Bausch's haunting Rite of Spring, this solo is one of the most vulnerable in dance.
"When I perform this role, there is no acting, my struggle is very real—it becomes very spiritual," says Tanztheater Wuppertal dancer Tsai-Wei Tien. "I squeeze everything I have into those final moments."
A truly unguarded performance electrifies the stage and connects deeply with the audience, in a way that surpasses even the most flawless technical prowess.
---
"Often what separates a great dancer from a good dancer is the ability to get to that vulnerable place" says Dr. Nadine Kaslow, a psychologist who works with Atlanta Ballet. "The truth is that's hard for anyone to do, dancer or not." Perfectionism, self-doubt, anxiety and hardened defenses are all-too-familiar mental roadblocks. But taking the steps to confront them can help dancers let go onstage, unlocking more powerful performances.
What is Vulnerability, Exactly?
"Vulnerable" is defined as being susceptible to physical or emotional harm, and is derived from the Latin root vulnus, meaning wound. People generally are most vulnerable when they have complete trust with another, so finding that place onstage in front of thousands of strangers requires real consideration—and courage!
For Samantha Speis, Urban Bush Women associate artistic director and dancer, being vulnerable is "taking a deep dive," allowing yourself to be in a state of wholeness, so all parts of yourself are available and receptive to the moment. "When I'm in that place," she says, "there are endless possibilities of what I contribute—my lineage, my history, my experiences, my narrative is inside the work."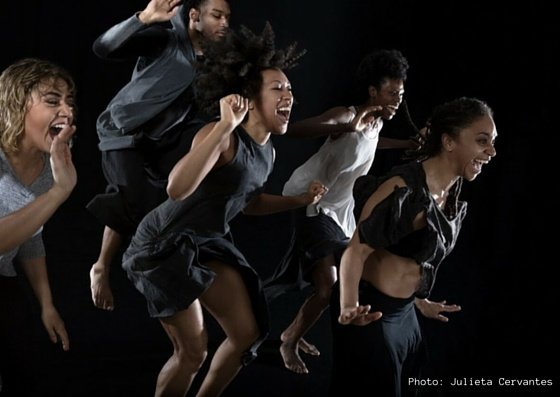 Urban Bush Women in Walking With Trane. Photo by Julieta Cervantes, courtesy UBW.
The Challenges
In Kaslow's experience, both as a dancer and dance psychologist, she's found that rigorous training can be a barrier to vulnerability. "So much of training is about perfection, about not showing vulnerability, with singular focus on steps or technique," she says. "There needs to be more attention to the dancer as a person."
Speis also notes that in our culture, vulnerability is often equated with weakness. "I've had to dismantle those assumptions," she says.
She's found that UBW's collaborative process helps nurture the individual voices of the dancers. Rather than keeping ideas and feelings inside, she recommends feeding them into the work—try on an idea, she suggests, see what it feels like and what it sparks for you, and share it. "At UBW, we are able to cook and simmer, and jump into that vulnerable space together," she says.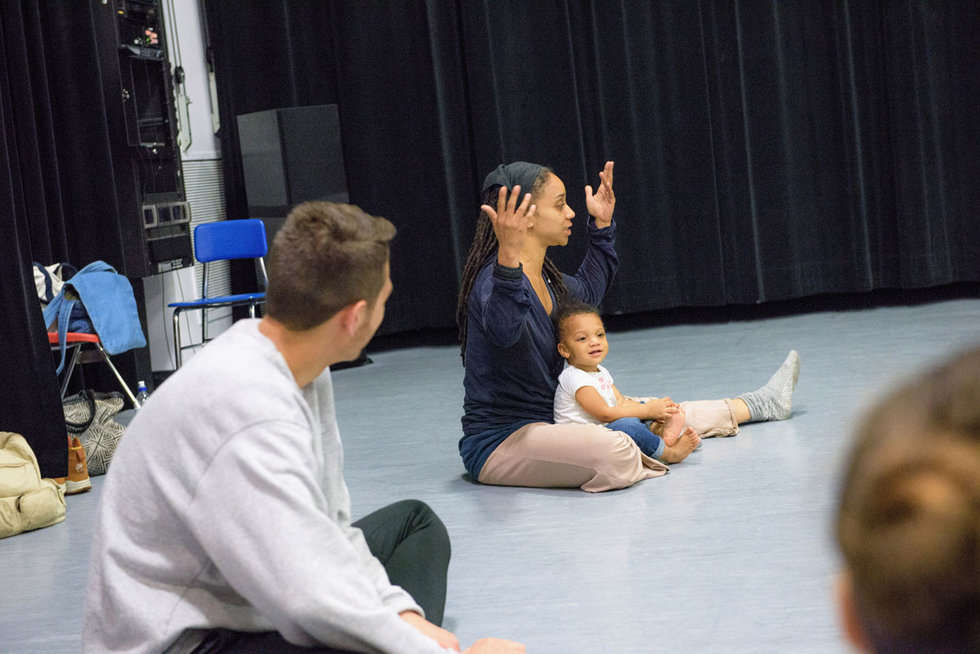 Samantha Spies leads a masterclass at UBW. Photo by Dale Dong, courtesy UBW
Finding Vulnerability Through Authenticity
Before she passed away, Bausch told Dance Magazine, "I don't want my dancers to act. I want them to be natural, to let whatever they have inside, out. When they do this, they have real presence."
Tanztheater Wuppertal in Rite of Spring
Her company continues to work with this philosophy today. Tien remembers that when learning the Chosen One choreography, her coaches only taught movements, not how to act the part. "We rarely talked about the emotions of the role, because everything is there within the movements," she says. Allowing herself to experience the piece's physical journey leads to authentic vulnerability, akin to living real life: see, react, engage and, ultimately, be.
However, many dancers prefer traditional acting approaches to guide them to vulnerable possibilities onstage. Susan Batson, an acting coach and mentor to choreographer Francesca Harper, as well as a laundry list of well-known actors—like Nicole Kidman and Juliette Binoche—says great performers call on their personal experiences consistently during performance.
"Some artists are good, but we're not taken by them, we don't feel them, we just observe them," Batson says. "Once you learn to make a connection to yourself, you are guaranteed to speak from an authentic place."
English National Ballet lead principal Erina Takahashi recently discovered the power of this process during the creation of Akram Khan's striking Giselle. During rehearsals, Khan gave her space to clarify for herself who Giselle truly is—what she feels and desires.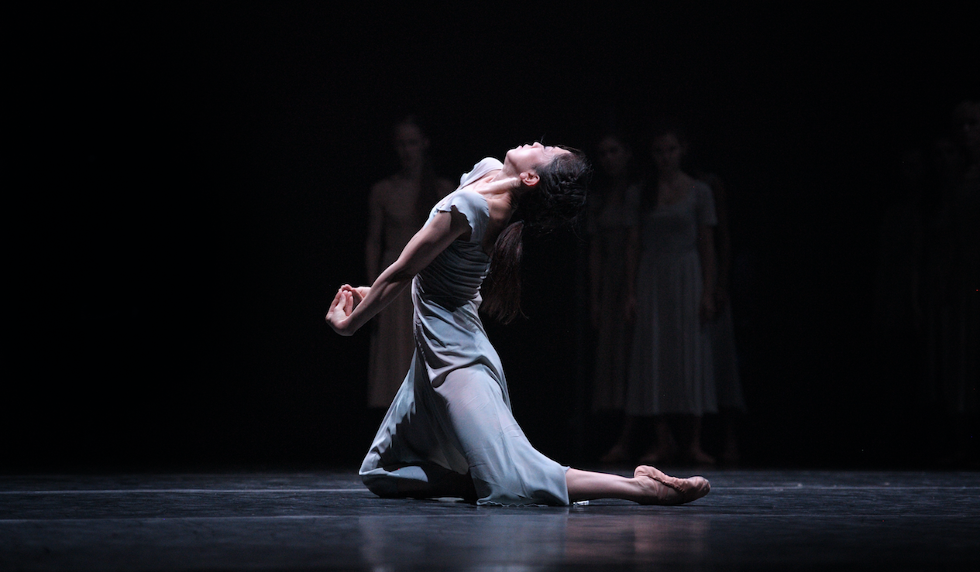 Erina Takahashi in Akram Khan's Giselle. Photo by Laurent Liotardo, courtesy ENB
"I needed to find meaning within each step," says Takahashi. After hours of investigative rehearsal and inward contemplation, onstage she could be a fully vulnerable Giselle without feeling staged or awkward. "I was able to connect my own pain, joy, happiness, upset, disappointment, and put it into this ballet."
Even in abstract work, Batson says dancers can contribute something true by clarifying what they desire to bring to the piece, and funneling those desires through their imagination.
"Start developing a file cabinet of parallel situations, personalizations, so you can put yourself through an emotional memory of joy or great tragedy and then lift that up into the circumstances of the movement," describes Batson. "Put it through your own truth."
A Psychologist's Suggestions
For dancers struggling with a fear of feeling exposed onstage, psychologist Dr. Nadine Kaslow recommends the following:
Remember that there is no way to be perfect, and no way to be perfect and vulnerable.
Ask choreographers, teachers and peers to give feedback; request focus on the vulnerability of your performance.
Take time to dance by yourself. That freedom may reveal breakthroughs.
Read books about mindfulness and find time for self-reflection. This awareness can prevent anxiety and keep you from worrying four steps ahead.
If self-expression is a continuous challenge, repressed personal issues may require attention: Growing up in a family where feelings weren't expressed, or were expressed in an aggressive manner, or dealing with trauma can make a dancer bury their true self in the studio and onstage.
Therapy is recommended if this issue is interfering with career goals.
Dance in Pop Culture
May. 25, 2018 01:48PM EST
Ne-Yo, Jennifer Lopez and Derek Hough return to "World of Dance" on May 29
Season 2 of World of Dance is almost here! The new season officially kicks off on Tuesday on NBC, and it's bringing a whole new crew of talented dancers with it (plus, some old favorites). Dance pro judges Jennifer Lopez, Derek Hough and Ne-Yo are back, too, with Jenna Dewan serving as the show's host.
Obviously we'll be watching, but just in case you're not completely sold, here's why you're not going to want to miss out:
JLo Might Be Performing
Earlier this week, JLo (who serves as the show's executive producer) posted this insane promo clip to her Instagram. Dancing to a mashup of Cardi B's "Bodak Yellow" and her new single "Dinero," JLo reminded us all of her dance skills while also leading us to believe she might just hit the stage herself for a performance.

Keep reading...
Show less
May. 25, 2018 12:14PM EST
Travis Wall draws inspiration from dancers Tate McCrae, Timmy Blankenship and more.
One often-overlooked relationship that exists in dance is the relationship between choreographer and muse. Recently two-time Emmy Award Winner Travis Wall opened up about his experience working with dancers he considers to be his muses.
"My muses in choreography have evolved over the years," says Wall. "When I'm creating on Shaping Sound, our company members, my friends, are my muses. But at this current stage of my career, I'm definitely inspired by new, fresh talent."
Wall adds, "I'm so inspired by this new generation of dancers. Their teachers have done such incredible jobs, and I've seen these kids grown up. For many of them, I've had a hand in their exposure to choreography."

Keep reading...
Show less
Rant & Rave
May. 23, 2018 04:25PM EST
Jessica Lang's Her Notes, one of ABT's few recent commissions from women. Photo by Rosalie O'Connor
A few weeks ago, American Ballet Theatre announced the A.B.T. Women's Movement, a new program that will support three women choreographers per season, one of whom will make work on the main company.
"The ABT Women's Movement takes inspiration from the groundbreaking female choreographers who have left a lasting impact on ABT's legacy, including Agnes de Mille and Twyla Tharp," said artistic director Kevin McKenzie in a press release.
Hypothetically, this is a great idea. We're all for more ballet commissions for women. But the way ABT has promoted the initiative is problematic.
Keep reading...
Show less
News
May. 18, 2018 12:05PM EST
The inimitable Alicia Alonso, now 97, remains at the helm of Ballet Nacional de Cuba. Photo by Leysis Quesada, Courtesy BNC
On the occasion of its 70th anniversary, the Ballet Nacional de Cuba tours the U.S. this spring with the resolute Cuban prima ballerina assoluta Alicia Alonso a the helm. Named a National Hero of Labor in Cuba, Alonso, 97, has weathered strained international relations and devastating fiscal challenges to have BNC emerge as a world-class dance company. Her dancers are some of ballet's best. On offer this time are Alonso's Giselle and Don Quixote. The profoundly Cuban company performs in Chicago May 18–20, Tampa May 23, Washington, D.C., May 29–June 3 and Saratoga, New York June 6–8.
Courtesy Soffe, Dicsount Dance Supply, Danskin. LeaMarie leotard photographed by Jayme Thornton
Considering we practically live in our dance clothes, there's really no such thing as having too many leotards, tights or leggings (no matter what our mom or friends say!). That's why we treat every sale as an opportunity to stock up. And thanks to the holiday weekend, you can shop all of your dancewear go-tos or try something totally new for as much as 50% less than the usual price.
Here are the eight sales we're most excited about—from online options to in-store retailers that will help you find the perfect fit. Happy Memorial Day (and shopping)!
Now through Monday, Danskin's site will automatically take 25% off your entire purchase at checkout. Even new items like their Pintuck Detail Floral Print Sports Bra and Pintuck Detail Legging (pictured here) are fair game.
Keep reading...
Show less
News
May. 25, 2018 12:38PM EST
Ailey dancers and stagehands rallied together yesterday. Photo by Jen Peters
"The sun may be shining brightly, but we are not in a very sunny mood today!" said New York State assemblywoman Linda Rosenthal during yesterday's rally for the Artists of Ailey.
The dancers and stage crew are demanding increased wages and more comprehensive benefits, what they have termed "reaching for the standard" and "fair wages."
Keep reading...
Show less


Get Dance Magazine in your inbox