How To Say Goodbye To Gripping Your Turnout
Giphy
Turnout can be a tricky thing. Perfect 180 degrees can make your lines look gorgeous, but gripping, forcing and twisting to get it there can lead to injuries down the road.

"It's a struggle because the demands of ballet positioning, to really do it properly you need to be turned out," says former American Ballet Theatre principal and master ballet teacher Ashley Tuttle. "If your body's not quite as turned out as the steps require then you have to find a way to make it look turned out but not hurt yourself."
While gripping may seem harmless, this bad habit can manifest in a host of different lower-extremity injuries, says Sarah Edery-Altas, PT, DPT, OCS at the Harkness Center for Dance Injuries at NYU Langone Health.
---
Although you might get away with eking out a few more degrees of your turnout now, Tuttle says it's best to work on correcting this issue sooner rather than later.
Here's how to put gripping your turnout in the past:
1. Invest in Turnout Discs or Make Your Own
Turnout discs can help you maintain alignment and engage your deep rotators. Screenshot via Youtube
"My go-to is the turnout discs," Edery-Altas says. "They're pretty much an ideal therapist to practice maintaining your lower extremity and pelvic alignment while specifying those deep external rotators and then working within the confines of where you are that day."
Since turnout discs can be expensive, dancers can also opt to rig up their own by finding something as frictionless as possible. Even a pair of fuzzy socks or towels can give you the same effect, she says.
2. Make Sure Your Pelvis is Neutral
One of the biggest enemies to good turnout is a swayed back, Tuttle says. An arched back makes it nearly impossible to access your turnout, which is why it's crucial to understand the positioning of your pelvis when you're working with your turnout.
Edery-Altas suggests dancers do pelvic clocks on the ground and practice rotating their legs into a turned out position while keeping their pelvis neutral. She also has her patients practice movements like passé and développé while they focus on the position of their pelvis.
3. Imagine You're Turning on a Faucet
Dancers can imagine turning on a faucet to help access their turnout. Via Giphy
Tuttle encourages her students to imagine they're turning on a faucet. "When you turn the knob, that's how you want to turn your leg in your hip joint," she says.
For older students, Tuttle has them imagine that their turnout begins from their ribcage, a tip she learned from ballet teacher Nancy Bielski. "I think that idea that it's even coming higher than your hip joint makes you pull up in the front of your body a little more, so you're able to access it in a different way," Tuttle says.
4. Shift the Focus to Your Supporting Leg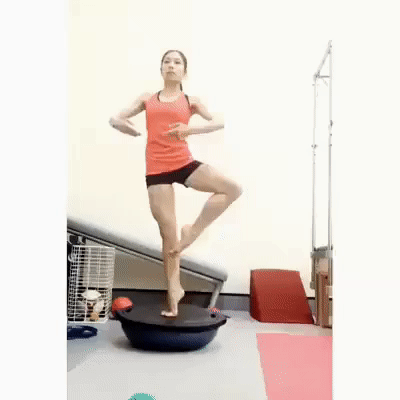 Imagining that your working leg is light can help prevent gripping. Via Giphy
Gripping your turnout is never more tempting than when you've been holding your leg up for what seems like hours during adagio. Instead, try shifting your focus to the supporting leg and imagine your working leg is light, like cotton candy or leaves on a tree, suggests Tuttle. This should help release tension you might be holding in your working hip and keep you from gripping.
5. Don't Cheat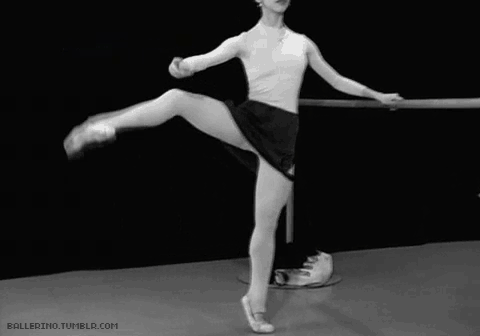 Developing strong, solid turnout can protect you from injuries and improve your performance. Via Giphy

"Put your technique ahead of the flashiness," Tuttle says. There will be days that forcing your turnout to get the picture-perfect line seems like your best bet, but you don't want to sacrifice long-term progress for short-term satisfaction. "If you want to just have this leg whacked out on Instagram or something then you're not going to have the base for the turnout," she says. "If you learn the steps and learn the turnout and find the strength in it, then you can go off that and do some pretty amazing things."
From Your Site Articles
Related Articles Around the Web
Peter Smith, courtesy of University Musical Society
What happens during a performance is the product of the painstaking process of realizing an artistic vision. Whether held beforehand, afterward, offsite or online, audience discussions tend not to be so preordained, easily thrown off track without a skilled moderator at the helm.
"I'm someone who dreaded talkbacks and Q&As," admits Bill Bragin, former director of public programming at Lincoln Center. "While I was in New York, a lot of the time it was just audience members trying to show off how smart they were."
These events present a pile of difficult questions: How much do you reveal about a piece before it's shown? How can a conversation designed to hit key points feel casual and spontaneous? How do you cater to the needs of diverse attendees, from novice dancegoers to lifelong fans to scholars and critics? And how do you avoid smothering dance with language, flattening all its complexity?
Keep reading...
Show less
UA Dance Ensemble members Candice Barth and Gregory Taylor in Jessica Lang's "Among the Stars." Photo by Ed Flores, courtesy University of Arizona
If you think becoming a trainee or apprentice is the only path to gaining experience in a dance company environment, think again.
The University of Arizona, located in the heart of Tucson, acclimates dancers to the pace and rigor of company life while offering all the academic opportunities of a globally-ranked university. If you're looking to get a head-start on your professional dance career—or to just have a college experience that balances company-level training and repertory with rigorous academics—the University of Arizona's undergraduate and graduate programs have myriad opportunites to offer:
Keep reading...
Show less
Alice Sheppard/Kinetic Light in DESCENT, which our readers chose as last year's "Most Moving Performance." Photo by Jay Newman, courtesy Kinetic Light
Yes, we realize it's only August. But we can't help but to already be musing about all the incredible dance happenings of 2019.
We're getting ready for our annual Readers' Choice feature, and we want to hear from you about the shows you can't stop thinking about, the dance videos that blew your mind and the artists you discovered this year who everyone should know about.
Keep reading...
Show less
Silas Farley in his Songs from the Spirit at the Metropolitan Museum of Art. Rosalie O'Connor, Courtesy Farley
I dance to encourage others. The longer I dance, the more I see that much of my real work is to speak life-giving words to my fellow artists. This is a multidimensionally grueling profession. I count it a privilege to remind my colleagues of how they are bringing beauty into the world through their craft. I recently noticed significant artistic growth in a fellow dancer, and when I verbalized what I saw, he beamed. The impact of positive feedback is deeper than we realize.
Keep reading...
Show less