News
Nov. 28, 2017 09:55AM EST
How Sonya Tayeh Makes Musicians Dance
Dan R. Winters, via hundreddays.org
Creating movement for non-dancers presents certain challenges. But even tougher is creating movement for a band of musicians, all with instruments behind pesky microphone stands.
What's the first step? Listening to their music and watching how they already move, says choreographer Sonya Tayeh. Her latest work is the off-Broadway musical Hundred Days, starring Abigail and Shaun Bengson, founders of the indie-rock band The Bengsons.
---
Tayeh has choreographed for top dance talent, from the Martha Graham Dance Company to multiple seasons of "So You Think You Can Dance."
But for this show, at New York Theatre Workshop, she let go of the scorching combinations she's known for. Hundred Days is a gentle, but intense love story, told in song and spoken word, of how Abigail and Shaun met and married within three weeks.
When Tayeh started work on Hundred Days, she already had a firm understanding of what the Bengsons needed from a choreographer because she had seen it several times: In 2014, she had traveled to San Francisco to visit her girlfriend, Jo Lampert, who was and still is one of the bandmembers in the show.

Watching Hundred Days repeatedly at San Francisco's Z Space gave Tayeh intense observations about the Bengsons' music, lyrics and onstage habits. She also developed close creative ties with the group. They've since composed music for her dance work you'll still call me by name and for routines on "SYTYCD."
The key, she says, to creating movement for any musician is "really understanding their music and asking the history of it. 'Why did you make this song? Do you need me to remind you?'"
Photo by Shervin Lainez, courtesy Tayeh
By watching the Bengsons, she saw naturally occurring gems of movement—maybe a hand gesture, a kick or a weight shift—that they didn't even know they were doing. Using already occurring material to illuminate lyrics, she says, can be more effective than pushing musicians to memorize choreography.
In one sequence from Hundred Days, Abigail describes her childhood belief that her dollhouse furniture are her friends; Tayeh noticed how Abigail pinched her fingers together to suggest a very small object. That's now in the show.
For the band members, she incorporated everyday movement such as steps, lunges and reaches of the hand. "Their partners are the instruments," she says.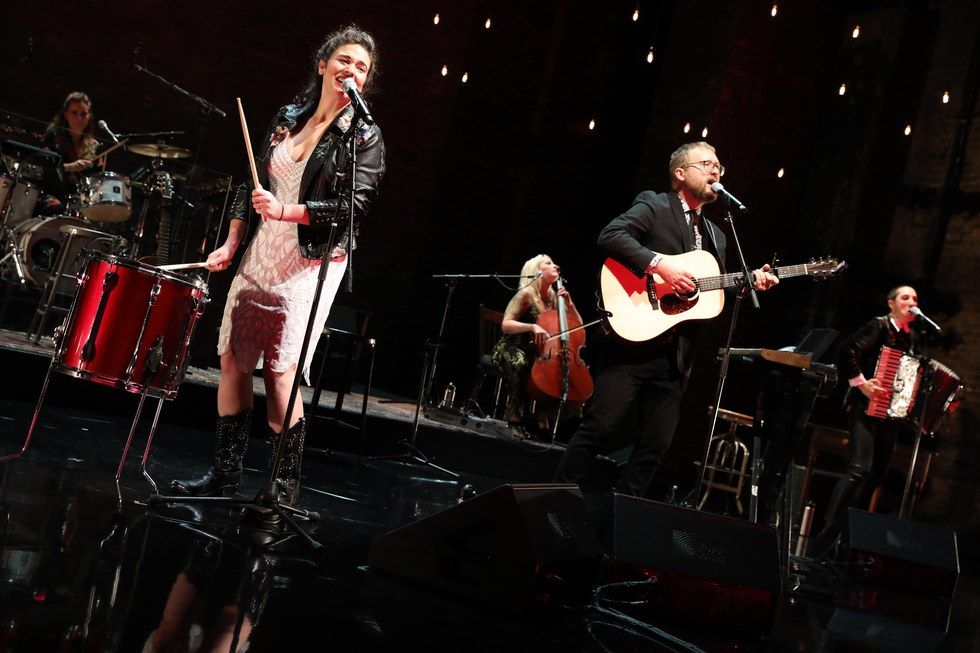 Abigail and Shaun Bengson in Hundred Days at New York Theatre Workshop. Photo by Joan Marcus, courtesy Hundred Days.
Striving for symbolism can also deepen moments. Abigail's biggest movements include low squats and some wild banging on a drum. Tayeh equates those movements to an expressive lift and a toss that heightens emotion in choreography.
Tayeh allows the band to improvise, but not too much. "If the nuance isn't cohesive and they totally change or Abigail just walks down the aisle, that will shift the energy."
She may be a stickler at times, but the Bengsons are on board with her instructions.
"I think what Sonya is interested in is raw body truth," says Abigail. "And she can express that on one body in one way, and on my body in a pretty different way!"
Related Articles Around the Web
Chantelle Pianetta competing at a West Coast swing event. Courtesy Pianetta.
Just hearing the word "improvisation" is enough to make some ballet dancers shake in their pointe shoes. But for Chantelle Pianetta, it's a practice she relishes. Depending on the weekend, you might find her gracing Bay Area stages as a principal with Menlowe Ballet or sweeping in awards at West Coast swing competitions.

She specializes in Jack and Jill events, which involve improvised swing dancing with an unexpected partner in front of a panel of judges. (Check her out in action below.) While sustaining her ballet career, over the past four years Pianetta has quickly risen from novice to champion level on the WCS international competition circuit.
Keep reading...
Show less
Jayme Thornton
Sean Dorsey was always going to be an activist. Growing up in a politically engaged, progressive family in Vancouver, British Columbia, "it was my heart's desire to create change in the world," he says. Far less certain was his future as a dancer.
Like many dancers, Dorsey fell in love with movement as a toddler. However, he didn't identify strongly with any particular gender growing up. Dorsey, who now identifies as trans, says, "I didn't see a single person like me anywhere in the modern dance world." The lack of trans role models and teachers, let alone all-gender studio facilities where he could feel safe and welcome, "meant that even in my wildest dreams, there was no room for that possibility."
Keep reading...
Show less
Getty Images
It's hour three of an intense rehearsal, you're feeling mentally foggy and exhausted, and your stomach hurts. Did you know the culprit could be something as simple as dehydration?
Proper hydration helps maintain physical and mental function while you're dancing, and keeps your energy levels high. But with so many products on the market promising to help you rehydrate more effectively, how do you know when it's time to reach for more than water?
Keep reading...
Show less