Hurricane Harvey Tries and Fails to Stop the Dancing in Houston
Houston's theater district on Sunday, August 27. Photo by Michael Stravato for
The Texas Tribune
It's been 12 years nearly to the day that I last reported on a hurricane for Dance Magazine during Katrina, which devastated much of New Orleans. Now, as you are well aware, Harvey is approaching that level of catastrophe, with 18 deaths, a record rainfall of 51 inches, more than 10,000 Houstonians in shelters, and with our bayous at capacity. You've seen the photos. It's awful, heartbreaking and still dire for many stranded in their homes or in danger of continued flooding.
For local artistic directors, choreographers and studio directors, the first task was to find out how their dancers and teachers were managing, and the state of their homes and family.
"I've been concerned about the safety of the dancers," says Annie Arnoult, director of Hunter Dance Center and Open Dance Project. "The dancers live all over the city and surrounding areas. Most have been trapped in their homes...a few without power. We've stayed in constant touch through regular 'roll calls,' and everyone's fine so far; but I will feel much better when we can be back together face-to-face doing what we do best."
---
Thanks to Facebook, information has been fast and furious, with dance folks reporting everything from flooding in their neighborhoods, to where to volunteer and what items to donate, to what grocery stores are open. We are a small, but tight-knit community. I am thankful for both the speed and accuracy of the information put forward by our dance community. We are a diligent bunch.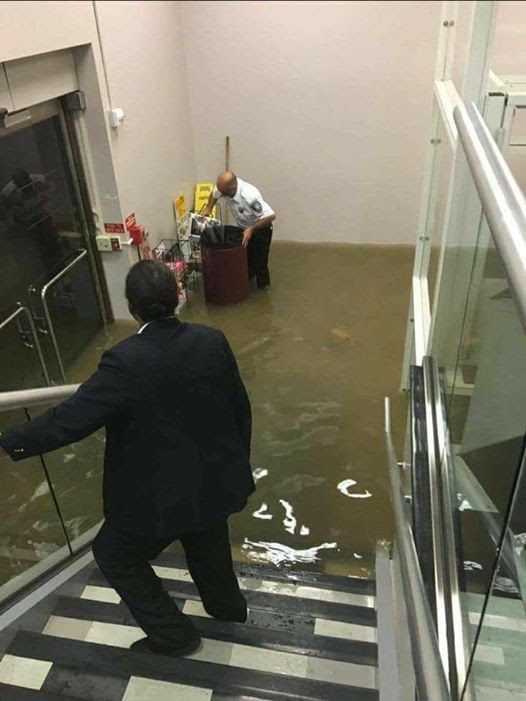 The stage door at Houston's Wortham Center. Photo via Facebook.
We are also lucky to live in a city with one of the most visible dance service organizations in the nation, Dance Source Houston, which has been keeping us updated on resources available to artists and other emergency information. Executive director Mollie Haven Miller has started a spreadsheet to collect damage data in the community and DSH will be instrumental in getting the word out on performances. We need to keep in mind that it took days to even be able to get to many studios and rehearsal spaces, so information is still coming in.
Houston Ballet Cancels Its Season Opener
One look at the waters circling the downtown theaters had us all concerned that Houston Ballet wouldn't be able to open on time for Poetry in Motion, slated for September 8–17, which included Balanchine's storm of a ballet, Symphony in C, Christopher Wheeldon's Carousel (A Dance) and Stanton Welch's Powder. Yesterday, Welch and executive director Jim Nelson issued a statement canceling the season opener. Their hope is that Sir Kenneth MacMillan's epic drama Mayerling, slated for September 21–October 1, will go on as scheduled. "This plan, of course, depends on the availability of the Wortham Theater Center, which has incurred some storm-related damage, as previously reported," wrote Nelson and Welch. There is also talk of rescheduling Poetry in Motion for later in the season.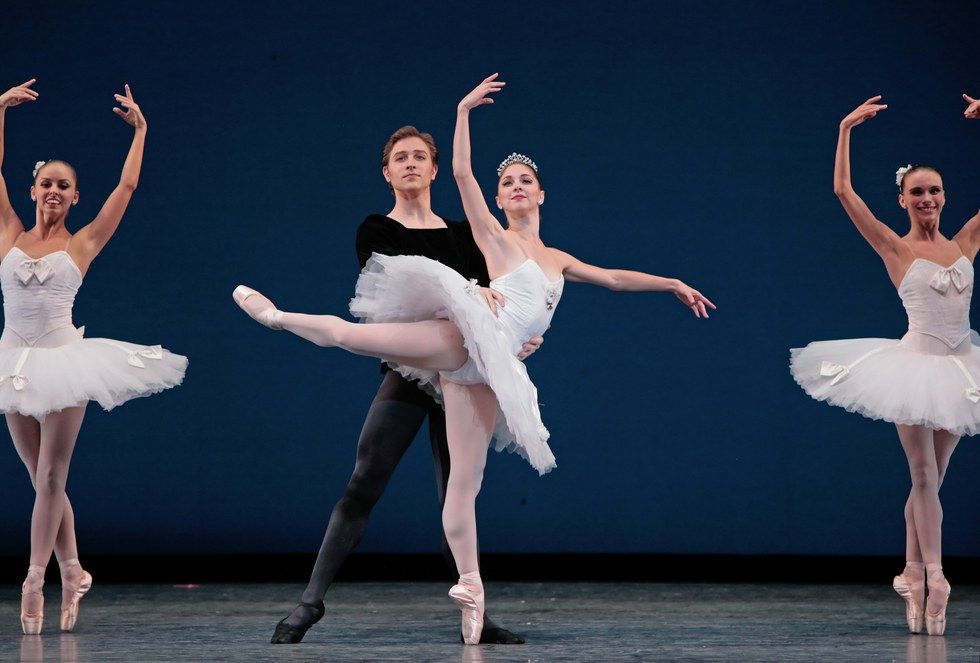 Houston Ballet's season opener Poetry in Motion which featured George Balanchine's Symphony in C has now been postponed until Oct. 26-27. Pictured: Ian Casady, Melody Mennite and artists of Houston Ballet in Symphony in C. Photo by Amitava Sarkar.
After costumes were destroyed in Tropical Storm Allison in 2001, the company relocated valuable costumes, including those gorgeous new Nutcracker costumes, to a safe location, where they sustained no damage.
We all have our fingers crossed that Mayerling will go on as planned. The company is the first North American troupe to perform the work. Welch described Mayerling as "a Thanksgiving feast for emotions." We are eager to see it.
Wortham Center's flooded basement and the loss of the underground parking are no small matters, but I am happy to report that the damage to the Wortham Center's Brown Theater stage was minimal. It was just over a week ago that principal Connor Walsh, as Rudolf, amazed me and his peers in one of the first run throughs of the killer-difficult first act of Mayerling, where he dances several pas de deux. Walsh has been keeping us informed on Facebook, sharing news and, get this, rescuing kittens. Yes dancers are superheros!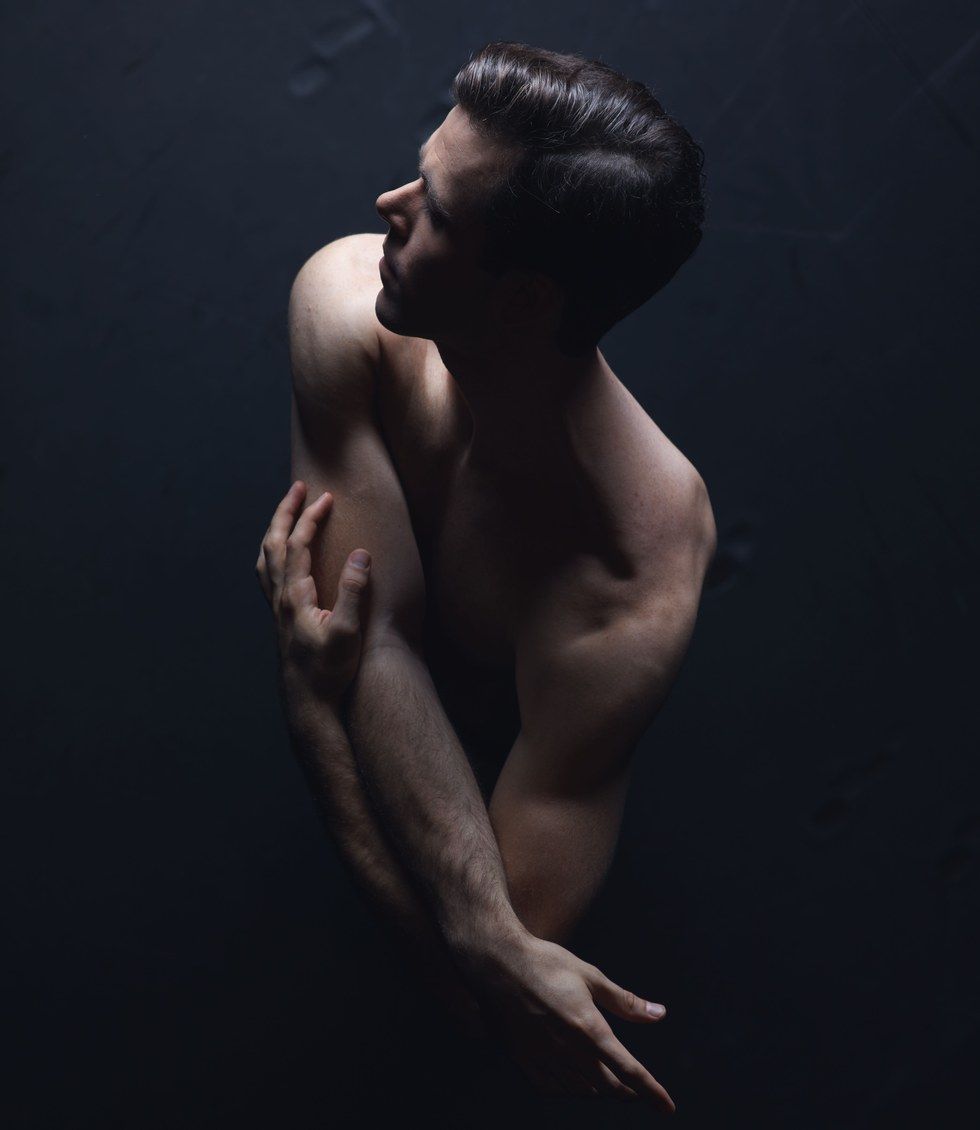 Houston Ballet principal Connor Walsh is still on track to dance the role of a lifetime as Rudolf in Sir Kenneth MacMillan's Mayerling, which was rescheduled for for Sept. 22-24, at the Hobby Center. Photo by Claire McAdams.
Update: As of Sept. 6, both fall shows have been moved to the Hobby Center for the Performing Arts. The Houston Ballet season opener Poetry in Motion, has been postponed to Oct. 26 and 27 at the Hobby Center and Sir Kenneth MacMillan's Mayerling has been rescheduled for Sept. 22–24, also at the Hobby Center.
The Show Goes On (We Hope)
Many groups remain in a state of limbo, not knowing whether their scheduled shows can go on as planned. Noblemotion Dance had to cancel their big show of the year, Catapult: Dance Meets Design, in advance of Harvey. It has been rescheduled for later this month in Hobby Center for the Performing Arts' Zilkha Hall, which sustained some flooding. It's uncertain at this point if the rescheduled performance will work with the timeline for theater repairs. NobleMotion co-artistic director Andy Noble finds himself at a difficult juncture.
"This is the most challenging situation I have encountered in my professional career," says Noble. "In a matter of 48 hours, we canceled and rescheduled our biggest show to date that we have worked on for a year after we had already moved into the theater. Several of our dancers are impacted severely by the storm. We have over 30 artists in this show as well as a large group of kids doing a pre-show performance. A couple of them are unavailable for the reschedule. Each one of us stand to lose much financially. My feet are trying to find the ground."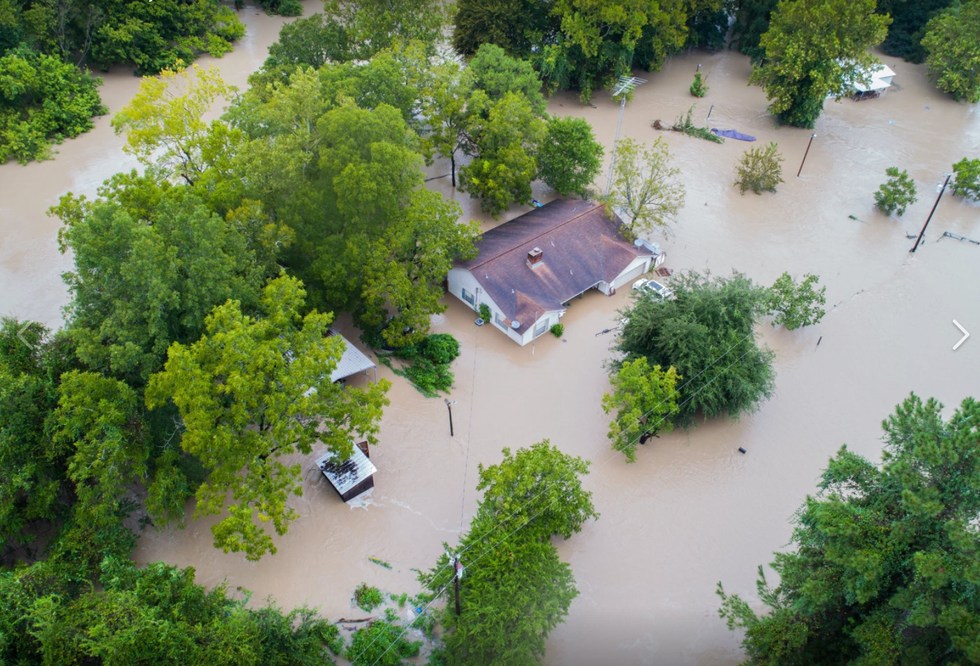 Jared Doster's flooded home. He is a founding member of NobleMotion Dance, and the Industrial Designer for the company's canceled show, Catapult.
Like many artists, Noble's priorities remain focused on the people impacted by Harvey, yet he is also a big believer in the healing power of art. "We are very concerned about the well-being of Houston and are committed to performing Catapult and bringing the community together," he says. "This show has a lot of heart and I believe it will resonate deeply in this challenging time."
Open Dance Project was looking forward to their debut collaboration with Musiqa, Bodies in Motion on September 23, also at Hobby. Arnoult is committed to having her work with her company see the light of day. "If it we have to do a showing at Hunter Dance Center, we will; we have worked too hard to let this go," she says.
So far, it seems that the small and mid-size companies came through the storm with minor damage. The MATCH, the city's go-to space, with a theater built especially for dance, is unharmed, which is great news for the fall season. Adam Castaneda, executive/artistic director of FrenetiCore, is pleased to announce that the Houston Fringe Festival will go on as planned, September 4–10 at the MATCH. According to Castaneda, shows by the city's leading independent artists, jhon r stronks and Lori Yuill, are ready to go. It's not an easy decision, and, frankly, it is difficult to make big decisions while watching the drama that surrounds us now, but Castaneda feels moving forward is the best choice. "I'm looking at ways the festival could possibly contribute to hurricane relief," he adds.
"I've got so many conflicting thoughts and feelings right now it is hard to sort them out," says Yuill, who will premiere Remember the Missing at the festival on September 5 and 10. "I want to support the Fringe and offer an outlet for anyone who is ready for one. But I also feel like it might be too soon for anyone to want an outlet and I wonder if we could serve better by spending our time volunteering at a shelter."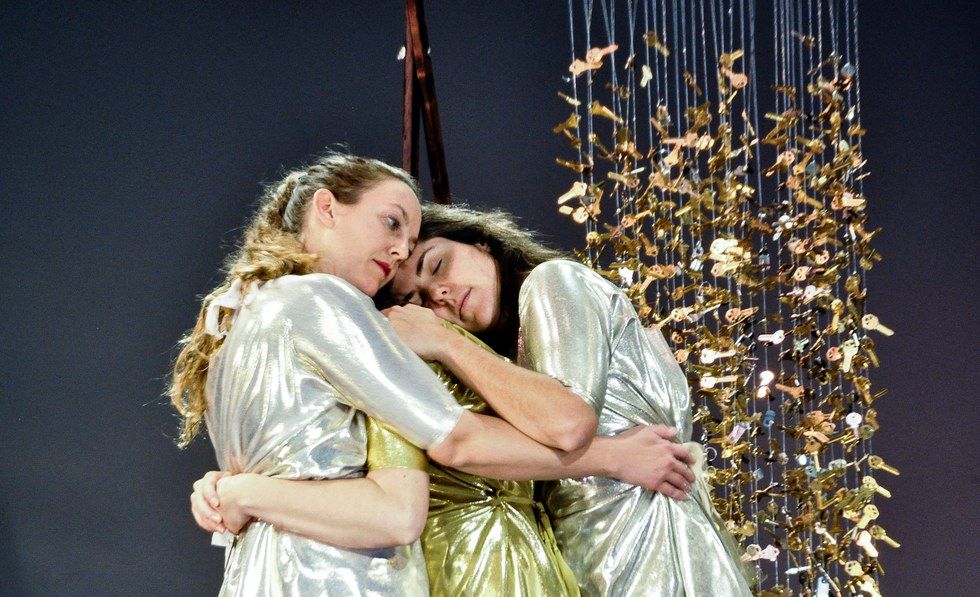 Lori Yuill, Miranda Tadlock and Danielle Antelo in the first iteration of Yuill's The Remembering Happens, 2016. Photo by Tati Vice. Yuill will present the world premiere of the piece as part of the Houston Fringe Festival which will go on as scheduled, on Sept. 5 & 10 at the MATCH.
Two in-town dance studios, Hunter Dance Center and METdance company and studio, are in good shape. Arnoult opened Hunter Dance Center for children's classes today. "Kids need some semblance of normalcy," she says.
Although METdance's studios escaped major damage, there were disappointments. After their success performing on Jacob's Pillow's storied Inside/Out stage, the company was jazzed to present at the ArtsMidwest Conference, which was impossible due to airport and road closures. When they open for classes they plan to take into consideration what their students have gone through.
"METdance always wants to help the dance community and other studios in the suburban areas that had significant damage from Hurricane Harvey. Our executive director Michelle Smith and I talked about giving studio students a place to rehearse and class discounts if their home studio has had flooding," says Marlana Doyle, artistic director of METdance.
How to Help
Many arts organizations have been busy doing all that they can. Kelly Ann Vitacca, of Vitacca Vocational School For Dance is in the midst of organizing a food, toiletries and baby needs drive for this Friday from 11am to 4pm at Vitacca Dance School. They will store and deliver any donated items to the Houston Food Bank and the Texas Diaper Bank. Expect many more studios to being organizing similar efforts.
The national dance community has been reaching out on Facebook and other social media networks to check on their friends, family and favorite companies and studios, and we appreciate that. Just asking how you can help is a help. Miami City Ballet's moving message of love and support to Houston Ballet exemplified the strength of the national dance community. We all could feel the love.
It's still too soon to know the lasting impact on the Houston dance community as the city will be in rebuilding mode for a good long while. You can donate at Hurricane Harvey Relief Fund.
James Fosberg, courtesy Mason
Over the past 15 years, Gesel Mason has asked 11 choreographers—including legends like Donald McKayle, David Roussève, Bebe Miller, Jawole Willa Jo Zollar, Rennie Harris and Kyle Abraham—to teach her a solo. She's performed up to seven of them in one evening for her project No Boundaries: Dancing the Visions of Contemporary Black Choreographers.
Now, Mason is repackaging the essence of this work into a digital archive. This online offering shares the knowledge of a few with many, and considers how dance can live on as those who create it get older.
Keep reading...
Show less
Hive by Boston Conservatory student Alyssa Markowitz. Photo by Jim Coleman
The way we create and consume dance is changing every day. Now more than ever, the field demands that dancers not only be able to perform at the highest level, but also collaborate with choreographers to bring their artistic visions to life. Dancers who miss out on choreographic training may very well find themselves at a disadvantage as they try to launch their careers.

Keep reading...
Show less
News
May. 22, 2019 05:57PM EST
Fox produced a live broadcast of Rent in January—but could an original musical be next? Photo by Kevin Estrada, Courtesy Fox
When a musical prepares to make the transfer from a smaller, lesser-known venue to Broadway (where theaters hold 500-plus seats), often there's a collective intake of breath from all involved. After all, a bigger house means more tickets to sell in order to stay in the black, and sometimes shows with even the most tenacious fan bases can't quite navigate such a jump. But what about the transfer from stage…to screen? Is Broadway ready to be consumed from the comfort of your couch?
Keep reading...
Show less
Courtesy Lee
Daphne Lee was dancing with Collage Dance Collective in Memphis, Tennessee, when she received two difficult pieces of news: Her mother had been diagnosed with multiple myeloma cancer, and her father had Parkinson's disease, affecting his mobility and mental faculties.
The New Jersey native's reaction: "I really need to move home."
Keep reading...
Show less
Last year's winner: Manuel Vignoulle's EARTH. Jack Hartin Photography, Courtesy McCallum Theatre
It's not often that a promising choreographer gets to stage work in a world-class theater, on a skillfully-curated program with professional dancers, and with the possibility of winning a substantial cash prize. But at the McCallum Theatre's Palm Desert Choreography Festival, that's been the status quo for over twenty years.
Since Shea New, the festival's artistic director, founded the festival in 1998, she's worked tirelessly with McCallum's director of education and festival producer, Kajsa Thuresson-Frary, and stage manager and festival production manager Joanna Fookes to build a festival that nurtures choreographers, highlights high quality work, powerfully engages the local community and cultivates an audience base for dance in the Coachella Valley. The trio is backed by a strong team of professionals at McCallum and the brilliant volunteers from the local and national level who serve as adjudicators.
Keep reading...
Show less
Get Dance Magazine in your inbox
Bruce Mars via Unsplash
Summer is almost upon us, and whether you're a student about to go on break or a pro counting the days till layoff, don't forget that with warm weather comes a very serious responsibility: To maintain your cross-training routine on your own.
Those of us who've tried to craft our own cross-training routine know it's easier said than done. So we consulted the stars, and rounded up the best options for every zodiac sign. (TBH, you should probably consult an expert, too—we'd recommend a physical therapist, a personal trainer or your teacher.)
Keep reading...
Show less
It's become second nature in dance studios: The instant anyone gets hurt, our immediate reaction is to run to the freezer to grab some ice (or, more realistically, a package of frozen peas).
But as routine as icing our injuries might be, the benefits are not actually backed up by scientific studies. And some experts now believe icing could even disrupt the healing process.
Keep reading...
Show less
Getty Images
I'm a contemporary dancer, and I'm nervous about trying to get pregnant since I can't predict if it might happen during the middle of the season. We have a union contract that is supposed to protect us. But I'm scared because several of my colleagues' contracts weren't renewed for no particular reason. Having a big belly could be a big reason to get rid of me!
—Andrea, New York, NY
Keep reading...
Show less
From Dance of Urgency. © Ekvidi
When the going gets tough, the tough start dancing: That's the premise behind "Dance of Urgency," a recently opened exhibit at MuseumsQuartier Vienna that features photos, video and other documentary material relating to the use of dance as political protest or social uprising.
The groups featured in the show, largely based around clubs and electronic dance music scenes, span the globe and respond to a variety of issues—from inequality and social stratification to racial divides to crackdowns on club culture itself.
Keep reading...
Show less
News
May. 20, 2019 04:24PM EST
Last night, longtime theater legends (including Chita Rivera herself!) as well as rising stars gathered to celebrate one of Broadway's danciest events: the third annual Chita Rivera Awards.
The evening paid tribute to this season's dancer standouts, fabulous ensembles, and jaw-dropping choreography—on- and off-Broadway and on film.
As usual, several of our faves made it into the mix. (With such a fabulous talent pool of nominees to choose from, we're glad that ties were allowed.) Here are the highlights from the winner's list:
Keep reading...
Show less
Lorenzo Di Cristina/Unsplash
When you're a foreign dancer, gaining legal rights to work in the U.S. is a challenging process. It's especially difficult if you're petitioning to work as a freelance dancer without an agent or company sponsorship.
The process requires professional muscle along with plenty of resources and heart. "There's a real misnomer that it's super easy," says Neena Dutta, immigration attorney and president of Dutta Law Firm. "People need to educate themselves and talk to a professional."
Here are four things every foreign dancer who wants to work in the U.S. needs to know to build a freelance dance career here.
Keep reading...
Show less
Quinn Wharton
What does it take to "make it" in dance? It's no secret that turning this passion into a profession can be a struggle. In such a competitive field, talent alone isn't enough to get you where you want to be.
So what kinds of steps can you take to become successful? Dance Magazine spoke to 33 people from all corners of the industry to get their advice on the lessons that could help us all, no matter where we are in our careers.
Keep reading...
Show less
Still of Fonteyn from the 1972 film I Am a Dancer. Photo courtesy DM Archives
On May 18, 1919, Margot "Peggy" Hookham was born. She would grow up to become Dame Margot Fonteyn, England's first homegrown prima ballerina. She joined the Sadler's Wells School in 1934 and was performing principal roles with the precursor to The Royal Ballet the next year. Fonteyn was a company-defining figure, dancing Aurora for the re-opening of the Royal Opera House after World War II, creating numerous roles with Sir Frederick Ashton and forging a legendary partnership with Rudolf Nureyev.
Keep reading...
Show less