How Hypnotherapy Saved My Dance Career
Chi De Marinis Photography, Courtesy Nicholls
I am a dancer in a successful West End show and a year ago I nearly quit.
My anxiety came suddenly and without warning. We were in the middle of a stressful cast change and tensions were high as everyone wanted to prove their value to the production.
I felt as though someone flipped a switch in my brain. I started to feel pressure about perfecting my performances and suddenly felt unworthy of being there. My mind became consumed with negative images about what I was doing wrong, or what could go wrong.
---
I became obsessed in particular with one maneuver that I couldn't seem to do anymore, even though it was something that I used to be able to perform without a second thought. It only lasted two seconds but represented a broader sense of failure for me. I obsessed about it on the way home, while eating, even during conversations with other people. It started keeping me up at night and became the first thing I thought about in the morning. I was constantly in tears and the shows became torture.
Before going on stage, I started to experience heart palpitations, dry mouth, and stomach pains. My whole body felt weak.
The worst part was the embarrassment and shame. I was living my dream and felt ungrateful for not loving every moment, so I told no one.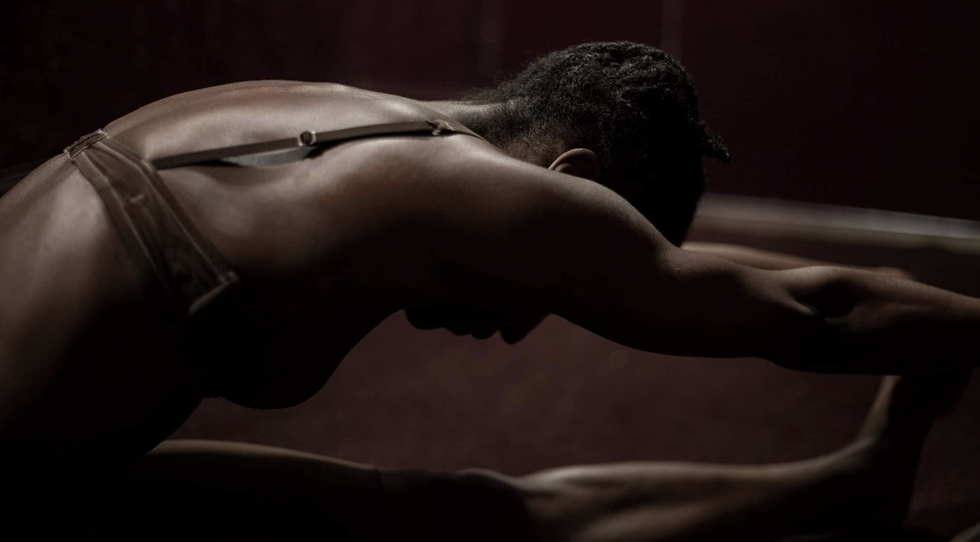 Chi De Marinis Photography, Courtesy Nicholls
In desperation, I did a Google search on anxiety treatments, and stumbled across a hypnotherapist. I had never even considered hypnotherapy as an option. Portrayals in movies had led me to believe it was fake. But I was desperate for anything that could help.
Hypnosis is nothing like the media depicts it. It is not about someone controlling your mind or getting stuck in "sunken places."
Hypnosis is a state of relaxed awareness. During a session your body is completely relaxed, but your mind is fully alert. You are in control throughout the entire process. It is during this state that your mind is receptive to hypnotic suggestion. It is an effective treatment option for many mental afflictions, including anxiety, phobias, addictions and anger.
I did a total of four sessions over a four-week period. In my first session, I sat in a chair with my eyes closed while the therapist led me through a series of relaxation techniques. Once I was in a deeply relaxed state, he made a series of hypnotic suggestions aimed at changing the way I saw myself in the show. After the session I felt incredibly relaxed but not immediately different.
I went to work the next day and was surprised to find that my anxiety had lessened. It wasn't a drastic change—I still felt the usual knots in my stomach—but I had a little more control of my mind before and throughout my performance.
After my second session I found a confidence I had not felt in weeks. I started to look forward to my sessions. My therapist used hypnotic suggestions that rewired my subconscious mind to see the stage as a positive and safe environment. I did not have to keep the suggestions in mind when I was backstage—what was suggested in the sessions carried through to my performances without any work on my part.
After my final session I discovered an amazing sense of calm and clarity. My mind stopped spiraling out of control and I eventually stopped feeling panicked before performances. The show no longer consumed my life and I no longer thought about it once I left the theater. I also started sleeping better.
Performance-anxiety is more common than we think, but people are too ashamed to open up about it. Dancers often feel weak or judged for feeling this way, and as a result, many suffer in silence.
The fear of judgement can isolate us. We feel as though no one understands what we are going through; but I've come to realize that there is no worse judgement than our own.
Hypnotherapy has not only helped me manage my performance-anxiety but has also altered the way I see myself. I am not my thoughts, feelings or bodily sensations. I still sometimes feel the familiar pang of stage fright before performances, but the difference is, I now surf the wave of anxiety without drowning in my thoughts.
Related Articles Around the Web
Rehearsal of Yvonne Rainer's Parts of Some Sextets. Photo by Paula Court, Courtesy Performa.
Yvonne Rainer's Parts of Some Sextets (AKA "the mattress dance") hasn't been revived since it premiered in 1965. Nor has Rainer had any wish to do it again, to ask performers to heave 10 mattresses around while carrying out 31 tasks that changed every 30 seconds. It was an unwieldy, difficult dance. (Even the title is unwieldy.) But Emily Coates, who has danced in Rainer's work for 20 years, became curious about this piece and was determined to see it again—and to dance in it. She will get her wish November 15–17, when the mattress dance will be performed as part of the Performa 19 Biennial.
Keep reading...
Show less
Ailey II artistic director Troy Powell teaching an Ailey Workshop at NYCDA. Courtesy NYCDA
Back in 2011 when Joe Lanteri first approached Katie Langan, chair of Marymount Manhattan College's dance department, about getting involved with New York City Dance Alliance, she was skeptical about the convention/competition world.
"But I was pleasantly surprised by the enormity of talent that was there," she says. "His goal was to start scholarship opportunities, and I said okay, I'm in."
Today, it's fair to say that Lanteri has far surpassed his goal of creating scholarship opportunities. But NYCDA has done so much more, bridging the gap between the convention world and the professional world by forging a wealth of partnerships with dance institutions from Marymount to The Ailey School to Complexions Contemporary Ballet and many more. There's a reason these companies and schools—some of whom otherwise may not see themselves as aligned with the convention/competition world—keep deepening their relationships with NYCDA.
Now, college scholarships are just one of many ways NYCDA has gone beyond the typical weekend-long convention experience and created life-changing opportunities for students. We rounded up some of the most notable ones:
Keep reading...
Show less
Left: Hurricane Harvey damage in Houston Ballet's Dance Lab; Courtesy Harlequin. Right: The Dance Lab pre-Harvey; Nic Lehoux, Courtesy Houston Ballet.
"The show must go on" may be a platitude we use to get through everything from costume malfunctions to stormy moods. But when it came to overcoming a literal hurricane, Houston Ballet was buoyed by this mantra to go from devastated to dancing in a matter of weeks—with the help of Harlequin Floors, Houston Ballet's longstanding partner who sprang into action to build new floors in record time.
Keep reading...
Show less