How Hypnotherapy Saved My Dance Career
Chi De Marinis Photography, Courtesy Nicholls
I am a dancer in a successful West End show and a year ago I nearly quit.
My anxiety came suddenly and without warning. We were in the middle of a stressful cast change and tensions were high as everyone wanted to prove their value to the production.
I felt as though someone flipped a switch in my brain. I started to feel pressure about perfecting my performances and suddenly felt unworthy of being there. My mind became consumed with negative images about what I was doing wrong, or what could go wrong.
---
I became obsessed in particular with one maneuver that I couldn't seem to do anymore, even though it was something that I used to be able to perform without a second thought. It only lasted two seconds but represented a broader sense of failure for me. I obsessed about it on the way home, while eating, even during conversations with other people. It started keeping me up at night and became the first thing I thought about in the morning. I was constantly in tears and the shows became torture.
Before going on stage, I started to experience heart palpitations, dry mouth, and stomach pains. My whole body felt weak.
The worst part was the embarrassment and shame. I was living my dream and felt ungrateful for not loving every moment, so I told no one.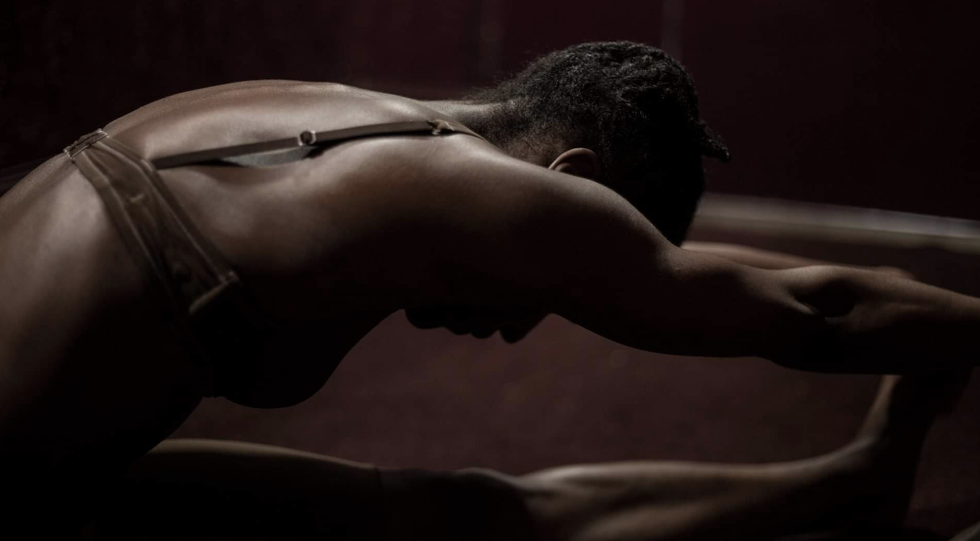 Chi De Marinis Photography, Courtesy Nicholls
In desperation, I did a Google search on anxiety treatments, and stumbled across a hypnotherapist. I had never even considered hypnotherapy as an option. Portrayals in movies had led me to believe it was fake. But I was desperate for anything that could help.
Hypnosis is nothing like the media depicts it. It is not about someone controlling your mind or getting stuck in "sunken places."
Hypnosis is a state of relaxed awareness. During a session your body is completely relaxed, but your mind is fully alert. You are in control throughout the entire process. It is during this state that your mind is receptive to hypnotic suggestion. It is an effective treatment option for many mental afflictions, including anxiety, phobias, addictions and anger.
I did a total of four sessions over a four-week period. In my first session, I sat in a chair with my eyes closed while the therapist led me through a series of relaxation techniques. Once I was in a deeply relaxed state, he made a series of hypnotic suggestions aimed at changing the way I saw myself in the show. After the session I felt incredibly relaxed but not immediately different.
I went to work the next day and was surprised to find that my anxiety had lessened. It wasn't a drastic change—I still felt the usual knots in my stomach—but I had a little more control of my mind before and throughout my performance.
After my second session I found a confidence I had not felt in weeks. I started to look forward to my sessions. My therapist used hypnotic suggestions that rewired my subconscious mind to see the stage as a positive and safe environment. I did not have to keep the suggestions in mind when I was backstage—what was suggested in the sessions carried through to my performances without any work on my part.
After my final session I discovered an amazing sense of calm and clarity. My mind stopped spiraling out of control and I eventually stopped feeling panicked before performances. The show no longer consumed my life and I no longer thought about it once I left the theater. I also started sleeping better.
Performance-anxiety is more common than we think, but people are too ashamed to open up about it. Dancers often feel weak or judged for feeling this way, and as a result, many suffer in silence.
The fear of judgement can isolate us. We feel as though no one understands what we are going through; but I've come to realize that there is no worse judgement than our own.
Hypnotherapy has not only helped me manage my performance-anxiety but has also altered the way I see myself. I am not my thoughts, feelings or bodily sensations. I still sometimes feel the familiar pang of stage fright before performances, but the difference is, I now surf the wave of anxiety without drowning in my thoughts.
Related Articles Around the Web
A flyer showing Alberto Alonso, Fernando Alonso, Benjamin Steinberg and Alicia Alonso. Photo courtesy the author
Alicia has died. I walked around my apartment feeling her spirit, but knowing something had changed utterly.
My father, the late conductor Benjamin Steinberg, was the first music director of the Ballet de Cuba, as it was called then. I grew up in Vedado on la Calle 1ra y doce in a building called Vista al Mar. My family lived there from 1959 to 1963. My days were filled with watching Alicia teach class, rehearse and dance. She was everything: hilarious, serious, dramatic, passionate and elegiac. You lost yourself and found yourself when you loved her.
Keep reading...
Show less
Left: Hurricane Harvey damage in Houston Ballet's Dance Lab; Courtesy Harlequin. Right: The Dance Lab pre-Harvey; Nic Lehoux, Courtesy Houston Ballet.
"The show must go on" may be a platitude we use to get through everything from costume malfunctions to stormy moods. But when it came to overcoming a literal hurricane, Houston Ballet was buoyed by this mantra to go from devastated to dancing in a matter of weeks—with the help of Harlequin Floors, Houston Ballet's longstanding partner who sprang into action to build new floors in record time.
Keep reading...
Show less
Hansuke Yamamoto in Helgi Tomasson's Nutcracker at San Francisco Ballet, which features an exciting and respectful Chinese divertissement. Photo by Erik Tomasson, Courtesy SFB
It's Nutcracker time again: the season of sweet delights and a sparkling good time—if we're able to ignore the sour taste left behind by the outdated racial stereotypes so often portrayed in the second act.
In 2017, as a result of a growing list of letters from audience members, to New York City Ballet's ballet master in chief Peter Martins reached out to us asking for assistance on how to modify the elements of Chinese caricature in George Balanchine's The Nutcracker. Following that conversation, we founded the Final Bow for Yellowface pledge that states, "I love ballet as an art form, and acknowledge that to achieve a diversity amongst our artists, audiences, donors, students, volunteers, and staff, I am committed to eliminating outdated and offensive stereotypes of Asians (Yellowface) on our stages."
Keep reading...
Show less
Allegra Bautista in Nevertheless, by ka·nei·see | collective. Photo by Robbie Sweeny
An audience member once emailed Dallas choreographer Joshua L. Peugh, claiming his work was vulgar. It complained that he shouldn't be pushing his agenda. As the artistic director of Dark Circles Contemporary Dance, Peugh's recent choreography largely deals with LGBTQ issues.
"I got angry when I saw that email, wrote my angry response, deleted it, and then went back and explained to him that that's exactly why I should be making those works," says Peugh.
With the current political climate as polarized as it is, many artists today feel compelled to use their work to speak out on issues they care deeply about. But touring with a message is not for the faint of heart. From considerations about how to market the work to concerns about safety, touring to cities where, in general, that message may not be so welcome, requires companies to figure out how they'll respond to opposition.
Keep reading...
Show less