Op-Ed: The Grant Cycle Is A Biased, Oppressive Lottery—But I'm Still Playing To Win
My life has five seasons: winter, spring, summer, fall and rejection. During the season of rejection, you can probably find me in one of the following places: lying in bed my sending 'F them, why not me' texts to my closest friends; emailing very salty 'why did you reject me, and can I puh-lease get some feedback' emails; or pacing my apartment, cleaning, trying to rationalize to myself why I'm just not good enough, yet.
I'm talking about the "Grant Cycle" or what is known among my peers and colleagues as "The Lottery." It's a grueling, never-ending process of trying to make three-dimensional art fit into a two-dimensional surface that can only hold the CliffsNotes version. It's meant to appeal to a group of discerning, qualified and unbiased people who are asked to do the civic duty of deciding where coveted space, time and money goes. The same space, time and money they too want and need.
---
Recently, I received my 162nd rejection letter. Now, I am not entirely sure if that number is correct. But I apply to about 20 grants/residency/arts support organizations every year, and 20 times eight—the number of years I've been applying—is 180, and I can surely count that I have received at least 15 post-creation awards.
So at my 162nd rejection I got fed up and I went on Facebook and "sheetcaked." Based on Tina Fey's appearance on Saturday Night Live's Weekend Update, sheetcaking is the act of engaging in equally indulgent and compulsive behavior as a way to pretend that feeling sorry for yourself is helpful to those with less privilege than you.
My "sheetcaking" was writing the following status update: "I've never received a grant."
At first I wrote it because I was whining and upset. It is so frustrating to feel like you have to ask permission to be an artist. That receiving a grant or residency is some sort of approval. And not getting these markers feels like a sign: Stop making work. You're just not good enough. Don't try. Try harder.
The words, "I've never received a grant" were a cry for attention. Especially because I was sure there were many people who also got rejected that day. I needed camaraderie.
Turns out, so did a lot of people—and for a long time. I quickly realized my 162 rejections are as little as a quarter of the amount of rejections some artists face. While this makes sense, what's difficult is when you see someone else who seems to get all of the resources.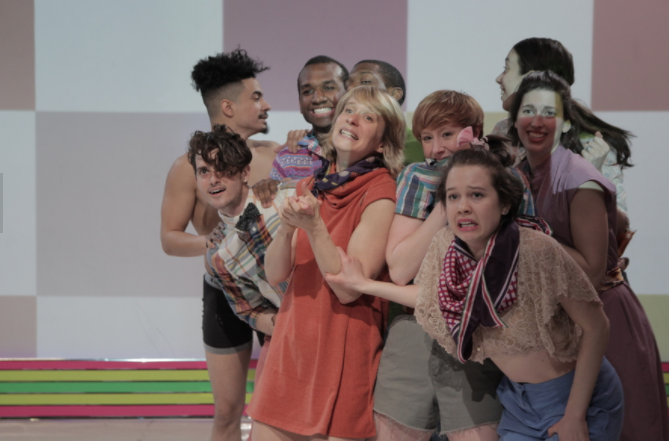 Kelly's COLOR ME, WARHOL. Photo via thefeath3rtheory.com
I explained to a friend my tribulations of grant writing. I spoke of the 10+ books I've read, the English teachers I've reached out to, how I've compulsively studied my colleagues' successfully funded applications, how I hired a team of designers and editors to up the quality of my work samples, and how I find some way to attend every info session.
Most importantly, I explained just how important it is for me to make work—that it is for sure my calling and how I will find a way to realize my productions but that it feels particularly strange to be to an artist who is given post-creation awards, but not supported with development funding.
My friend told me that my "sheetcaking" did not really do my colleagues or myself any justice. Do people realize how art is being made now? Most artists are co-producing if not self-producing their own work. This should be recognized. My friend encouraged me to write my story, to reveal that though there are a lot of resources out there, it doesn't mean that they are being spread out; that having a show doesn't mean you got a grant to do it; that when artists do Kickstarters, it's because they really need the money.
Rejection season really hurts when you get the email notification.
Dear so and so,
Thank you for your interest and for applying. We loved reading your application.
You didn't get it.
And because so many people applied, and we have limited resources, we can't give you feedback.
Please apply again.
Please support our venue.
While I understand this letter just can't say, Hello I'm sorry you didn't get it, the niceties of saying they enjoyed reading the application just doesn't feel genuine. When these templates say, "due to the number of applicants," it implies that I am not completely aware that me and everyone I know are applying for this opportunity. And then when they mention that they can't give feedback, it's just so clear that they know they should give feedback, but that they won't.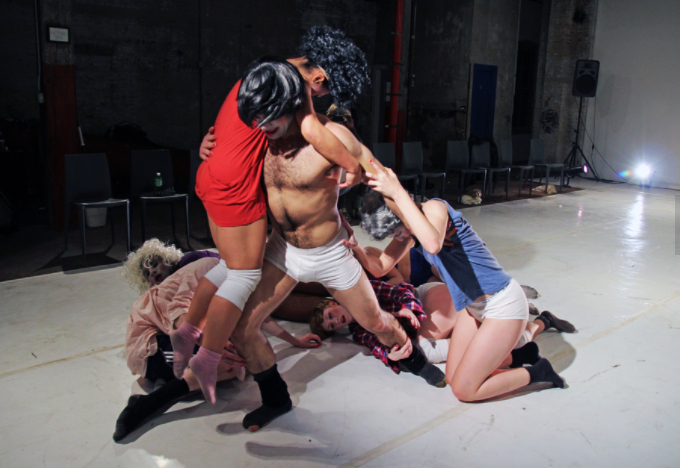 Kelly's Drella. Photo via thefeath3rtheory.com
Here Is Some Feedback I've Received:
From a studio that did not give me a space grant, after I requested feedback:
"I admire your work very much and have for some time now (as did the panelists) but truthfully the concern was that your schedule is quite full and your work is already receiving a lot of attention. The grant program is an ideal incubator for an artist who has not shown work much yet, who is still in the process of emerging onto the scene, and/or who needs the help of the group to really hone the craft of their work through the feedback of their fellow grantees. This group of panelists also really considered the dynamics of the four artists who ended up being selected as a cohesive cohort."
I'd like to add that the people that they selected were far more advanced in their careers than I am.
From a very large granting organization:
"Project showed a self-assuredness and confidence, but the questions posed are not so original. Free agency is important but panel was not convinced that the idea was well thought-out. Panel did not feel that this was a pivotal moment for this artist since he's been working steadily on 10 Warhol projects."
From a colleague who sat on a panel:
"Hey I saw your post about grants. I sat on the ____ panel in 2016 and fought hard for you, citing your skills as a choreographer and your brain and production value, but there was I think one or two people who saw it differently. One thing that was mentioned was that your work sample "didn't have enough dance in it." Unfortunately less than half of the panel had seen the production live, and the panel rules were strict about what we were allowed to say. People said personal stuff anyway. The whole thing is really f***ed up and factional. You're the real deal, grants or not, though I know nice words don't pay bills."
In 2016, I wrote a sarcastic letter based on all of the feedback I'd received that year, and sent it back to the organizations that had rejected me:
Dear Raja Feather Kelly | the feath3r theory,

Due to the high number of applicants this year, last year, and just about every year, we regret to inform you that you were not selected for our program this year.

It always amazes our organization that so many people in NYC need time, space and money (among other resources) to create performance. We see so much "heady" work in the dance-land space that it is simply baffling that performers and creators just can't imagine themselves the resources they need. Much to our chagrin, we assume there is an abundance of space that creators like yourself can afford. Are performance makers really this needy? We are wrong in thinking they are not. This explicitly explains why so many apply.
We're sorry that we always say, "due to the high number of applicants" but the numbers always catch us off guard.

While we're doing sorrys, we should also say that the feedback we plan to offer you won't really help. It will be subjective, lack a specific rubric as our panel changes every year, and aside from the one or two Raja-specific things we'll add, we'll basically say the same thing to everyone. Just ask your friends who have also applied. We simply change your names.

Additionally, we're sorry that we haven't yet found a way to define "emerging." In some cases it could be an artist making work for two years up to at least 15 years. The point is we need people to apply. By keeping a vague definition of our terms, we allow artists to self-select—fingers crossed that our panel this year vibes with you.

Some personal feedback:

Raja, haven't you exhausted pop-culture? What impact will the study have on your work now that you have been thinking about it for more than five years? We understand that you think pop-culture is constantly shifting and developing, but eh? We don't value its value as much as you do. Sorry, not sorry.

That said, we're unsure why you, of all people, aren't making your work more explicitly BLACK and QUEER. You do identify as black and queer, don't you? We couldn't tell from your work. I guess we missed the memo.

Lastly, you have great marketing. And from the looks of your Facebook and newsletters, it seems you're doing quite fine. Perhaps if you posted some of the struggles and difficulties you face, your need would become more apparent. We're not trying to tell you how to live your personal life. It's just a suggestion.

Thank you so much for your artistry and work, Raja. We hope this helps. And we hope you might apply again next year.

Please visit our Facebook, follow us on Instagram, and subscribe to my new Tumblr page.

Please be assured that we are dedicated to making sure that artists like you find the resources they need to make the beautiful work that you all make. Help us help you by making a $25 donation to our annual campaign. Link below.
Yep, I sent this to the organizations that denied me grant funding. If I keep sending emails like this, it will no longer be a surprise why I don't receive grants. But at least then it'll be transparent; right now I have nothing to lose.
I'm not exactly sure what can be gained from making all of this information public, other than to start a conversation about how the funding opportunities for artists is a lottery—a biased, systemically oppressive lottery that I am still playing to win. #That'sAPartOfALongerConversation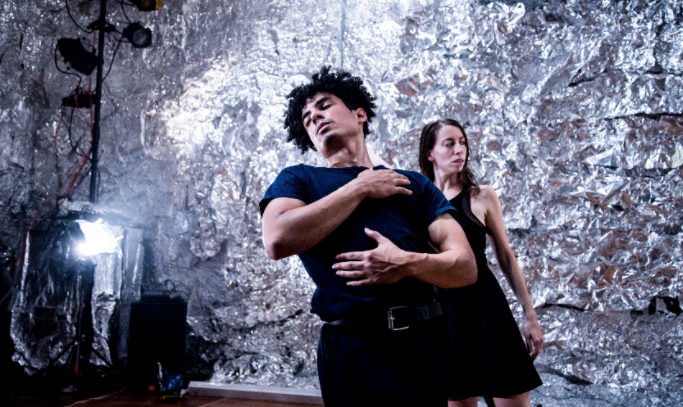 Kelly's Another 37 Reasons To Cry (A Warholian Production). Photo via thefeath3rtheory.com
Here's What I've Learned:
The granting system is messed up. And there seems to be virtually nothing we can do about it (or is there?).
In response to my Facebook post, Sydnie Mosley asked: "Why do we want grants—why do we want to participate in a system that doesn't actually want to support us."
I want a grant because, to me, the money is worth it. And the badge of funding credit is also currency. I want to be able to make work, I want to be able to pay my dancers fairly, I want to be able to pay myself reasonably, I want to be able to tour my work so that other people can see what I have to contribute to the field. Sometimes people make me feel like this is not an okay dream.
Don't you notice that once one person gets one grant, mysteriously they start to get other grants? I don't think this is coincidence; I think it's how organizations and our fellow artists start to understand what's worth funding. When one organization chooses to fund you, another organization sees you differently. I know that I'm going to work hard; I want my foot in the door so that someone else can see that and help me to do that.
Photo by Andy Toad, courtesy Kelly
Doug Varone, Ash Yergens, me and Kyle Abraham: In that group, there's one artist who's making their very first piece, and one who has been making work for what seems like forever. We are all applying for the same funding.
Need is not taken into account. And need is not comparable. It's just as biased as merit.
It is personal—our colleagues are deciding who gets what. This year I sat on panels with other artists and helped decide where money, time and space was going. Our personal preferences, our likes and dislikes, and our knowledge of each other's work all went into that decision-making. And in the end, what we decided was just an opinion. Further, the people who ranked above us made final choices outside our recommendations.
Nepotism does exist. If someone is managing for someone, and he's friends with someone else, and also the director of programming for someplace, chances are he's supporting the work he is hired to support, even when sitting on an "unbiased" panel.
The visual art world and the performance art world are different. Funders complain to me that my obsession with Andy Warhol is outdated and boring. I used to think, "No one would tell a visual artist to stop painting squares." I recently learned that visual artists don't apply for grants, lessening their need to defend their obsessions.
What I'm Going To Do:
I'd like to develop a panel of people who will reach out to funding organizations and ask to take notes about work and make sure that the artists who are not funded get those notes. Even if someone doesn't get a grant, I think transparency in decisions is helpful for the entire field.
What Should You Do?
Wash your hands—subways are gross.
Alice Sheppard photographed by Jayme Thornton for Dance Magazine
It can be hard to focus when Alice Sheppard dances.
Her recent sold-out run of DESCENT at New York Live Arts, for instance, offered a constellation of stimulation. Onstage was a large architectural ramp with an assortment of peaks and planes. There was an intricate lighting and projection design. There was a musical score that unfolded like an epic poem. There was a live score too: the sounds of Sheppard and fellow dancer Laurel Lawson's bodies interacting with the surfaces beneath them.
And there were wheelchairs. But if you think the wheelchairs are the center of this work, you're missing something vital about what Sheppard creates.

Keep reading...
Show less
Omar Román De Jesús in rehearsal with Joffrey Academy trainees. Photo by Todd Rosenberg
So far, the fervor to create diversity in ballet has primarily focused on dancers. Less attention has been paid to the work that they'll encounter once they arrive.
Yet the cultivation of ballet choreographers of color (specifically black choreographers) through traditional pathways of choreographic training grounds remains virtually impossible. No matter how you slice it, we end up at the basic issues that plague the pipeline to the stage: access and privilege.
Keep reading...
Show less
Get the print edition!
Yuka Oba, Ednis Ariel Gomez Mallol and Connie Flachs in Swing by Olivier Wevers. Photo by Ryan Jackson, courtesy Flachs
"I'm sorry, but I just can't possibly give you the amount of money you're asking for."
My heart sinks at my director's final response to my salary proposal. She insists it's not me or my work, there is just no money in the budget. My disappointment grows when handed the calendar for Grand Rapids Ballet's next season with five fewer weeks of work.
Keep reading...
Show less
"Off Kilter" has real dancers playing dancers. Still courtesy CBC Arts
"It just...always looks better in my head."
While that might not be something any of us would want to hear from a choreographer, it's a brilliant introduction to "Off Kilter" and the odd, insecure character at its center, Milton Frank. The ballet mockumentary (think "The Office" or "Parks and Recreation," but with pointe shoes) follows Frank (dancer-turned-filmmaker Alejandro Alvarez Cadilla) as he comes back to the studio to try his hand at choreographing for the first time since a plagiarism scandal derailed his fledgling career back in the '90s.
We've been pretty excited about the series for a while, and now the wait is finally over. The first episode of the show, "The Denial," went live earlier today, and it's every bit as awkward, hilarious and relatable as we hoped.
Keep reading...
Show less
We suspect it will be...a thriller.
Giphy
Christopher Wheeldon is going to be giving Michael Jackson some new moves: The Royal Ballet artistic associate is bringing the King of Pop to Broadway.
The unlikely pairing was announced today by Jackson's estate. Wheeldon will serve as both director and choreographer for the new musical inspired by Michael Jackson's life, which is aiming for a 2020 Broadway opening. This will be Wheeldon's second time directing and choreographing, following 2015's Tony Award-winning An American in Paris.
Wheeldon is a surprising choice, to say the least. There are many top choreographers who worked with Jackson directly, like Wade Robson and Brian Friedman, who could have been tapped for the project. Or the production could have even hired someone who actually choreographed on Jackson when he was alive, like Buddha Stretch.
Keep reading...
Show less
Popular
Jun. 06, 2018 01:13PM EST
Stagestep's Encore hardwood flooring for full-service broadcast production facility, dance center and venue, Starwest, in Burbank, CA.
What is the right flooring system for us?

So many choices, companies, claims, endorsements, and recommendations to consider. The more you look, the more confusing it gets. Here is what you need to do. Here is what you need to know to get the flooring system suited to your needs.
Keep reading...
Show less
In rehearsal for Dreamgirls. Photo Courtesy DM Archives.
Broadway musicals have been on my mind for more than half a century. I discovered them in grade school, not in a theater but electronically. On the radio, every weeknight an otherwise boring local station would play a cast album in its entirety; on television, periodically Ed Sullivan's Sunday night variety show would feature an excerpt from the latest hit—numbers from Bye Bye Birdie, West Side Story, Camelot, Flower Drum Song.
But theater lives in the here and now, and I was in middle school when I attended my first Broadway musical, Gypsy—based, of all things, on the early life of the famed burlesque queen Gypsy Rose Lee. I didn't know who Jerome Robbins was, but I recognized genius when I saw it—kids morphing into adults as a dance number progresses, hilarious stripping routines, a pas de deux giving concrete shape to the romantic yearnings of an ugly duckling. It proved the birth of a lifelong habit, indulged for the last 18 years in the pages of this magazine. But all long runs eventually end, and it's time to say good-bye to the "On Broadway" column. It's not the last of our Broadway coverage—there's too much great work being created and performed, and you can count on hearing from me in print and online.
Keep reading...
Show less
Get the print edition!
It's already on its way to legendary status. (screenshot via YouTube)
Popular
May. 25, 2018 12:14PM EST
Travis Wall draws inspiration from dancers Tate McCrae, Timmy Blankenship and more.
One often-overlooked relationship that exists in dance is the relationship between choreographer and muse. Recently two-time Emmy Award Winner Travis Wall opened up about his experience working with dancers he considers to be his muses.
"My muses in choreography have evolved over the years," says Wall. "When I'm creating on Shaping Sound, our company members, my friends, are my muses. But at this current stage of my career, I'm definitely inspired by new, fresh talent."
Wall adds, "I'm so inspired by this new generation of dancers. Their teachers have done such incredible jobs, and I've seen these kids grown up. For many of them, I've had a hand in their exposure to choreography."

Keep reading...
Show less
News
Jun. 18, 2018 02:12PM EST
MADBOOTS DANCE in MASC. Photo by Scott Shaw, Courtesy Richard Kornberg & Associates
This week, New York City's Joyce Theater presents two companies addressing LGBTQ+ issues.
Keep reading...
Show less
Kerollis and students in his 8-week Absolute Beginner Workshop at Broadway Dance Center
When most people think of dance students, they imagine lithe children and teenagers waltzing around classrooms with their legs lifted to their ears. It doesn't often cross our minds that dance training can involve an older woman trying to build strength in her body to ward off balance issues, or a middle-aged man who didn't have the confidence to take a dance class as a boy for fear of bullying.
Anybody can begin to learn dance at any age. But it takes a particular type of teacher to share our art form with dancers who have few prospects beyond fun and fitness a few nights a week.
Keep reading...
Show less
Get the print edition!
News
Jun. 16, 2018 09:15AM EST
Gina Gibney's organization has grown invaluable to the NYC dance scene. Photo by Scott Shaw, Courtesy Gibney
New York City–based dancers know Gibney. It's a performance venue, a dance company, a rehearsal space, an internship possibility—a Rubik's Cube of resources bundled into two sites at 280 and 890 Broadway. And in March of this year, Gibney (having officially dropped "Dance" from its name) announced a major expansion of its space and programming; it now operates a total of 52,000 square feet, 23 studios and five performance spaces across the two locations.
Six of those studios and one performance space are brand-new at the 280 Broadway location, along with several programs. EMERGE will commission new works by emerging choreographic voices for the resident Gibney Dance Company each year; Making Space+ is an extension of Gibney's Making Space commissioning and presenting program, focused on early-career artists. For the next three years, the Joyce Theater Foundation's artist residency programs will be run out of one of the new Gibney studios, helping to fill the gap left by the closing of the Joyce's DANY Studios in 2016.
Keep reading...
Show less
Jay Sullivan Photography, courtesy Julie Granger
Dancers crossing over into the fitness realm may be increasingly popular, but it was never part of French-born Julie Granger's plan. Though Granger grew up a serious ballet student, taking yoga classes on the side eventually led to a whole new career. Creating her own rules along the way, Granger shares how combining the skills she learned in ballet with certifications in yoga, barre and personal training allowed her to become her own boss (and a rising fitness influencer).
Keep reading...
Show less


Get Dance Magazine in your inbox