Inside IABD's New Ballet Audition for Men of Color
This year, IABD launched a new ballet audition for men of color
Last month, the International Association of Blacks in Dance's third annual ballet audition for women of color was expanded to include a separate audition for men.
The brainchild of Joan Myers Brown (founder of both Philadanco and IABD), the women's audition was created to specifically address the lack of black females in ballet. However, the success and attention that audition drew made the men feel left out, so IABD decided to give the men equal time this year.
---
Both auditions happen within IABD's larger conference, hosted this year by Lula Washington Dance Theatre. The week-long event of panel discussions, master classes, auditions and performances feels part–family reunion, part-retreat.
The electrically-charged atmosphere can feel foreign to some white ballet representatives, but it's an invaluable social education. Experiencing the way in which African Americans gather, interact and educate can explain why walking into a ballet school can feel cold and unwelcoming.
Here, white administrators can experience what it feels like to be one of a few, to stick out, to not know if you are authentically welcome or just being tolerated. I had conversations with some who were uncertain if their voices would be welcomed. Welcome to the African American experience.
This year's ballet auditions drew some of the original supporting organizations (San Francisco Ballet, Ballet Memphis, Pacific Northwest Ballet, Joffrey, Kansas City Ballet and Nashville Ballet) plus some newcomers (Atlanta Ballet, Oakland Ballet, New York City Ballet), although some chose to attend only the women's audition. The number wanting to attend at the last minute—and the distinct increase in the level of talent this year—prove the word is spreading.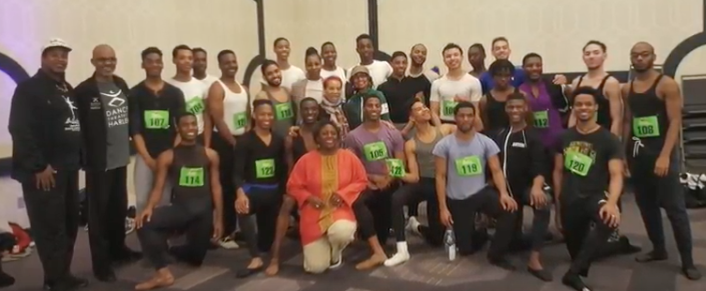 The male auditioners pose with IABD president Denise Saunders Thompson
Providing talented dancers with training and professional opportunities is the stated mission of the auditions. But another type of work happens behind closed doors, in a meeting with the representatives led by IABD president Denise Saunders Thompson and myself.
In it, Jonathan Stafford, head of the interim artistic team at NYCB admitted, "This is not something we have always been good at." He came to the conference along with Elise Drew, SAB's new manager of diversity and inclusion. "I have heard painful stories from the past," Stafford said, "which we must take responsibility for and learn from. Like many ballet companies around the country, we are now involved in a process of change that we hope will make the culture of our institution more diverse, inclusive and equitable. NYCB is now working to ensure that as more dancers from diverse backgrounds begin to enter the company, they are made to feel welcome and supported in all aspects of their careers. There is much work to do."
SFB assistant administrative director Christina Gray Rutter shared the success story of Raquel Smith who received a scholarship to SFB's school at IABD's first ballet audition in 2015: Now in level 8, she has performed with the company in The Nutcracker, Sleeping Beauty and been asked to learn Serenade. Smith returned to the IABD audition this year.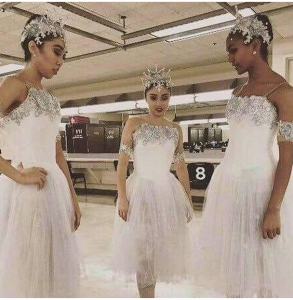 Raquel Smith's journey to San Francisco Ballet began at IABD's 2015 audition. In December, she performed with the company in Nutcracker.
SFBS faculty member Rubén Martín Cintas also shared his experience teaching master classes arranged by IABD for students of color. The first of these was held in Chicago last October; others have taken place in Washington, DC and San Francisco as a way to engage with African American communities and build a trusted network. Local instructors and students can sit in on the class and ask questions.
"I wanted to create an environment that allowed for an exchange and dialogue by everyone, 'a first date' if you will, and it was quite successful," Thompson said about the master classes. "I am open to having discussions with other organizations about this opportunity, however I'll really be looking at the entire organization and its authenticity regarding real inclusion, access and opportunity for black and brown dancers."
Next year, there are plans to expand the audition, creating a comprehensive ballet component to the IABD conference (which has traditionally focused on modern dance).
The results of this years auditions were promising: Of the 27 male dancers who attended, 18 received offers ranging from tuition scholarships for summer intensives to AGMA contracts. Of the 49 women at the female audition, 31 received offers to either attend a summer intensive, take a company class to see about an apprenticeship or join a second company.
Courtesy Rachel Hamrick
When Rachel Hamrick was in the corps of Universal Ballet in Seoul, her determination to strengthen her flexibility turned into a side hobby that would eventually land her a new career. "I was in La Bayadere for the first time, and I was the first girl out for that arabesque sequence in The Kingdom of the Shades," she says. "I had the flexibility, but I was wobbly because I wasn't stretching in the right way. That's when I first started playing around with the idea of the Flexistretcher. It was tied together then, so it was definitely more makeshift," she says with a laugh, "But I trained with it to help me get the correct alignment so that I would have the strength to sustain the whole act."
Now, Hamrick is running her own business, complete with an ever-growing product line and her FLX training method—all because of her initial need to make it through 38 arabesques.
Keep reading...
Show less
The cast of Head Over Heels performs "We Got the Beat." Photo by Joan Marcus, Courtesy Boneau/Bryan-Brown.
For the new Broadway season, Ellenore Scott has scored two associate choreographer gigs: For Head Over Heels, which starts previews June 23, Scott is working with choreographer Spencer Liff on an original musical mashing up The Go-Go's punk-rock hits with a narrative based on Sir Philip Sidney's 1590 book, Arcadia. Four days after that show opens, she'll head into rehearsals for this fall's King Kong, collaborating with director/choreographer Drew McOnie and a 20-foot gorilla.
Scott gave us the inside scoop about Head Over Heels, the craziness of her freelance hustle and the most surprising element of working on Broadway.
Keep reading...
Show less
Get the print edition!
Just for Fun
Jun. 21, 2018 01:27PM EST
Including, of course, Center Stage (Screenshot via Vimeo)
Keep reading...
Show less
In rehearsal for Dreamgirls. Photo Courtesy DM Archives.
Broadway musicals have been on my mind for more than half a century. I discovered them in grade school, not in a theater but electronically. On the radio, every weeknight an otherwise boring local station would play a cast album in its entirety; on television, periodically Ed Sullivan's Sunday night variety show would feature an excerpt from the latest hit—numbers from Bye Bye Birdie, West Side Story, Camelot, Flower Drum Song.
But theater lives in the here and now, and I was in middle school when I attended my first Broadway musical, Gypsy—based, of all things, on the early life of the famed burlesque queen Gypsy Rose Lee. I didn't know who Jerome Robbins was, but I recognized genius when I saw it—kids morphing into adults as a dance number progresses, hilarious stripping routines, a pas de deux giving concrete shape to the romantic yearnings of an ugly duckling. It proved the birth of a lifelong habit, indulged for the last 18 years in the pages of this magazine. But all long runs eventually end, and it's time to say good-bye to the "On Broadway" column. It's not the last of our Broadway coverage—there's too much great work being created and performed, and you can count on hearing from me in print and online.
Keep reading...
Show less
Jeremy Pheiffer, Michael Watkiss in THEM, PC Rachel Papo
If you want to know how scary the AIDS epidemic was in the 1980s, come see Ishmael Houston-Jones' piece THEM from 1986. This piece reveals the subterranean fears that crept into gay relationships at the time. Houston-Jones is one of downtown's great improvisers, and his six dancers also improvise in response to his suggestions. With Chris Cochrane's edgy guitar riffs and Dennis Cooper's ominous text, there's an unpredictable, near-creepy but epic quality to THEM.
Keep reading...
Show less
Popular
Jun. 06, 2018 01:13PM EST
Stagestep's Encore hardwood flooring for full-service broadcast production facility, dance center and venue, Starwest, in Burbank, CA.
What is the right flooring system for us?

So many choices, companies, claims, endorsements, and recommendations to consider. The more you look, the more confusing it gets. Here is what you need to do. Here is what you need to know to get the flooring system suited to your needs.
Keep reading...
Show less
Catherine Conley is now a member of the National Ballet of Cuba. Photo courtesy Riley Robinson
This time last year, Catherine Conley was already living a ballet dancer's dream. After an exchange between her home ballet school in Chicago and the Cuban National Ballet School in Havana, she'd been invited to train in Cuba full-time. It was the opportunity of a lifetime, and one that was nearly unheard of for an American dancer. Now, though, Conley has even more exciting news: She's a full-fledged member of the National Ballet of Cuba's corps de ballet.
"In the school there were other foreigners, but in the company I'm the only foreigner—not just the only American, but the only non-Cuban," Conley says. But she doesn't feel like an outsider, or like a dancer embarking on a historic journey. "Nobody makes me feel different. They treat me as one of them," she says. Conley has become fluent in Spanish, and Cuba has come to feel like home. "The other day I was watching a movie that was dubbed in Spanish, and I understand absolutely everything now," she says.
Keep reading...
Show less
Get the print edition!
Aguirre taking a cooking class in Thailand. Photo courtesy Aguirre
Chantel Aguirre may call sunny Los Angeles home, but the Shaping Sound company member and NUVO faculty member spends more time in the air, on a tour bus or in a convention ballroom than she does in the City of Angels.
Aguirre, who is married to fellow Shaping Sound member Michael Keefe, generally only spends one week per month at home. "When I'm not working, I'm exploring," Aguirre says. "Michael and I are total travel junkies."
Keep reading...
Show less
Florence Welch and Akram Khan share the choreography credit for Florence + the Machine's new music video "Big God." Via Instagram @florence
Akram Khan and Florence Welch (of Florence + The Machine) is not a pairing we ever would have dreamt up. But now that the music video for "Big God" has dropped, with choreography attributed to Khan and Welch, it seems that we just weren't dreaming big enough.
In the video, Welch leads a group of women standing in an eerily reflective pool of water. They seem untouchable, until they begin shedding their colorful veils, movements morphing to become animalistic and aggressive as the song progresses.
Keep reading...
Show less
Savannah Lowery in George Balanchine's "Rubies." Photo by Paul Kolnik
Savannah Lowery is about as well acquainted with the inner workings of a hospital as she is with the intricate footwork of Dewdrop.
As a child, the former New York City Ballet soloist would roam the hospital where her parents worked, pushing buttons and probably getting into too much trouble, she says. While other girls her age were clad in tutus playing ballerina, she was playing doctor.
"It just felt like home. I think it made me not scared of medicine, not scared of a hospital," she says. "I thought it was fascinating what they did."
Keep reading...
Show less
Get the print edition!
Alice Sheppard photographed by Jayme Thornton for Dance Magazine
It can be hard to focus when Alice Sheppard dances.
Her recent sold-out run of DESCENT at New York Live Arts, for instance, offered a constellation of stimulation. Onstage was a large architectural ramp with an assortment of peaks and planes. There was an intricate lighting and projection design. There was a musical score that unfolded like an epic poem. There was a live score too: the sounds of Sheppard and fellow dancer Laurel Lawson's bodies interacting with the surfaces beneath them.
And there were wheelchairs. But if you think the wheelchairs are the center of this work, you're missing something vital about what Sheppard creates.

Keep reading...
Show less
News
Jun. 20, 2018 10:28AM EST
The Broadway revival of CATS. Photo by Matthew Murphy
A Jellicle Ball is coming to the big screen, with the unlikeliest of dancemakers on tap to choreograph.
We'll give you some hints: His choreography can aptly be described as "animalistic," though Jellicle cats have never come to mind specifically when watching his hyper-physical work. He's worked on movies before—even one about Beasts. And though contemporary ballet is his genre of choice, his choreography is certainly theatrical enough to lend itself to a musical.
Keep reading...
Show less


Get Dance Magazine in your inbox