For iele paloumpis, dance and healing have long been intertwined. They started dancing at 4 to heal from a broken femur and cracked hip plate. Then, a decade ago, a severe visual impairment forced them to reimagine what dancing (and watching dance) could be.
Today, paloumpis works as a death and grief doula, and teaches workshops in intuition, tarot, herbalism and astrology. In place of catastrophe, a clear night sky, which was scheduled to premiere at Danspace Project in May before the COVID-19 outbreak, is the first work paloumpis has made with another visually impaired performer. It examines the ways our ancestors have survived trauma, what wisdom has been passed down and what magic we hold in our own bodies.
---
Dance as a mode of healing
"Dance has the possibility to be a healing modality. Before 2010, there wasn't a lot of dialogue about disability, dance and healing. 'Healing' was a taboo word and seen as anti-intellectual. But there doesn't have to be a binary separation.
"Unless you make solos for the rest of your life, dance is a collective practice, a social form. Negotiating bodies through space—which is the most intimate thing, and what our bodies require as we move together—can be healing if done well."
Working as a death and grief doula
"Anytime I'm working with a client going through a grief process, I show up without expectation. If they would like to have a relationship to their body, or to meditate to ease anxiety, or receive bodywork to relieve physical pain, I will do that.
"What I love about death doula work is that there are lots of ways one can do it. I might integrate body-based practices, or do somatic techniques to alleviate anxiety or physical pain. This comes directly from being a dance artist."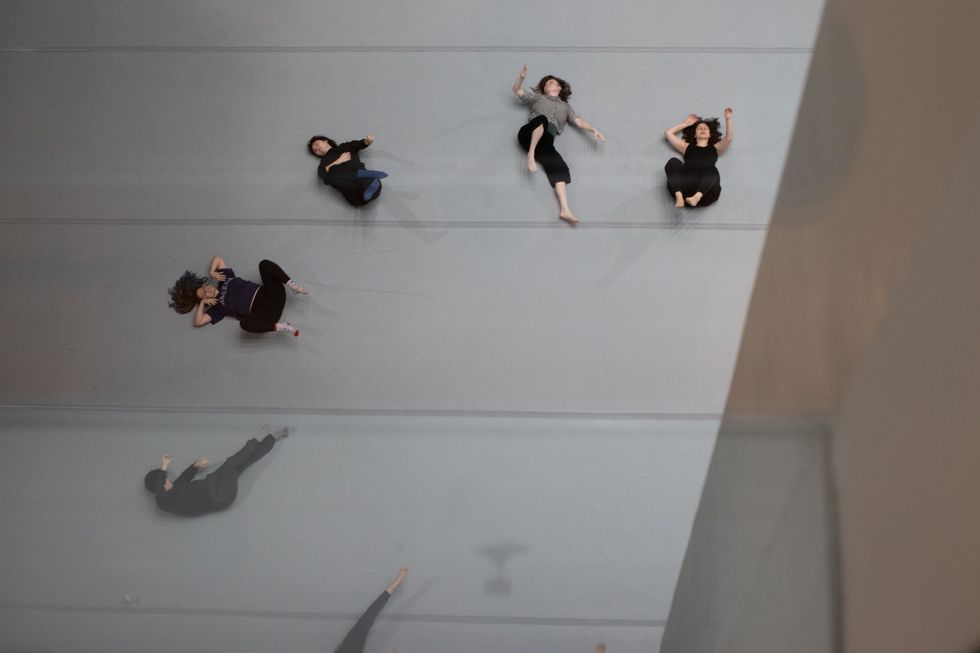 A workshop at the Museum of Modern Art exploring the intersection of somatics and social justice
Andrew Kim, courtesy paloumpis
Their creative process as a choreographer
"In my choreographic process, we are trying to destabilize the hierarchy between choreographer and performer. The practice I've been building with other performers feels like a collaborative effort, with collective care and horizontal decision-making."
De-centering sight in dance
"There is little research about making dance accessible to visually impaired audiences. Dance is difficult to describe. It can't get at why dancers are doing what they're doing, emotionally or aesthetically. It can become very dry: 'arm raises overhead.' In In place of catastrophe... each dancer has an audio describer that's their audio describer, so there's a very intimate relationship between them. This hopefully gets at something that's very true to the internal experience of what the movement feels like.
"How do we create dance that decenters sight as a primary mode of experience? In place of catastrophe... is creating an immersive, multisensory landscape. We are involving a lot of sound, consensual touch and storytelling, and we are inviting visually impaired and blind audience members to come experience the work, with an acknowledgement that dance has a lot of repair to do with having any relationship to blind and visually impaired people."