Why Do Dancers Push Through Pain Even When They Know It's Bad for Them?
Cristian Newman/Unsplash
Have you ever consciously danced through pain? Or watched colleagues do it? The answer is most likely, "yes." Dancers are notorious for forcing themselves to keep dancing, no matter what.
---
Some level of pain is simply part of being a dancer. "You can't tell a dancer to never dance with pain," says Leigh Schanfein, MS, an adjunct lecturer of biomechanics at Barnard College who's also a dancer. Yet she believes that we can all differentiate between "good pain" and "bad pain."
"Good pain" may best be reframed as "sensation," sometimes of mild soreness or when your body is pushed to the point of tension (like when you're stretching). "Bad pain" might prevent you from executing technique normally, or it might be less obvious. "If you have tweaks and twinges, you're going to test that and see how far you can go," Schanfein says.
The problem is that dancers don't always stop when they know those tweaks and twinges get worse. Pushing through can lead to injury; at the very least, it can keep dancers from performing at their full potential.
So why do it?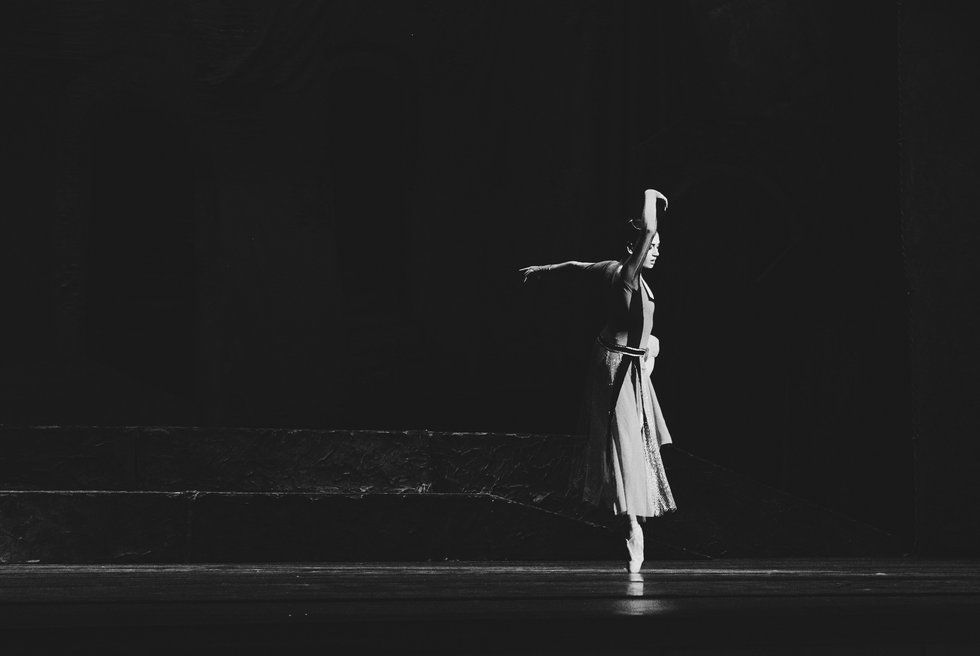 Hannah Homayoonfar/Unsplash
It's What They're Used To
In dance, it's normal to cover up physical sensation—including pain—for the sake of the performance. No performer has ever been praised for making their physical exhaustion or soreness evident to audiences.
Young Dancers Think It Makes Them "Hardcore"
Brooke Siem, a former dancer who now writes about mental health, says she knew she was different from her non-dancer friends in part because of her reaction to pain—with a quip of "pain is pain, no big thing." The competitive nature of dance made her want to "beat everyone at everything, even in how much pain I could bear," she says.
Dance medicine researchers are currently studying pre-professional dancers' attitudes towards pain. Some students use pain as an indicator that they're working hard. When you're training, the stakes can feel incredibly high, and a lot out of your control, says Schanfein; thinking that you can define the amount of pain you feel can bring a sense of control.
Skewing the barometer of one's own pain could be a factor in the prevalence of eating disorders in dance; both deny of the truth of physical sensation for the sake of the art. If a dancer can believe that it's "no big thing" to dance through problematic pain, it may be easier to willingly go hungry.
Dancers Know They Don't Have Much Time
In such a short career, dancers can be reluctant to pass up on limited opportunities to perform. They fear getting behind or losing jobs if they take time away. They worry about not getting promoted if they're known to be "that dancer" who gets injured—or simply because they're not as present in the studio. "We think, whether or not we realize it, 'If I become injured, they'll just replace me,' " says Alex Zarlengo, soloist for CONNectic Dance who had to stop dancing for a year and a half off after he snapped his Achilles tendon in June 2017.
It's Costly to Admit to Injury
Receiving medical care can require significant amounts of money and time—two things dancers rarely have enough of.
The Show Must Go On
Financially-strapped dance companies don't always have the budget for understudies. Not dancing can mean letting down audiences, the choreographer and the other dancers. "One has a choice—to perform now and make things potentially worse, or not perform and face the consequences of that decision," says Zarlengo. The negative consequences of just dancing through it can appear less certain, or at least less immediate.
So how can we reverse this tendency? It starts in the studio. Teachers and choreographers can promote listening to your body, and taking time to heal. Dancers can do the same for their colleagues to encourage a healthier culture. Prioritizing understudies can free dancers from feeling like they need to dance through problematic pain. Additionally, Siem encourages dancers to build personal identities outside of dance so that injury is not personally devastating.
We can also encourage dancers to have a team of medical professionals in place, and advocate for greater access to affordable, convenient and high-quality treatment options. Zarlengo feels incredibly grateful that he was onstage, at a union production, when he got injured so that he could receive Workers' Compensation.
Thankfully, Career Transition for Dancers and the Dance/USA Task Force on Dancer Health are both doing work in these areas. The first step is discussing the problem, and the second is working to chip away at it.
Related Articles Around the Web
From Your Site Articles
News
May. 22, 2019 05:57PM EST
Fox produced a live broadcast of Rent in January—but could an original musical be next? Photo by Kevin Estrada, Courtesy Fox
When a musical prepares to make the transfer from a smaller, lesser-known venue to Broadway (where theaters hold 500-plus seats), often there's a collective intake of breath from all involved. After all, a bigger house means more tickets to sell in order to stay in the black, and sometimes shows with even the most tenacious fan bases can't quite navigate such a jump. But what about the transfer from stage…to screen? Is Broadway ready to be consumed from the comfort of your couch?
Keep reading...
Show less
Hive by Boston Conservatory student Alyssa Markowitz. Photo by Jim Coleman
The way we create and consume dance is changing every day. Now more than ever, the field demands that dancers not only be able to perform at the highest level, but also collaborate with choreographers to bring their artistic visions to life. Dancers who miss out on choreographic training may very well find themselves at a disadvantage as they try to launch their careers.

Keep reading...
Show less
Courtesy Lee
Daphne Lee was dancing with Collage Dance Collective in Memphis, Tennessee, when she received two difficult pieces of news: Her mother had been diagnosed with multiple myeloma cancer, and her father had Parkinson's disease, affecting his mobility and mental faculties.
The New Jersey native's reaction: "I really need to move home."
Keep reading...
Show less
Bruce Mars via Unsplash
Summer is almost upon us, and whether you're a student about to go on break or a pro counting the days till layoff, don't forget that with warm weather comes a very serious responsibility: To maintain your cross-training routine on your own.
Those of us who've tried to craft our own cross-training routine know it's easier said than done. So we consulted the stars, and rounded up the best options for every zodiac sign. (TBH, you should probably consult an expert, too—we'd recommend a physical therapist, a personal trainer or your teacher.)
Keep reading...
Show less
Last year's winner: Manuel Vignoulle's EARTH. Jack Hartin Photography, Courtesy McCallum Theatre
It's not often that a promising choreographer gets to stage work in a world-class theater, on a skillfully-curated program with professional dancers, and with the possibility of winning a substantial cash prize. But at the McCallum Theatre's Palm Desert Choreography Festival, that's been the status quo for over twenty years.
Since Shea New, the festival's artistic director, founded the festival in 1998, she's worked tirelessly with McCallum's director of education and festival producer, Kajsa Thuresson-Frary, and stage manager and festival production manager Joanna Fookes to build a festival that nurtures choreographers, highlights high quality work, powerfully engages the local community and cultivates an audience base for dance in the Coachella Valley. The trio is backed by a strong team of professionals at McCallum and the brilliant volunteers from the local and national level who serve as adjudicators.
Keep reading...
Show less
Get Dance Magazine in your inbox
It's become second nature in dance studios: The instant anyone gets hurt, our immediate reaction is to run to the freezer to grab some ice (or, more realistically, a package of frozen peas).
But as routine as icing our injuries might be, the benefits are not actually backed up by scientific studies. And some experts now believe icing could even disrupt the healing process.
Keep reading...
Show less
Getty Images
I'm a contemporary dancer, and I'm nervous about trying to get pregnant since I can't predict if it might happen during the middle of the season. We have a union contract that is supposed to protect us. But I'm scared because several of my colleagues' contracts weren't renewed for no particular reason. Having a big belly could be a big reason to get rid of me!
—Andrea, New York, NY
Keep reading...
Show less
From Dance of Urgency. © Ekvidi
When the going gets tough, the tough start dancing: That's the premise behind "Dance of Urgency," a recently opened exhibit at MuseumsQuartier Vienna that features photos, video and other documentary material relating to the use of dance as political protest or social uprising.
The groups featured in the show, largely based around clubs and electronic dance music scenes, span the globe and respond to a variety of issues—from inequality and social stratification to racial divides to crackdowns on club culture itself.
Keep reading...
Show less
News
May. 20, 2019 04:24PM EST
Last night, longtime theater legends (including Chita Rivera herself!) as well as rising stars gathered to celebrate one of Broadway's danciest events: the third annual Chita Rivera Awards.
The evening paid tribute to this season's dancer standouts, fabulous ensembles, and jaw-dropping choreography—on- and off-Broadway and on film.
As usual, several of our faves made it into the mix. (With such a fabulous talent pool of nominees to choose from, we're glad that ties were allowed.) Here are the highlights from the winner's list:
Keep reading...
Show less
Lorenzo Di Cristina/Unsplash
When you're a foreign dancer, gaining legal rights to work in the U.S. is a challenging process. It's especially difficult if you're petitioning to work as a freelance dancer without an agent or company sponsorship.
The process requires professional muscle along with plenty of resources and heart. "There's a real misnomer that it's super easy," says Neena Dutta, immigration attorney and president of Dutta Law Firm. "People need to educate themselves and talk to a professional."
Here are four things every foreign dancer who wants to work in the U.S. needs to know to build a freelance dance career here.
Keep reading...
Show less
Quinn Wharton
What does it take to "make it" in dance? It's no secret that turning this passion into a profession can be a struggle. In such a competitive field, talent alone isn't enough to get you where you want to be.
So what kinds of steps can you take to become successful? Dance Magazine spoke to 33 people from all corners of the industry to get their advice on the lessons that could help us all, no matter where we are in our careers.
Keep reading...
Show less
Still of Fonteyn from the 1972 film I Am a Dancer. Photo courtesy DM Archives
On May 18, 1919, Margot "Peggy" Hookham was born. She would grow up to become Dame Margot Fonteyn, England's first homegrown prima ballerina. She joined the Sadler's Wells School in 1934 and was performing principal roles with the precursor to The Royal Ballet the next year. Fonteyn was a company-defining figure, dancing Aurora for the re-opening of the Royal Opera House after World War II, creating numerous roles with Sir Frederick Ashton and forging a legendary partnership with Rudolf Nureyev.
Keep reading...
Show less
Courtesy #Dance4OurLives
Memorial Day is notoriously one of Chicago's bloodiest weekends. Last year, 36 people were shot and seven died that weekend. In 2017 and 2016, the number of shootings was even higher.
When Garley "GiGi Tonyé" Briggs, a dance teacher and Chicago native, started noticing this pattern, she was preparing her second annual Memorial Day workshop for local youth.
The event's original aim was simple: "I wanted the youth of Chicago to have somewhere they could come and learn from different dancers and be off the streets on the South Side on this hot holiday," she says.
Keep reading...
Show less