Why Do Dancers Push Through Pain Even When They Know It's Bad for Them?
Cristian Newman/Unsplash
Have you ever consciously danced through pain? Or watched colleagues do it? The answer is most likely, "yes." Dancers are notorious for forcing themselves to keep dancing, no matter what.
---
Some level of pain is simply part of being a dancer. "You can't tell a dancer to never dance with pain," says Leigh Schanfein, MS, an adjunct lecturer of biomechanics at Barnard College who's also a dancer. Yet she believes that we can all differentiate between "good pain" and "bad pain."
"Good pain" may best be reframed as "sensation," sometimes of mild soreness or when your body is pushed to the point of tension (like when you're stretching). "Bad pain" might prevent you from executing technique normally, or it might be less obvious. "If you have tweaks and twinges, you're going to test that and see how far you can go," Schanfein says.
The problem is that dancers don't always stop when they know those tweaks and twinges get worse. Pushing through can lead to injury; at the very least, it can keep dancers from performing at their full potential.
So why do it?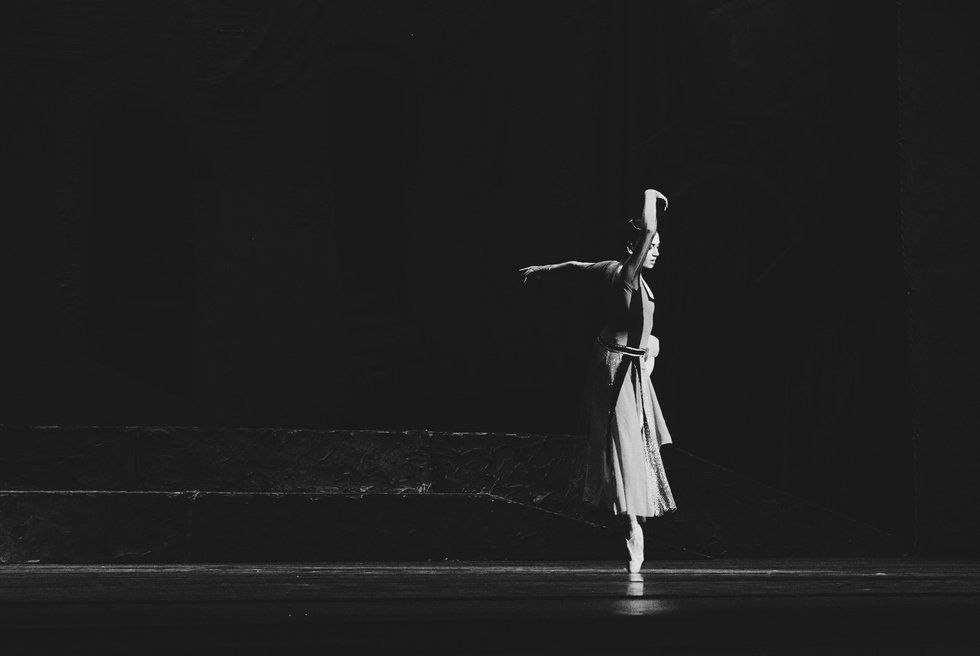 Hannah Homayoonfar/Unsplash
It's What They're Used To
In dance, it's normal to cover up physical sensation—including pain—for the sake of the performance. No performer has ever been praised for making their physical exhaustion or soreness evident to audiences.
Young Dancers Think It Makes Them "Hardcore"
Brooke Siem, a former dancer who now writes about mental health, says she knew she was different from her non-dancer friends in part because of her reaction to pain—with a quip of "pain is pain, no big thing." The competitive nature of dance made her want to "beat everyone at everything, even in how much pain I could bear," she says.
Dance medicine researchers are currently studying pre-professional dancers' attitudes towards pain. Some students use pain as an indicator that they're working hard. When you're training, the stakes can feel incredibly high, and a lot out of your control, says Schanfein; thinking that you can define the amount of pain you feel can bring a sense of control.
Skewing the barometer of one's own pain could be a factor in the prevalence of eating disorders in dance; both deny of the truth of physical sensation for the sake of the art. If a dancer can believe that it's "no big thing" to dance through problematic pain, it may be easier to willingly go hungry.
Dancers Know They Don't Have Much Time
In such a short career, dancers can be reluctant to pass up on limited opportunities to perform. They fear getting behind or losing jobs if they take time away. They worry about not getting promoted if they're known to be "that dancer" who gets injured—or simply because they're not as present in the studio. "We think, whether or not we realize it, 'If I become injured, they'll just replace me,' " says Alex Zarlengo, soloist for CONNectic Dance who had to stop dancing for a year and a half off after he snapped his Achilles tendon in June 2017.
It's Costly to Admit to Injury
Receiving medical care can require significant amounts of money and time—two things dancers rarely have enough of.
The Show Must Go On
Financially-strapped dance companies don't always have the budget for understudies. Not dancing can mean letting down audiences, the choreographer and the other dancers. "One has a choice—to perform now and make things potentially worse, or not perform and face the consequences of that decision," says Zarlengo. The negative consequences of just dancing through it can appear less certain, or at least less immediate.
So how can we reverse this tendency? It starts in the studio. Teachers and choreographers can promote listening to your body, and taking time to heal. Dancers can do the same for their colleagues to encourage a healthier culture. Prioritizing understudies can free dancers from feeling like they need to dance through problematic pain. Additionally, Siem encourages dancers to build personal identities outside of dance so that injury is not personally devastating.
We can also encourage dancers to have a team of medical professionals in place, and advocate for greater access to affordable, convenient and high-quality treatment options. Zarlengo feels incredibly grateful that he was onstage, at a union production, when he got injured so that he could receive Workers' Compensation.
Thankfully, Career Transition for Dancers and the Dance/USA Task Force on Dancer Health are both doing work in these areas. The first step is discussing the problem, and the second is working to chip away at it.
From Your Site Articles
Related Articles Around the Web
The "Merde" bag. Courtesy Scenery
Jennifer Kahn knew the theater industry could do better. As a professional stage manager for 17 years she worked on regional, off-Broadway and Broadway shows. Nearly each time a show closed, something unsettling happened: "I would watch them throw away our shows. All of the beautiful artwork by my friends in the paint shop would go in the trash." The elaborate backdrops? Gone.

But she had an idea: What if the material used in the backdrops and legs could be upcycled into something new? And what if theater lovers could literally keep a piece of a beloved show?
Keep reading...
Show less
Left: Hurricane Harvey damage in Houston Ballet's Dance Lab; Courtesy Harlequin. Right: The Dance Lab pre-Harvey; Nic Lehoux, Courtesy Houston Ballet.
"The show must go on" may be a platitude we use to get through everything from costume malfunctions to stormy moods. But when it came to overcoming a literal hurricane, Houston Ballet was buoyed by this mantra to go from devastated to dancing in a matter of weeks—with the help of Harlequin Floors, Houston Ballet's longstanding partner who sprang into action to build new floors in record time.
Keep reading...
Show less
News
Oct. 18, 2019 11:54AM EST
Photo by Gabriel Davalos, Courtesy Valdés
For decades the name Alicia Alonso has been virtually synonymous with Ballet Nacional de Cuba, the company she co-founded in Havana in 1948. Alonso died on October 17, just shy of what would have been her 99th birthday. In recent years, she had stepped back from day-to-day decision-making in the company. As if preparing for the future, in January, the company's leading ballerina, 42-year-old Viengsay Valdés, was named deputy director, a job that seems to encompass most of the responsibilities of a traditional director. Now, presumably, she will step into her new role as director of the company. Her debut as curator of the repertory comes in November, when the troupe will perform three mixed bills selected by her at the Gran Teatro de la Habana Alicia Alonso. The following has been translated from a conversation conducted in Spanish, Valdés' native tongue.
Keep reading...
Show less
Sara Mearns in the gym. Photo by Kyle Froman.
New York City Ballet principal Sara Mearns wasn't sure she was strong enough. A ballerina who has danced many demanding full-length and contemporary roles, she was about to push herself physically more than she thought was possible.
"I said, 'I can't. My body won't,' " she says. "He told me, 'Yes, it will.' "
She wasn't working with a ballet coach, but with personal trainer Joel Prouty, who was asking her to do squats with a heavier barbell than she'd ever used.
Keep reading...
Show less