When Injury Leads to an Identity Crisis
Getty Images
I'd been a professional dancer for five years when I realized the pain I'd been feeling in my hip and down my sciatic nerve was not going away. I had been treating it for two years as we dancers do—with regular visits to my masseuse, physical therapy, baths, ice and lots of Aleve—but I never stopped dancing. It finally dawned on me that if I kept going at the speed I was going (which was, well, speedy), the pain would only get more severe and unrelenting, and I might never dance again.
I told myself I'd take two months off, and all would be better.
That first morning when I woke up at 10 am, I had no idea what to do with myself. My life until that moment had been dictated by class and rehearsal, every hour accounted for. How should I fill the huge swath of time ahead of me?
---
Soon, in addition to dealing with the pain itself (and all the doctor visits, medications and exercises), other feelings crept in: I felt lonely, depressed and angry—I had never been alone in my apartment for so many hours. I felt aimless, like a failure lounging on my couch. And I was terrified of my future. What would I do if this didn't get better? Who would I be without dancing?
"For a lot of dancers this is their identity," says Dr. Nadine Kaslow, psychology professor at Emory University and psychologist for Atlanta Ballet. "Losing it, they feel like they've lost everything."
Dancers respond to injury in all sorts of ways, but it is often experienced as a trauma. "Their busy lives are brought to a halt, leaving a void," explains Catherine Drury, LCSW, who provides mental health care to dancers in New York City. For some, the crisis leaves them unable to pay the bills, and they must learn to navigate workers' comp and health insurance claims. And the very thing that usually keeps stress levels down—the physicality of dancing—is taken away.
"Barreling through life, stuff happens that's upsetting, and mental health concerns get pushed to the side," says Drury. "When they have to stop, all that stuff they didn't process boils to the surface. So the feelings aren't just about the injury, but all these other things."
Although unplanned, the time off can force you to think deeply about your career—what do you really want? What's working for you and what's not? It might even be an opportunity to ponder the deepest question: What might I do after I stop dancing?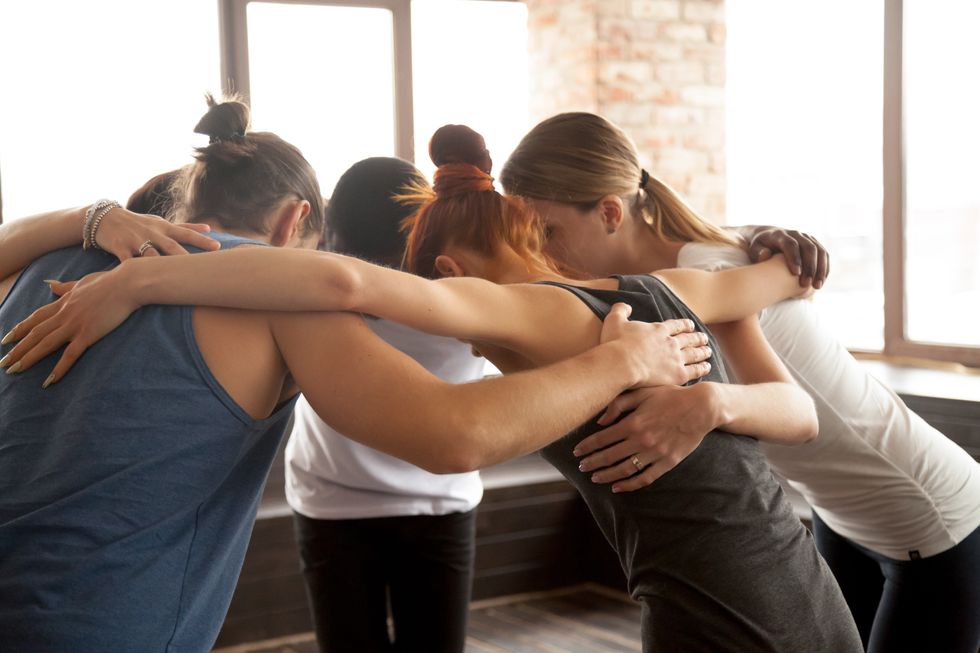 Getty Images
Give yourself the space to rest.
"Dancers often need permission to just recover," Drury explains. "Resting and going to physical therapy can be a full-time job." Jumping into a part-time job might make you feel less idle or broke, but it could slow recovery depending on the nature of the work.
Stay involved with dance (if it feels right).
Watch class, work in an administrative capacity, watch dance online or attend performances.
Or remove yourself entirely.
For some, proximity is just too painful and may put added pressure on you to get back to class or rehearsal sooner than you should. If you feel more depressed or anxious at the prospect of staying involved, don't do it.
Create a schedule.
Dancers' lives are often incredibly regimented, with every minute accounted for. When those hours are no longer filled, there can be a sense of vertigo. "I encourage dancers to structure their days," Drury says. "Even if it looks something like: from 10 to 11 am, I watch TV, and from 11 am to 12 pm, I read, and then I nap. It helps combat symptoms of depression, especially if you're stuck at home after surgery."
Celebrate small victories.
"Recovery can feel slow-going," Drury says, "and there are periods of plateau that can feel frustrating and stall those signs of progress." Regular physical therapy (or other kind of somatic assistance) can help you mentally maintain a sense of momentum. It's a reminder of how much work goes into recovering.
Find other creative outlets.
Do you like to write, paint, podcast, sing? Dive into another medium with all that creative energy that was going into dance.
Cross-train.
Depending on the severity of the injury, this might be a good time to look for ways to support your body going forward. Do you need to practice Pilates, go to the gym, swim? Doing something physical—even if it's just a brisk walk—can help you stay engaged with your dancer identity.
Find a support group or a therapist.
One of the most challenging aspects of injury is the isolation. Find at least one person, and, ideally, a group, who understands what you're going through. (The Actors Fund offers a group specifically for injured dancers in New York City.)
Take advantage of the time off.
Kaslow encourages dancers take college classes, socialize and date. "Do all the things the dance world makes it hard to do! Build other parts of your identity."
And what if this is the end?
After about six months, when it was becoming increasingly clear that I probably would not go back to dancing professionally, a therapist asked me one question: "What else do you like to do?" At first I found this insulting. I was a dancer!
After a lot of grumbling I finally said, "I like to write."
"Good!" he said. "So then write for an hour a day."
This felt like a ludicrous suggestion, but 13 years later, I can safely say it did very gently and lovingly set me on the path to my next career.
"Dancers are channeled so young," says Dr. Nadine Kaslow. "They've given up so many things, they end up feeling like there are two options left after dancing: teaching or choreographing. But there are a million choices. Injuries are a good time to not just be focused on what you're losing, but on what else you can gain." Use the time off to build other parts of your identity.
If an injury ends your career, you'll have to figure out whether to keep dance in your life. Although I've spent the last 15 years writing about dance, I didn't actually dance for much of that time: I didn't want to face my new body in that old context.
"Many dancers say, 'If I can't be as good as I was at 16 or 18, I can't do this anymore,' " says Kaslow. "The dance world doesn't help people be okay with that."
I can say from experience that distance and time help a lot with this. Just recently, I started attending a dance class again, and because I haven't danced seriously in over a decade, I am under no illusion that I will be able to do what I once did. And because I'm not putting any pressure on myself, I am actually enjoying it. Kaslow, now in her 60s, also takes class, accepting that there's a limit to what she can do. "But," she says, "you can still love it!"
Rachel Papo
In the middle of one of New York City Center's cavernous studios, Misty Copeland takes a measured step backwards. The suggestion of a swan arm ripples before she turns downstage, chest and shoulders unfurling as her legs stretch into an open lunge. She piqués onto pointe, arms echoing the sinuous curve of her back attitude, then walks out of it, pausing to warily look over her shoulder. As the droning of Ryuichi Sakamoto and Alva Noto's mysterious "Attack/Transition" grows more insistent, her feet start to fly with a rapidity that seems to almost startle her.
And then she stops mid-phrase. Copeland's hands fall to her hips as she apologizes. Choreographer Kyle Abraham slides to the sound system to pause the music, giving Copeland a moment to remind herself of a recent change to the sequence.
"It's different when the sound's on!" he reassures her. "And it's a lot of changes."
The day before was the first time Abraham had seen Copeland dance the solo in its entirety, and the first moment they were in the studio together in a month. This is their last rehearsal, save for tech, before the premiere of Ash exactly one week later, as part of the opening night of City Center's Fall for Dance festival.
Keep reading...
Show less
Ailey II artistic director Troy Powell teaching an Ailey Workshop at NYCDA. Courtesy NYCDA
Back in 2011 when Joe Lanteri first approached Katie Langan, chair of Marymount Manhattan College's dance department, about getting involved with New York City Dance Alliance, she was skeptical about the convention/competition world.
"But I was pleasantly surprised by the enormity of talent that was there," she says. "His goal was to start scholarship opportunities, and I said okay, I'm in."
Today, it's fair to say that Lanteri has far surpassed his goal of creating scholarship opportunities. But NYCDA has done so much more, bridging the gap between the convention world and the professional world by forging a wealth of partnerships with dance institutions from Marymount to The Ailey School to Complexions Contemporary Ballet and many more. There's a reason these companies and schools—some of whom otherwise may not see themselves as aligned with the convention/competition world—keep deepening their relationships with NYCDA.
Now, college scholarships are just one of many ways NYCDA has gone beyond the typical weekend-long convention experience and created life-changing opportunities for students. We rounded up some of the most notable ones:
Keep reading...
Show less
Getty Images
Dancers are understandably obsessed with food. In both an aesthetic and athletic profession, you know you're judged on your body shape, but you need proper fuel to perform your best. Meanwhile, you're inundated with questionable diet advice.
"My 'favorite' was the ABC diet," says registered dietitian nutritionist Kristin Koskinen, who trained in dance seriously but was convinced her body type wouldn't allow her to pursue it professionally. "On the first day you eat only foods starting with the letter A, on the second day only B, and so on."
Keep reading...
Show less
Left: Hurricane Harvey damage in Houston Ballet's Dance Lab; Courtesy Harlequin. Right: The Dance Lab pre-Harvey; Nic Lehoux, Courtesy Houston Ballet.
"The show must go on" may be a platitude we use to get through everything from costume malfunctions to stormy moods. But when it came to overcoming a literal hurricane, Houston Ballet was buoyed by this mantra to go from devastated to dancing in a matter of weeks—with the help of Harlequin Floors, Houston Ballet's longstanding partner who sprang into action to build new floors in record time.
Keep reading...
Show less