Site Network
Jul. 29, 2019 11:45AM EST
Instagram Is Getting Rid of Likes. What Could That Mean for Dance Influencers?
Screenshot courtesy Bella Klassen
Instagram has become a huge part of dancers' lives. At its best, the image-driven platform can be a way for people to share their art and make it accessible to others. For dance influencers, Insta success can lead to opportunities to travel, perform, and build a career.
But recent studies have suggested a link between social media use and anxiety and depression, with Instagram being especially problematic. Possibly motivated by this news, Instagram has launched a trial in seven countries. Right now, instead of seeing the exact number of likes per post, Insta users in Australia, Japan, Canada, Brazil, Italy, Ireland, and New Zealand see something like this when they scroll their feeds:
---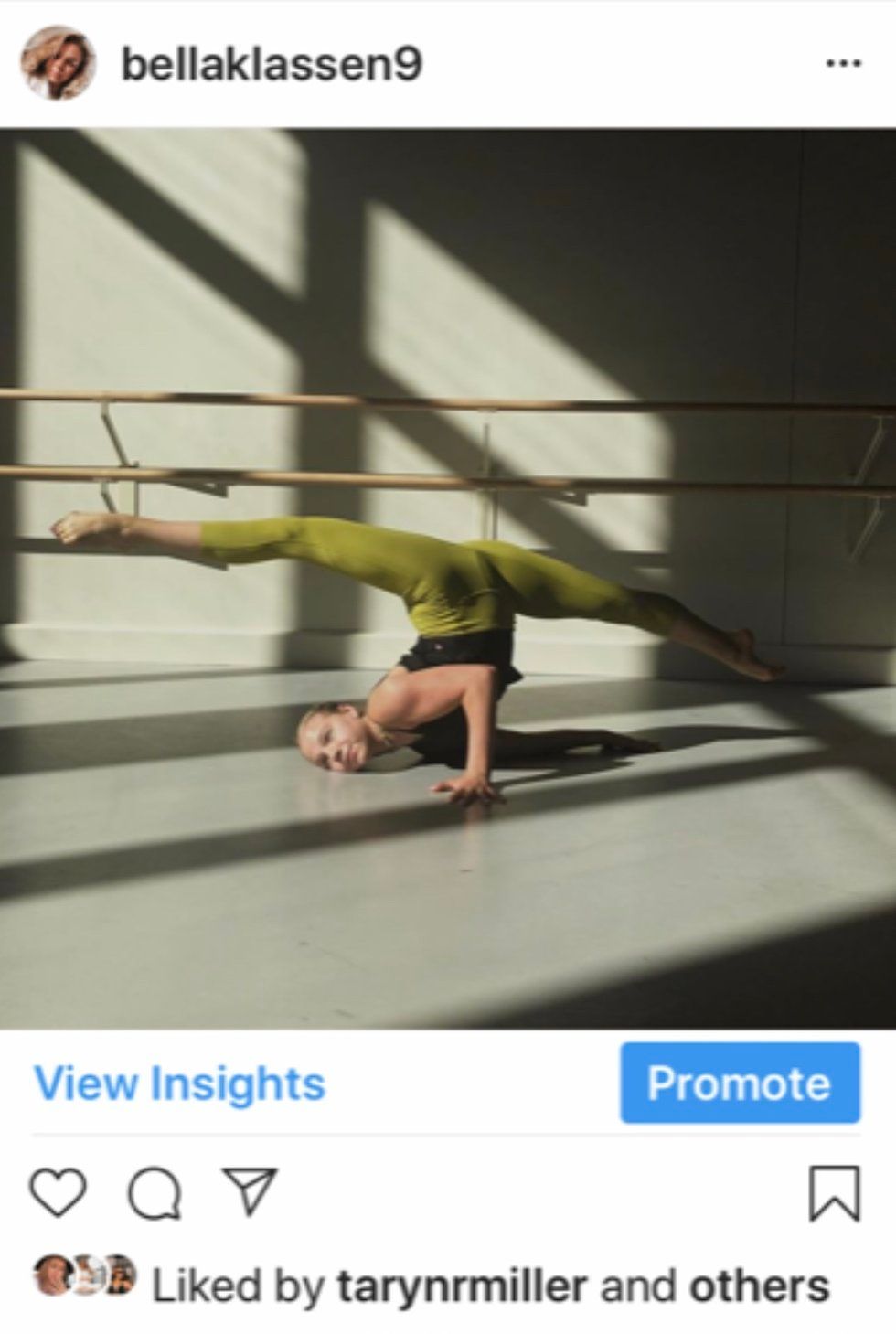 Eliminating the "like" count has the potential to dramatically change the way everyone uses Instagram. What would a different feed mean for dance influencers, in particular?
On the plus side, getting rid of likes might make it easier for dancers to start conversations on the platform. Instead of being motivated by a number, they could get to know their followers in the comments section.
"I love the fact that Instagram is considering losing the like," says comp queen Bella Klassen, who has more than 81K followers. "To me, likes are meaningless. What matters is knowing that my content is inspiring people to engage and comment. It creates more of a two-way street between myself and the people checking out my Insta. Comments make me feel like there are real people behind the screen who have taken the time to interact—not just double-tap."

Emerging influencer Bobbi Ponder has a particularly useful perspective on the change: Though she's from the U.S., she's also danced in Australia, one of the countries in the midst of the trial. Like Bella, she thinks the adjustment will be mostly positive. "I think that this will change the 'doing it for the 'gram' mentality," she says. "We are so caught up in what is going to get us likes on IG instead of just posting things because we genuinely like it. Hopefully this feature will teach us to be less concerned about numbers."
That said, popular dance accounts featuring more than one artist, like those of dance companies or studios, tend to rely more on numbers to generate interest, because the personal connection valued by dancers like Bella and Bobbi is harder to create when there's no single figure driving the account. And knowing what content is most successful—which is what the "like" feature is really about—can help all dance users, whether they have personal or group accounts, decide what to share.

In the dance community, there's particular anxiety around the potential elimination of video view counts. "Since videos are the majority of our content, I would be more concerned if views were hidden as well," says Karla Curatolo, owner and director of Expressenz Dance Center in Indiana, whose Insta account boasts 172K followers. "In general, we don't know how many likes something gets, but we do know how many views we get."
In the end, most dancers seem to agree: If Instagram eliminates "likes" worldwide, there'd be some adjustment required. But taking the focus away from double taps would also allow room for change and growth, and the platform would still be a space to connect with other artists. "Likes" will never define talent.
Chantelle Pianetta competing at a West Coast swing event. Courtesy Pianetta.
Just hearing the word "improvisation" is enough to make some ballet dancers shake in their pointe shoes. But for Chantelle Pianetta, it's a practice she relishes. Depending on the weekend, you might find her gracing Bay Area stages as a principal with Menlowe Ballet or sweeping in awards at West Coast swing competitions.

She specializes in Jack and Jill events, which involve improvised swing dancing with an unexpected partner in front of a panel of judges. (Check her out in action below.) While sustaining her ballet career, over the past four years Pianetta has quickly risen from novice to champion level on the WCS international competition circuit.
Keep reading...
Show less
Jayme Thornton
Sean Dorsey was always going to be an activist. Growing up in a politically engaged, progressive family in Vancouver, British Columbia, "it was my heart's desire to create change in the world," he says. Far less certain was his future as a dancer.
Like many dancers, Dorsey fell in love with movement as a toddler. However, he didn't identify strongly with any particular gender growing up. Dorsey, who now identifies as trans, says, "I didn't see a single person like me anywhere in the modern dance world." The lack of trans role models and teachers, let alone all-gender studio facilities where he could feel safe and welcome, "meant that even in my wildest dreams, there was no room for that possibility."
Keep reading...
Show less
Getty Images
It's hour three of an intense rehearsal, you're feeling mentally foggy and exhausted, and your stomach hurts. Did you know the culprit could be something as simple as dehydration?
Proper hydration helps maintain physical and mental function while you're dancing, and keeps your energy levels high. But with so many products on the market promising to help you rehydrate more effectively, how do you know when it's time to reach for more than water?
Keep reading...
Show less
James Beaudreau, Courtesy Roberto Lara
Inside a bustling television studio in Los Angeles, Lindsay Arnold Cusick hears the words "Five minutes to showtime." While dancers and celebrities covered head to toe in sequins whirl around preparing for their live performances on "Dancing with the Stars," Cusick pauses to say a prayer to God and express her gratitude.
"I know that it's not a given, and I'm grateful for the opportunity to do what I love for a living," says Cusick, a member of The Church of Jesus Christ of Latter-day Saints. For her, prayer is a ritualized expression of her faith that she has maintained since she was a girl in Provo, Utah. Even with her seven-plus years of industry experience, she always takes a moment to steady herself and close her prayer in Christ's name before rushing onto the stage.
Keep reading...
Show less