No, Dancers Don't Need to Swear Off Bread
Getty Images
Despite what you might think, there's no reason for dancers to be afraid of bread.
"It's looked at as this evil food," says New York State–certified dietitian and former dancer Tiffany Mendell. But the truth is, unless you have celiac disease or a gluten intolerance, bread can be a healthy source of carbohydrates—our body's preferred fuel—plus fiber and vitamins.
The key is choosing your loaf wisely.
---
Scrutinize the label for ingredients, fiber, carbs, calories and sugar.
To pick the healthiest, most nutrient-dense bread, Mendell suggests checking both the nutrition facts and the ingredients:
Make sure the first ingredient is 100 percent whole-grain or whole-wheat, not enriched or refined, flour.
Each slice should have at least 2 grams of fiber.
Slices should have no more than 15 to 20 grams of carbs.
A good portion size is around 80 to 100 calories.
Ideally there should be 0 or only 1 gram of sugar per slice—and watch out for artificial sweeteners like stevia or sucralose, "which just don't belong in bread," says Mendell.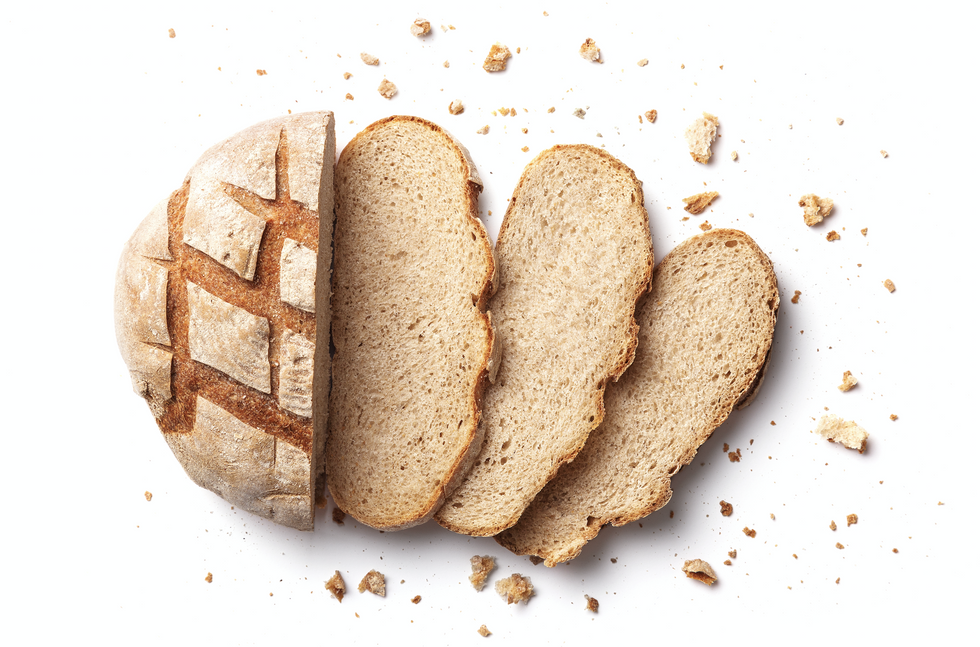 Getty Images
Whole grain will give you a lot more bang for your bun.
A whole grain consists of three parts: the bran, the germ and the endosperm. When a grain is refined into white flour, the bran and the germ are removed—stripping away naturally occurring protein, vitamins, minerals and fiber.
"Food manufacturers are required by law to add back in a few B vitamins and iron, and that's what's called 'enriched flour,' " says Mendell. "It sounds healthy, but it's not."
Buy your bread fresh, if possible.
For fewer preservatives, dietitian Rachel Fine, founder of To the Pointe Nutrition, recommends getting fresh bread from a local baker, or buying the Ezekiel brand in the frozen section of the supermarket.
Incorporate bread into one meal per day.
Mendell recommends including bread in just one meal per day to make sure you're getting enough variety in your diet. For a balanced meal, combine bread's carbohydrates with lean protein and healthy fat.
Breakfast idea: Toast a piece of whole-grain bread and have it with avocado and an egg.
Lunch idea: Eat a turkey sandwich with avocado, baby spinach, tomato and cucumbers.
Mid-performance idea: Fine says a piece of white bread (paired with a bit of protein) can give you a quick boost backstage because it releases sugar into the bloodstream quickly.
From Your Site Articles
Related Articles Around the Web
Rehearsal of Yvonne Rainer's Parts of Some Sextets. Photo by Paula Court, Courtesy Performa.
Yvonne Rainer's Parts of Some Sextets (AKA "the mattress dance") hasn't been revived since it premiered in 1965. Nor has Rainer had any wish to do it again, to ask performers to heave 10 mattresses around while carrying out 31 tasks that changed every 30 seconds. It was an unwieldy, difficult dance. (Even the title is unwieldy.) But Emily Coates, who has danced in Rainer's work for 20 years, became curious about this piece and was determined to see it again—and to dance in it. She will get her wish November 15–17, when the mattress dance will be performed as part of the Performa 19 Biennial.
Keep reading...
Show less
Ailey II artistic director Troy Powell teaching an Ailey Workshop at NYCDA. Courtesy NYCDA
Back in 2011 when Joe Lanteri first approached Katie Langan, chair of Marymount Manhattan College's dance department, about getting involved with New York City Dance Alliance, she was skeptical about the convention/competition world.
"But I was pleasantly surprised by the enormity of talent that was there," she says. "His goal was to start scholarship opportunities, and I said okay, I'm in."
Today, it's fair to say that Lanteri has far surpassed his goal of creating scholarship opportunities. But NYCDA has done so much more, bridging the gap between the convention world and the professional world by forging a wealth of partnerships with dance institutions from Marymount to The Ailey School to Complexions Contemporary Ballet and many more. There's a reason these companies and schools—some of whom otherwise may not see themselves as aligned with the convention/competition world—keep deepening their relationships with NYCDA.
Now, college scholarships are just one of many ways NYCDA has gone beyond the typical weekend-long convention experience and created life-changing opportunities for students. We rounded up some of the most notable ones:
Keep reading...
Show less
Left: Hurricane Harvey damage in Houston Ballet's Dance Lab; Courtesy Harlequin. Right: The Dance Lab pre-Harvey; Nic Lehoux, Courtesy Houston Ballet.
"The show must go on" may be a platitude we use to get through everything from costume malfunctions to stormy moods. But when it came to overcoming a literal hurricane, Houston Ballet was buoyed by this mantra to go from devastated to dancing in a matter of weeks—with the help of Harlequin Floors, Houston Ballet's longstanding partner who sprang into action to build new floors in record time.
Keep reading...
Show less