No, Dancers Don't Need to Swear Off Bread
Getty Images
Despite what you might think, there's no reason for dancers to be afraid of bread.
"It's looked at as this evil food," says New York State–certified dietitian and former dancer Tiffany Mendell. But the truth is, unless you have celiac disease or a gluten intolerance, bread can be a healthy source of carbohydrates—our body's preferred fuel—plus fiber and vitamins.
The key is choosing your loaf wisely.
---
Scrutinize the label for ingredients, fiber, carbs, calories and sugar.
To pick the healthiest, most nutrient-dense bread, Mendell suggests checking both the nutrition facts and the ingredients:
Make sure the first ingredient is 100 percent whole-grain or whole-wheat, not enriched or refined, flour.
Each slice should have at least 2 grams of fiber.
Slices should have no more than 15 to 20 grams of carbs.
A good portion size is around 80 to 100 calories.
Ideally there should be 0 or only 1 gram of sugar per slice—and watch out for artificial sweeteners like stevia or sucralose, "which just don't belong in bread," says Mendell.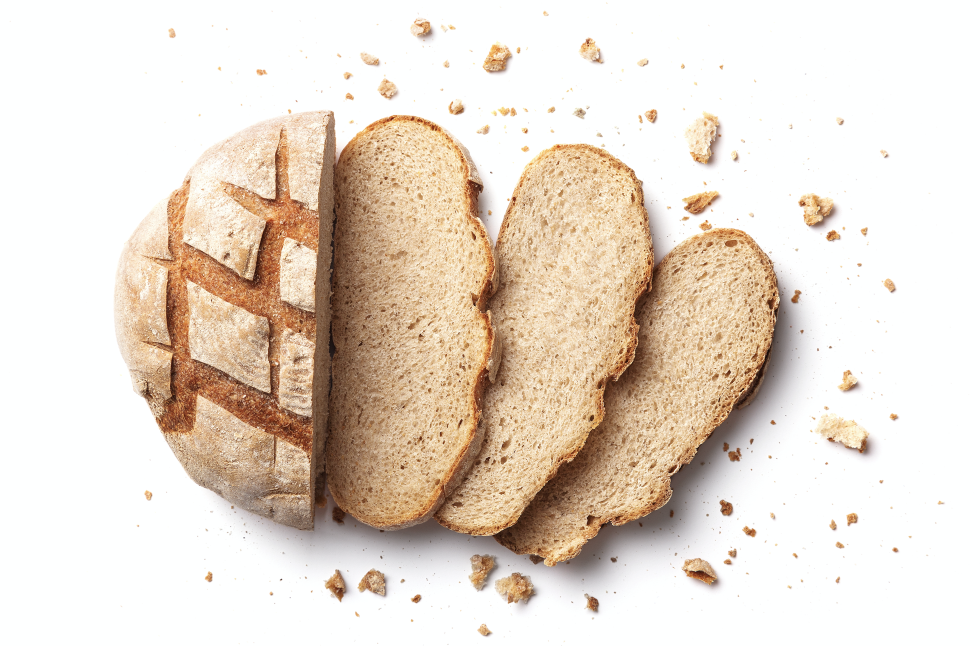 Whole grain will give you a lot more bang for your bun.
A whole grain consists of three parts: the bran, the germ and the endosperm. When a grain is refined into white flour, the bran and the germ are removed—stripping away naturally occurring protein, vitamins, minerals and fiber.
"Food manufacturers are required by law to add back in a few B vitamins and iron, and that's what's called 'enriched flour,' " says Mendell. "It sounds healthy, but it's not."
Buy your bread fresh, if possible.
For fewer preservatives, dietitian Rachel Fine, founder of To the Pointe Nutrition, recommends getting fresh bread from a local baker, or buying the Ezekiel brand in the frozen section of the supermarket.
Incorporate bread into one meal per day.
Mendell recommends including bread in just one meal per day to make sure you're getting enough variety in your diet. For a balanced meal, combine bread's carbohydrates with lean protein and healthy fat.
Breakfast idea: Toast a piece of whole-grain bread and have it with avocado and an egg.
Lunch idea: Eat a turkey sandwich with avocado, baby spinach, tomato and cucumbers.
Mid-performance idea: Fine says a piece of white bread (paired with a bit of protein) can give you a quick boost backstage because it releases sugar into the bloodstream quickly.
Related Articles Around the Web
From Your Site Articles
Getty Images
By the Sunday evening of a long convention weekend, you can expect to be thoroughly exhausted and a little sore. But you shouldn't leave the hotel ballroom actually hurt. Although conventions can be filled with magical opportunities, the potential for injury is higher than usual.
Keep your body safe: Watch out for these four common hazards.
Keep reading...
Show less
News
Jul. 18, 2019 05:02PM EST
Frozen put profit-sharing arrangements in place prior to the Equity deal. Photo by Deen van Meer, Courtesy Disney Theatrical Group
For a Broadway dancer, few opportunities are more exciting than being part of the creation of an original show. But if that show goes on to become wildly successful, who reaps the benefits? Thanks to a new deal between Actors' Equity Association and The Broadway League, performers involved in a production's development will now receive their own cut of the earnings.
Keep reading...
Show less
NBCUniversal
Jellicle obsessives, rejoice: There's a new video out that offers a (surprisingly substantive) look at the dancing that went down on the set of the new CATS movie.
Keep reading...
Show less
Via Wikimedia Commons
When Dr. Mae Jemison was growing up, she was obsessed with space. But she didn't see any astronauts who looked like her.
"I said, Wait a minute. Why are all the astronauts white males?" she recounts in a CNN video. "What if the aliens saw them and said, Are these the only people on Earth?"
Keep reading...
Show less