No, Dancers Don't Need to Swear Off Bread
Getty Images
Despite what you might think, there's no reason for dancers to be afraid of bread.
"It's looked at as this evil food," says New York State–certified dietitian and former dancer Tiffany Mendell. But the truth is, unless you have celiac disease or a gluten intolerance, bread can be a healthy source of carbohydrates—our body's preferred fuel—plus fiber and vitamins.
The key is choosing your loaf wisely.
---
Scrutinize the label for ingredients, fiber, carbs, calories and sugar.
To pick the healthiest, most nutrient-dense bread, Mendell suggests checking both the nutrition facts and the ingredients:
Make sure the first ingredient is 100 percent whole-grain or whole-wheat, not enriched or refined, flour.
Each slice should have at least 2 grams of fiber.
Slices should have no more than 15 to 20 grams of carbs.
A good portion size is around 80 to 100 calories.
Ideally there should be 0 or only 1 gram of sugar per slice—and watch out for artificial sweeteners like stevia or sucralose, "which just don't belong in bread," says Mendell.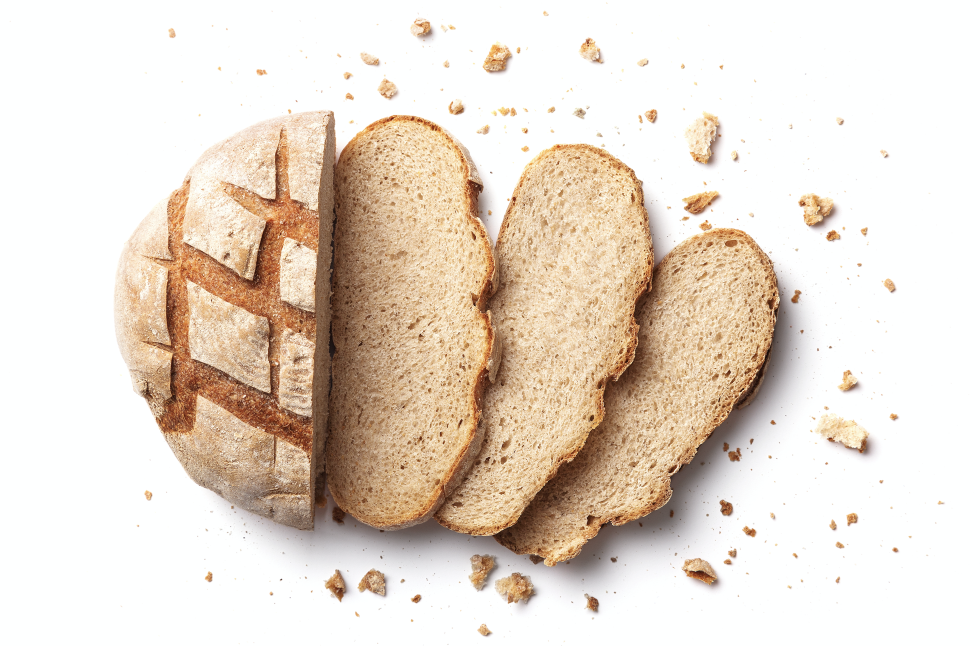 Whole grain will give you a lot more bang for your bun.
A whole grain consists of three parts: the bran, the germ and the endosperm. When a grain is refined into white flour, the bran and the germ are removed—stripping away naturally occurring protein, vitamins, minerals and fiber.
"Food manufacturers are required by law to add back in a few B vitamins and iron, and that's what's called 'enriched flour,' " says Mendell. "It sounds healthy, but it's not."
Buy your bread fresh, if possible.
For fewer preservatives, dietitian Rachel Fine, founder of To the Pointe Nutrition, recommends getting fresh bread from a local baker, or buying the Ezekiel brand in the frozen section of the supermarket.
Incorporate bread into one meal per day.
Mendell recommends including bread in just one meal per day to make sure you're getting enough variety in your diet. For a balanced meal, combine bread's carbohydrates with lean protein and healthy fat.
Breakfast idea: Toast a piece of whole-grain bread and have it with avocado and an egg.
Lunch idea: Eat a turkey sandwich with avocado, baby spinach, tomato and cucumbers.
Mid-performance idea: Fine says a piece of white bread (paired with a bit of protein) can give you a quick boost backstage because it releases sugar into the bloodstream quickly.
From Your Site Articles
Related Articles Around the Web
Most people may know Derek Dunn for his impeccable turns and alluring onstage charisma. But the Boston Ballet principal dancer is just as charming offstage, whether he's playing with his 3-year-old miniature labradoodle or working in the studio. Dance Magazine recently spent the day with Dunn as he prepared for his debut as Albrecht in the company's upcoming run of Giselle.
Rosalie O'Connor, Courtesy Mark Morris Dance Group
You know compelling musicality when you see it. But how do you cultivate it? It's not as elusive as it might seem. Musicality, like any facet of dance, can be developed and honed over time—with dedicated, detailed practice. At its most fundamental, it's "respect for the music, that this is your partner," says Kate Linsley, academy principal of the School of Nashville Ballet.
Keep reading...
Show less
The USC Kaufman graduating class with Mikhail Baryshnikov. Gus Ruelas/USC
Just four years ago, the University of Southern California's Glorya Kaufman School of Dance welcomed its first class of BFA students. The program—which boasts world-class faculty and a revolutionary approach to training focused on collaboration and hybridity—immediately established itself as one of the country's most prestigious and most innovative.
Now, the first graduating class is entering the dance field. Here, six of the 33 graduates share what they're doing post-grad, what made their experience at USC Kaufman so meaningful and how it prepared them for their next steps:
Keep reading...
Show less
Ross Parkes, right, teaching in Shanghai in 1983. Lan-Lan Wang is at left. Courtesy Lan-Lan Wang.
Notable dancer and beloved teacher, Ross Parkes, 79, passed away on August 5, 2019 in New York City. He was a founding faculty member at Taipei National University of the Arts in Taiwan, where he taught from 1984 to 2006. Lin Hwai-min, artistic director of Cloud Gate Dance Theater, said: "He nurtured two generations of dancers in Taiwan, and his legacy will continue."
About his dancing, Tonia Shimin, professor emerita at UC Santa Barbara and producer of Mary Anthony: A Life in Modern Dance, said this: "He was an exquisite, eloquent dancer who inhabited his roles completely."
Keep reading...
Show less