No, Dancers Don't Need to Swear Off Bread
Getty Images
Despite what you might think, there's no reason for dancers to be afraid of bread.
"It's looked at as this evil food," says New York State–certified dietitian and former dancer Tiffany Mendell. But the truth is, unless you have celiac disease or a gluten intolerance, bread can be a healthy source of carbohydrates—our body's preferred fuel—plus fiber and vitamins.
The key is choosing your loaf wisely.
---
Scrutinize the label for ingredients, fiber, carbs, calories and sugar.
To pick the healthiest, most nutrient-dense bread, Mendell suggests checking both the nutrition facts and the ingredients:
Make sure the first ingredient is 100 percent whole-grain or whole-wheat, not enriched or refined, flour.
Each slice should have at least 2 grams of fiber.
Slices should have no more than 15 to 20 grams of carbs.
A good portion size is around 80 to 100 calories.
Ideally there should be 0 or only 1 gram of sugar per slice—and watch out for artificial sweeteners like stevia or sucralose, "which just don't belong in bread," says Mendell.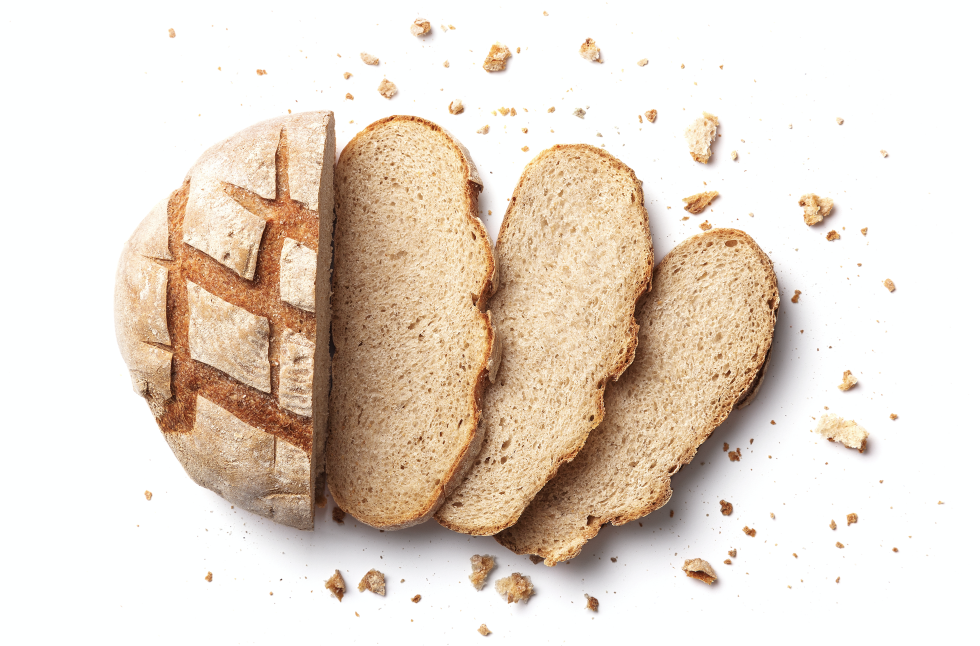 Whole grain will give you a lot more bang for your bun.
A whole grain consists of three parts: the bran, the germ and the endosperm. When a grain is refined into white flour, the bran and the germ are removed—stripping away naturally occurring protein, vitamins, minerals and fiber.
"Food manufacturers are required by law to add back in a few B vitamins and iron, and that's what's called 'enriched flour,' " says Mendell. "It sounds healthy, but it's not."
Buy your bread fresh, if possible.
For fewer preservatives, dietitian Rachel Fine, founder of To the Pointe Nutrition, recommends getting fresh bread from a local baker, or buying the Ezekiel brand in the frozen section of the supermarket.
Incorporate bread into one meal per day.
Mendell recommends including bread in just one meal per day to make sure you're getting enough variety in your diet. For a balanced meal, combine bread's carbohydrates with lean protein and healthy fat.
Breakfast idea: Toast a piece of whole-grain bread and have it with avocado and an egg.
Lunch idea: Eat a turkey sandwich with avocado, baby spinach, tomato and cucumbers.
Mid-performance idea: Fine says a piece of white bread (paired with a bit of protein) can give you a quick boost backstage because it releases sugar into the bloodstream quickly.
From Your Site Articles
Related Articles Around the Web
Michelle Dorrance. Photo by Jayme Thornton
What do Percy Jackson, Princess Diana and Tina Turner have in common? They're all characters on Broadway this season. Throw in Michelle Dorrance's choreographic debut, Henry VIII's six diva-licious wives and the 1990s angst of Alanis Morissette, and the 2019–20 season is shaping up to be an exciting mix of past-meets-pop-culture-present.
Here's a look at the musicals hitting Broadway in the coming months. We're biding our time until opening night!

Keep reading...
Show less
UA Dance Ensemble members Candice Barth and Gregory Taylor in Jessica Lang's "Among the Stars." Photo by Ed Flores, courtesy University of Arizona
If you think becoming a trainee or apprentice is the only path to gaining experience in a dance company environment, think again.
The University of Arizona, located in the heart of Tucson, acclimates dancers to the pace and rigor of company life while offering all the academic opportunities of a globally-ranked university. If you're looking to get a head-start on your professional dance career—or to just have a college experience that balances company-level training and repertory with rigorous academics—the University of Arizona's undergraduate and graduate programs have myriad opportunites to offer:
Keep reading...
Show less
Alice Sheppard/Kinetic Light in DESCENT, which our readers chose as last year's "Most Moving Performance." Photo by Jay Newman, courtesy Kinetic Light
Yes, we realize it's only August. But we can't help but to already be musing about all the incredible dance happenings of 2019.
We're getting ready for our annual Readers' Choice feature, and we want to hear from you about the shows you can't stop thinking about, the dance videos that blew your mind and the artists you discovered this year who everyone should know about.
Keep reading...
Show less
Getty Images
Ah, stretching. It seems so simple, and is yet so complicated.
For example: You don't want to overstretch, but you're not going to see results if you don't stretch enough. You want to focus on areas where you're tight, but you also can't neglect other areas or else you'll be imbalanced. You were taught to hold static stretches growing up, but now everyone is telling you never to hold a stretch longer than a few seconds?
Considering how important stretching correctly is for dancers, it's easy to get confused or overwhelmed. So we came up with 10 common stretching scenarios, and gave you the expert low-down.
Keep reading...
Show less