No, Dancers Don't Need to Swear Off Bread
Getty Images
Despite what you might think, there's no reason for dancers to be afraid of bread.
"It's looked at as this evil food," says New York State–certified dietitian and former dancer Tiffany Mendell. But the truth is, unless you have celiac disease or a gluten intolerance, bread can be a healthy source of carbohydrates—our body's preferred fuel—plus fiber and vitamins.
The key is choosing your loaf wisely.
---
Scrutinize the label for ingredients, fiber, carbs, calories and sugar.
To pick the healthiest, most nutrient-dense bread, Mendell suggests checking both the nutrition facts and the ingredients:
Make sure the first ingredient is 100 percent whole-grain or whole-wheat, not enriched or refined, flour.
Each slice should have at least 2 grams of fiber.
Slices should have no more than 15 to 20 grams of carbs.
A good portion size is around 80 to 100 calories.
Ideally there should be 0 or only 1 gram of sugar per slice—and watch out for artificial sweeteners like stevia or sucralose, "which just don't belong in bread," says Mendell.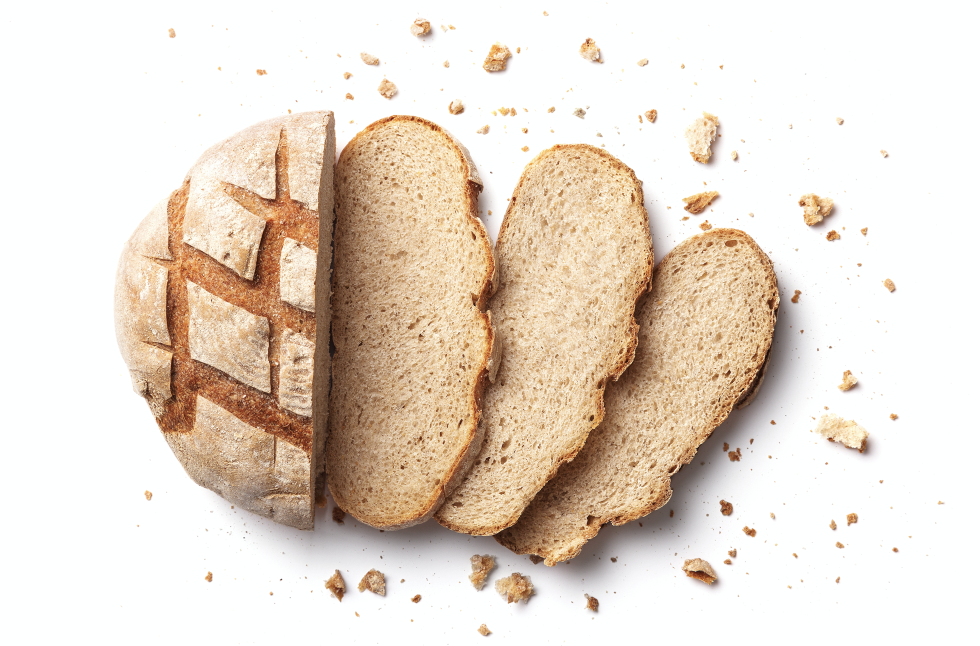 Getty Images
Whole grain will give you a lot more bang for your bun.
A whole grain consists of three parts: the bran, the germ and the endosperm. When a grain is refined into white flour, the bran and the germ are removed—stripping away naturally occurring protein, vitamins, minerals and fiber.
"Food manufacturers are required by law to add back in a few B vitamins and iron, and that's what's called 'enriched flour,' " says Mendell. "It sounds healthy, but it's not."
Buy your bread fresh, if possible.
For fewer preservatives, dietitian Rachel Fine, founder of To the Pointe Nutrition, recommends getting fresh bread from a local baker, or buying the Ezekiel brand in the frozen section of the supermarket.
Incorporate bread into one meal per day.
Mendell recommends including bread in just one meal per day to make sure you're getting enough variety in your diet. For a balanced meal, combine bread's carbohydrates with lean protein and healthy fat.
Breakfast idea: Toast a piece of whole-grain bread and have it with avocado and an egg.
Lunch idea: Eat a turkey sandwich with avocado, baby spinach, tomato and cucumbers.
Mid-performance idea: Fine says a piece of white bread (paired with a bit of protein) can give you a quick boost backstage because it releases sugar into the bloodstream quickly.
From Your Site Articles
Related Articles Around the Web
News
Oct. 18, 2019 11:54AM EST
Photo by Gabriel Davalos, Courtesy Valdés
For decades the name Alicia Alonso has been virtually synonymous with Ballet Nacional de Cuba, the company she co-founded in Havana in 1948. Alonso died on October 17, just shy of what would have been her 99th birthday. In recent years, she had stepped back from day-to-day decision-making in the company. As if preparing for the future, in January, the company's leading ballerina, 42-year-old Viengsay Valdés, was named deputy director, a job that seems to encompass most of the responsibilities of a traditional director. Now, presumably, she will step into her new role as director of the company. Her debut as curator of the repertory comes in November, when the troupe will perform three mixed bills selected by her at the Gran Teatro de la Habana Alicia Alonso. The following has been translated from a conversation conducted in Spanish, Valdés' native tongue.
Keep reading...
Show less
Left: Hurricane Harvey damage in Houston Ballet's Dance Lab; Courtesy Harlequin. Right: The Dance Lab pre-Harvey; Nic Lehoux, Courtesy Houston Ballet.
"The show must go on" may be a platitude we use to get through everything from costume malfunctions to stormy moods. But when it came to overcoming a literal hurricane, Houston Ballet was buoyed by this mantra to go from devastated to dancing in a matter of weeks—with the help of Harlequin Floors, Houston Ballet's longstanding partner who sprang into action to build new floors in record time.
Keep reading...
Show less
Sara Mearns in the gym. Photo by Kyle Froman.
New York City Ballet principal Sara Mearns wasn't sure she was strong enough. A ballerina who has danced many demanding full-length and contemporary roles, she was about to push herself physically more than she thought was possible.
"I said, 'I can't. My body won't,' " she says. "He told me, 'Yes, it will.' "
She wasn't working with a ballet coach, but with personal trainer Joel Prouty, who was asking her to do squats with a heavier barbell than she'd ever used.
Keep reading...
Show less
Alicia Alonso with Igor Youskevitch. Sedge Leblang, Courtesy Dance Magazine Archives.
Her Dying Swan was as fragile as her Juliet was rebellious; her Odile, scheming, her Swanilda, insouciant. Her Belle was joyous, and her Carmen, both brooding and full-blooded. But there was one role in particular that prompted dance critic Arnold Haskell to ask, "How do you interpret Giselle when you are Giselle?"
At eight, Alicia Alonso took her first ballet class on a stage in her native Cuba, wearing street clothes. Fifteen years later, put in for an ailing Alicia Markova in a performance of Giselle with Ballet Theatre, she staked her claim to that title role.
Alonso received recognition throughout the world for her flawless technique and her ability to become one with the characters she danced, even after she became nearly blind. After a career in New York, she and her then husband Fernando Alonso established the Cuban National Ballet and the Cuban National Ballet School, both of which grew into major international dance powerhouses and beloved institutions in their home country. On October 17, the company announced that, after leading the company for a remarkable 71 years, Alonso died from cardiovascular disease at the age of 98.
Keep reading...
Show less