Could Google Be the World's Next Great Choreographer?
Company Wayne McGregor dancers follow an avatar's instructions for movement at the Google Arts and Culture Lab. Screenshot via
experiments.withgoogle.com
When coming up with phrases of movement, choreographers all have their habits: certain patterns they return to again and again, tendencies that repeat themselves whether they mean for them to or not.
What if artificial intelligence could be used to help choreographers mix things up by suggesting thousands of other options—and ones that still fit their choreographic style, no less?
---
Wayne McGregor is experimenting with just that through a project with Google Arts & Culture Lab.
McGregor's long been known for experimenting with technology in his work. (He has an honorary doctor of science from Plymouth University.) But this is the first time he's experimented with using technology to create his work.
His work at the Google lab began with uploading his archive—thousands of hours of video spanning 25 years of his repertory—to train an algorithm to detect patterns. The AI uses that data to predict McGregor-like sequences that might follow a particular pose or phrase, generating up to 400,000 (!) iterations. Or, as McGregor puts in a promo video for the project, "This...gives you all of these new possibilities you couldn't have imagined."
Basically it's kinda like the predictive text on your phone, except for dance. And with a lot more options.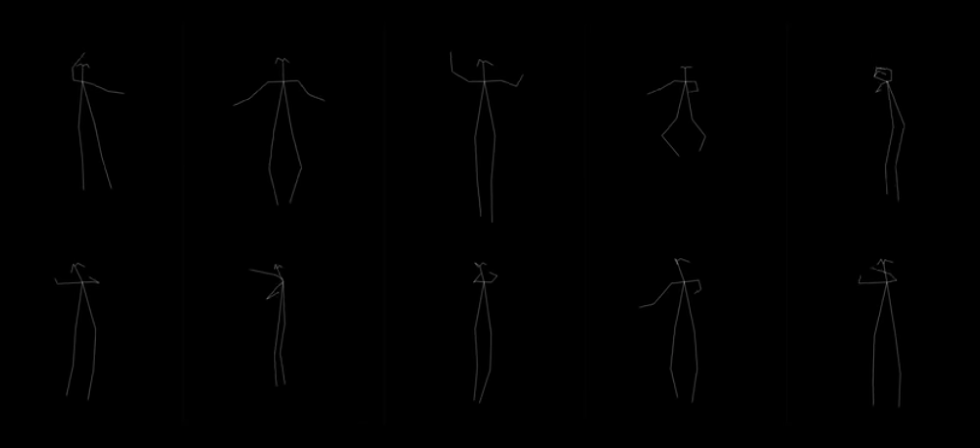 A screenshot of choreography options offered by Google's AI machine, based on a dancer's movement.
The tool works in real time as a camera watches dancers move in space. And it's not simply suggesting something from the archive—it can offer ideas that are totally original. It can be set to reflect a particular dancer's style, or even combine the styles of two different dancers to come up with a hybrid.
"I'm fascinated in how AI might actually develop the conversation around what is choreography, who has to make choreography, what are the potentials of choreography," McGregor says in the video, adding later that he'd love to see the tool used live onstage one day.
Of course, we're not exactly headed down the road to hiring robot choreographers just yet. The point is not to replace a choreographer—just to remind them of their creative options.
But in our age of technology, much of the pleasure of dance stems from the refreshing fact that it's such a viscerally human form of communication. So what would it mean if the movement came not from an artist, but a machine? You can't help but wonder how its message might shift, or how its impact might evolve.
Or, for that matter, whether Google would get credit in the program.
Related Articles Around the Web
Unsplash
Essential oils sometimes get a bad rap. Between the aggressive social media marketing for the products and the sometimes magical-sounding claims about their healing properties, it's easy to forget what they can actually do. But if you look beyond the pyramid schemes and exaggerations, experts believe they have legit benefits to offer both mind and body.
How can dancers take advantage of their medicinal properties? We asked Amy Galper, certified aromatherapist and co-founder of the New York Institute of Aromatic Studies:
Keep reading...
Show less
News
Mar. 22, 2019 09:02AM EST
Photo by Howard Sherman, Courtesy SDC
Karen Azenberg, a past president of the Stage Directors and Choreographers Society, stumbled on something peculiar before the union's 2015 move to new offices: a 52-year-old sealed envelope with a handwritten note attached. It was from Agnes de Mille, the groundbreaking choreographer of Oklahoma! and Rodeo. De Mille, a founding member of SDC, had sealed the envelope with gold wax before mailing it to the union and asking, in a separate note, that it not be opened. The reason? "It is the outline for a play, and I have no means of copyrighting…The material is eminently stealable."
Keep reading...
Show less