Could Google Be the World's Next Great Choreographer?
When coming up with phrases of movement, choreographers all have their habits: certain patterns they return to again and again, tendencies that repeat themselves whether they mean for them to or not.
What if artificial intelligence could be used to help choreographers mix things up by suggesting thousands of other options—and ones that still fit their choreographic style, no less?
---
Wayne McGregor is experimenting with just that through a project with Google Arts & Culture Lab.
McGregor's long been known for experimenting with technology in his work. (He has an honorary doctor of science from Plymouth University.) But this is the first time he's experimented with using technology to create his work.
His work at the Google lab began with uploading his archive—thousands of hours of video spanning 25 years of his repertory—to train an algorithm to detect patterns. The AI uses that data to predict McGregor-like sequences that might follow a particular pose or phrase, generating up to 400,000 (!) iterations. Or, as McGregor puts in a promo video for the project, "This...gives you all of these new possibilities you couldn't have imagined."
Basically it's kinda like the predictive text on your phone, except for dance. And with a lot more options.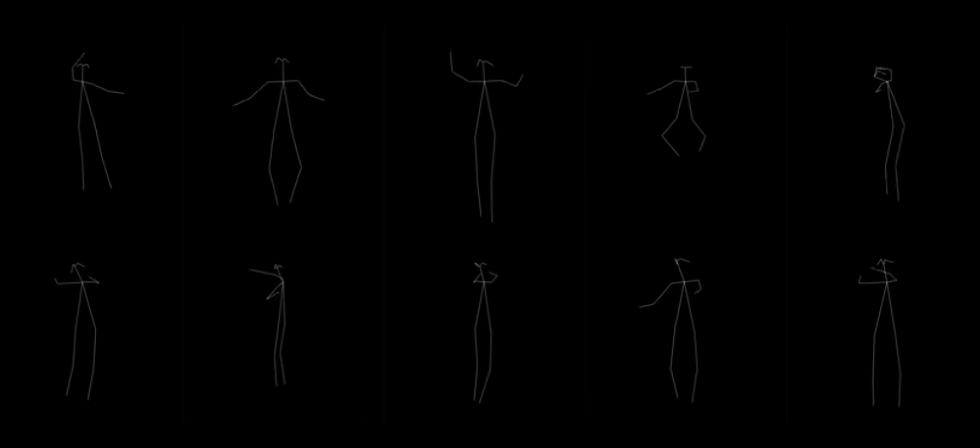 A screenshot of choreography options offered by Google's AI machine, based on a dancer's movement.
The tool works in real time as a camera watches dancers move in space. And it's not simply suggesting something from the archive—it can offer ideas that are totally original. It can be set to reflect a particular dancer's style, or even combine the styles of two different dancers to come up with a hybrid.
"I'm fascinated in how AI might actually develop the conversation around what is choreography, who has to make choreography, what are the potentials of choreography," McGregor says in the video, adding later that he'd love to see the tool used live onstage one day.
Of course, we're not exactly headed down the road to hiring robot choreographers just yet. The point is not to replace a choreographer—just to remind them of their creative options.
But in our age of technology, much of the pleasure of dance stems from the refreshing fact that it's such a viscerally human form of communication. So what would it mean if the movement came not from an artist, but a machine? You can't help but wonder how its message might shift, or how its impact might evolve.
Or, for that matter, whether Google would get credit in the program.
Related Articles Around the Web
Courtesy Boneau/Bryan-Brown
If "Fosse/Verdon" whet your appetite for the impeccable Gwen Verdon, then Merely Marvelous: The Dancing Genius of Gwen Verdon is the three-course meal you've been craving. The new documentary—available now on Amazon for rental or purchase—dives into the life of the Tony-winning performer and silver-screen star lauded for her charismatic dancing.

Though she's perhaps most well-known today as Bob Fosse's wife and muse, that's not even half of her story. For starters, she'd already won four Tonys before they wed, making her far more famous in the public eye than he was at that point in his career. That's just one of many surprising details we learned during last night's U.S. premiere of Merely Marvelous. Believe us: You're gonna love her even more once you get to know her. Here are eight lesser-known tidbits to get you started.
Keep reading...
Show less
Lindsay Thomas
Every dancer knows that how you fuel your body affects how you feel in the studio. Of course, while breakfast is no more magical than any other meal (despite the enduring myth that it's the most important one of the day), showing up to class hangry is a recipe for unproductive studio time.
So what do your favorite dancers eat in the morning to set themselves up for a busy rehearsal or performance day?
Keep reading...
Show less
News
Sep. 20, 2019 09:17AM EST
Simon Soong, Courtesy DDT
When it comes to dance in the U.S., companies in the South often find themselves overlooked—sometimes even by the presenters in their own backyard. That's where South Arts comes in. This year, the regional nonprofit launched Momentum, an initiative that will provide professional development, mentorship, touring grants and residencies to five Southern dance companies.
Keep reading...
Show less
News
Sep. 19, 2019 12:46PM EST
Alice Pennefather, Courtesy ROH
You ever just wish that Kenneth MacMillan's iconic production of Romeo and Juliet could have a beautiful love child with the 1968 film starring Olivia Hussey? (No, not Baz Luhrmann's version. We are purists here.)
Wish granted: Today, the trailer for a new film called Romeo and Juliet: Beyond Words was released, featuring MacMillan's choreography and with what looks like all the cinematic glamour we could ever dream of:
Keep reading...
Show less