Could Google Be the World's Next Great Choreographer?
Company Wayne McGregor dancers follow an avatar's instructions for movement at the Google Arts and Culture Lab. Screenshot via
experiments.withgoogle.com
When coming up with phrases of movement, choreographers all have their habits: certain patterns they return to again and again, tendencies that repeat themselves whether they mean for them to or not.
What if artificial intelligence could be used to help choreographers mix things up by suggesting thousands of other options—and ones that still fit their choreographic style, no less?
---
Wayne McGregor is experimenting with just that through a project with Google Arts & Culture Lab.
McGregor's long been known for experimenting with technology in his work. (He has an honorary doctor of science from Plymouth University.) But this is the first time he's experimented with using technology to create his work.
His work at the Google lab began with uploading his archive—thousands of hours of video spanning 25 years of his repertory—to train an algorithm to detect patterns. The AI uses that data to predict McGregor-like sequences that might follow a particular pose or phrase, generating up to 400,000 (!) iterations. Or, as McGregor puts in a promo video for the project, "This...gives you all of these new possibilities you couldn't have imagined."
Basically it's kinda like the predictive text on your phone, except for dance. And with a lot more options.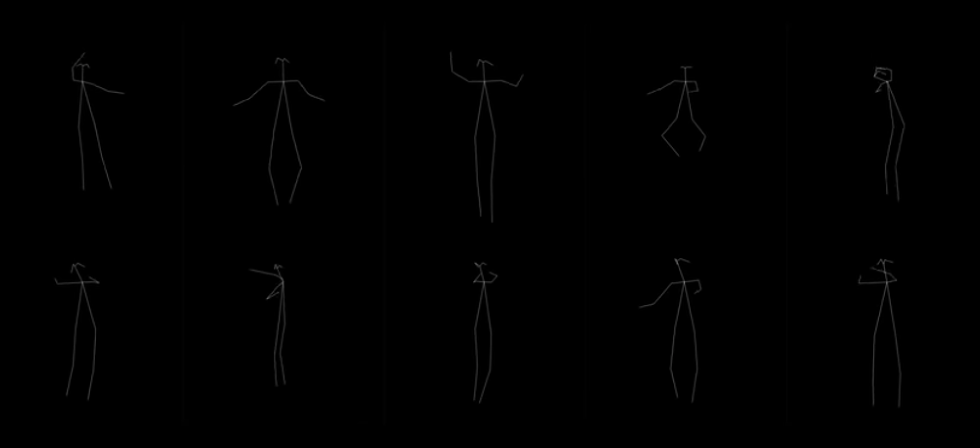 A screenshot of choreography options offered by Google's AI machine, based on a dancer's movement.
The tool works in real time as a camera watches dancers move in space. And it's not simply suggesting something from the archive—it can offer ideas that are totally original. It can be set to reflect a particular dancer's style, or even combine the styles of two different dancers to come up with a hybrid.
"I'm fascinated in how AI might actually develop the conversation around what is choreography, who has to make choreography, what are the potentials of choreography," McGregor says in the video, adding later that he'd love to see the tool used live onstage one day.
Of course, we're not exactly headed down the road to hiring robot choreographers just yet. The point is not to replace a choreographer—just to remind them of their creative options.
But in our age of technology, much of the pleasure of dance stems from the refreshing fact that it's such a viscerally human form of communication. So what would it mean if the movement came not from an artist, but a machine? You can't help but wonder how its message might shift, or how its impact might evolve.
Or, for that matter, whether Google would get credit in the program.
Related Articles Around the Web
From Your Site Articles
News
Jul. 15, 2019 12:30PM EST
Courtesy Ritzel
Capezio, Bloch, So Dança, Gaynor Minden.
At the top of the line, dancers have plenty of quality footwear options to choose from, and in most metropolitan areas, stores to go try them on. But for many of North America's most economically disadvantaged dance students, there has often been just one option for purchasing footwear in person: Payless ShoeSource.
Keep reading...
Show less
Jayme Thornton
When Sonya Tayeh saw Moulin Rouge! for the first time, on opening night at a movie theater in Detroit, she remembers not only being inspired by the story, but noticing the way it was filmed.
"What struck me the most was the pace, and the erratic feeling it had," she says. The camera's quick shifts and angles reminded her of bodies in motion. "I was like, 'What is this movie? This is so insane and marvelous and excessive,' " she says. "And excessive is I think how I approach dance. I enjoy the challenge of swiftness, and the pushing of the body. I love piling on a lot of vocabulary and seeing what comes out."
Keep reading...
Show less
Robbie Fairchild in a still from In This Life, directed by Bat-Sheva Guez. Photo courtesy Michelle Tabnick PR
Back when Robbie Fairchild graced the cover of the May 2018 issue of Dance Magazine, he mentioned an idea for a short dance film he was toying around with. That idea has now come to fruition: In This Life, starring Fairchild and directed by dance filmmaker Bat-Sheva Guez, is being screened at this year's Dance on Camera Festival.
While the film itself covers heavy material—specifically, how we deal with grief and loss—the making of it was anything but: "It was really weird to have so much fun filming a piece about grief!" Fairchild laughs. We caught up with him, Guez and Christopher Wheeldon (one of In This Life's five choreographers) to find out what went into creating the 11-minute short film.
Keep reading...
Show less
Terry Notary in a movement capture suit during the filming of Rise of the Planet of the Apes. Photo by Sigtor Kildal, Courtesy Notary
When Hollywood needs to build a fantasy world populated with extraordinary creatures, they call Terry Notary.
The former gymnast and circus performer got his start in film in 2000 when Ron Howard asked him to teach the actors how to move like Whos for How the Grinch Stole Christmas. Notary has since served as a movement choreographer, stunt coordinator and performer via motion capture technology for everything from the Planet of the Apes series to The Hobbit trilogy, Avatar, Avengers: Endgame and this summer's The Lion King.
Since opening the Industry Dance Academy with his wife, Rhonda, and partners Maia and Richard Suckle, Notary also offers movement workshops for actors in Los Angeles.
Keep reading...
Show less