It's Time to Acknowledge the Muses
Courtesy FX
Watching FX's "Fosse/Verdon," one thing comes across very clearly: Gwen Verdon was far more than just an extraordinary dancer—she was a creative force.
---
The series, adapted from Sam Wasson's 2013 biography "Fosse," originally planned to focus solely on the choreographer. But the creators retooled it to highlight Verdon and Fosse's creative partnership after they researched the pair and learned just how much Verdon's vision shaped Fosse's (and, well, after the #MeToo movement made his behavior seem especially unsavory). As producers Lin-Manuel Miranda, Andy Blankenbuehler and Thomas Kail said in a joint statement prior to the premiere:
"Bob Fosse ignited a revolution in American dance, theater and film. But, in contrast to the well-worn myth of the visionary artist working in solitude, Fosse's work would not have been possible without Gwen Verdon, the woman who helped to mold his style—and make him a star."
Much of Verdon's contributions came from her work as an uncredited assistant and dance coach. But they also happened in the studio where, working one-on-one with Fosse, she offered her creative ideas and instinctual sense of style.
"Fosse/Verdon" highlights this right from the opening scene of Episode 1: Fosse is setting a phrase on Verdon for "Big Spender" and asks her to bend a leg. She sinks into her standing hip and turns out the working leg in a subtle plié; he asks her to turn it in, takes a look, then says, "Yours was better."
It's not hard to guess which version he went with.
Anyone who's been in a dance studio during the creation of a new work knows the process is typically a two-way street, with the choreographer playing off of whatever the dancers in front of them have to offer. Dancers are not passive receptacles for genius choreographers—they're collaborators.
Yet how often do the dancers get recognition for their contributions?
It's often only insiders who understand the extent of a dancer's influence. Once, when speaking to Brian Brooks about what it was like to work with Wendy Whelan, he told me:
"Although she'd never call herself a choreographer, her intuitive suggestions and her instincts contribute on an exceptional level," says Brooks.... He had an epiphany recently while watching Wheeldon's After the Rain...he could see Whelan in the choreography, particularly her physical sense of timing. "Her urge to suspend, pause, elongate—I saw that integrated, and I feel it when collaborating with her."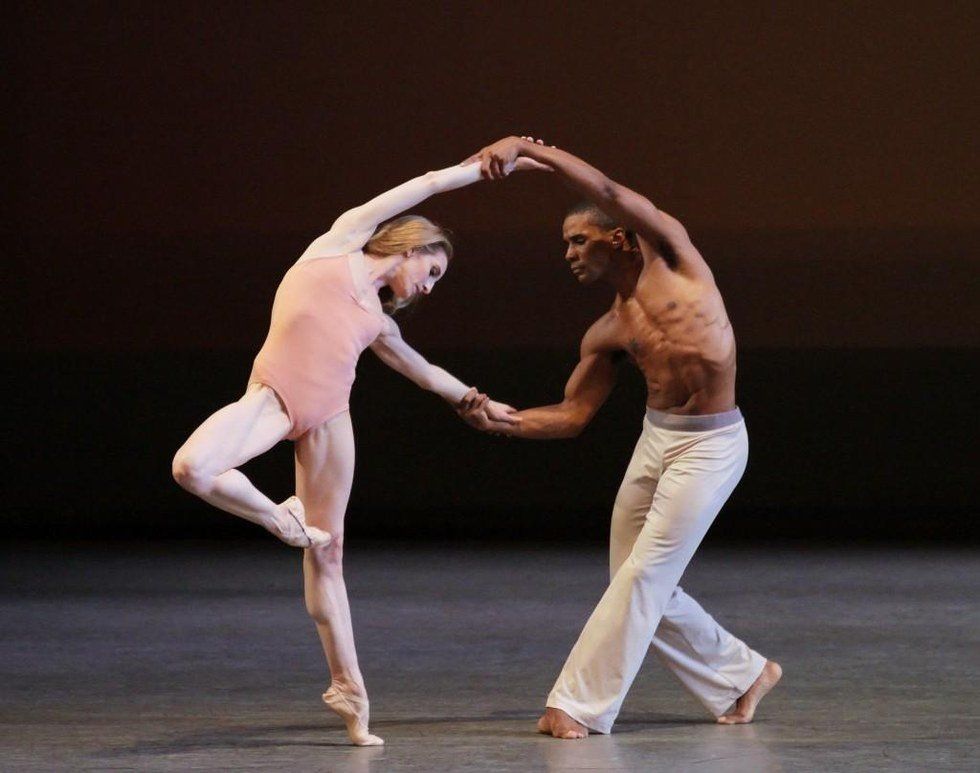 Wendy Whelan with Craig Hall in Christopher Wheeldon's After the Rain
Paul Kolnik, courtesy NYCB
Sometimes, dancers' contributions are far more than phrasing suggestions, or a tweak or adjustment here or there. Particularly in modern or more experimental dance contexts, whole movement phrases are often entirely created by the dancers themselves, while the choreographer curates, molds and directs.
In the downtown dance world, choreographers who particularly lean on their dancers for movement ideas commonly credit their work as choreographed "with the dancers." Kyle Abraham recently brought this practice to New York City Ballet—2018's The Runaway is officially cited as being choreographed by "Kyle Abraham in collaboration with NYCB."
It's just a simple few words, but there's something powerful in specifying that dancers are collaborators. It affects how we see the work—the dancers become part of the piece, not just performers of it.
Recognizing dancers this way could change how we think and talk about new work. It could put an end to the stereotype of the lone genius, which underplays the role dancers have in a piece's (and choreographer's) success. It could make dancers feel far less taken advantage of. It could give fans a whole different kind of appreciation for their favorite pieces.
I'll admit that even I, as someone who thoroughly understands how the creative process works, never once thought about Verdon's influence on the moves I love to imitate in my kitchen. Until now. And it only makes me love them even more.
From Your Site Articles
Related Articles Around the Web
A flyer showing Alberto Alonso, Fernando Alonso, Benjamin Steinberg and Alicia Alonso. Photo courtesy the author
Alicia has died. I walked around my apartment feeling her spirit, but knowing something had changed utterly.
My father, the late conductor Benjamin Steinberg, was the first music director of the Ballet de Cuba, as it was called then. I grew up in Vedado on la Calle 1ra y doce in a building called Vista al Mar. My family lived there from 1959 to 1963. My days were filled with watching Alicia teach class, rehearse and dance. She was everything: hilarious, serious, dramatic, passionate and elegiac. You lost yourself and found yourself when you loved her.
Keep reading...
Show less
Left: Hurricane Harvey damage in Houston Ballet's Dance Lab; Courtesy Harlequin. Right: The Dance Lab pre-Harvey; Nic Lehoux, Courtesy Houston Ballet.
"The show must go on" may be a platitude we use to get through everything from costume malfunctions to stormy moods. But when it came to overcoming a literal hurricane, Houston Ballet was buoyed by this mantra to go from devastated to dancing in a matter of weeks—with the help of Harlequin Floors, Houston Ballet's longstanding partner who sprang into action to build new floors in record time.
Keep reading...
Show less
Hansuke Yamamoto in Helgi Tomasson's Nutcracker at San Francisco Ballet, which features an exciting and respectful Chinese divertissement. Photo by Erik Tomasson, Courtesy SFB
It's Nutcracker time again: the season of sweet delights and a sparkling good time—if we're able to ignore the sour taste left behind by the outdated racial stereotypes so often portrayed in the second act.
In 2017, as a result of a growing list of letters from audience members, to New York City Ballet's ballet master in chief Peter Martins reached out to us asking for assistance on how to modify the elements of Chinese caricature in George Balanchine's The Nutcracker. Following that conversation, we founded the Final Bow for Yellowface pledge that states, "I love ballet as an art form, and acknowledge that to achieve a diversity amongst our artists, audiences, donors, students, volunteers, and staff, I am committed to eliminating outdated and offensive stereotypes of Asians (Yellowface) on our stages."
Keep reading...
Show less
Allegra Bautista in Nevertheless, by ka·nei·see | collective. Photo by Robbie Sweeny
An audience member once emailed Dallas choreographer Joshua L. Peugh, claiming his work was vulgar. It complained that he shouldn't be pushing his agenda. As the artistic director of Dark Circles Contemporary Dance, Peugh's recent choreography largely deals with LGBTQ issues.
"I got angry when I saw that email, wrote my angry response, deleted it, and then went back and explained to him that that's exactly why I should be making those works," says Peugh.
With the current political climate as polarized as it is, many artists today feel compelled to use their work to speak out on issues they care deeply about. But touring with a message is not for the faint of heart. From considerations about how to market the work to concerns about safety, touring to cities where, in general, that message may not be so welcome, requires companies to figure out how they'll respond to opposition.
Keep reading...
Show less