Meet The Winner of Our $25K College Scholarship
Jacalyn Tatro is headed to Juilliard this fall. Photo courtesy NYCDA/Evolve Photo & Video
Throughout her years growing up at New York City Dance Alliance, Jacalyn Tatro has dominated the podium: In 2011, she was National Mini Outstanding Dancer, in 2014 she won National Teen Outstanding Dancer and in 2016 National Senior Outstanding Dancer.
It's easy to see why: Tatro dances with a maturity beyond her years—her performance quality has the kind of nuance that usually only comes from years of experience. She is just as skilled at whipping out high extensions and deep pliés as she is at giving each step its own flavor.

Her latest award? New York City Dance Alliance Foundation's Dance Magazine College Scholarship, worth $25,000. She tells us that she'll put it to good use this fall as a freshman at Juilliard.
---
How It Felt To Win $25,000
Although Tatro says that she was, of course, super proud to be named the Dance Magazine College Scholarship winner, her first thoughts went to the people who've helped her get to where she is. "I was so happy to win it for my mom and dad," she says. "They're helping me pay for Juilliard, and this is a huge thank you to them for everything they've done. And for my teacher to get that recognition for one of her students to win."
How She's Developed Such a Mature Performance Quality So Young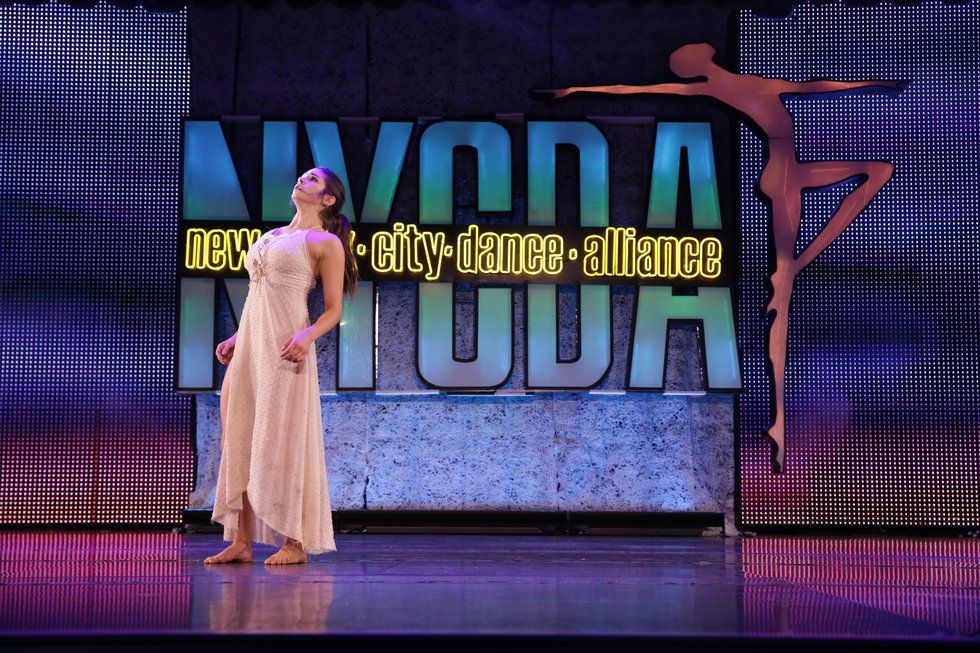 A quiet childhood led Tatro to express herself through dance. Photo courtesy NYCDA/Evolve Photo & Video
When asked about the secret to her success onstage, Tatro laughs. "I was always a quiet kid, verbally," she explains. "So all of my emotions and my expression came out in my dancing." Imbuing movement with what she's feeling has always been her favorite part of dancing, she says. "I always try to grow from that."
What Makes Her Most Excited to Attend Juilliard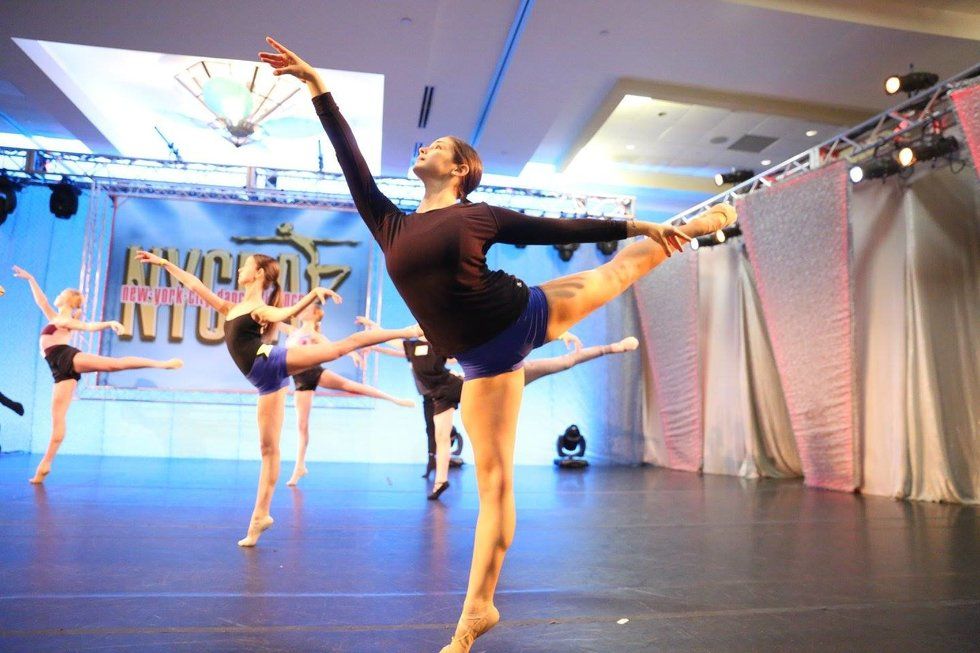 Tatro is particularly excited to study new ballet and modern techniques. Photo courtesy NYCDA/Evolve Photo & Video
Going from a small-town competition studio to the country's most prestigious conservatory in the heart of the Big Apple is a big change, Tatro admits. "Moving away from everybody I've known, teachers I've danced with for 15 years, that makes me nervous," she says. But the leap is worth it: "Just to share the studio with people as focused and committed as I am, to learn from teachers and other students who are so open and welcoming and eager to learn, I feel so lucky. I'm already so obsessed."
Her Post-College Dance Dreams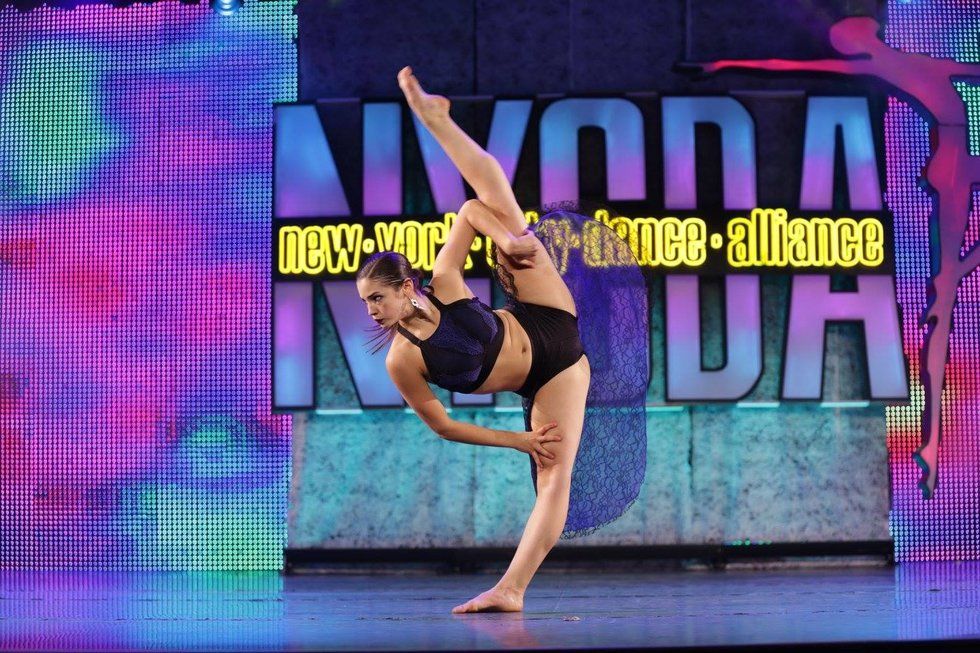 Tatro is currently one of Dance Spirit's Cover Model Search finalists. Photo courtesy NYCDA/Evolve Photo & Video
What's her ultimate goal? "I don't know, I want to do it all!" says Tatro. "Honestly, figuring that out is part of why I'm excited to train at Juilliard."
Her Advice for Students Just Starting To Make College Decisions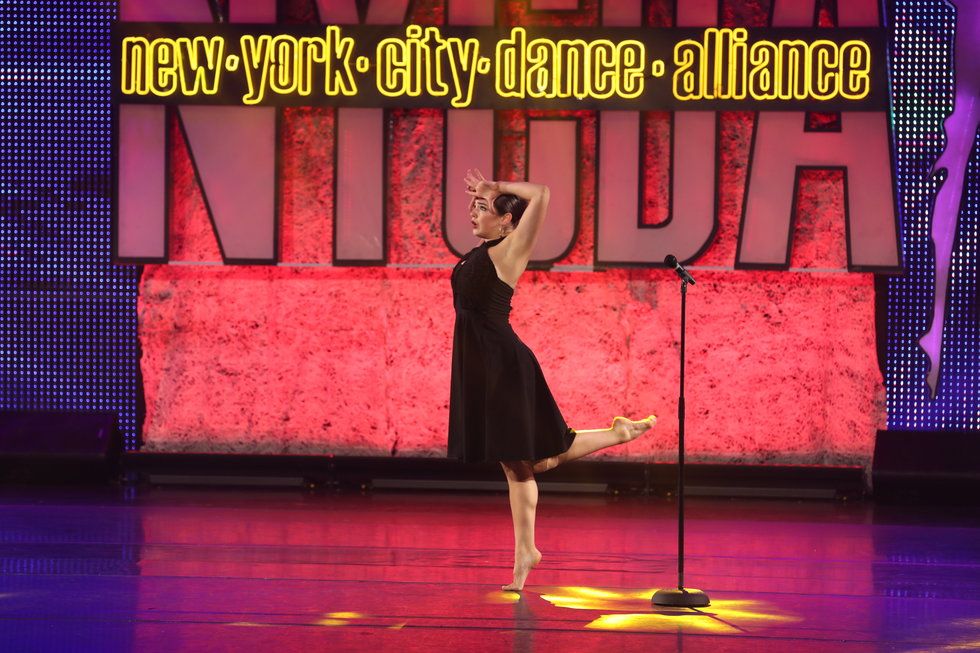 Tatro suggests embracing your individuality and your unique path. Photo courtesy NYCDA/Evolve Photo & Video
"Don't stress as much as you probably are right now!" she says. "It's hard to get out of your head, to not only focus on one college because of what you think you want. But remember: There is someone out there who wants you and sees your potential and all the hard work you've done."
Amber Gray and Patrick Page. Photo by Matthew Murphy, Courtesy Hadestown
There's a rare moment in Broadway's Hadestown where the audience is able to breathe a sigh of relief. The smash-hit success is not well-known for being light-hearted or easy-going; Hadestown is a show full of workers and walls and, well, the second act largely takes place in a slightly modernized version of hell.
But deep into the second act, the show reaches a brief homeostasis of peace, one of those bright, shining moments that allows the audience to think "maybe it will turn out this time," as the character Hermes keeps suggesting.
After songs and songs of conflict and resentment, Hades, the king of the underground, and his wife, the goddess Persephone, rekindle their love. And, unexpectedly, they dance. It's one of the most compelling moments in the show.
Keep reading...
Show less
Ailey II artistic director Troy Powell teaching an Ailey Workshop at NYCDA. Courtesy NYCDA
Back in 2011 when Joe Lanteri first approached Katie Langan, chair of Marymount Manhattan College's dance department, about getting involved with New York City Dance Alliance, she was skeptical about the convention/competition world.
"But I was pleasantly surprised by the enormity of talent that was there," she says. "His goal was to start scholarship opportunities, and I said okay, I'm in."
Today, it's fair to say that Lanteri has far surpassed his goal of creating scholarship opportunities. But NYCDA has done so much more, bridging the gap between the convention world and the professional world by forging a wealth of partnerships with dance institutions from Marymount to The Ailey School to Complexions Contemporary Ballet and many more. There's a reason these companies and schools—some of whom otherwise may not see themselves as aligned with the convention/competition world—keep deepening their relationships with NYCDA.
Now, college scholarships are just one of many ways NYCDA has gone beyond the typical weekend-long convention experience and created life-changing opportunities for students. We rounded up some of the most notable ones:
Keep reading...
Show less
News
Oct. 22, 2019 05:27PM EST
Amber Star Merkens, Courtesy Mark Morris Dance Group
There's always been something larger than life about choreographer Mark Morris. Of course, there are the more than 150 works he's made and that incisive musicality that makes dance critics drool. But there's also his idiosyncratic, no-apologies-offered personality, and his biting, no-holds-barred wit. And, well, his plan to keep debuting new dances even after he's dead.
So it should come as little surprise that his latest distinction is also a bit larger than life: The New York Landmarks Conservancy is adding Morris to its list of "Living Landmarks."
Keep reading...
Show less
Left: Hurricane Harvey damage in Houston Ballet's Dance Lab; Courtesy Harlequin. Right: The Dance Lab pre-Harvey; Nic Lehoux, Courtesy Houston Ballet.
"The show must go on" may be a platitude we use to get through everything from costume malfunctions to stormy moods. But when it came to overcoming a literal hurricane, Houston Ballet was buoyed by this mantra to go from devastated to dancing in a matter of weeks—with the help of Harlequin Floors, Houston Ballet's longstanding partner who sprang into action to build new floors in record time.
Keep reading...
Show less