Never Not Fabulous: Peek Inside James Whiteside's Offstage Life
Photo by Andrew Werner
James Whiteside sometimes seems larger than life. He knows how to effortlessly command any room he's in, whether he's playing a noble prince onstage or appearing in fashion campaigns for designers like Marc Jacobs and Thom Browne. During a rare day off, Whiteside gave us a glimpse into a quieter side of his personality—which is perhaps most endearing of all.
---
His Style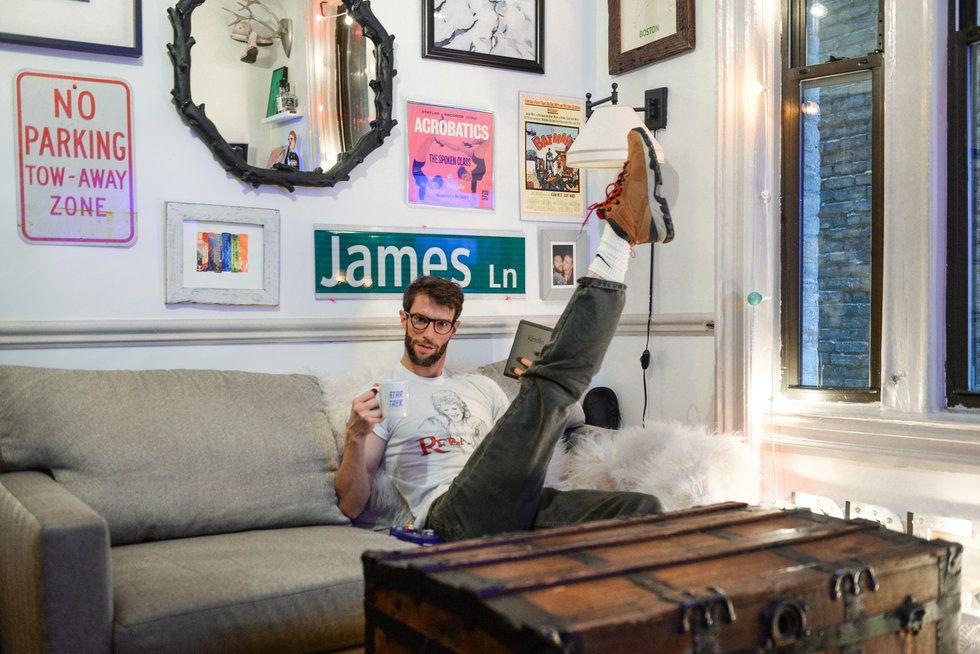 Whiteside in his Manhattan apartment
Andrew Werner
The piece of clothing he collects the most: "T-shirts. When they start to wear out as my real clothes, I transition them into dancewear, so it's fun to cycle through. I found this vintage Reba McEntire shirt from a 1988 tour at an amazing shop in the East Village."
Fashion philosophy: "I want to be comfortable. I like traditional, American clothing—T-shirts, jeans, leather jackets, cowboy boots, Chucks. I like to keep it simple with a James Dean sort of vibe."
Perks of stardom: "My shoes, I actually snagged off the set for the Valentine's Day Macy's shoot that I did with my boyfriend, Dan."
Frugal finds: "The couch is something a friend was getting rid of, the trunk was $1 at a flea market and everything on the walls, people have given me."
How He Fuels the Fierceness
Daily indulgence: "I eat dessert like every night. I'll get a pint of ice cream, or there's a 16 Handles around the corner from my apartment. My order is usually the peanut butter ice cream, and then I put in peanut butter cups, plus Reese's Pieces and Cap'n Crunch cereal."
Pre-show ritual: "Isabella Boylston and I always have lunch at Fiorello's. We get pasta with a side of pizza and really carbo-load."
Post-show ritual: "I go back to Fiorello's and have a Manhattan and maybe some chicken parmigiana."
Coffee order: "Just a small, black coffee."
What His Downtime Looks Like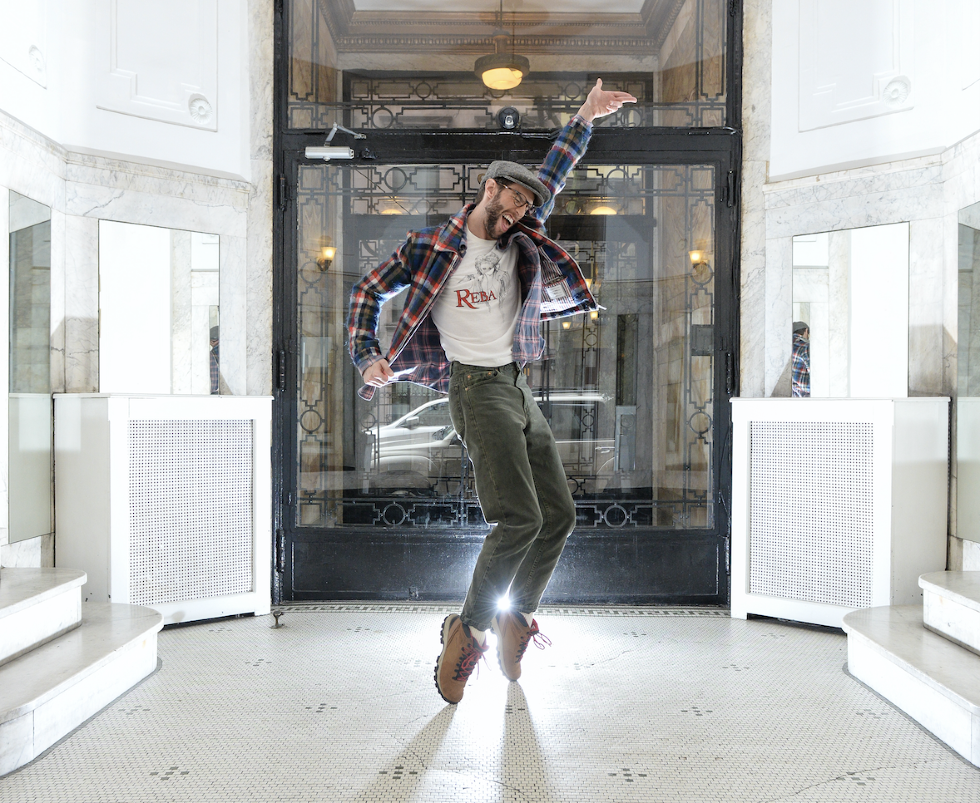 Andrew Werner
What he's reading: "Jane Eyre, because ABT is staging it this spring. I read every day. I recently loved The Dispossessed and Oathbringer."
Ideal day off: "My favorite thing to do is wake up slow, have coffee, go to my bagel shop, read, play video games. Maybe I'll meet up with some friends for lunch or see a movie. I usually work on my days off though, and I'll schedule a photo shoot or meetings. I can't do this forever, and I really want to solidify my place in the dance legacy. I want to get better all the time, and I like to make things and choreograph. I think in the future perhaps, you'll see more of that side of me."
From Your Site Articles
Related Articles Around the Web
Martha Graham in Spectre-1914 from Martha Graham's Chronicle. Courtesy of Martha Graham Resources.
Paul Taylor's Post Meridian was last performed 30 years ago, which is well before any of the company's current dancers joined Paul Taylor Dance Company. In fact, it's before some of the dancers were even born. Every step and extreme angle of the body in the dream-like world of the 1965 work will be fine-tuned in the studio for PTDC's upcoming Lincoln Center season. However, the Taylor archive is where Post Meridian began for Eran Bugge.
Keep reading...
Show less
Left: Hurricane Harvey damage in Houston Ballet's Dance Lab; Courtesy Harlequin. Right: The Dance Lab pre-Harvey; Nic Lehoux, Courtesy Houston Ballet.
"The show must go on" may be a platitude we use to get through everything from costume malfunctions to stormy moods. But when it came to overcoming a literal hurricane, Houston Ballet was buoyed by this mantra to go from devastated to dancing in a matter of weeks—with the help of Harlequin Floors, Houston Ballet's longstanding partner who sprang into action to build new floors in record time.
Keep reading...
Show less
News
Oct. 22, 2019 10:55AM EST
Dinita Clark. Photo courtesy Cultural Counsel
Philadelphia's Pew Center for Arts & Heritage announced its 2019 grantees Monday evening, and the list included a couple of familiar names: Dinita Clark and David Gordon.

Keep reading...
Show less
A flyer showing Alberto Alonso, Fernando Alonso, Benjamin Steinberg and Alicia Alonso. Photo courtesy the author
Alicia has died. I walked around my apartment feeling her spirit, but knowing something had changed utterly.
My father, the late conductor Benjamin Steinberg, was the first music director of the Ballet de Cuba, as it was called then. I grew up in Vedado on la Calle 1ra y doce in a building called Vista al Mar. My family lived there from 1959 to 1963. My days were filled with watching Alicia teach class, rehearse and dance. She was everything: hilarious, serious, dramatic, passionate and elegiac. You lost yourself and found yourself when you loved her.
Keep reading...
Show less