Never Not Fabulous: Peek Inside James Whiteside's Offstage Life
Photo by Andrew Werner
James Whiteside sometimes seems larger than life. He knows how to effortlessly command any room he's in, whether he's playing a noble prince onstage or appearing in fashion campaigns for designers like Marc Jacobs and Thom Browne. During a rare day off, Whiteside gave us a glimpse into a quieter side of his personality—which is perhaps most endearing of all.
---
His Style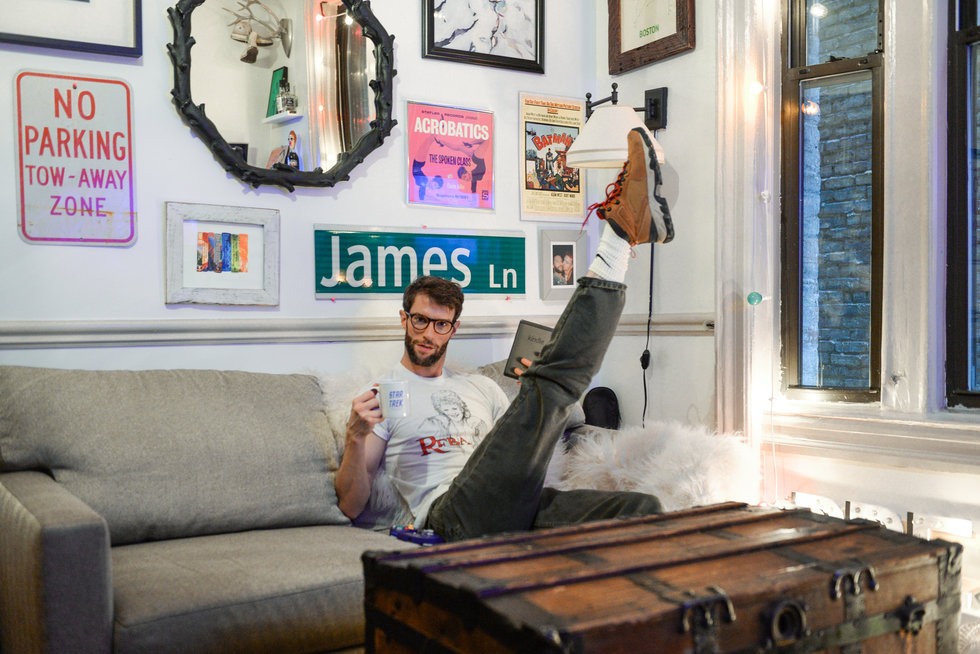 Whiteside in his Manhattan apartment
Andrew Werner
The piece of clothing he collects the most: "T-shirts. When they start to wear out as my real clothes, I transition them into dancewear, so it's fun to cycle through. I found this vintage Reba McEntire shirt from a 1988 tour at an amazing shop in the East Village."
Fashion philosophy: "I want to be comfortable. I like traditional, American clothing—T-shirts, jeans, leather jackets, cowboy boots, Chucks. I like to keep it simple with a James Dean sort of vibe."
Perks of stardom: "My shoes, I actually snagged off the set for the Valentine's Day Macy's shoot that I did with my boyfriend, Dan."
Frugal finds: "The couch is something a friend was getting rid of, the trunk was $1 at a flea market and everything on the walls, people have given me."
How He Fuels the Fierceness
Daily indulgence: "I eat dessert like every night. I'll get a pint of ice cream, or there's a 16 Handles around the corner from my apartment. My order is usually the peanut butter ice cream, and then I put in peanut butter cups, plus Reese's Pieces and Cap'n Crunch cereal."
Pre-show ritual: "Isabella Boylston and I always have lunch at Fiorello's. We get pasta with a side of pizza and really carbo-load."
Post-show ritual: "I go back to Fiorello's and have a Manhattan and maybe some chicken parmigiana."
Coffee order: "Just a small, black coffee."
What His Downtime Looks Like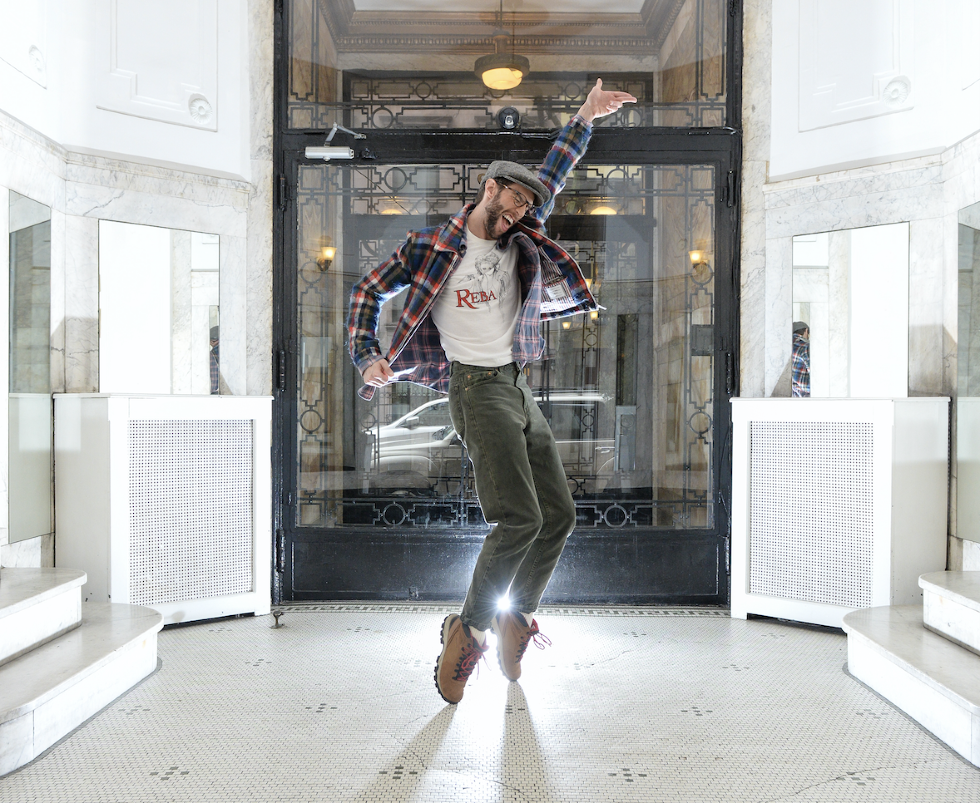 Andrew Werner
What he's reading: "Jane Eyre, because ABT is staging it this spring. I read every day. I recently loved The Dispossessed and Oathbringer."
Ideal day off: "My favorite thing to do is wake up slow, have coffee, go to my bagel shop, read, play video games. Maybe I'll meet up with some friends for lunch or see a movie. I usually work on my days off though, and I'll schedule a photo shoot or meetings. I can't do this forever, and I really want to solidify my place in the dance legacy. I want to get better all the time, and I like to make things and choreograph. I think in the future perhaps, you'll see more of that side of me."
From Your Site Articles
Related Articles Around the Web
The USC Kaufman graduating class with Mikhail Baryshnikov. Gus Ruelas/USC
Just four years ago, the University of Southern California's Glorya Kaufman School of Dance welcomed its first class of BFA students. The program—which boasts world-class faculty and a revolutionary approach to training focused on collaboration and hybridity—immediately established itself as one of the country's most prestigious and most innovative.
Now, the first graduating class is entering the dance field. Here, six of the 33 graduates share what they're doing post-grad, what made their experience at USC Kaufman so meaningful and how it prepared them for their next steps:
Keep reading...
Show less
Rena Most at work backstage. Photo courtesy ABT
Every dancer knows there's as much magic taking place backstage as there is in what the audience sees onstage. Behind the scenes, it takes a village, says American Ballet Theatre's wig and makeup supervisor, Rena Most. With wig and makeup preparations happening in a studio of their own as the dancers rehearse, Most and her team work to make sure not a single detail is lost.
Dance Magazine recently spoke to Most to find out what actually goes into the hair and makeup looks audiences see on the ABT stage.
Keep reading...
Show less
James Yoichi Moore and Noelani Pantastico warm up onstage. Angela Sterling, Courtesy SDC.
On a sunny July weekend, hundreds of Seattle-area dance fans converged on tiny Vashon Island, a bucolic enclave in Puget Sound about 20 miles from the city. They made the ferry trek to attend the debut performance of the fledgling Seattle Dance Collective.
SDC is not a run-of-the-mill contemporary dance company; it's the brainchild of two of Pacific Northwest Ballet's most respected principal dancers: James Yoichi Moore and Noelani Pantastico. The duo wanted to create a nimble organization to feature dancers and choreographers they felt needed more exposure in the Pacific Northwest.
Keep reading...
Show less