Usually at this time of year, James Whiteside would be in the thick of Nutcracker performances. But with theaters closed, the American Ballet Theatre principal instead came up with his own production: Fancy Nut Mix—an online benefit concert to raise money to send dance floors to young dancers in need.
The show will air at 7 pm Eastern on Sunday, December 20, on Whiteside's YouTube channel. And it will be a marathon of Whiteside performances, with a good dose of help from his friends. He will perform his own version of the "Sugar Plum Fairy" variation; a "Soldier Dance" duet with Houston Ballet soloist Harper Watters; a "Coffee" divertissement and Alexei Ratmansky's "Grand Pas" with his fellow "Cindy" and ABT principal Isabella Boylston; a theater jazz version of "Tea," choreographed by Al Blackstone and performed with New York City Ballet principal Tiler Peck in Central Park; and a "Candy Canes" tap duet with Demi Remick filmed in Brooklyn's Prospect Park.
---
Whiteside will also be singing "Have Yourself a Merry Little Christmas" with Dance Theatre of Harlem's Anthony Santos, accompanied by ABT pianist Michael Scales. And, as his journalist alter ego Shannon Bobannon, Whiteside will conduct the first-ever interview with the mastermind behind the genius yet secretive Instagram account Ballet Moods. (Asked if he'll reveal who's behind the account, Whiteside says, "If you want to find out, I guess you're just going to have to watch Fancy Nut Mix.")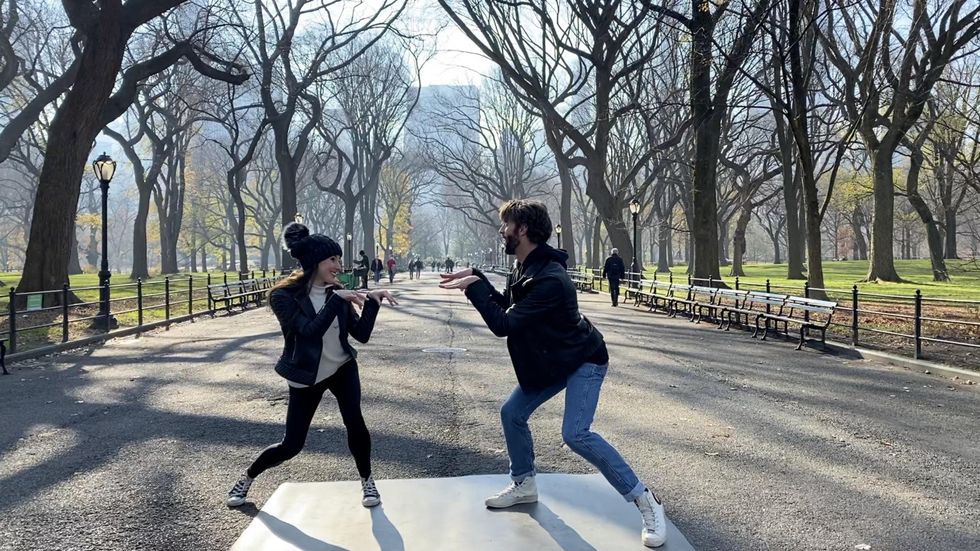 Whiteside with Tiler Peck in Al Blackstone's version of "Tea"
Courtesy Whiteside
The full prerecorded event, produced by Garen Scribner in partnership with Harlequin Floors, will stream for free as a fundraiser. Whiteside's hoping to raise enough money to give away 150 Harlequin dance mats.
"One thing that I really noticed when we were doing the Cindies ballet class with Isabella was that some of these kids, their parents had built them dance studios in their home. But not all are as lucky to have that sort of financial stability in their lives to continue training so seamlessly," says Whiteside.
Young dancers can apply to receive a floor by posting a one-minute video to Instagram, explaining how they will "take the floor" in 2021 and how having a professional dance mat will impact their lives.
"I'm looking for kids who have minimal spaces, who are dancing in their kitchens or small living rooms, who could even take the floor to the park and do outdoor shows for the community," says Whiteside.
Submissions are open until December 31, but one grand-prize winner will be announced during the show, and will receive a month of virtual classes from Kanyok Arts Initiative, plus apparel from Cloud & Victory along with Harlequin's dance mat.
"This show is scratching two itches: I want to make things and I want to dance," says Whiteside. "But it also provides a warmer feeling—the feeling that I can give something back during the holiday season when so much has been taken from so many people. It's very small—I'm not claiming to be changing the world—but I want to give kids some inspiration to keep dancing."