Site Network
Sep. 03, 2019 10:11AM EST
"I Was in Disbelief": Jeffrey Epstein Targeted Dancers at NYC Studios, With Others Acting as Recruiters
Getty Images
The New York Times reported this morning that Jeffrey Epstein, the wealthy financier accused of sex trafficking dozens of teenage girls and young women, and who died by suicide in prison on August 10 while awaiting trial, preyed on dancers in New York City. The article tells the accounts of four women, two referenced in court papers and two who were interviewed by the newspaper. All were approached by a recruiter—and in half the cases, that person was another dancer.

---
For two of the reported victims, years of sexual abuse followed. One, known only as Lisa in a lawsuit against Epstein's estate, was just 17 when another dancer approached her after ballet class in 2002 and asked if she'd be interested in giving private exercise classes to Epstein for money. But once she met with him, Epstein wanted to talk about her career goals, offered to pay for her pointe shoes and asked her to engage in sexually inappropriate stretching exercises. On later visits, he asked her to give him massages. Another dancer, known in her lawsuit as Pricilla Doe, was recruited to give massages to Epstein in 2006 and was flown to his Florida mansion for the session. Both lawsuits claim Epstein sexually assaulted the women during their visits. He then coerced them into continued sexual activity for years, under the implication that, with his wealth and connections, he would help advance their dance careers if they did what he wanted—and ruin their careers if they refused. (When Lisa started to look too old, the lawsuit claims, he asked her to recruit younger dancers from the studio she attended.)
Two other dancers gave accounts to the New York Times describing uncomfortably close calls with Epstein. In 2006, Marlo Fisken, a dance instructor now based in Colorado, was in her early 20s and had just moved to New York City when a woman she met in a bar asked if she'd like to be the financier's personal trainer. Epstein started making sexual requests after a few sessions. Fisken, who says she also taught a class to two teenage girls living in one of his apartments, refused his advances and stopped working for him.
In 2013, Nadia Vostrikov had just finished class when a dancer approached her and asked if she could take over teaching classes to her private client. She agreed to speak with him first via Skype, she tells the Times, where he offered to fly her to his Florida home. But she ended contact once he told her he was a registered sex offender and he suggested that she she google his name. She soon learned that Epstein had spent a controversially short 13-month jail sentence for soliciting prostitution from a minor. "I was in disbelief," Vostrikov told Pointe in an interview this afternoon. "He had his exact script, because he had gotten in trouble before. He found a way to still do what he was doing within the confines of the dance world."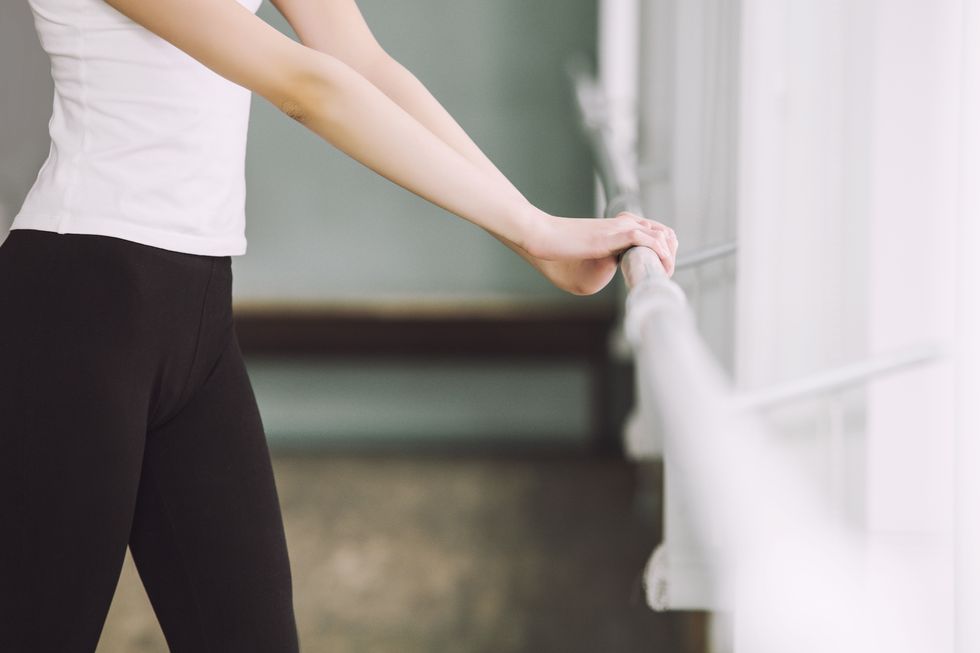 Getty Images
These deeply disturbing revelations suggest that Epstein sensed vulnerability within the dance community and specifically targeted it. Sadly, I'm not surprised. Early in my career I learned that dancers are often fetishized due to the physical nature of what we do. Vostrikov agrees. "Both in and out of the dance industry, I feel like there's a perception that dancers are willing to do 'whatever it takes,' so to speak," she says. "They are over-sexualized on television, in photographs. Companies encourage dancers to mingle with wealthy patrons, and while I've never experienced that in a sexual way, there's a perception that dancers are a selling point."
And unless you are contracted with a major company in New York City, it can be very difficult to make a living, much less pay for daily class and pointe shoes. I know because I was a freelance dancer in New York for 10 years and I was frequently broke. Most of my gigs came through word of mouth. If someone had approached me with a lucrative side job, especially if that person was a fellow dancer, I would have at least looked into it.
But I believe Epstein was preying on more than our financial desperation—dancers are so young and eager when they start out in this very competitive profession. And it's no secret that this career, with its wall-to-wall mirrors, lack of jobs and near-constant critical feedback, can exacerbate low self-esteem. Vostrikov is disheartened by commenters on the New York Times site who blame the two dancers who continued to be sexually exploited by Epstein. "He created this whole web of intricacies and scripts and connections to create a false sense of trust, which he then abused to get what he wanted," says Vostrikov. "I may have said no, but the fact of the matter is he still found me, and he still found the girl who recruited me. That's the sick part. He manipulated the inner-family feeling that we have as dancers."
One thing is clear: the dance community must be more watchful. Vostrikov advises students to take a trusted friend to meetings or photo shoots. "It's okay to say no to requests that don't feel right." And with all of the recent #MeToo scandals coming to light in our profession, we must be more diligent about supporting, educating and protecting our young dancers to prevent this from happening again.
Rehearsal of Yvonne Rainer's Parts of Some Sextets. Photo by Paula Court, Courtesy Performa.
Yvonne Rainer's Parts of Some Sextets (AKA "the mattress dance") hasn't been revived since it premiered in 1965. Nor has Rainer had any wish to do it again, to ask performers to heave 10 mattresses around while carrying out 31 tasks that changed every 30 seconds. It was an unwieldy, difficult dance. (Even the title is unwieldy.) But Emily Coates, who has danced in Rainer's work for 20 years, became curious about this piece and was determined to see it again—and to dance in it. She will get her wish November 15–17, when the mattress dance will be performed as part of the Performa 19 Biennial.
Keep reading...
Show less
Ailey II artistic director Troy Powell teaching an Ailey Workshop at NYCDA. Courtesy NYCDA
Back in 2011 when Joe Lanteri first approached Katie Langan, chair of Marymount Manhattan College's dance department, about getting involved with New York City Dance Alliance, she was skeptical about the convention/competition world.
"But I was pleasantly surprised by the enormity of talent that was there," she says. "His goal was to start scholarship opportunities, and I said okay, I'm in."
Today, it's fair to say that Lanteri has far surpassed his goal of creating scholarship opportunities. But NYCDA has done so much more, bridging the gap between the convention world and the professional world by forging a wealth of partnerships with dance institutions from Marymount to The Ailey School to Complexions Contemporary Ballet and many more. There's a reason these companies and schools—some of whom otherwise may not see themselves as aligned with the convention/competition world—keep deepening their relationships with NYCDA.
Now, college scholarships are just one of many ways NYCDA has gone beyond the typical weekend-long convention experience and created life-changing opportunities for students. We rounded up some of the most notable ones:
Keep reading...
Show less
Left: Hurricane Harvey damage in Houston Ballet's Dance Lab; Courtesy Harlequin. Right: The Dance Lab pre-Harvey; Nic Lehoux, Courtesy Houston Ballet.
"The show must go on" may be a platitude we use to get through everything from costume malfunctions to stormy moods. But when it came to overcoming a literal hurricane, Houston Ballet was buoyed by this mantra to go from devastated to dancing in a matter of weeks—with the help of Harlequin Floors, Houston Ballet's longstanding partner who sprang into action to build new floors in record time.
Keep reading...
Show less