Meet The Ailey Dancer With A Side Gig Designing His Coworkers' Wedding Dresses
Jermaine Terry working on fellow Ailey dancer Sarah Daley-Perdomo's dress while on tour in Frankfurt, Germany.
It's widely known how jam-packed an Ailey dancer's schedule is: the company averages between 175 and 200 performances each year. So it's hard to imagine that these artists have time for anything else.
Impressively, eight-year AAADT dancer Jermaine Terry has somehow maintained a second career in costume and clothing design. From wedding dresses to one-of-a kind evening gowns for Ailey galas, the self-taught designer is inspired by the challenge.
What He Has To Say: Terry gave Dance Magazine the scoop on how, in the words of Project Runway's Tim Gunn, he is able to "make it work."
---
How did you get started in fashion and costume design?
"I had a sewing machine in college and would alter costumes to really fit dancers. I'd even dye costumes for pieces I choreographed. But I really started designing while I was in Ailey II, because I was too cheap to buy dancewear! I'd buy fabric and figure out how to make my own jazz pants—I remember choreographer Christopher Huggins commenting on how much he liked them."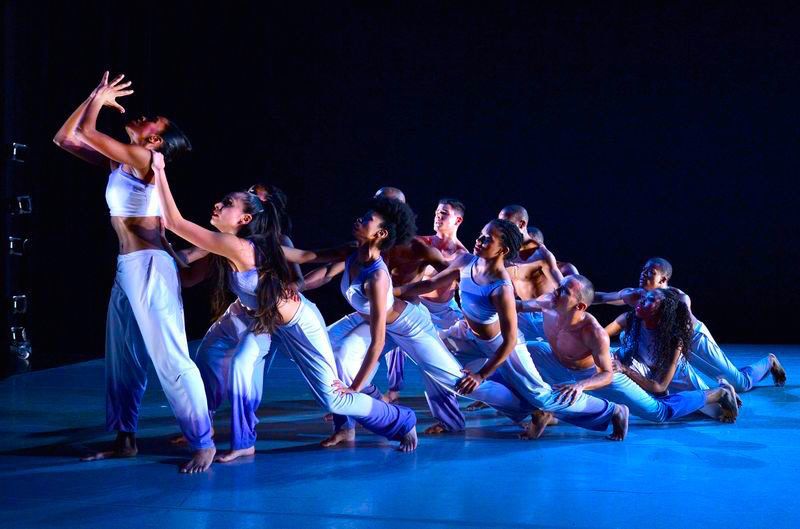 Ailey II, "Wings" choreographed by Jennifer Archibald (2013) costumes by Terry. Photo by Eduardo Patino.
Have you ever taken lessons?
"Never. I learned from books, watching YouTube, experimenting and asking the wardrobe people here at Ailey for help. I'm a perfectionist, so if I really have no idea I ask them for help first, instead of bringing in a disaster."
What companies have you designed for?
"Ailey II, Philadanco, Eleone Dance Theatre, Jeremy McQueen's Black Iris Project, and I've built costumes for AAADT. My favorite project was Black Iris, because Eric Winterling [founder of a well-known costume shop in New York that built the Wicked costumes] donated the costume construction and materials to Jeremy. So I didn't have to scale any designs back due to time or money."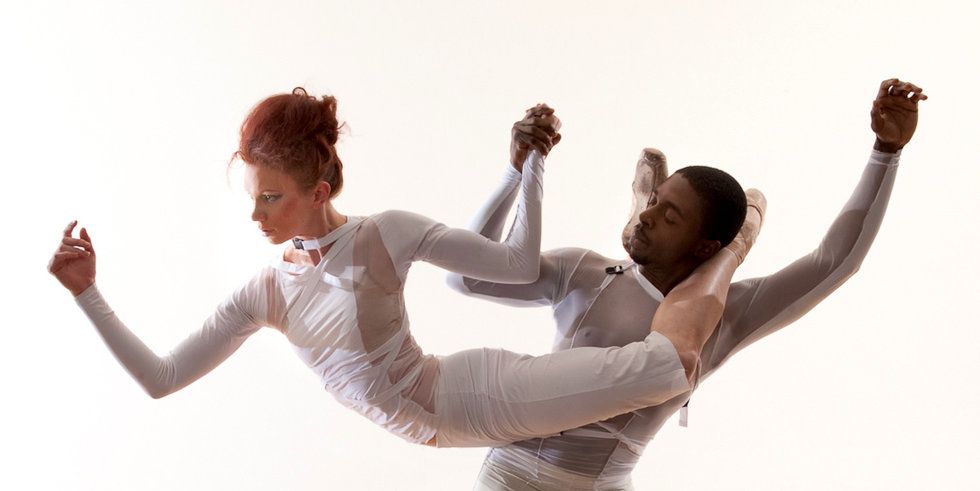 Ballet Noir costumes by Terry. Photo by Michael Koschinsky
How does being a dancer help you with creating costumes?
"Costume designers that don't dance may have an eye for a look or trend, but may not understand that a certain fabric is restrictive, or doesn't hold up over time, or the design covers leg lines. I know what makes the dancers look good from all angles. I also love to design for the individual, something they like and feel comfortable in."
Tell us about the wedding dresses you've made—fellow Ailey dancer Sarah Daley-Perdomo's dress was gorgeous and so unique!
"I've made four wedding dresses for friends now. It was a lot of on-the-job training! Sarah wanted to incorporate something from her mom's dress, but it had poofy sleeves, polyester fabric and was crumpled in a bag in the closet turning yellow. We took all the lace off and bought the rest of the materials in the garment district in New York. I built her dress while on tour in Europe, and had to travel with two suitcases—one just for Sarah's dress!"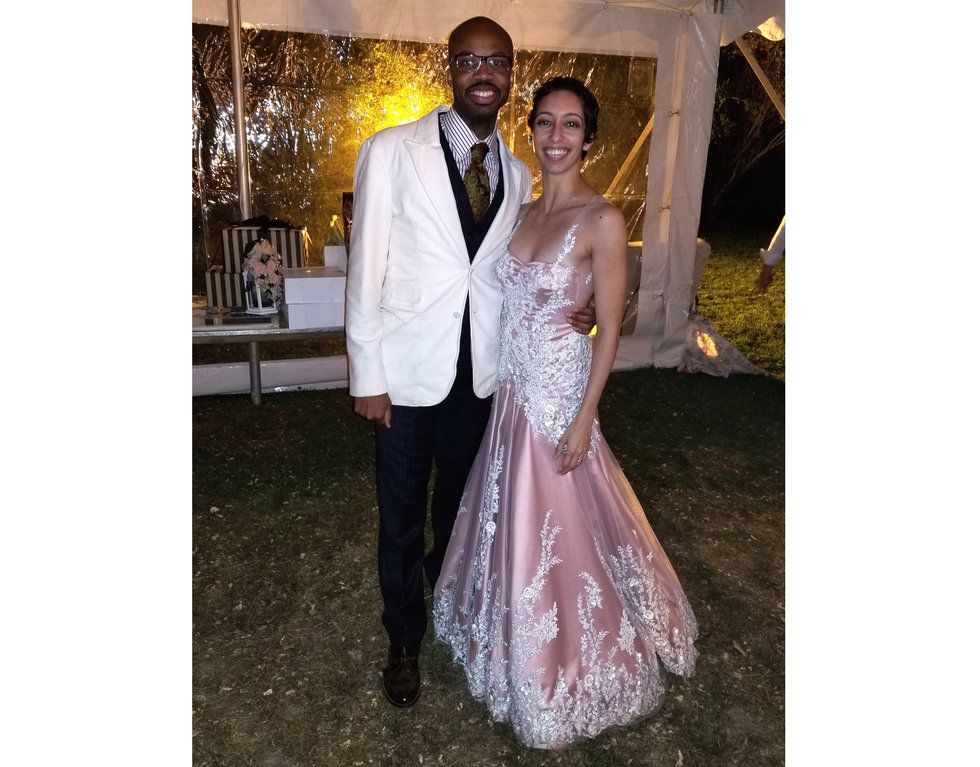 Terry with Daley-Perdomo in the wedding gown he designed.
How do you fit sewing into your dance schedule?
"I start sewing when I wake up, before class. I sew during lunch in Ailey wardrobe, then after rehearsal…I sew. Even during intermissions if I have time after the first ballet, I'll sew before getting ready for the next piece. Occasionally I'll have friends help me when it gets to crunch time, but somehow I get it all done. I still have so much I want to learn!"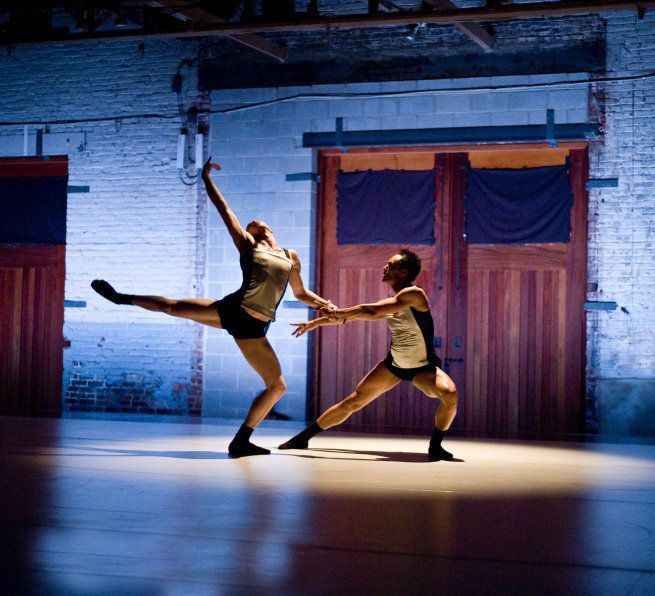 Terry's costumes for Waheed Works. Photo by Johanna Austin
Robin Worrall via Unsplash
Social media has made the dance world a lot smaller, giving users instant access to artists and companies around the world. For aspiring pros, platforms like Instagram can offer a tantalizing glimpse into the life of a working performer. But there's a fine line between taking advantage of what social media can offer and relying too heavily on it.
Keep reading...
Show less
UA Dance Ensemble members Candice Barth and Gregory Taylor in Jessica Lang's "Among the Stars." Photo by Ed Flores, courtesy University of Arizona
If you think becoming a trainee or apprentice is the only path to gaining experience in a dance company environment, think again.
The University of Arizona, located in the heart of Tucson, acclimates dancers to the pace and rigor of company life while offering all the academic opportunities of a globally-ranked university. If you're looking to get a head-start on your professional dance career—or to just have a college experience that balances company-level training and repertory with rigorous academics—the University of Arizona's undergraduate and graduate programs have myriad opportunites to offer:
Keep reading...
Show less
Alice Sheppard/Kinetic Light in DESCENT, which our readers chose as last year's "Most Moving Performance." Photo by Jay Newman, courtesy Kinetic Light
Yes, we realize it's only August. But we can't help but to already be musing about all the incredible dance happenings of 2019.
We're getting ready for our annual Readers' Choice feature, and we want to hear from you about the shows you can't stop thinking about, the dance videos that blew your mind and the artists you discovered this year who everyone should know about.
Keep reading...
Show less
Sergei Diaghilev, who was terrified of the sea, posing with a life preserver aboard a ship. Photo courtesy DM Archives
On August 19, 1929, shockwaves were felt throughout the dance world as news spread that impresario Sergei Diaghilev had died. The founder of the Ballets Russes rewrote the course of ballet history as the company toured Europe and the U.S., championing collaborations with modernist composers, artists and designers such as Igor Stravinsky, Pablo Picasso and Coco Chanel. The company launched the careers of its five principal choreographers: Michel Fokine, Vaslav Nijinsky, Léonide Massine, Bronislava Nijinska and George Balanchine.
Keep reading...
Show less