Growing up in the Philippines, Jobel Medina was introduced to dance first through a TV game show, and later, his sister. "She had a girl dance team, and they'd rehearse in our front yard," Medina recalls. "I usually would be in the back, trying to learn the choreography."
Now based in Los Angeles, Medina is a member of Ate9 Dance Company. He's also performed as a freelancer and appeared in music videos while working towards his master's degree in fine arts at California Institute of the Arts. In his spare time, he makes his own choreography. "Usually, only some of the ideas will work," he says, "but new ones naturally develop—that, I think, is what's exciting: the surprises."
---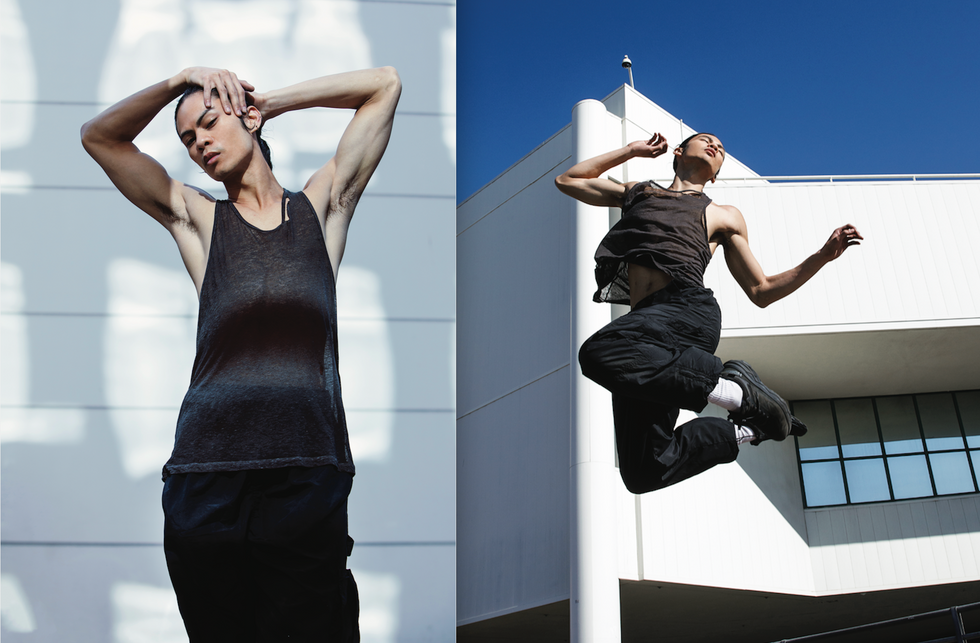 Michael Higgins
On pursuing a dance career: "I don't think I was interested in dance professionally until junior year in college. I didn't really think about money and dance together, but I've known that I wanted to perform since I was a kid."
Most memorable show: "A performance I did for LA Pride in West Hollywood"
Pre-performance ritual: "I like to look around the stage just before we start, just to remind myself that everything around me is familiar and I don't have to be afraid."
Dream artist to work with: "Dimitris Papaioannou in Europe"
On his choreographic process: "A lot of the work happens in my head, and it's usually very messy at first. Then, I obsess over the ideas while I'm stuck in traffic, until I'm convinced that they're worth investing time, money and effort into."
Top song on his playlist: " 'I Will Survive,' by Gloria Gaynor"
When he's not dancing: "I love Rollerblading, spending time with friends and family, and scrolling through OfferUp for sweet deals."
One thing he can't live without: "My worn-out—with holes—Adidas shoes"
On getting a master's degree in fine arts: "I will always encourage everyone to keep learning, but I don't think you always need school to do that. I think academic institutions are useful in helping to develop artists, especially if the professors are committed to supporting your work, and I'm lucky to have that at CalArts."