Dancer Voices
May. 08, 2018 11:30AM EST
Op-Ed: Older Dance Works Are More Than Just History
Limón Dance Company in Missa Brevis. Photo courtesy of the José Limón Dance Foundation.
Some people believe that only new dances should be supported and seen live. By extension, they question the necessity of reconstructing older works, arguing that they should remain in the vault, or saved for archival viewings.
To some extent, I see their point. Room should be made for new voices and new works.
---
Pina Bausch's Rite of Spring. Photo by Oliver Look, Courtesy Brooklyn Academy of Music.
Masterworks like Pina Bausch's Rite of Spring, Donald McKayle's Rainbow Round My Shoulder or Martha Graham's Appalachian Spring, however, offer more than just a historical reference of their time. They exemplify what is possible in art, revealing a deeply-moving, skillfully-crafted dance. Such works have the ability to transcend time and inspire any generation that is fortunate enough to experience them.
Dancing Older Works Helped Me Find My Voice
As a dancer with the Limón Dance Company, the transformative artistic growth I experienced while breathing life into past roles was unforgettable. Through learning these dances, created for another body, I found my voice as an artist.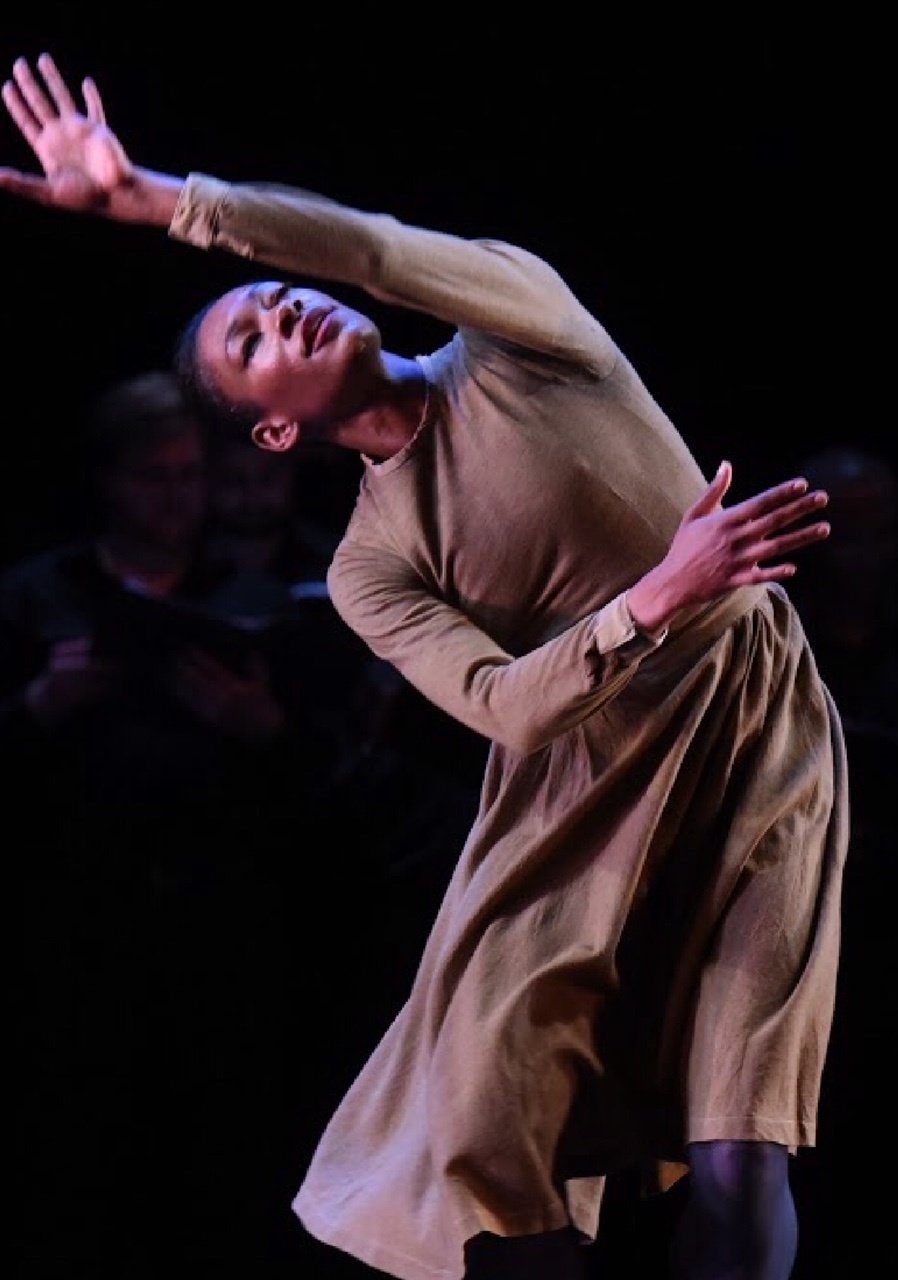 The author performing Missa Brevis. Photo courtesy the Jose Limon Dance Foundation
Taking on someone else's movement, who lived during a different generation in dance history, called upon my interpretive abilities. I could not rely simply on familiar motions. I had to determine the essence of the movement, deciphering what the choreographer was trying to say while deciding how I wanted to convey the idea. I had to consider my own life experiences and point of view to make the interpretation meaningful for myself.
This required me to balance what was my addition artistically while adhering to the prescribed structure of the given choreography. This is the true challenge of performing a revived role.
Masterworks Like Missa Brevis Can Still Speak To Our Time
I had the privilege this January to re-engage with José Limón's Missa Brevis, this time as a reconstructor, directing the current members of the Limón Dance Company. Missa Brevis is marking its 60th anniversary this year, and the work, depicting both power, vulnerability and sense of community, still speaks to our time, and to our humanity.
It is especially relevant today, with society as divided and disconnected as it currently appears. This work is about rebuilding while overcoming adversity, and is a testament to the power of hope and perseverance to mend a community.

As a reconstructor, I was given the opportunity to impart all that I knew to a new company of dancers, about half of whom were connecting with the dance for the first time. The weight of this huge responsibility was not lost on me.
There Is Much To Discover In a Reconstruction
I once worked with a choreographer who complained about the tendency for trained dancers to assume they know what a movement is supposed to be, relying on habit or familiarity, rather than approaching choreography anew. He encouraged each of us to embody the motion, to find the initiations and dynamic intent, and he was interested in our own artistic interpretations.
This led me to question how choreographers transfer or impart an idea, how dancers embody movement designed on another body, and how they successfully convey the movement's intent.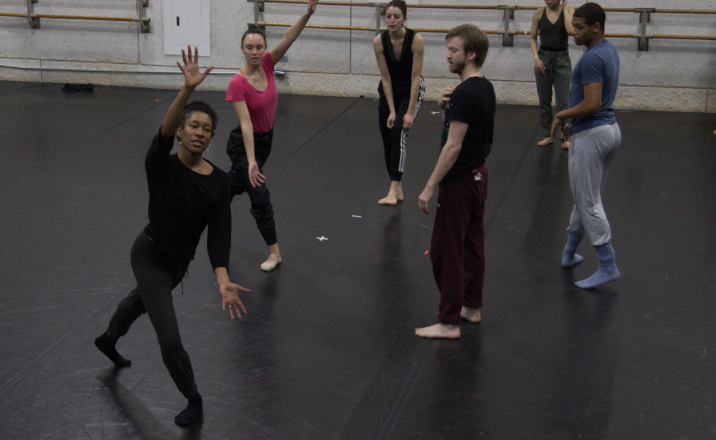 Foote, reconstructing Missa Brevis on today's Limón dancers. Photo by Hettie Stern courtesy of the Jose Limon Dance Foundation
In Missa Brevis, appearing at The Joyce Theater this week, each dancer has fully embodied their role in the dance, using their own artistic voice with hope, resilience and commitment while staying within the movement language and Limón style. Master reconstructor Clay Taliaferro has brought invaluable guidance and wisdom to a positive experience.
In any reconstruction, dancers must use the form, intention and stylistic nuance built into the choreography to calibrate what already exists and what can be discovered. By using their curious appetite for a lived-in experience, they aim to risk it all. By exposing their vulnerability as fallible human beings, it is possible for the next generation of interpreters to triumphantly offer a truly engaging, thrilling performance.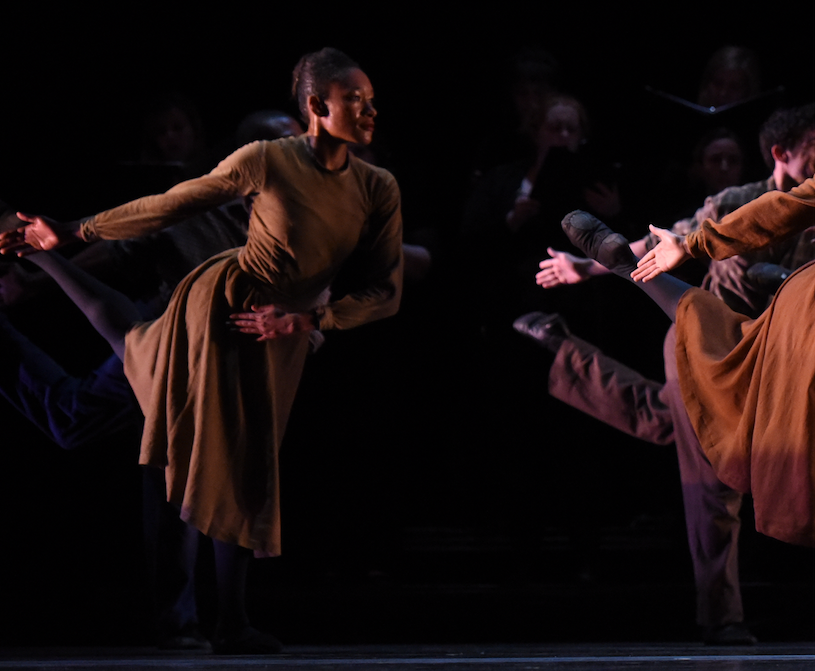 "Through learning these dances, created for another body, I found my voice as an artist." The author performing Missa Brevis. Photo by Liana Rasmussen courtesy the Jose Limon Dance Foundation.
Related Articles Around the Web
What Wendy's Watching
May. 22, 2018 02:50PM EST
PC Paul Kolnik
New York City Ballet is celebrating the Jerome Robbins Centennial with twenty (20!) ballets. The great American choreographer died in 1998, so very few of today's dancers have actually worked with him. There are plenty of stories about how demanding (at times brutally so) he could be in rehearsal. But Peter Boal has written about Robbins in a more balanced, loving way. In this post he writes about how Robbins' crystal clear imagery helped him approach a role with clarity and purpose.
Keep reading...
Show less
92Y Harkness Dance Center is hosting the first festival dedicated to dance films captured on mobile devices. Photo by Adam Grannick, Courtesy 92Y
Who says you need fancy equipment to make a festival-worthy dance film? Right now, two New York City–based dance film festivals are calling for aspiring filmmakers to show their stuff—and you don't need anything more cumbersome than a smartphone to get in on the action.

Here's everything you need to know about how to submit:
Keep reading...
Show less
News
May. 18, 2018 12:05PM EST
The inimitable Alicia Alonso, now 97, remains at the helm of Ballet Nacional de Cuba. Photo by Leysis Quesada, Courtesy BNC
On the occasion of its 70th anniversary, the Ballet Nacional de Cuba tours the U.S. this spring with the resolute Cuban prima ballerina assoluta Alicia Alonso a the helm. Named a National Hero of Labor in Cuba, Alonso, 97, has weathered strained international relations and devastating fiscal challenges to have BNC emerge as a world-class dance company. Her dancers are some of ballet's best. On offer this time are Alonso's Giselle and Don Quixote. The profoundly Cuban company performs in Chicago May 18–20, Tampa May 23, Washington, D.C., May 29–June 3 and Saratoga, New York June 6–8.
Dance in Pop Culture
May. 17, 2018 10:12AM EST
Participants show off their plié. Screenshot via YouTube
We all know that the general population's knowledge of ballet is sometimes...a bit skewed. (See: people touching their fingertips to the top of their head, and Kendall Jenner hopping around at the barre.)
Would your average Joe know how to do ballet's most basic step: a plié? Or, more to the point, even know what it is?
SELF decided to find out.
Keep reading...
Show less
Lisset Santander is adding more contemporary works to her repertoire. Here with Jarrett Reimers in Christopher Wheeldon's Fools Paradise. Photo by Jennifer Zmuda, Courtesy BalletMet.
When Lisset Santander bourréed onstage as Myrtha in BalletMet's Giselle this past February, her consummate portrayal of the Queen of the Wilis was marked by steely grace and litheness. The former Cuban National Ballet dancer had defected to the U.S. at 21, and after two years with the Ohio company, she's now closer to the dance career she says she always wanted: one of limitless possibilities.
Keep reading...
Show less
James Samson in Three Dubious Memories. Photo by Paul B. Goode, courtesy Paul Taylor Dance Company
For 17 years, James Samson has been the model Paul Taylor dancer. There is something fundamentally decent about his stage persona. He's a tall dancer—six feet—but never imposes himself. He's muscular, but gentle. And when he moves, it is his humanity that shines through, even more than his technique.
But all dancing careers come to an end, and James Samson's is no exception; now 43, he'll be retiring in August, after a final performance at the Teatro Romano in Verona, where he'll be dancing in Cloven Kingdom, Piazzolla Caldera and Promethean Fire.
Keep reading...
Show less


Get Dance Magazine in your inbox