How Choreographer Joshua L. Peugh Is Pushing Past Queer Archetypes in Texas & Beyond
Peugh in rehearsal with his Dark Circles Contemporary Dance. Photo by Daley Kappenman, Courtesy DCCD
With his honest, idiosyncratic movement, Joshua L. Peugh often tells untold stories through dance. He's reimagined The Rite of Spring, for instance, at a mid-century prom with the sacrificial virgin taking the form of a young man in drag.
---
On top of running his Dallas-based Dark Circles Contemporary Dance, Peugh, 34, has also created highly theatrical pieces for BODYTRAFFIC, BalletX, Whim W'Him and other troupes. His recent work takes a more serious turn, exploring Arab identities in Aladdin, Habibi and myths of masculinity and LGBT themes in Bud.
He recently spoke to Dance Magazine to share the ins-and-outs of his creative process.
How He Comes Up With Such Fascinating Ideas for Dances
"I am interested in 'the human comedy,' why we do some of the curious things we do and what makes us act in contradictory ways. I encourage dancers to let go of theatricality and let the story and their messy humanity come through the movement itself. "
"My ultimate desire is to reframe questions instead of providing answers."
Why He's Going Deeper Into LGBT Themes in His Latest Work
"I didn't plan it this way, but this season we are a company of mostly queer dancers. So now I am not asking them to tell my story, it's their story too. Most choreographers who are queer spend the majority of their time creating hetero-normative choreography featuring male/female partnering. I want to represent my tribe, our needs and desires. Push past some of the queer archetypes represented in mainstream media and give them more depth. LGBT stories told by LGBT people in an authentic, truthful way."
"Since the local football stadium's lights lit up my family's front lawn, I literally grew up under the Friday Night Lights. In Bud I collaborated with Brian Kenny, a queer multimedia artist and my best friend from high school. We are exploring rituals of masculinity and the fear and shame we felt as closeted teenagers, while also celebrating our friendship."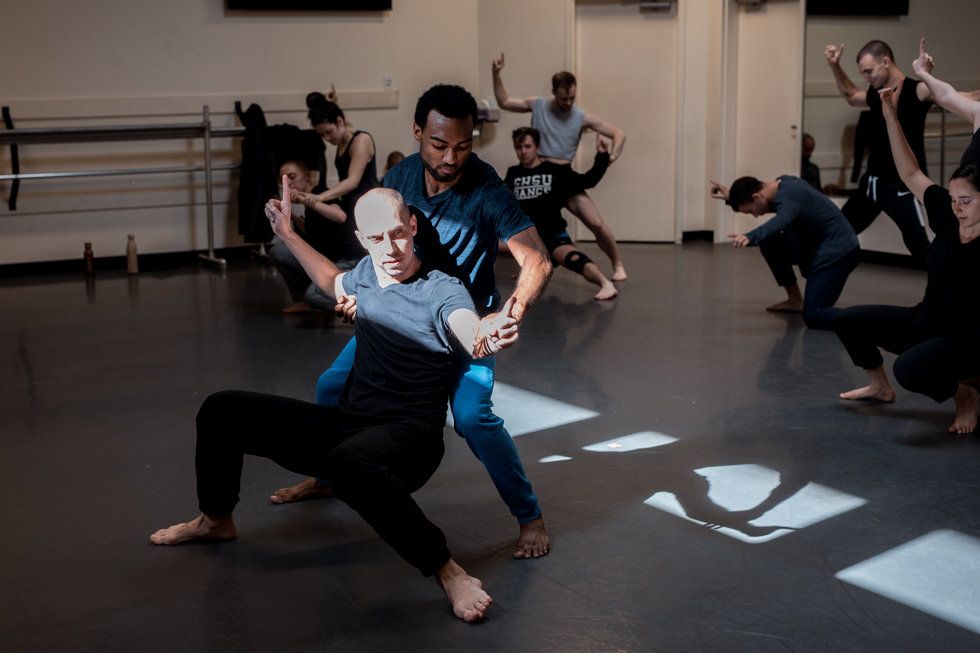 Daley Kappenman
How Ohad Shaped Him
"Ohad Naharin is a huge influence when it comes to generating movement. One of his dancers began setting Minus 7 my first day at Korea's Universal Ballet in 2006, and when Ohad arrived a few weeks later to put the final touches on, he selected me to do the intermission improvisation, shocking the more experienced company members. His faith in my imagination and him giving me permission to follow my own personal fantasy unlocked something in me. His way of working gave me access to parts of my body and my mind that I had been neglecting. He reminded me of the pleasure of dancing."
The Influence of Theater
"Growing up in New Mexico, I was a total musical theater kid, and I thought that was my path. I am interested in acting methods. My high school theater teacher studied with Sanford Misner. Right now I'm very excited about ViewPoints, which is based in movement and the experience of letting things happen. Both Misner and ViewPoints train you to be present; to listen first and then respond. Gaga does the same thing. All of these influences have infiltrated and enhanced my creative process."
His Creations Are Team Efforts
"For Aladdin, Habibi, we made a list of plot points and each dancer made a movement to one plot point, We built the opening section that way. My dancers are available to follow their instincts. Watching each other helps disrupt our habitual patterns."
What It's Like Balancing a Company and Outside Commissions
"When I'm away on a commission, I'm able to get a lot done for Dark Circles because I'm not worried about day-to-day things. I don't have to worry about fundraising, morale issues, scheduling. I get to concentrate on the work I am creating. I get to be more present. The dancers I work with in other places who don't train with me on a daily basis, who can't easily anticipate what I might do next, remind me of colors on my palette that I may not have used in awhile. I always come home fired up and ready to push my company in new directions."
From Your Site Articles
Related Articles Around the Web
Sara Mearns in the gym. Photo by Kyle Froman.
New York City Ballet principal Sara Mearns wasn't sure she was strong enough. A ballerina who has danced many demanding full-length and contemporary roles, she was about to push herself physically more than she thought was possible.
"I said, 'I can't. My body won't,' " she says. "He told me, 'Yes, it will.' "
She wasn't working with a ballet coach, but with personal trainer Joel Prouty, who was asking her to do squats with a heavier barbell than she'd ever used.
Keep reading...
Show less
Left: Hurricane Harvey damage in Houston Ballet's Dance Lab; Courtesy Harlequin. Right: The Dance Lab pre-Harvey; Nic Lehoux, Courtesy Houston Ballet.
"The show must go on" may be a platitude we use to get through everything from costume malfunctions to stormy moods. But when it came to overcoming a literal hurricane, Houston Ballet was buoyed by this mantra to go from devastated to dancing in a matter of weeks—with the help of Harlequin Floors, Houston Ballet's longstanding partner who sprang into action to build new floors in record time.
Keep reading...
Show less
Alicia Alonso with Igor Youskevitch. Sedge Leblang, Courtesy Dance Magazine Archives.
Her Dying Swan was as fragile as her Juliet was rebellious; her Odile, scheming, her Swanilda, insouciant. Her Belle was joyous, and her Carmen, both brooding and full-blooded. But there was one role in particular that prompted dance critic Arnold Haskell to ask, "How do you interpret Giselle when you are Giselle?"
At eight, Alicia Alonso took her first ballet class on a stage in her native Cuba, wearing street clothes. Fifteen years later, put in for an ailing Alicia Markova in a performance of Giselle with Ballet Theatre, she staked her claim to that title role.
Alonso received recognition throughout the world for her flawless technique and her ability to become one with the characters she danced, even after she became nearly blind. After a career in New York, she and her then husband Fernando Alonso established the Cuban National Ballet and the Cuban National Ballet School, both of which grew into major international dance powerhouses and beloved institutions in their home country. On October 17, the company announced that, after leading the company for a remarkable 71 years, Alonso died from cardiovascular disease at the age of 98.
Keep reading...
Show less
News
Oct. 17, 2019 02:02PM EST
Rauf "RubberlLegz" Yasit and Parvaneh Scharafali. Photo by Mohamed Sadek, courtesy The Shed
William Forsythe is bringing his multi-faceted genius to New York City in stripped down form. His "Quiet Evening of Dance," a mix of new and recycled work now at The Shed until October 25, is co-commissioned with Sadler's Wells in London (and a slew of European presenters).
As always, Forsythe's choreography is a layered experience, both kinetic and intellectual. This North American premiere prompted many thoughts, which I whittled down to seven.
Keep reading...
Show less