How Choreographer Joshua L. Peugh Is Pushing Past Queer Archetypes in Texas & Beyond
Peugh in rehearsal with his Dark Circles Contemporary Dance. Photo by Daley Kappenman, Courtesy DCCD
With his honest, idiosyncratic movement, Joshua L. Peugh often tells untold stories through dance. He's reimagined The Rite of Spring, for instance, at a mid-century prom with the sacrificial virgin taking the form of a young man in drag.
---
On top of running his Dallas-based Dark Circles Contemporary Dance, Peugh, 34, has also created highly theatrical pieces for BODYTRAFFIC, BalletX, Whim W'Him and other troupes. His recent work takes a more serious turn, exploring Arab identities in Aladdin, Habibi and myths of masculinity and LGBT themes in Bud.
He recently spoke to Dance Magazine to share the ins-and-outs of his creative process.
How He Comes Up With Such Fascinating Ideas for Dances
"I am interested in 'the human comedy,' why we do some of the curious things we do and what makes us act in contradictory ways. I encourage dancers to let go of theatricality and let the story and their messy humanity come through the movement itself. "
"My ultimate desire is to reframe questions instead of providing answers."
Why He's Going Deeper Into LGBT Themes in His Latest Work
"I didn't plan it this way, but this season we are a company of mostly queer dancers. So now I am not asking them to tell my story, it's their story too. Most choreographers who are queer spend the majority of their time creating hetero-normative choreography featuring male/female partnering. I want to represent my tribe, our needs and desires. Push past some of the queer archetypes represented in mainstream media and give them more depth. LGBT stories told by LGBT people in an authentic, truthful way."
"Since the local football stadium's lights lit up my family's front lawn, I literally grew up under the Friday Night Lights. In Bud I collaborated with Brian Kenny, a queer multimedia artist and my best friend from high school. We are exploring rituals of masculinity and the fear and shame we felt as closeted teenagers, while also celebrating our friendship."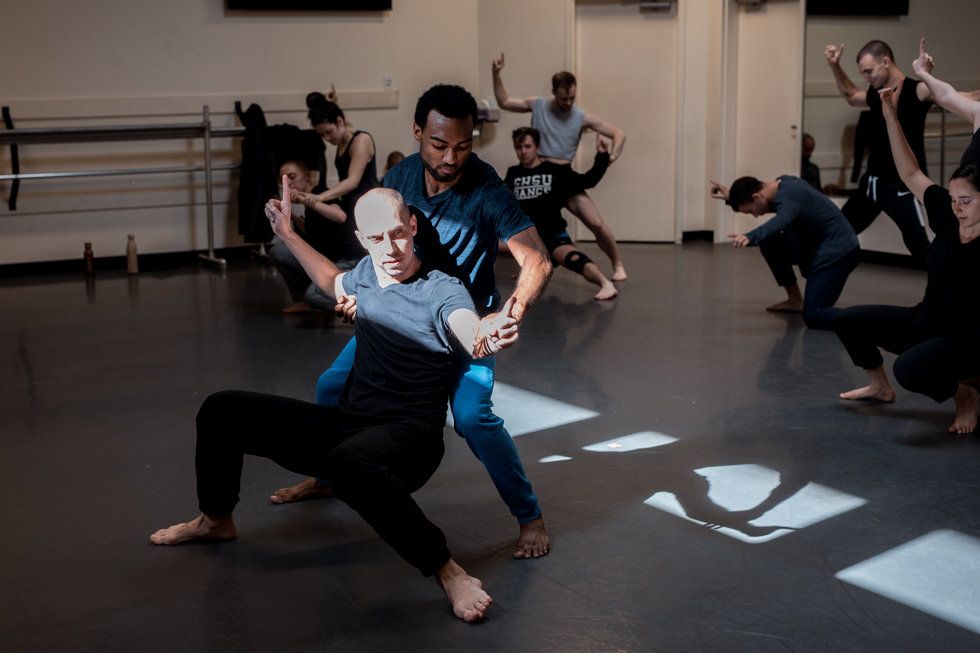 Daley Kappenman
How Ohad Shaped Him
"Ohad Naharin is a huge influence when it comes to generating movement. One of his dancers began setting Minus 7 my first day at Korea's Universal Ballet in 2006, and when Ohad arrived a few weeks later to put the final touches on, he selected me to do the intermission improvisation, shocking the more experienced company members. His faith in my imagination and him giving me permission to follow my own personal fantasy unlocked something in me. His way of working gave me access to parts of my body and my mind that I had been neglecting. He reminded me of the pleasure of dancing."
The Influence of Theater
"Growing up in New Mexico, I was a total musical theater kid, and I thought that was my path. I am interested in acting methods. My high school theater teacher studied with Sanford Misner. Right now I'm very excited about ViewPoints, which is based in movement and the experience of letting things happen. Both Misner and ViewPoints train you to be present; to listen first and then respond. Gaga does the same thing. All of these influences have infiltrated and enhanced my creative process."
His Creations Are Team Efforts
"For Aladdin, Habibi, we made a list of plot points and each dancer made a movement to one plot point, We built the opening section that way. My dancers are available to follow their instincts. Watching each other helps disrupt our habitual patterns."
What It's Like Balancing a Company and Outside Commissions
"When I'm away on a commission, I'm able to get a lot done for Dark Circles because I'm not worried about day-to-day things. I don't have to worry about fundraising, morale issues, scheduling. I get to concentrate on the work I am creating. I get to be more present. The dancers I work with in other places who don't train with me on a daily basis, who can't easily anticipate what I might do next, remind me of colors on my palette that I may not have used in awhile. I always come home fired up and ready to push my company in new directions."
From Your Site Articles
Related Articles Around the Web
Amber Gray and Patrick Page. Photo by Matthew Murphy, Courtesy Hadestown
There's a rare moment in Broadway's Hadestown where the audience is able to breathe a sigh of relief. The smash-hit success is not well-known for being light-hearted or easy-going; Hadestown is a show full of workers and walls and, well, the second act largely takes place in a slightly modernized version of hell.
But deep into the second act, the show reaches a brief homeostasis of peace, one of those bright, shining moments that allows the audience to think "maybe it will turn out this time," as the character Hermes keeps suggesting.
After songs and songs of conflict and resentment, Hades, the king of the underground, and his wife, the goddess Persephone, rekindle their love. And, unexpectedly, they dance. It's one of the most compelling moments in the show.
Keep reading...
Show less
Ailey II artistic director Troy Powell teaching an Ailey Workshop at NYCDA. Courtesy NYCDA
Back in 2011 when Joe Lanteri first approached Katie Langan, chair of Marymount Manhattan College's dance department, about getting involved with New York City Dance Alliance, she was skeptical about the convention/competition world.
"But I was pleasantly surprised by the enormity of talent that was there," she says. "His goal was to start scholarship opportunities, and I said okay, I'm in."
Today, it's fair to say that Lanteri has far surpassed his goal of creating scholarship opportunities. But NYCDA has done so much more, bridging the gap between the convention world and the professional world by forging a wealth of partnerships with dance institutions from Marymount to The Ailey School to Complexions Contemporary Ballet and many more. There's a reason these companies and schools—some of whom otherwise may not see themselves as aligned with the convention/competition world—keep deepening their relationships with NYCDA.
Now, college scholarships are just one of many ways NYCDA has gone beyond the typical weekend-long convention experience and created life-changing opportunities for students. We rounded up some of the most notable ones:
Keep reading...
Show less
News
Oct. 22, 2019 05:27PM EST
Amber Star Merkens, Courtesy Mark Morris Dance Group
There's always been something larger than life about choreographer Mark Morris. Of course, there are the more than 150 works he's made and that incisive musicality that makes dance critics drool. But there's also his idiosyncratic, no-apologies-offered personality, and his biting, no-holds-barred wit. And, well, his plan to keep debuting new dances even after he's dead.
So it should come as little surprise that his latest distinction is also a bit larger than life: The New York Landmarks Conservancy is adding Morris to its list of "Living Landmarks."
Keep reading...
Show less
Left: Hurricane Harvey damage in Houston Ballet's Dance Lab; Courtesy Harlequin. Right: The Dance Lab pre-Harvey; Nic Lehoux, Courtesy Houston Ballet.
"The show must go on" may be a platitude we use to get through everything from costume malfunctions to stormy moods. But when it came to overcoming a literal hurricane, Houston Ballet was buoyed by this mantra to go from devastated to dancing in a matter of weeks—with the help of Harlequin Floors, Houston Ballet's longstanding partner who sprang into action to build new floors in record time.
Keep reading...
Show less