What It's Like to Take Class From Judith Jamison
Judith Jamison Workshop Celebrating Alvin Ailey. Photo by Tiba Vieira
When you're offered a chance to take a class with Judith Jamison, you don't say no.
The company's beloved artistic director emerita rarely teaches open classes. But to celebrate the legacy of Alvin Ailey on what would have been his 87th birthday, she gave a special two-hour workshop at the Ailey Extension on Friday night. I had to try it, even though I was desperately hoping that she wouldn't make us do any Horton coccyx balances. (Spoiler alert: She did.)
So what's it like to take class with the larger-than-life icon?
---
She's Serious About Honoring Our Elders
In addition to teaching the class snippets of phrases from Ailey's Revelations, Jamison gave us combinations that drew on other historic choreographers who contributed to the company, like Talley Beatty and Pearl Primus. She'd infuse her directions with a bit of dance history, without ever slowing down the pace of class—after asking if everyone knew who Primus was, to anyone who said no, she saucily responded, "Google it."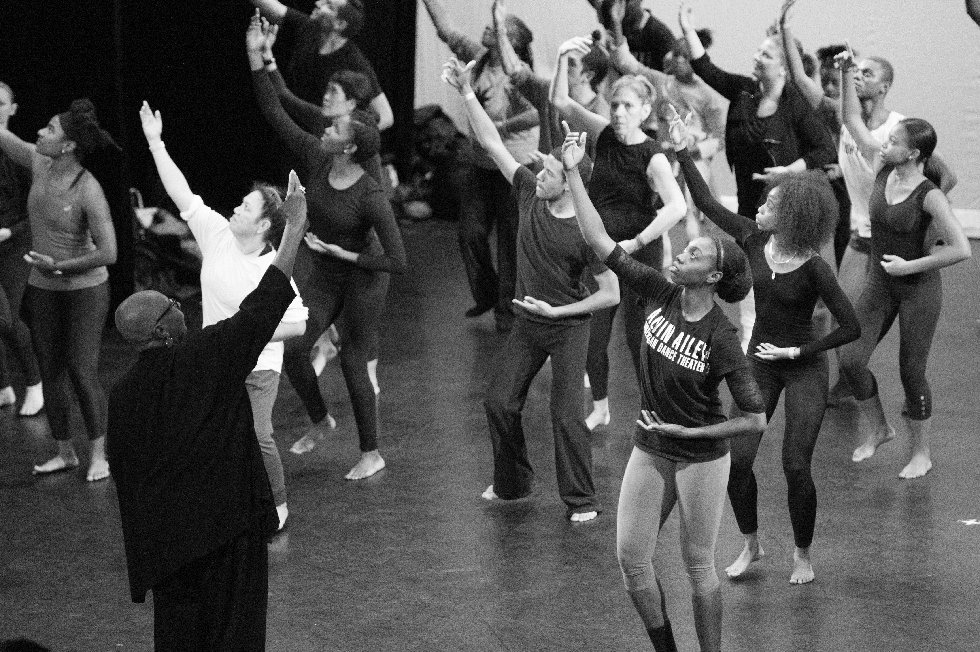 Jamison taught a triplet exercise she learned from Pearl Primus. Photo by Tiba Vieira
She Treats Everyone in the Room Equally
The all-levels workshop included former Ailey star Renee Robinson and dancers from Ailey II working right alongside novices in their 50s and energetic kids so flexible that they could fool you into thinking they had no hamstrings. Jamison approached every student equally. She offered corrections for anyone on the Marley who wanted to learn. Without talking down to those with less experience, she made sure that everyone was pushing for their own version of excellence.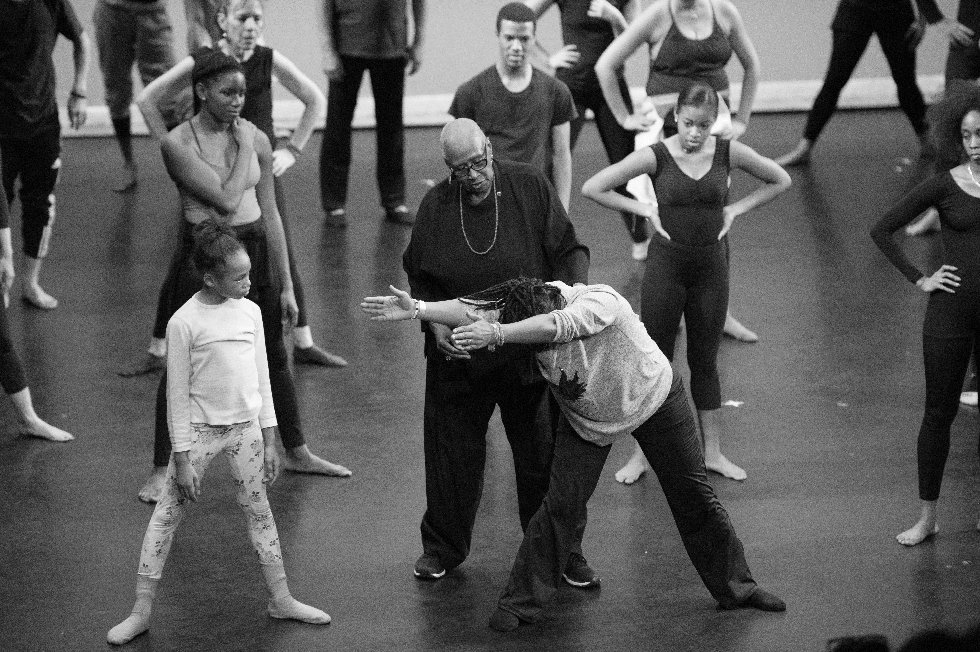 Jamison corrected anyone she saw trying hard. Photo by Tiba Viera


She Highlights The Power of Strength in Simplicity
For being director emerita of a company as slick and virtuosic as Ailey, it surprised me that many of Jamison's notes had to do with simplifying movement down to its basics. Hand gestures were not to be "too lace-y," torso undulations had nothing to do with the shoulders. Jamison was looking for a straightforward presentation that connected to the audience, with genuine intention and eye contact.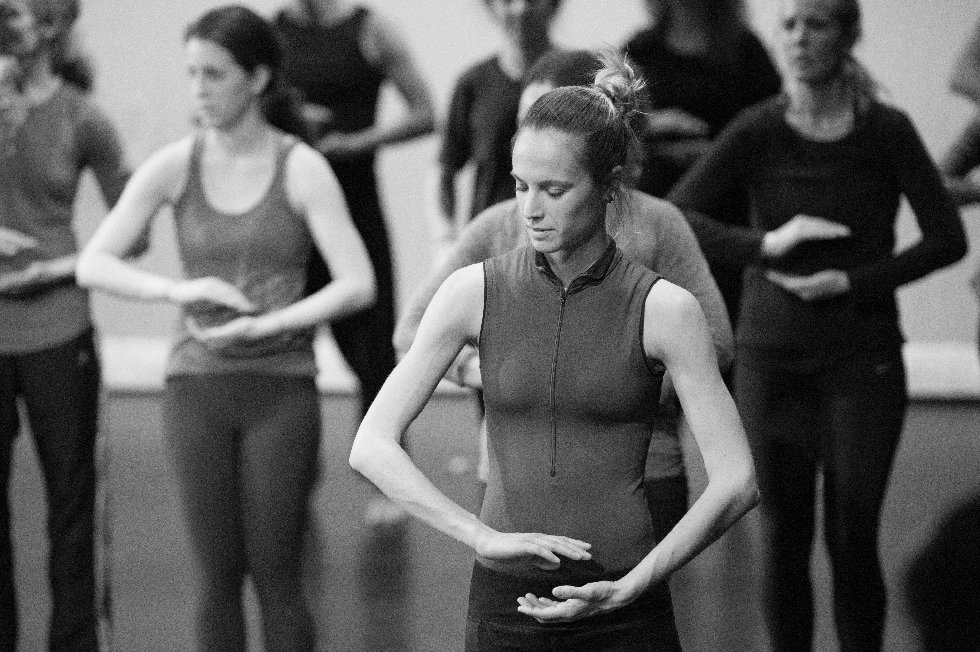 Gestures were to be as straightforward as possible, with nothing extra. Photo by Tiba Viera


She Taught Us That the Sacred Can Get Something Out of the Secular
Although we learned phrases from Revelations, instead of playing the iconic gospel score, Jamison had us practice the movements to funk hits to help us loosen up and capture the grooviness of the movement. It worked.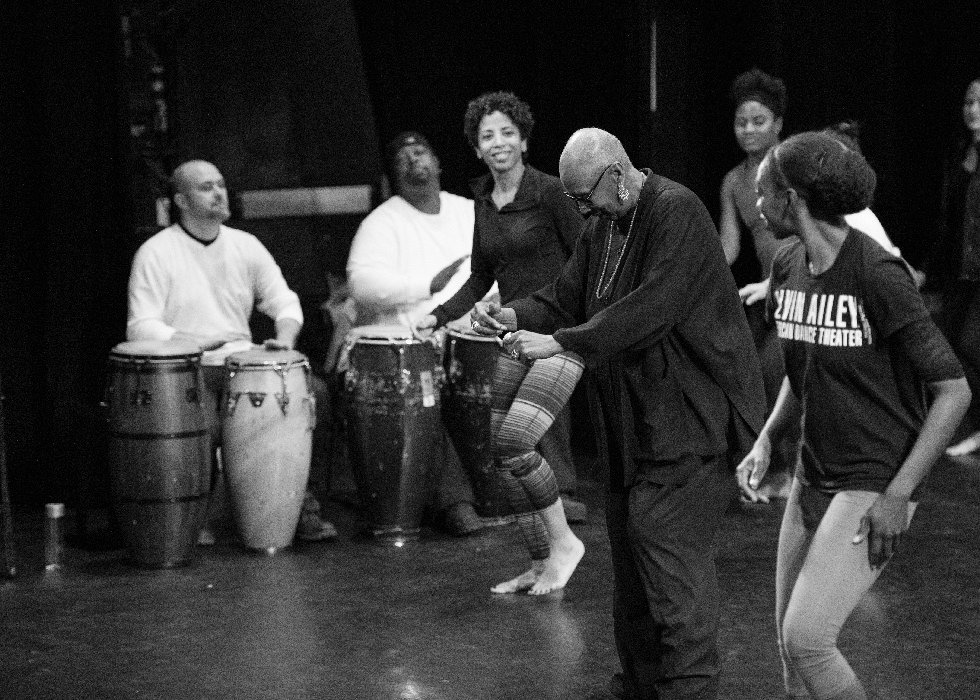 Jamison demonstrates how to groove. Photo by Tiba Viera


She Has a Reverential Love of Dancers
Throughout the class, Jamison gave careful attention to how all the students were feeling, pausing at one point when a dancer's calf cramped up. She treated even the least experienced physiques with the utmost respect. It made sense later when, during a Q&A, someone asked her about the electric response audiences have to company performances:
"It's about identification with the dancers, and Alvin's appreciation of those dancers," she said. "To him, dancers were gold. They're a treasure. He saw rehearsal as a sacred space, and the stage was a sacred space to share with the audience."
And for all of her many accomplishments, what she professed to be the "greatest joy" in her life was not building on Alvin's legacy, running the Ailey company, or debuting works like Cry. It's passing those works on to other dancers.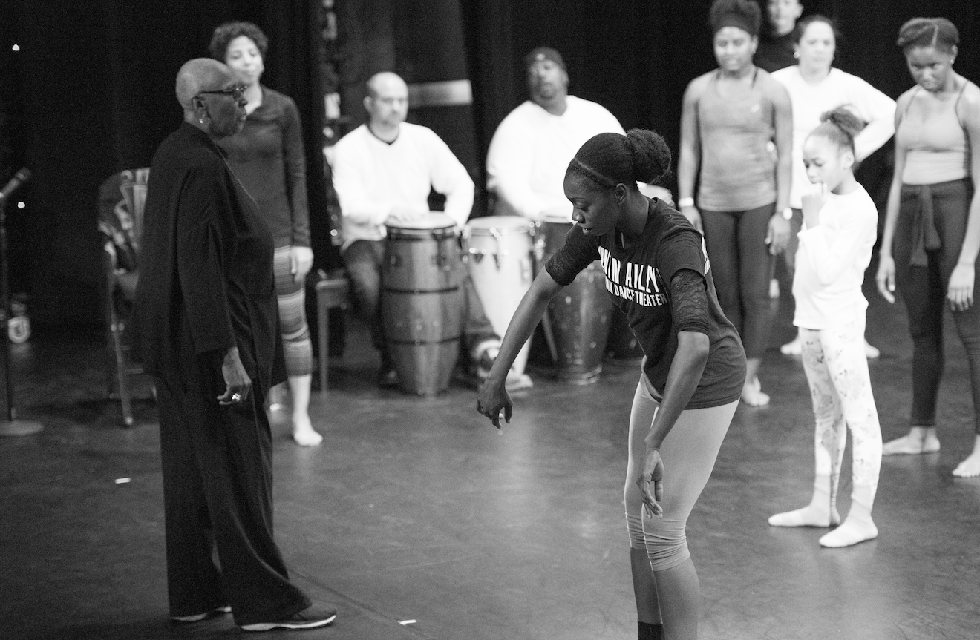 Ailey II dancer Khalia Campbell demonstrates during Judith Jamison Workshop Celebrating Alvin Ailey. Photo by Tiba Vieira
Related Articles Around the Web
Dance in Pop Culture
May. 25, 2018 01:48PM EST
Ne-Yo, Jennifer Lopez and Derek Hough return to "World of Dance" on May 29
Season 2 of World of Dance is almost here! The new season officially kicks off on Tuesday on NBC, and it's bringing a whole new crew of talented dancers with it (plus, some old favorites). Dance pro judges Jennifer Lopez, Derek Hough and Ne-Yo are back, too, with Jenna Dewan serving as the show's host.
Obviously we'll be watching, but just in case you're not completely sold, here's why you're not going to want to miss out:
JLo Might Be Performing
Earlier this week, JLo (who serves as the show's executive producer) posted this insane promo clip to her Instagram. Dancing to a mashup of Cardi B's "Bodak Yellow" and her new single "Dinero," JLo reminded us all of her dance skills while also leading us to believe she might just hit the stage herself for a performance.

Keep reading...
Show less
May. 25, 2018 12:14PM EST
Travis Wall draws inspiration from dancers Tate McCrae, Timmy Blankenship and more.
One often-overlooked relationship that exists in dance is the relationship between choreographer and muse. Recently two-time Emmy Award Winner Travis Wall opened up about his experience working with dancers he considers to be his muses.
"My muses in choreography have evolved over the years," says Wall. "When I'm creating on Shaping Sound, our company members, my friends, are my muses. But at this current stage of my career, I'm definitely inspired by new, fresh talent."
Wall adds, "I'm so inspired by this new generation of dancers. Their teachers have done such incredible jobs, and I've seen these kids grown up. For many of them, I've had a hand in their exposure to choreography."

Keep reading...
Show less
Rant & Rave
May. 23, 2018 04:25PM EST
Jessica Lang's Her Notes, one of ABT's few recent commissions from women. Photo by Rosalie O'Connor
A few weeks ago, American Ballet Theatre announced the A.B.T. Women's Movement, a new program that will support three women choreographers per season, one of whom will make work on the main company.
"The ABT Women's Movement takes inspiration from the groundbreaking female choreographers who have left a lasting impact on ABT's legacy, including Agnes de Mille and Twyla Tharp," said artistic director Kevin McKenzie in a press release.
Hypothetically, this is a great idea. We're all for more ballet commissions for women. But the way ABT has promoted the initiative is problematic.
Keep reading...
Show less
News
May. 18, 2018 12:05PM EST
The inimitable Alicia Alonso, now 97, remains at the helm of Ballet Nacional de Cuba. Photo by Leysis Quesada, Courtesy BNC
On the occasion of its 70th anniversary, the Ballet Nacional de Cuba tours the U.S. this spring with the resolute Cuban prima ballerina assoluta Alicia Alonso a the helm. Named a National Hero of Labor in Cuba, Alonso, 97, has weathered strained international relations and devastating fiscal challenges to have BNC emerge as a world-class dance company. Her dancers are some of ballet's best. On offer this time are Alonso's Giselle and Don Quixote. The profoundly Cuban company performs in Chicago May 18–20, Tampa May 23, Washington, D.C., May 29–June 3 and Saratoga, New York June 6–8.
Courtesy Soffe, Dicsount Dance Supply, Danskin. LeaMarie leotard photographed by Jayme Thornton
Considering we practically live in our dance clothes, there's really no such thing as having too many leotards, tights or leggings (no matter what our mom or friends say!). That's why we treat every sale as an opportunity to stock up. And thanks to the holiday weekend, you can shop all of your dancewear go-tos or try something totally new for as much as 50% less than the usual price.
Here are the eight sales we're most excited about—from online options to in-store retailers that will help you find the perfect fit. Happy Memorial Day (and shopping)!
Now through Monday, Danskin's site will automatically take 25% off your entire purchase at checkout. Even new items like their Pintuck Detail Floral Print Sports Bra and Pintuck Detail Legging (pictured here) are fair game.
Keep reading...
Show less
News
May. 25, 2018 12:38PM EST
Ailey dancers and stagehands rallied together yesterday. Photo by Jen Peters
"The sun may be shining brightly, but we are not in a very sunny mood today!" said New York State assemblywoman Linda Rosenthal during yesterday's rally for the Artists of Ailey.
The dancers and stage crew are demanding increased wages and more comprehensive benefits, what they have termed "reaching for the standard" and "fair wages."
Keep reading...
Show less


Get Dance Magazine in your inbox