Why Mean Girls' Kamille Upshaw Spends an Hour Meal Prepping After Performances
Courtesy Upshaw
Kamille Upshaw is no stranger to getting through eight shows a week. The Hamilton alum, who currently performs in Mean Girls, knows what her body needs to perform at its best: vegetables, protein, healthy carbs, but also greasy pizza and treats that please her sweet tooth.
We checked in with her for Dance Magazine's "What Dancers Eat" series to find out the fueling secrets that keep her performances so fetch.
---
On her food philosophy:
"I always try to figure out how to satisfy my stomach in the healthiest way possible. I eat all meat, vegetables and good carbs—brown rice, quinoa, sweet potatoes. I try to buy organic produce and non-farm-fed meat. This gives me leeway to never hesitate to indulge my sweet tooth or my craving for a greasy slice of pepperoni pizza!"
What a typical day of meals looks like: 
Breakfast: "A bowl of oatmeal with raspberries, blueberries & agave. Two scrambled eggs and bacon."
Lunch: "Lots of snacking! Sliced cucumbers with balsamic vinegar, olive oil and a little salt and pepper. Some popcorn and almonds."
Dinner: "I pick a protein and then usually pair it with brown rice and a vegetable. Lately I've been into lots of roasted veggies!"
Her day off treat: 
"I like to think my day off—yes I said 'day' as in a singular day—is my free day! I treat myself to whatever I am craving. Most of the time it's Popeyes or a really good pasta dish. Every other day, my eating habits are clean and healthy so that I can provide my body with the correct nutrients during an eight-shows-a-week schedule."
Her go-to backstage snacks: 
"Pretzels and any trail mix."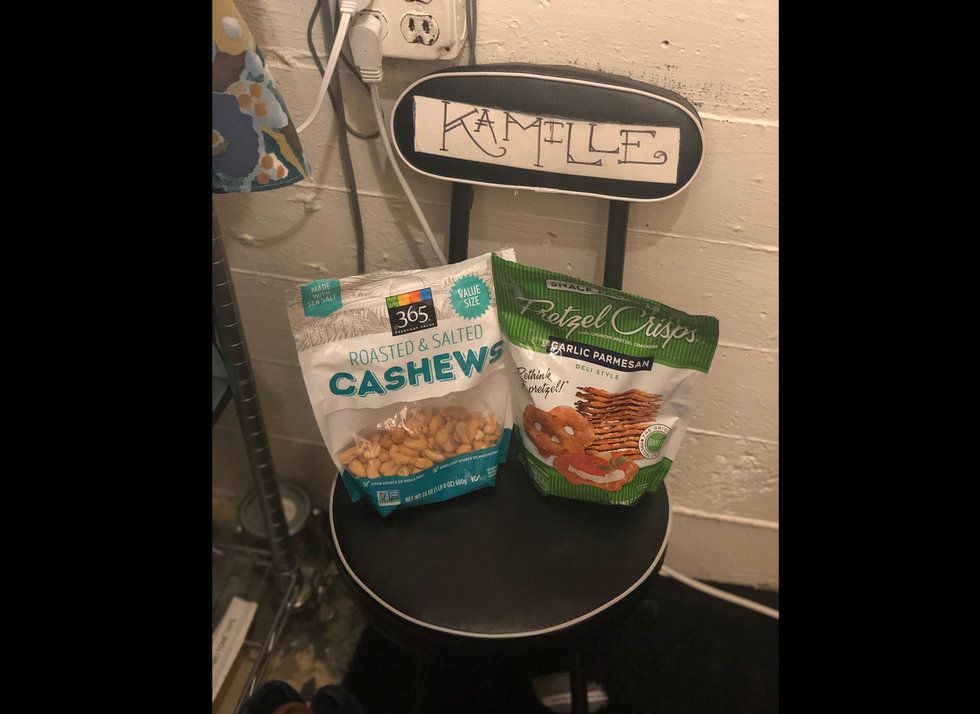 Why she loves cooking late at night: 
"Cooking is very therapeutic for me. I usually will do a meal-prep cooking hour right after I get home from my shows at night. It's the best way to wind down and still do something productive. Nothing is more relaxing than chopping vegetables with a glass of wine and some good music!
"My favorite thing to cook is roasted vegetables (carrots, green peppers, red peppers, onions, snow peas and eggplant), paired with some kielbasa, brown rice/quinoa mix, topped with goat cheese! It's a very easy dish to cook, and I usually can make it last for three meals."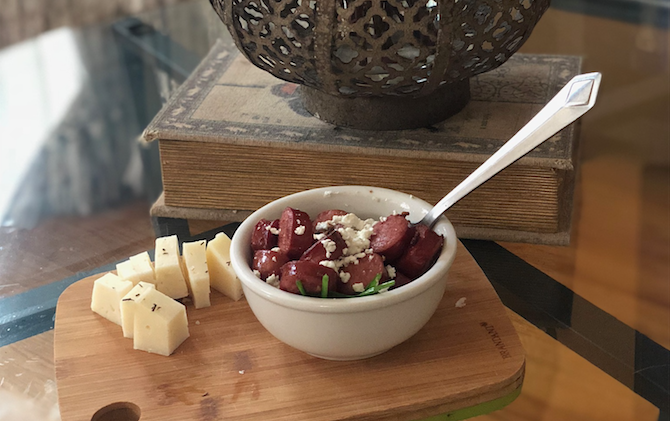 Upshaw's kielbasa with roasted vegetables and goat cheese
Her kitchen must-haves:
"This may sound odd, but I love onions. They can make any dish more flavorful. I usually sauté them in olive oil and then add anything else in the pan.
"The only other thing that's consistently in my kitchen is eggs. I love them for breakfast, but they can be a good snack when boiled to get some solid protein."
Her favorite treat: 
"The Milk Bar B'Day Truffle balls. If you haven't had them, go get them now! It's like eating cookie dough but not the raw egg part. Trust me, you will not be disappointed."
The one food she can't stand: 
"I think figs are so disgusting—and I have given them a fair try multiple times.
"Other than that, I have a very well versed palate. I owe that to my nana and mom! They were always encouraging me to try new foods at a young age."
Her favorite place to go out to eat:
"I am in love with the sea scallop dish at Ocean Prime. They are always cooked perfectly and accompanied by Parmesan risotto, English peas and citrus vinaigrette.
"Or, when I am trying to not be fancy and have something more reasonably priced, my go-to is Ponty Bistro, in Harlem. They have a killer linguini alla scampi. It feeds all my pasta dreams."
Related Articles Around the Web
From Your Site Articles
Just for Fun
Jul. 16, 2019 02:13PM EST
As Dance Magazine editors, we admittedly spend more time than we'd like sifting through stock photography. Some of it is good, more of it is bad and most of it is just plain awkward.
But when paired with the right caption, those shots magically transform from head-scratchers to meme-worthy images that illustrate our singular experience as dancers. You can thank the internet for this special salute to dancer moods.
Keep reading...
Show less
Wayne McGregor. Photo by Johan Persson, Courtesy ROH
It's no surprise that dancers make some of the best TED Talk presenters. Not only are they great performers, but they've got unique knowledge to share. And they can dance!
If you're in need of a midweek boost, look no further than these eight presentations from some incredibly inspiring dance artists.
Keep reading...
Show less
News
Jul. 16, 2019 03:58PM EST
Including this extraordinary Travis Wall number for "So You Think You Can Dance" (Adam Rose/FOX)
The Primetime Emmy Award nominations are out! Congrats to the seven choreographers who earned nods for their exceptional TV work this year. Notably, that work was made for just two shows, "So You Think You Can Dance" and "World of Dance."
And there was a particularly remarkable snub: While the dance-filled hit "Fosse/Verdon" earned 17 nominations across many of the major categories, Andy Blankenbuehler's fabulous Fosse remixes weren't recognized in the Outstanding Choreography field.
Here are all the dance routines up for Emmys:
Keep reading...
Show less

abezikus/Getty Images
"Dancers can do everything these days," I announced to whoever was in earshot at the Jacob's Pillow Archives during a recent summer. I had just been dazzled by footage of a ballet dancer performing hip hop, remarkably well. But my very next thought was, What if that isn't always a good thing? What if what one can't do is the very thing that lends character?
Keep reading...
Show less