Why Mean Girls' Kamille Upshaw Spends an Hour Meal Prepping After Performances
Courtesy Upshaw
Kamille Upshaw is no stranger to getting through eight shows a week. The Hamilton alum, who currently performs in Mean Girls, knows what her body needs to perform at its best: vegetables, protein, healthy carbs, but also greasy pizza and treats that please her sweet tooth.
We checked in with her for Dance Magazine's "What Dancers Eat" series to find out the fueling secrets that keep her performances so fetch.
---
On her food philosophy:
"I always try to figure out how to satisfy my stomach in the healthiest way possible. I eat all meat, vegetables and good carbs—brown rice, quinoa, sweet potatoes. I try to buy organic produce and non-farm-fed meat. This gives me leeway to never hesitate to indulge my sweet tooth or my craving for a greasy slice of pepperoni pizza!"
What a typical day of meals looks like: 
Breakfast: "A bowl of oatmeal with raspberries, blueberries & agave. Two scrambled eggs and bacon."
Lunch: "Lots of snacking! Sliced cucumbers with balsamic vinegar, olive oil and a little salt and pepper. Some popcorn and almonds."
Dinner: "I pick a protein and then usually pair it with brown rice and a vegetable. Lately I've been into lots of roasted veggies!"
Her day off treat: 
"I like to think my day off—yes I said 'day' as in a singular day—is my free day! I treat myself to whatever I am craving. Most of the time it's Popeyes or a really good pasta dish. Every other day, my eating habits are clean and healthy so that I can provide my body with the correct nutrients during an eight-shows-a-week schedule."
Her go-to backstage snacks: 
"Pretzels and any trail mix."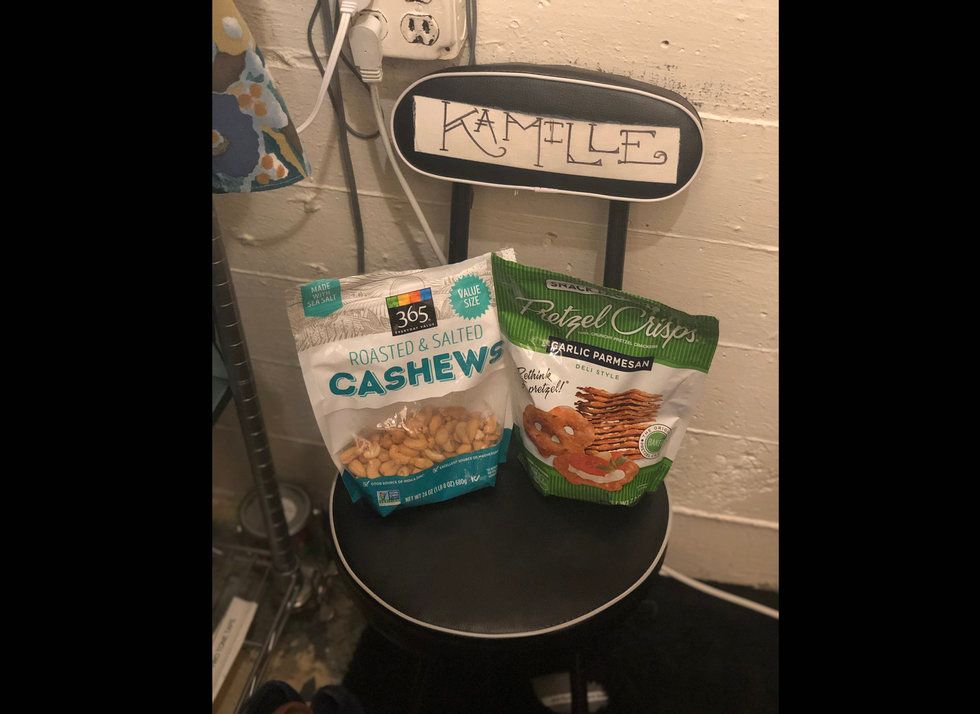 Why she loves cooking late at night: 
"Cooking is very therapeutic for me. I usually will do a meal-prep cooking hour right after I get home from my shows at night. It's the best way to wind down and still do something productive. Nothing is more relaxing than chopping vegetables with a glass of wine and some good music!
"My favorite thing to cook is roasted vegetables (carrots, green peppers, red peppers, onions, snow peas and eggplant), paired with some kielbasa, brown rice/quinoa mix, topped with goat cheese! It's a very easy dish to cook, and I usually can make it last for three meals."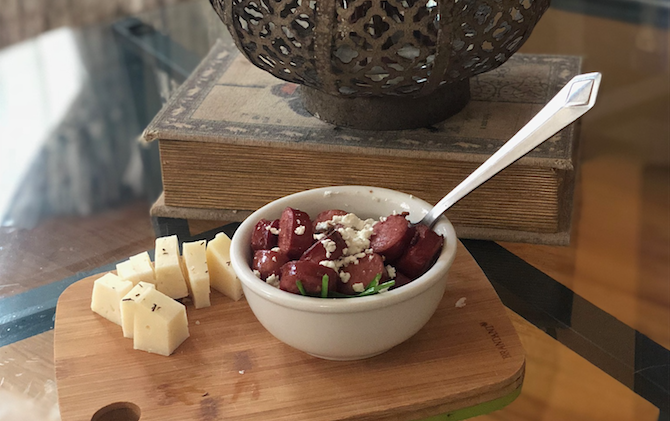 Upshaw's kielbasa with roasted vegetables and goat cheese
Her kitchen must-haves:
"This may sound odd, but I love onions. They can make any dish more flavorful. I usually sauté them in olive oil and then add anything else in the pan.
"The only other thing that's consistently in my kitchen is eggs. I love them for breakfast, but they can be a good snack when boiled to get some solid protein."
Her favorite treat: 
"The Milk Bar B'Day Truffle balls. If you haven't had them, go get them now! It's like eating cookie dough but not the raw egg part. Trust me, you will not be disappointed."
The one food she can't stand: 
"I think figs are so disgusting—and I have given them a fair try multiple times.
"Other than that, I have a very well versed palate. I owe that to my nana and mom! They were always encouraging me to try new foods at a young age."
Her favorite place to go out to eat:
"I am in love with the sea scallop dish at Ocean Prime. They are always cooked perfectly and accompanied by Parmesan risotto, English peas and citrus vinaigrette.
"Or, when I am trying to not be fancy and have something more reasonably priced, my go-to is Ponty Bistro, in Harlem. They have a killer linguini alla scampi. It feeds all my pasta dreams."
From Your Site Articles
Related Articles Around the Web
Chantelle Pianetta competing at a West Coast swing event. Courtesy Pianetta.
Just hearing the word "improvisation" is enough to make some ballet dancers shake in their pointe shoes. But for Chantelle Pianetta, it's a practice she relishes. Depending on the weekend, you might find her gracing Bay Area stages as a principal with Menlowe Ballet or sweeping in awards at West Coast swing competitions.

She specializes in Jack and Jill events, which involve improvised swing dancing with an unexpected partner in front of a panel of judges. (Check her out in action below.) While sustaining her ballet career, over the past four years Pianetta has quickly risen from novice to champion level on the WCS international competition circuit.
Keep reading...
Show less
Jayme Thornton
Sean Dorsey was always going to be an activist. Growing up in a politically engaged, progressive family in Vancouver, British Columbia, "it was my heart's desire to create change in the world," he says. Far less certain was his future as a dancer.
Like many dancers, Dorsey fell in love with movement as a toddler. However, he didn't identify strongly with any particular gender growing up. Dorsey, who now identifies as trans, says, "I didn't see a single person like me anywhere in the modern dance world." The lack of trans role models and teachers, let alone all-gender studio facilities where he could feel safe and welcome, "meant that even in my wildest dreams, there was no room for that possibility."
Keep reading...
Show less
Getty Images
It's hour three of an intense rehearsal, you're feeling mentally foggy and exhausted, and your stomach hurts. Did you know the culprit could be something as simple as dehydration?
Proper hydration helps maintain physical and mental function while you're dancing, and keeps your energy levels high. But with so many products on the market promising to help you rehydrate more effectively, how do you know when it's time to reach for more than water?
Keep reading...
Show less