Why Mean Girls' Kamille Upshaw Spends an Hour Meal Prepping After Performances
Courtesy Upshaw
Kamille Upshaw is no stranger to getting through eight shows a week. The Hamilton alum, who currently performs in Mean Girls, knows what her body needs to perform at its best: vegetables, protein, healthy carbs, but also greasy pizza and treats that please her sweet tooth.
We checked in with her for Dance Magazine's "What Dancers Eat" series to find out the fueling secrets that keep her performances so fetch.
---
On her food philosophy:
"I always try to figure out how to satisfy my stomach in the healthiest way possible. I eat all meat, vegetables and good carbs—brown rice, quinoa, sweet potatoes. I try to buy organic produce and non-farm-fed meat. This gives me leeway to never hesitate to indulge my sweet tooth or my craving for a greasy slice of pepperoni pizza!"
What a typical day of meals looks like: 
Breakfast: "A bowl of oatmeal with raspberries, blueberries & agave. Two scrambled eggs and bacon."
Lunch: "Lots of snacking! Sliced cucumbers with balsamic vinegar, olive oil and a little salt and pepper. Some popcorn and almonds."
Dinner: "I pick a protein and then usually pair it with brown rice and a vegetable. Lately I've been into lots of roasted veggies!"
Her day off treat: 
"I like to think my day off—yes I said 'day' as in a singular day—is my free day! I treat myself to whatever I am craving. Most of the time it's Popeyes or a really good pasta dish. Every other day, my eating habits are clean and healthy so that I can provide my body with the correct nutrients during an eight-shows-a-week schedule."
Her go-to backstage snacks: 
"Pretzels and any trail mix."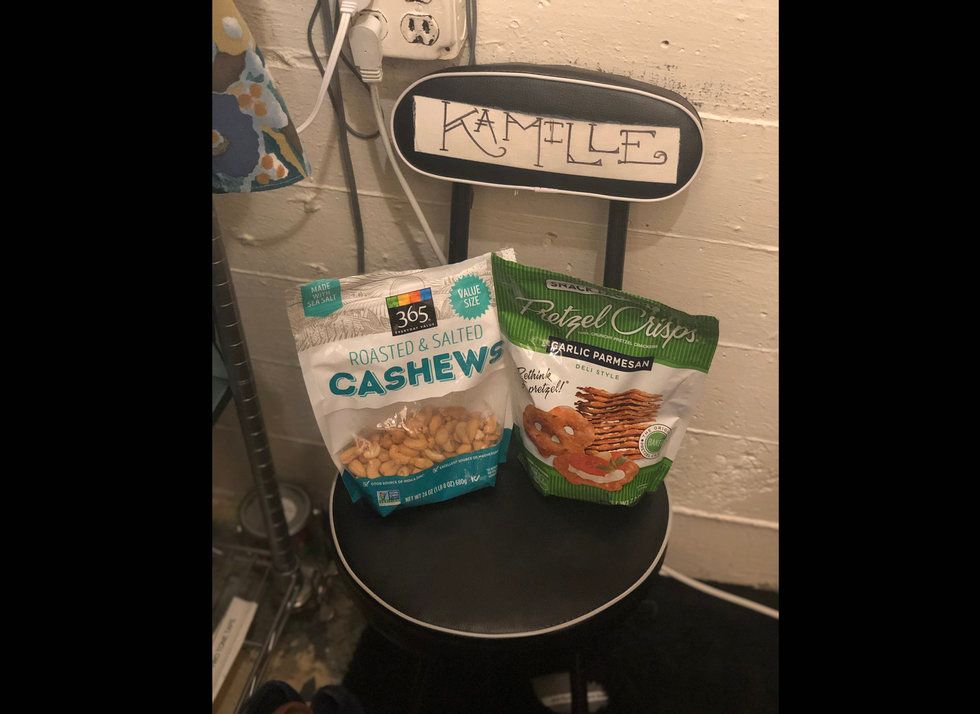 Why she loves cooking late at night: 
"Cooking is very therapeutic for me. I usually will do a meal-prep cooking hour right after I get home from my shows at night. It's the best way to wind down and still do something productive. Nothing is more relaxing than chopping vegetables with a glass of wine and some good music!
"My favorite thing to cook is roasted vegetables (carrots, green peppers, red peppers, onions, snow peas and eggplant), paired with some kielbasa, brown rice/quinoa mix, topped with goat cheese! It's a very easy dish to cook, and I usually can make it last for three meals."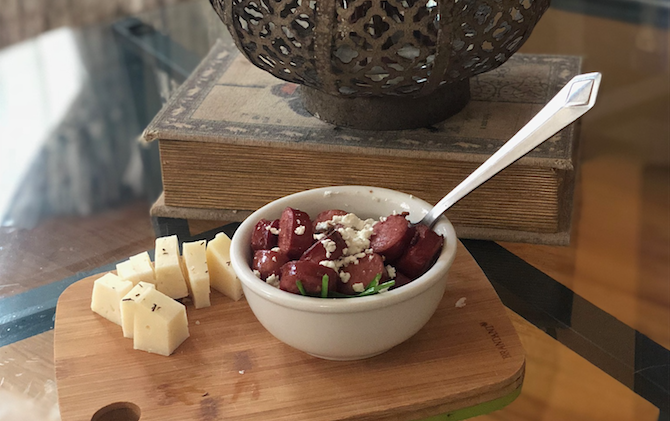 Upshaw's kielbasa with roasted vegetables and goat cheese
Her kitchen must-haves:
"This may sound odd, but I love onions. They can make any dish more flavorful. I usually sauté them in olive oil and then add anything else in the pan.
"The only other thing that's consistently in my kitchen is eggs. I love them for breakfast, but they can be a good snack when boiled to get some solid protein."
Her favorite treat: 
"The Milk Bar B'Day Truffle balls. If you haven't had them, go get them now! It's like eating cookie dough but not the raw egg part. Trust me, you will not be disappointed."
The one food she can't stand: 
"I think figs are so disgusting—and I have given them a fair try multiple times.
"Other than that, I have a very well versed palate. I owe that to my nana and mom! They were always encouraging me to try new foods at a young age."
Her favorite place to go out to eat:
"I am in love with the sea scallop dish at Ocean Prime. They are always cooked perfectly and accompanied by Parmesan risotto, English peas and citrus vinaigrette.
"Or, when I am trying to not be fancy and have something more reasonably priced, my go-to is Ponty Bistro, in Harlem. They have a killer linguini alla scampi. It feeds all my pasta dreams."
From Your Site Articles
Related Articles Around the Web
Alicia Alonso with Igor Youskevitch. Sedge Leblang, Courtesy Dance Magazine Archives.
Her Dying Swan was as fragile as her Juliet was rebellious; her Odile, scheming, her Swanilda, insouciant. Her Belle was joyous, and her Carmen, both brooding and full-blooded. But there was one role in particular that prompted dance critic Arnold Haskell to ask, "How do you interpret Giselle when you are Giselle?"
At eight, Alicia Alonso took her first ballet class on a stage in her native Cuba, wearing street clothes. Fifteen years later, put in for an ailing Alicia Markova in a performance of Giselle with Ballet Theatre, she staked her claim to that title role.
Alonso received recognition throughout the world for her flawless technique and her ability to become one with the characters she danced, even after she became nearly blind. After a career in New York, she and her then husband Fernando Alonso established the Cuban National Ballet and the Cuban National Ballet School, both of which grew into major international dance powerhouses and beloved institutions in their home country. On October 17, the company announced that, after leading the company for a remarkable 71 years, Alonso died from cardiovascular disease at the age of 98.
Keep reading...
Show less
Left: Hurricane Harvey damage in Houston Ballet's Dance Lab; Courtesy Harlequin. Right: The Dance Lab pre-Harvey; Nic Lehoux, Courtesy Houston Ballet.
"The show must go on" may be a platitude we use to get through everything from costume malfunctions to stormy moods. But when it came to overcoming a literal hurricane, Houston Ballet was buoyed by this mantra to go from devastated to dancing in a matter of weeks—with the help of Harlequin Floors, Houston Ballet's longstanding partner who sprang into action to build new floors in record time.
Keep reading...
Show less
News
Oct. 17, 2019 02:02PM EST
Rauf "RubberlLegz" Yasit and Parvaneh Scharafali. Photo by Mohamed Sadek, courtesy The Shed
William Forsythe is bringing his multi-faceted genius to New York City in stripped down form. His "Quiet Evening of Dance," a mix of new and recycled work now at The Shed until October 25, is co-commissioned with Sadler's Wells in London (and a slew of European presenters).
As always, Forsythe's choreography is a layered experience, both kinetic and intellectual. This North American premiere prompted many thoughts, which I whittled down to seven.
Keep reading...
Show less
News
Oct. 17, 2019 01:39PM EST
Courtesy NBC
"Law & Order: SVU" has dominated the crime show genre for 21 seasons with its famous "ripped from the headlines" strategy of taking plot inspiration from real-life crimes.
So viewers would be forgiven for assuming that the new storyline following the son of Mariska Hargitay's character into dance class originated in the news cycle. After all, the mainstream media widely covered the reaction to Lara Spencer's faux pas on "Good Morning America" in August, when she made fun of Prince George for taking ballet class.
But it turns out, the storyline was actually the idea of the 9-year-old actor, Ryan Buggle, who plays Hargitay's son. And he came up with it before Spencer ever giggled at the word ballet.
Keep reading...
Show less