Meet The Dancer Who Won Our $25K Scholarship—And Deferred It​
Photo via Instagram: @kelerobersonn
When I saw Kele Roberson dancing at New York City Dance Alliance Foundation's college scholarship audition, I only had to watch a deep plié before writing down a 10 out of 10 on his score sheet and scribbling a giant star next to his name. Before he even had a chance to show off his incredible lines, I was mesmerized by his nuanced grace in even the simplest of movements.
He walked away from that audition with NYCDA Foundation's Dance Magazine College Scholarship worth $25,000 to the college of his choice, which happened to be Juilliard, where he was planning to attend this fall.
But shortly after winning, it turns out, his plans changed. I caught up with him earlier today to find out what happened.
---
What changed your mind and made you decide not to attend Juilliard?
It was a question of what kind of training I wanted to pursue. Ballet was always one of my better and favorite styles, but I realized I needed more intense classical training.
I attended The Royal Ballet School's summer program earlier this summer, and had the option to audition for the year-round school. I was trying to audition for 2018–19, but they accepted me into their second-year level for 2017–18 instead. It was a one-time offer, because I would be too old to start the second-year level next fall, and the only way to audition for the third-year level was by taking the second-year.
Are you hoping to dance for The Royal?
That's definitely a company that's up there for me, with Dutch National Ballet, Houston Ballet, Kidd Pivot. Although Nederlands Dans Theatre might be my number one dream. I love that, because they're dance theater, they have a theatrical aspect behind all their pieces—they tell a story, and you have to use another level of artistry. The dancers in that company are ridiculous.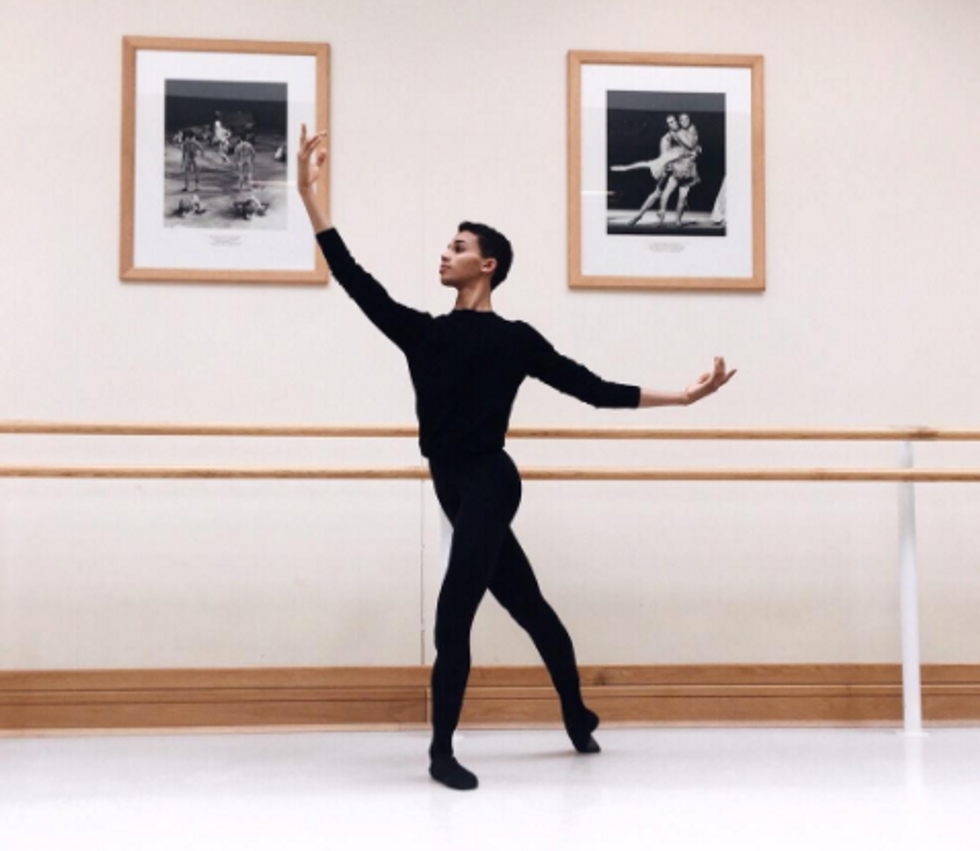 Roberson in the Royal Ballet School studios this summer. Photo via Instagram
Do you think you still might attend Juilliard later on?
As of right now, that's the plan. Juilliard's always been a dream. I graduated a year ahead (I'm still 17) so I decided to take this year at The Royal to perfect what I can in terms of technique, and hope to audition for Juilliard next year and also NDT 2, to have options.
Do you have any advice for other dancers making these big training decisions?
I think technique is something you should focus on as much as you can early on. Versatility is important, too, because you can get something from each style. But if you have that technical training as a foundation, from there you can expand and do whatever you want.
What are you most looking forward to about dancing at The Royal Ballet School?
Being in environment where I'm pushed by the dancers I'm surrounded by. I started with ballet when I was 11, but my focus shifted to contemporary, so I've never focused this intensely on ballet. This is going to be a new experience!
Ailey II artistic director Troy Powell teaching an Ailey Workshop at NYCDA. Courtesy NYCDA
Back in 2011 when Joe Lanteri first approached Katie Langan, chair of Marymount Manhattan College's dance department, about getting involved with New York City Dance Alliance, she was skeptical about the convention/competition world.
"But I was pleasantly surprised by the enormity of talent that was there," she says. "His goal was to start scholarship opportunities, and I said okay, I'm in."
Today, it's fair to say that Lanteri has far surpassed his goal of creating scholarship opportunities. But NYCDA has done so much more, bridging the gap between the convention world and the professional world by forging a wealth of partnerships with dance institutions from Marymount to The Ailey School to Complexions Contemporary Ballet and many more. There's a reason these companies and schools—some of whom otherwise may not see themselves as aligned with the convention/competition world—keep deepening their relationships with NYCDA.
Now, college scholarships are just one of many ways NYCDA has gone beyond the typical weekend-long convention experience and created life-changing opportunities for students. We rounded up some of the most notable ones:
Keep reading...
Show less
We knew that Ivo van Hove and Anne Teresa de Keersmaeker's production of West Side Story would challenge our preconceived notions about the show.
But a recent Vogue story gives us a taste of just how nontraditional the Broadway revival will be. Most notably, van Hove is cutting "I Feel Pretty" and the "Somewhere" ballet, condensing the show into one act to better reflect the urgency of the 48-hour plot. (The choice has been approved by the West Side Story estate, including Sondheim, who has "long been uncomfortable" with some of the "I Feel Pretty" lyrics.)
Keep reading...
Show less
Left: Hurricane Harvey damage in Houston Ballet's Dance Lab; Courtesy Harlequin. Right: The Dance Lab pre-Harvey; Nic Lehoux, Courtesy Houston Ballet.
"The show must go on" may be a platitude we use to get through everything from costume malfunctions to stormy moods. But when it came to overcoming a literal hurricane, Houston Ballet was buoyed by this mantra to go from devastated to dancing in a matter of weeks—with the help of Harlequin Floors, Houston Ballet's longstanding partner who sprang into action to build new floors in record time.
Keep reading...
Show less