Kickstarter Just Launched a New Way to Fund Your Work
Drip's homepage
Dancers love Kickstarter. Over the past eight years, more than 2,300 dance projects have brought in more than $12 million through campaigns on the site. Even traditional companies like Martha Graham Dance Company and MacArthur "genius" award-winning choreographers like Michelle Dorrance have gotten in on the action.
But starting today, the site is announcing a new platform called Drip that aims to be even more useful for artists. Rather than having to set up a new campaign for each project, artists can build a community of support for their ongoing creative practice. Supporters pay a monthly "subscription" fee for perks like exclusive behind-the-scenes footage, ticket discounts, in-person meet-and-greets with the artists—whatever artists want to offer. And that means the artists can count on a regular pool of funds from fans paying as little as $2 a month.
---
Drip has technically been around since 2011, but it was created solely for musicians. The platform joined Kickstarter about two years ago, and today's relaunch opens it up to artists across all of the disciplines that Kickstarter serves—including dance.
Right now, choreographer Stephen Petronio is representing our field as one of the first 26 artists on the new site.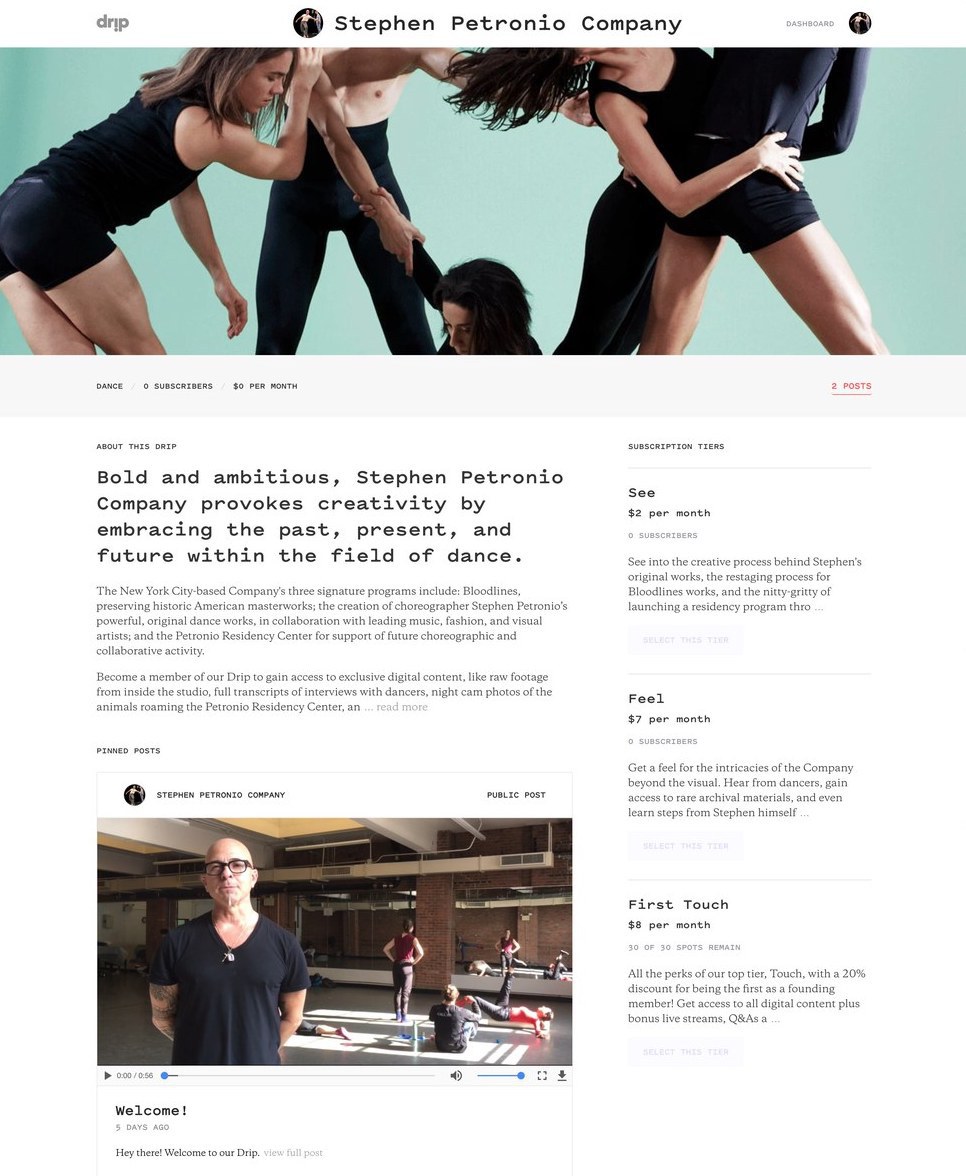 So how can you sign up? At the moment, Drip is invite-only. The platform plans to open up to more creators early next year. To stay up to date on when you can apply, just sign up for the newsletter by entering your email on the homepage.
Related Articles Around the Web
Dance As Activism
May. 24, 2018 11:54AM EST
Rebecca Warthen teaching at a public school in Dominica. Photo courtesy Peace Corps
Rebecca Warthen was on a year-long assignment with the Peace Corps in Dominica last fall when a storm started brewing. A former dancer with North Carolina Dance Theatre (now Charlotte Ballet) and Columbia City Ballet, she'd been sent to the Caribbean island nation to teach ballet at the Dominica Institute of the Arts and in outreach classes at public schools.
But nine and a half months into her assignment, a tropical storm grew into what would become Hurricane Maria—the worst national disaster in Dominica's history.
Keep reading...
Show less
In The Studio
May. 24, 2018 11:26AM EST
Choreographer Sidra Bell, Photo courtesy David Flores Productions
Sidra Bell is one of those choreographers whose movement dancers are drawn to. Exploring the juxtaposition of fierce athleticism and pure honesty in something as simple as stillness, her work brings her dancers to the depths of their abilities and the audience to the edge of their seats.
We stepped into the studio with Sidra Bell Dance New York as they prepare for their upcoming season at New York Live Arts.

Keep reading...
Show less
News
May. 18, 2018 12:05PM EST
The inimitable Alicia Alonso, now 97, remains at the helm of Ballet Nacional de Cuba. Photo by Leysis Quesada, Courtesy BNC
On the occasion of its 70th anniversary, the Ballet Nacional de Cuba tours the U.S. this spring with the resolute Cuban prima ballerina assoluta Alicia Alonso a the helm. Named a National Hero of Labor in Cuba, Alonso, 97, has weathered strained international relations and devastating fiscal challenges to have BNC emerge as a world-class dance company. Her dancers are some of ballet's best. On offer this time are Alonso's Giselle and Don Quixote. The profoundly Cuban company performs in Chicago May 18–20, Tampa May 23, Washington, D.C., May 29–June 3 and Saratoga, New York June 6–8.
The baby swan can help strengthen your serratus anterior. Modeled by Marimba Gold-Watts, photographed by Jayme Thornton
Ever wonder why some dancers' port de bras appears to be disconnected from their body? It typically comes down to how they stabilize their shoulder blades, says Marimba Gold-Watts, Pilates instructor to dancers like Robert Fairchild.
"Dancers often hear the cue to pull down on their latissimus,"—the biggest muscle in the back—"which doesn't allow the shoulder blades to lie flat," she says. "It makes the bottom tips of the shoulder blades wing, or flare out, off the rib cage."
Keep reading...
Show less
Rant & Rave
May. 23, 2018 04:25PM EST
Jessica Lang's Her Notes, one of ABT's few recent commissions from women. Photo by Rosalie O'Connor
A few weeks ago, American Ballet Theatre announced the A.B.T. Women's Movement, a new program that will support three women choreographers per season, one of whom will make work on the main company.
"The ABT Women's Movement takes inspiration from the groundbreaking female choreographers who have left a lasting impact on ABT's legacy, including Agnes de Mille and Twyla Tharp," said artistic director Kevin McKenzie in a press release.
Hypothetically, this is a great idea. We're all for more ballet commissions for women. But the way ABT has promoted the initiative is problematic.
Keep reading...
Show less
Cloud in Beth Gill's Catacomb. Photo by Brian Rogers, Courtesy Gill
Some dancers move to New York City with their sights set on a dream job: that one choreographer or company they have to dance for. But when Maggie Cloud graduated from Florida State University in 2010, she envisioned herself on a less straightforward path.
"I always had in mind that I would be dancing for different people," she says. "I knew I had some kind of range that I wanted to tap into."

Keep reading...
Show less


Get Dance Magazine in your inbox