How Kyle Abraham Feels About Being NYCB's First Black Choreographer in More Than a Decade
Kyle Abraham choreographing on Alvin Ailey American Dance Theater. Photo by Jim Lafferty
Last month, Kyle Abraham was announced as one of the six choreographers contributing new work to New York City Ballet's 2018-19 season.
In its 70-year history, NYCB has only commissioned four black choreographers—all men: John Alleyne and Ulysses Dove in 1994, Dance Theatre of Harlem's Robert Garland in collaboration with Robert LaFosse in 2000, and Albert Evans in 2002 and 2005. It's been 11 years since Evans, an NYCB alum, made work for the company and 18 years since a black choreographer outside of NYCB has been invited to choreograph.
Take a moment to take that in.
---
Abraham's own company A.I.M is currently performing at The Joyce Theater now through May 6. The movement vernacular is mercurial amalgam that morphs through numerous genres— modern, contemporary, ballet, hip-hip. It is a crazy, sexy, cool fusion of elite/street/afro-punkism that is a visual feast, a delicious "postmodern gumbo" as he calls it.
It is hard to imagine what he will do with the dancers of NYCB, or they with him.

Although people (especially those of color) are ecstatic for Brother Kyle, many are wondering if this is an overt signifier of the changing of the guard at NYCB resulting in real diversification of the choreographic roster, or if it's just pacification by ticking a box.
Abraham Knows The Responsibility He's Taking On
The gravity that accompanies this honor is not lost on Kyle Abraham. Since opportunities for black artists come in cycles like a blue moon or Haley's comet, there is a compound interest on their success or failure.
"Not only am I a black choreographer I'm a modern choreographer," he says. "I have a fear that if this piece is seen as a failure, they will never hire another black choreographer again." It sounds dramatic, but it could happen: although the Garland/LaFosse collaboration Tributaries received favorable reviews, Garland was never asked back to set an individual work on the company.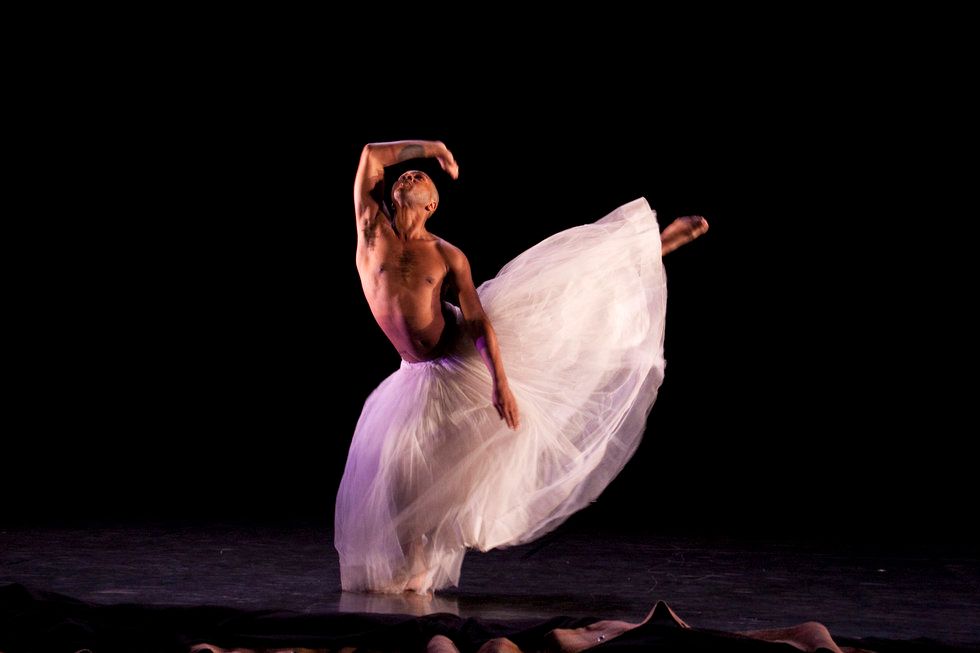 Abraham's breakout 2006 piece Inventing Pookie Jenkins played off the idea of a black male dancer in a romantic tutu. Photo by Kristi Pitsch
The responsibility for "representing the race in toto" is laid squarely upon his shoulders, when in fact, Abraham states eloquently, "I just want to make a beautiful work in the same way the other two choreographers on that program are going into a work, but they don't have that same weight on them. God bless them… Don't get me wrong, this is definitely not a boo hoo hoo, but it's not something that the other choreographers will have to deal with."
This reality brings a laundry list of concerns that Abraham plays mental pool with:
"Part of me wants to use classical music because I think that some people wouldn't think that this black man would know classical music, when in fact I have studied it for a very long time. If I do use classical music, am I selling out? Should I actually flip it…and if I do, then who am I really serving? Who I am I being honest to? Do I have to make something that has this social commentary? If I do, how do I do that on a company that is predominantly white? Because if I do, then that makes it seem like the people of color who I choose to work with are only there to make a social commentary, which is not the case."
In short, he's damned if he does, damned he doesn't.
His Work Will Undoubtedly Be Seen Through a Different Lens
The implicit cultural bias inherent in dance criticism rarely takes work by artists of color simply for what is presented on stage. Critiques are often tainted by the culturally ignorant or assuming lens of the white gaze and riddled with their unfulfilled expectations: "I wished he would have…" "I would have liked to have seen…" which speak more about the critic than the work.
No matter what he presents, Abrahams' blackness and the chasm of 18 years will undoubtedly trump his divergent genre. The underlying question will not be, What does a piece created for NYCB by a black, male, modern choreographer/MacArthur Fellow/collaborator with ballerina Wendy Whelan look like? But rather what is it supposed to look like?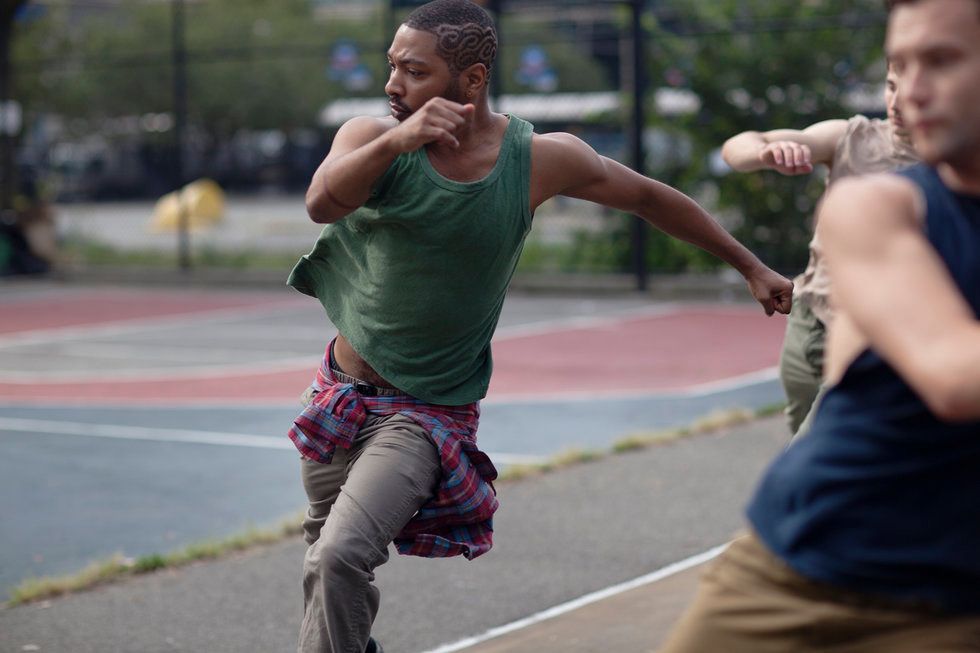 Many of Abraham's dances, including Pavement, have addressed social justice issues. Photo by Carrie Schneider
Working With Ballet Dancers Will Be New Territory
One might assume Abraham's pairing with NYCB royalty Wendy Whelan for her Restless Creature project would have primed him for this commission. Superficially, that might be the case when it comes to working with ballet dancers.
However, Abraham's work is based in process. "Generally, I take a year to create a piece, and I work very collaboratively," he says. But the NYCB commission allows only three weeks to build the work. When he walks into his first rehearsal this month, he will have no idea if his dancers can handle his movement, since casting was done by observing company class.
He worked closely with Rebecca Krohn (a member of the interim leadership team) to choose the dancers. "Not coming from the ballet world, I didn't know who a lot of the dancers were. Rebecca was super supportive and helpful." She also understood importance of his wanting dancers of color in his piece. "I want to make sure, especially with such a limited time frame, that I am surrounding myself with good energy."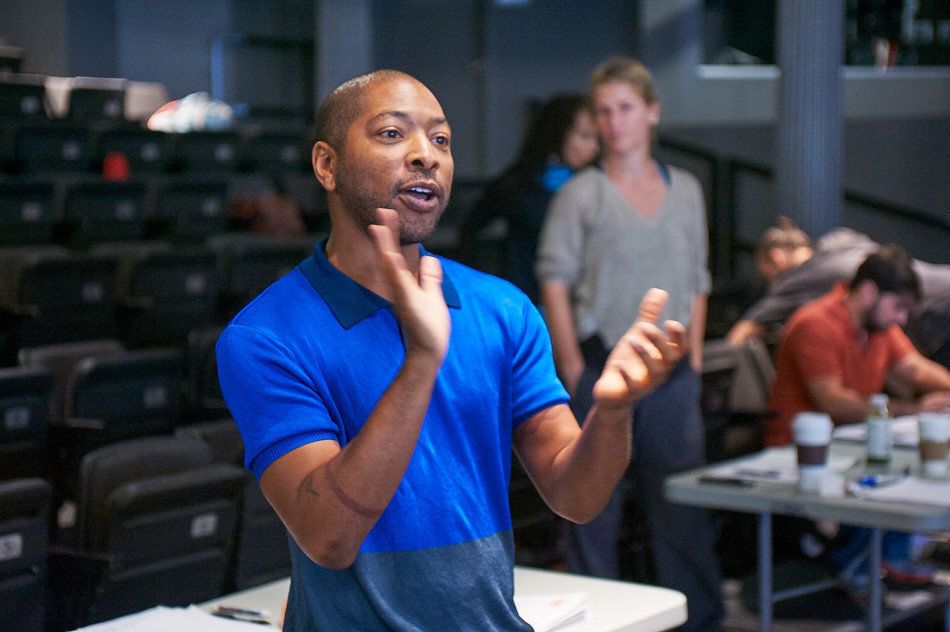 Abraham is known for bringing out the best in dancers he works with. Photo by Jim Lafferty
Will the work be on pointe? "I am going to make this dance and then see, see how they live in it. My goal is to try the material and see what translates onto pointe and what doesn't."
But Abraham is clear: "I have not worked on pointe before and I don't need to."
With limited time, and a complete departure in movement vocabulary, he has to be realistic. "The main thing I say to every dancer I collaborate with is, 'It probably doesn't look good, so let's make sure we do what we can to make it feel good until it looks good—let's get you to a place where what seemed uncomfortable at one point, is now comfortable and really beautiful."
When asked about the lack diversity in dance, Abraham says, "It's great to see us represented in some capacity, but there are so many more black choreographers, women choreographers, choreographers of color who need opportunities, or just the recognition that they are doing these things already."
He does not hold his tongue when suggesting a better approach: "Don't put us all on the same program, or in just February. Do it every season, do it all year long."
From Your Site Articles
Related Articles Around the Web
The "Merde" bag. Courtesy Scenery
Jennifer Kahn knew the theater industry could do better. As a professional stage manager for 17 years she worked on regional, off-Broadway and Broadway shows. Nearly each time a show closed, something unsettling happened: "I would watch them throw away our shows. All of the beautiful artwork by my friends in the paint shop would go in the trash." The elaborate backdrops? Gone.

But she had an idea: What if the material used in the backdrops and legs could be upcycled into something new? And what if theater lovers could literally keep a piece of a beloved show?
Keep reading...
Show less
Left: Hurricane Harvey damage in Houston Ballet's Dance Lab; Courtesy Harlequin. Right: The Dance Lab pre-Harvey; Nic Lehoux, Courtesy Houston Ballet.
"The show must go on" may be a platitude we use to get through everything from costume malfunctions to stormy moods. But when it came to overcoming a literal hurricane, Houston Ballet was buoyed by this mantra to go from devastated to dancing in a matter of weeks—with the help of Harlequin Floors, Houston Ballet's longstanding partner who sprang into action to build new floors in record time.
Keep reading...
Show less
News
Oct. 18, 2019 11:54AM EST
Photo by Gabriel Davalos, Courtesy Valdés
For decades the name Alicia Alonso has been virtually synonymous with Ballet Nacional de Cuba, the company she co-founded in Havana in 1948. Alonso died on October 17, just shy of what would have been her 99th birthday. In recent years, she had stepped back from day-to-day decision-making in the company. As if preparing for the future, in January, the company's leading ballerina, 42-year-old Viengsay Valdés, was named deputy director, a job that seems to encompass most of the responsibilities of a traditional director. Now, presumably, she will step into her new role as director of the company. Her debut as curator of the repertory comes in November, when the troupe will perform three mixed bills selected by her at the Gran Teatro de la Habana Alicia Alonso. The following has been translated from a conversation conducted in Spanish, Valdés' native tongue.
Keep reading...
Show less
Sara Mearns in the gym. Photo by Kyle Froman.
New York City Ballet principal Sara Mearns wasn't sure she was strong enough. A ballerina who has danced many demanding full-length and contemporary roles, she was about to push herself physically more than she thought was possible.
"I said, 'I can't. My body won't,' " she says. "He told me, 'Yes, it will.' "
She wasn't working with a ballet coach, but with personal trainer Joel Prouty, who was asking her to do squats with a heavier barbell than she'd ever used.
Keep reading...
Show less