Breaking Stereotypes
May. 02, 2018 03:51PM EST
How Kyle Abraham Feels About Being NYCB's First Black Choreographer in More Than a Decade
Kyle Abraham choreographing on Alvin Ailey American Dance Theater. Photo by Jim Lafferty
Last month, Kyle Abraham was announced as one of the six choreographers contributing new work to New York City Ballet's 2018-19 season.
In its 70-year history, NYCB has only commissioned four black choreographers—all men: John Alleyne and Ulysses Dove in 1994, Dance Theatre of Harlem's Robert Garland in collaboration with Robert LaFosse in 2000, and Albert Evans in 2002 and 2005. It's been 11 years since Evans, an NYCB alum, made work for the company and 18 years since a black choreographer outside of NYCB has been invited to choreograph.
Take a moment to take that in.
---
Abraham's own company A.I.M is currently performing at The Joyce Theater now through May 6. The movement vernacular is mercurial amalgam that morphs through numerous genres— modern, contemporary, ballet, hip-hip. It is a crazy, sexy, cool fusion of elite/street/afro-punkism that is a visual feast, a delicious "postmodern gumbo" as he calls it.
It is hard to imagine what he will do with the dancers of NYCB, or they with him.

Although people (especially those of color) are ecstatic for Brother Kyle, many are wondering if this is an overt signifier of the changing of the guard at NYCB resulting in real diversification of the choreographic roster, or if it's just pacification by ticking a box.
Abraham Knows The Responsibility He's Taking On
The gravity that accompanies this honor is not lost on Kyle Abraham. Since opportunities for black artists come in cycles like a blue moon or Haley's comet, there is a compound interest on their success or failure.
"Not only am I a black choreographer I'm a modern choreographer," he says. "I have a fear that if this piece is seen as a failure, they will never hire another black choreographer again." It sounds dramatic, but it could happen: although the Garland/LaFosse collaboration Tributaries received favorable reviews, Garland was never asked back to set an individual work on the company.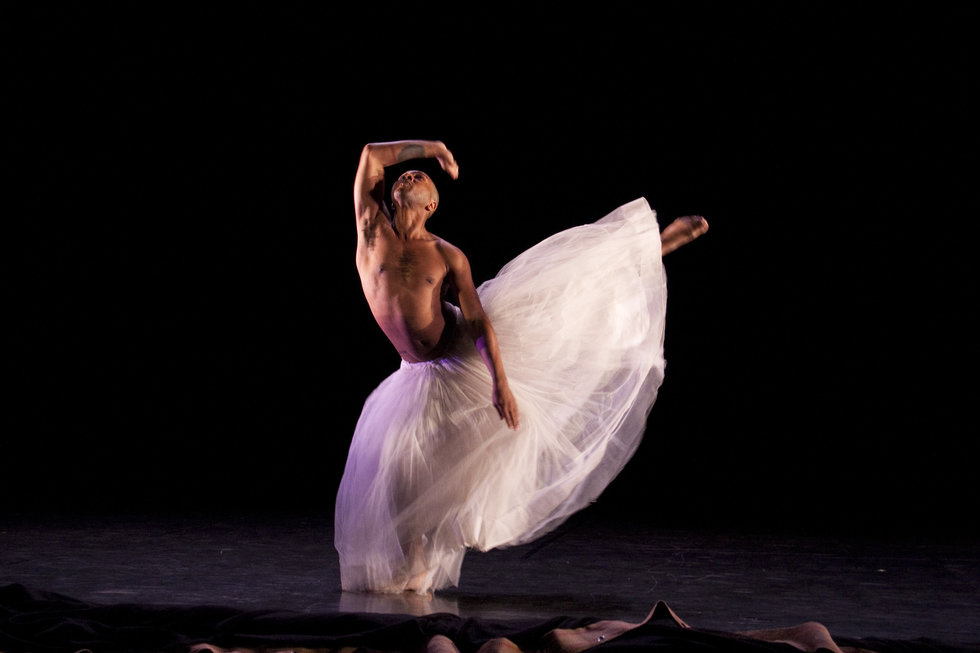 Abraham's breakout 2006 piece Inventing Pookie Jenkins played off the idea of a black male dancer in a romantic tutu. Photo by Kristi Pitsch
The responsibility for "representing the race in toto" is laid squarely upon his shoulders, when in fact, Abraham states eloquently, "I just want to make a beautiful work in the same way the other two choreographers on that program are going into a work, but they don't have that same weight on them. God bless them… Don't get me wrong, this is definitely not a boo hoo hoo, but it's not something that the other choreographers will have to deal with."
This reality brings a laundry list of concerns that Abraham plays mental pool with:
"Part of me wants to use classical music because I think that some people wouldn't think that this black man would know classical music, when in fact I have studied it for a very long time. If I do use classical music, am I selling out? Should I actually flip it…and if I do, then who am I really serving? Who I am I being honest to? Do I have to make something that has this social commentary? If I do, how do I do that on a company that is predominantly white? Because if I do, then that makes it seem like the people of color who I choose to work with are only there to make a social commentary, which is not the case."
In short, he's damned if he does, damned he doesn't.
His Work Will Undoubtedly Be Seen Through a Different Lens
The implicit cultural bias inherent in dance criticism rarely takes work by artists of color simply for what is presented on stage. Critiques are often tainted by the culturally ignorant or assuming lens of the white gaze and riddled with their unfulfilled expectations: "I wished he would have…" "I would have liked to have seen…" which speak more about the critic than the work.
No matter what he presents, Abrahams' blackness and the chasm of 18 years will undoubtedly trump his divergent genre. The underlying question will not be, What does a piece created for NYCB by a black, male, modern choreographer/MacArthur Fellow/collaborator with ballerina Wendy Whelan look like? But rather what is it supposed to look like?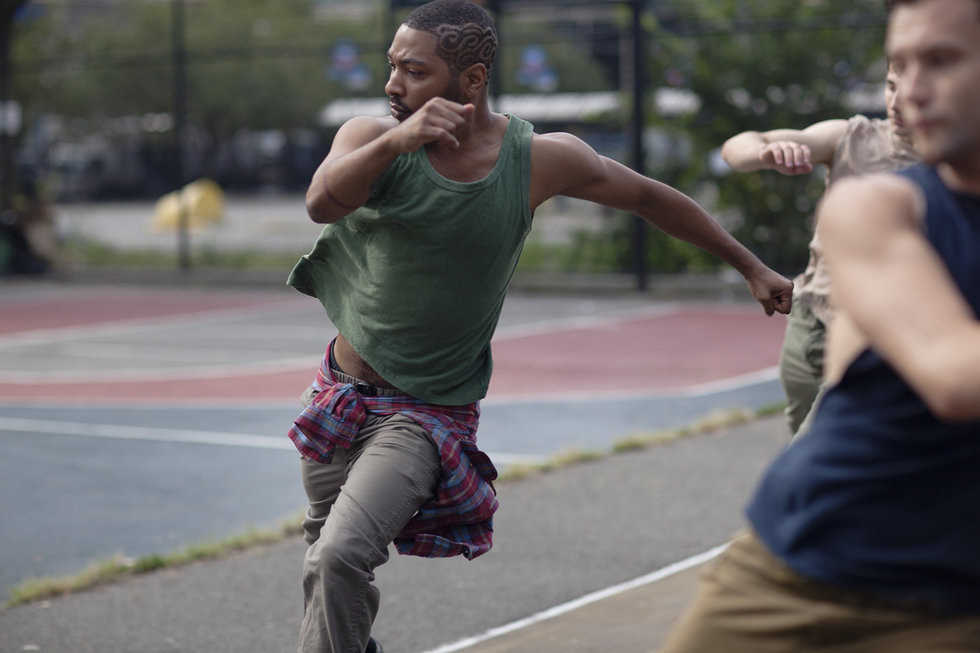 Many of Abraham's dances, including Pavement, have addressed social justice issues. Photo by Carrie Schneider
Working With Ballet Dancers Will Be New Territory
One might assume Abraham's pairing with NYCB royalty Wendy Whelan for her Restless Creature project would have primed him for this commission. Superficially, that might be the case when it comes to working with ballet dancers.
However, Abraham's work is based in process. "Generally, I take a year to create a piece, and I work very collaboratively," he says. But the NYCB commission allows only three weeks to build the work. When he walks into his first rehearsal this month, he will have no idea if his dancers can handle his movement, since casting was done by observing company class.
He worked closely with Rebecca Krohn (a member of the interim leadership team) to choose the dancers. "Not coming from the ballet world, I didn't know who a lot of the dancers were. Rebecca was super supportive and helpful." She also understood importance of his wanting dancers of color in his piece. "I want to make sure, especially with such a limited time frame, that I am surrounding myself with good energy."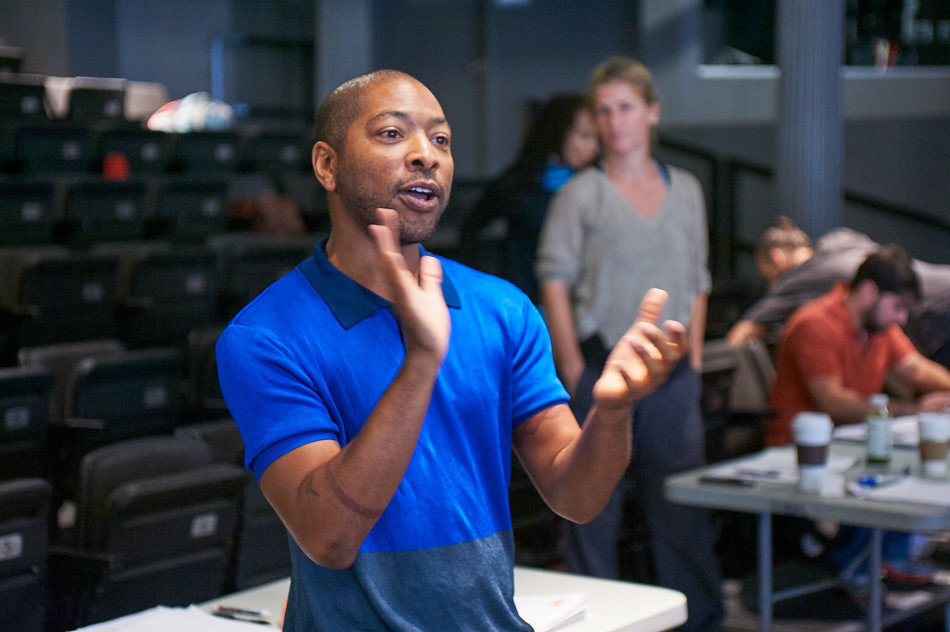 Abraham is known for bringing out the best in dancers he works with. Photo by Jim Lafferty
Will the work be on pointe? "I am going to make this dance and then see, see how they live in it. My goal is to try the material and see what translates onto pointe and what doesn't."
But Abraham is clear: "I have not worked on pointe before and I don't need to."
With limited time, and a complete departure in movement vocabulary, he has to be realistic. "The main thing I say to every dancer I collaborate with is, 'It probably doesn't look good, so let's make sure we do what we can to make it feel good until it looks good—let's get you to a place where what seemed uncomfortable at one point, is now comfortable and really beautiful."
When asked about the lack diversity in dance, Abraham says, "It's great to see us represented in some capacity, but there are so many more black choreographers, women choreographers, choreographers of color who need opportunities, or just the recognition that they are doing these things already."
He does not hold his tongue when suggesting a better approach: "Don't put us all on the same program, or in just February. Do it every season, do it all year long."
Doctors tend to underestimate women's pain more often than men's. Photo by Quinn Wharton
Pain is an inevitable part of a dancing life and dancers have a high tolerance for it, according to Sean Gallagher, a New York physical therapist whose practice includes many professional performers. "So when dancers complain, it really means something," he says.
But women and men experience pain differently, and tend to be treated for it differently as well. Female dancers need to understand those differences before they go to a doctor, so they can make sure they get treated promptly and effectively.

Keep reading...
Show less
News
May. 24, 2018 01:26PM EST
New York City Ballet dancers will be led by the interim leadership team for at least several more months. Here, the company in Justin Peck's The Times Are Racing. Photo by Paul Kolnik, Courtesy NYCB.
Since December an interim artistic leadership team has been guiding New York City Ballet, and in January, Peter Martins officially resigned. But only now has the search for Martins' permanent replacement begun. Here's what we know about how the process will unfold.
Keep reading...
Show less
News
May. 18, 2018 12:05PM EST
The inimitable Alicia Alonso, now 97, remains at the helm of Ballet Nacional de Cuba. Photo by Leysis Quesada, Courtesy BNC
On the occasion of its 70th anniversary, the Ballet Nacional de Cuba tours the U.S. this spring with the resolute Cuban prima ballerina assoluta Alicia Alonso a the helm. Named a National Hero of Labor in Cuba, Alonso, 97, has weathered strained international relations and devastating fiscal challenges to have BNC emerge as a world-class dance company. Her dancers are some of ballet's best. On offer this time are Alonso's Giselle and Don Quixote. The profoundly Cuban company performs in Chicago May 18–20, Tampa May 23, Washington, D.C., May 29–June 3 and Saratoga, New York June 6–8.
The baby swan can help strengthen your serratus anterior. Modeled by Marimba Gold-Watts, photographed by Jayme Thornton
Ever wonder why some dancers' port de bras appears to be disconnected from their body? It typically comes down to how they stabilize their shoulder blades, says Marimba Gold-Watts, Pilates instructor to dancers like Robert Fairchild.
"Dancers often hear the cue to pull down on their latissimus,"—the biggest muscle in the back—"which doesn't allow the shoulder blades to lie flat," she says. "It makes the bottom tips of the shoulder blades wing, or flare out, off the rib cage."
Keep reading...
Show less
Dance As Activism
May. 24, 2018 11:54AM EST
Rebecca Warthen teaching at a public school in Dominica. Photo courtesy Peace Corps
Rebecca Warthen was on a year-long assignment with the Peace Corps in Dominica last fall when a storm started brewing. A former dancer with North Carolina Dance Theatre (now Charlotte Ballet) and Columbia City Ballet, she'd been sent to the Caribbean island nation to teach ballet at the Dominica Institute of the Arts and in outreach classes at public schools.
But nine and a half months into her assignment, a tropical storm grew into what would become Hurricane Maria—the worst national disaster in Dominica's history.
Keep reading...
Show less
In The Studio
May. 24, 2018 11:26AM EST
Choreographer Sidra Bell, Photo courtesy David Flores Productions
Sidra Bell is one of those choreographers whose movement dancers are drawn to. Exploring the juxtaposition of fierce athleticism and pure honesty in something as simple as stillness, her work brings her dancers to the depths of their abilities and the audience to the edge of their seats.
We stepped into the studio with Sidra Bell Dance New York as they prepare for their upcoming season at New York Live Arts.

Keep reading...
Show less


Get Dance Magazine in your inbox