The stage has never been Lauren Lovette's favorite place to be. She may be a principal dancer with New York City Ballet, but she's actually quite an introvert.
"I've struggled with the stage my entire career," Lovette recently reflected over the phone. Yet after years of dedicated work, she's learned to find happy moments in front of an audience. But now, pandemic restrictions have left her out of practice, and she hasn't performed anywhere since March.
---
In fact, Lovette didn't even dance much at all this year until September, when she found herself at a photo shoot to model the fall 2020 collection from fine jewelry brand Laura Stephanie. "I was feeling extremely insecure about doing it because I hadn't worked out or taken ballet classes in months," Lovette says. Nevertheless, she took a leap of faith because she liked the jewelry and hit it off with the designer, Laura Stephanie Benkowski.
The brand is inspired by Benkowski's own background in a range of dance styles. To her, dance and jewels are quite similar. "Dance is storytelling with movement," Benkowski says, "and jewelry is storytelling with moments in history. At the end of the day, both are experiences with living art."

At the photo shoot, Benkowski and Lovette kept this dancing-into-diamonds philosophy in mind. Rather than standing still, a lot of the campaign photos come from action shots of Lovette moving in reaction to each piece of jewelry.
"Lauren would ask me to tell her things about the pieces," Benkowski explains, "and then she would try to choreograph or move with what resonated with that piece." A lot of the collection uses American turquoise, for example, which is known as the "stone of the sky" for its blue color. Lovette spent time dancing while looking up, reflecting the stories of Benkowski's designs.
The collection focuses on the idea of boundlessness, a concept that Benkowski hopes will resonate with those who've felt particularly constrained this year. For Lovette, the collaboration unlocked unique ways of thinking creatively that opened new doors for her own artistic expression. "I've always loved that about working with the fashion industry," she says. "The different elements that you can find to dance, the different facets you can have at your disposal—I think it keeps being a dancer interesting."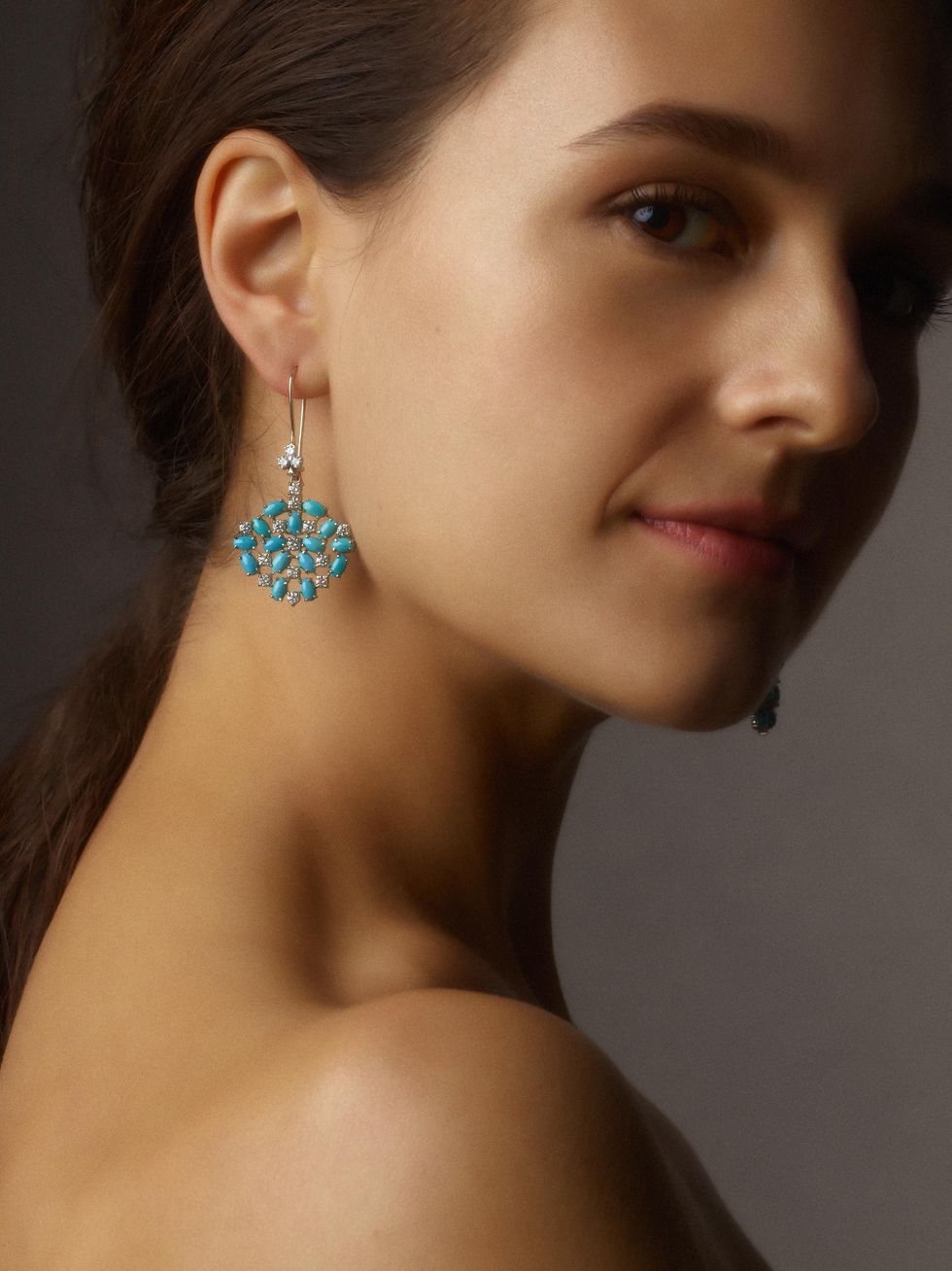 Lovette in the Kachina earrings
Stas Komarovski, Courtesy Laura Stephanie
The photo shoot itself was a good example of this potential: "I left a lot lighter," Lovette says. "I felt a little bit braver, like I could get back to some of the things that I love about my life."