Étoile Léonore Baulac on Feminist Ballet, Hygge and Not Dancing Too "Safe"
Nisian Hughes
"Women are often presented as soft, fragile little creatures in ballet," says Léonore Baulac. "We're not." The Paris Opéra Ballet's newest female étoile is discussing her unease at some of the 19th-century narratives she portrays. "It was real acting," she says with a laugh of La Sylphide. "James kills her by taking away her wings, yet she tells him not to worry and goes to die elsewhere onstage!"
Sitting in the canteen of the Palais Garnier, Baulac embodies some of ballet's contradictions in the 21st century. With her fair curls and dainty features, she could easily pass for a little girl's fantasy princess. As Juliet, she exuded a girlish ardor that felt entirely natural; her reservations notwithstanding, her Sylphide was committed and carefully Romantic in style.
Yet the 27-year-old is no ingénue. At Garnier that day, her sweater reads "I can't believe I still have to protest this s**t," a feminist slogan; last winter, Baulac proudly wore it over a Kitri tutu on Instagram. And her repertoire is as thoroughly modern as she is offstage. A versatile performer even by Parisian standards, she is equally at home in Nutcracker as she is in the works of Pina Bausch and Anne Teresa De Keersmaeker.
---
"She is an all-arounder," says POB director Aurélie Dupont, who promoted Baulac to étoile on New Year's Eve last season, after her debut as Odette/Odile in Swan Lake. "And her dancing is intelligent. She is mature, she knows what she wants, why she does things."
That maturity, along with a solid sense of humor, has helped Baulac weather the rough waters that have rocked the venerable French company in the past few years. When Benjamin Millepied was appointed director of POB in 2014, he pushed Baulac, then a coryphée, into the spotlight.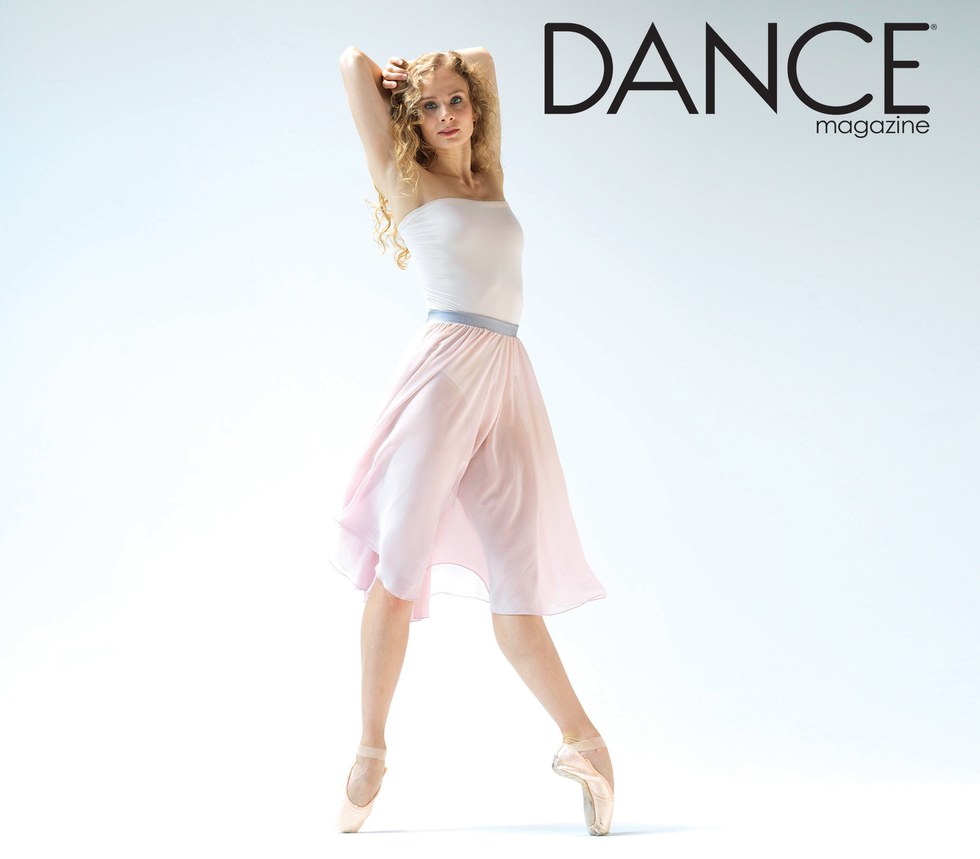 Nisian Hughes
"I quickly noticed a very musical and imaginative dancer with great individuality," Millepied remembers. "She has a very French elegance, this fine-champagne sort of quality, yet she can also be fierce."
Baulac visibly blossomed under Millepied, her dancing growing in scale and confidence. Her innate musicality was right at home in the American-style repertoire her director favored. She also tried her hand at classics, including Paquita, as well as creations by Mille-pied, Wayne McGregor and William Forsythe.
Millepied's drive to nurture young talent led to discontent among more senior dancers, however, and when the embattled director abruptly announced his departure in February 2016, his protégés weren't quite sure what the future would hold for them. "I worried the momentum I had would come to a halt," Baulac admits.
It didn't. Along with Germain Louvet and Hugo Marchand, two friends and frequent partners, Baulac was one of three Millepied-era favorites to be promoted to étoile by Dupont in the space of three months last season: "It was wonderful, because I was able to share that huge emotion with people who were going through it too." As several other étoiles near retirement, the trio is now leading the charge for the new generation—and rejuvenating the 154-strong company in the process.
Ironically, Baulac didn't even get through the first round of the POB School's entrance exams—the physical examination—when she was 10. She only became serious about a classical career a year later, after winning a competition where her idol, POB star José Martinez, sat on the jury. "I decided to be a dancer to dance with him," she says with a chuckle.
By then, she was too old to reapply to the POB School, instead training with a private teacher, Monique Servaes. At the age of 13, Baulac was admitted to the Conservatoire de Paris, and credits her interest in contemporary dance to its mixed curriculum. "Before that, all I wanted was a tutu," she says. "I think we underestimate how important it is for ballet dancers to learn contemporary dance in order to move in a less rigid way."
She finally joined the POB School at 15 as a paying student, the only path for older candidates. Baulac relished the atmosphere, and joined the POB corps de ballet three years later, in 2008.
A frustrating spell ensued. For five years, she missed the mark at the internal concours de promotion, and as a young dancer on the lowest rung, rarely set foot onstage. "The concours got harder and harder every time I failed," Baulac says. "I was hungry for the stage, for roles. I'm a very impatient person, and I had to learn patience."
A handful of opportunities—including De Keersmaeker's Rain and Olympia in John Neumeier's Lady of the Camellias—as well as side gigs with 3e étage, a pickup group of POB dancers, kept her going. By the concours for 2014, however, she made the decision to leave the company if she wasn't promoted. "I think it freed me: I realized that if it didn't work out, there were other options."
She earned a coryphée spot (the second rank of five), and the following fall, Millepied replaced Brigitte Lefèvre as director. "There was an energy about him that was very encouraging," she says. He immediately cast Baulac and Louvet in Nureyev's Nutcracker. "I went from corps understudy to a principal role. The rehearsals in front of the whole company were more stressful than the shows. You feel people looking at you, wondering: Why not me?"
Dupont was her coach for the production, and was impressed: "If you give her a correction, she will analyze it, keep thinking about it," says Dupont. "The progress she makes between the first day of rehearsal and the show is always striking."
Baulac, who has a comfortable technique but was never known for competition-style virtuosity, has forced herself to unlearn the cautious approach drilled into POB's dancers. "I was a good turner, but at the POB School, we were always told: Instead of trying four turns and messing up, just do two." She credits Forsythe, who created a role for her in Blake Works I, and Dupont with pushing her to take risks. "When you're stressed, it feels safer to dance small. I tell myself that the audience wants to see someone who gives their all."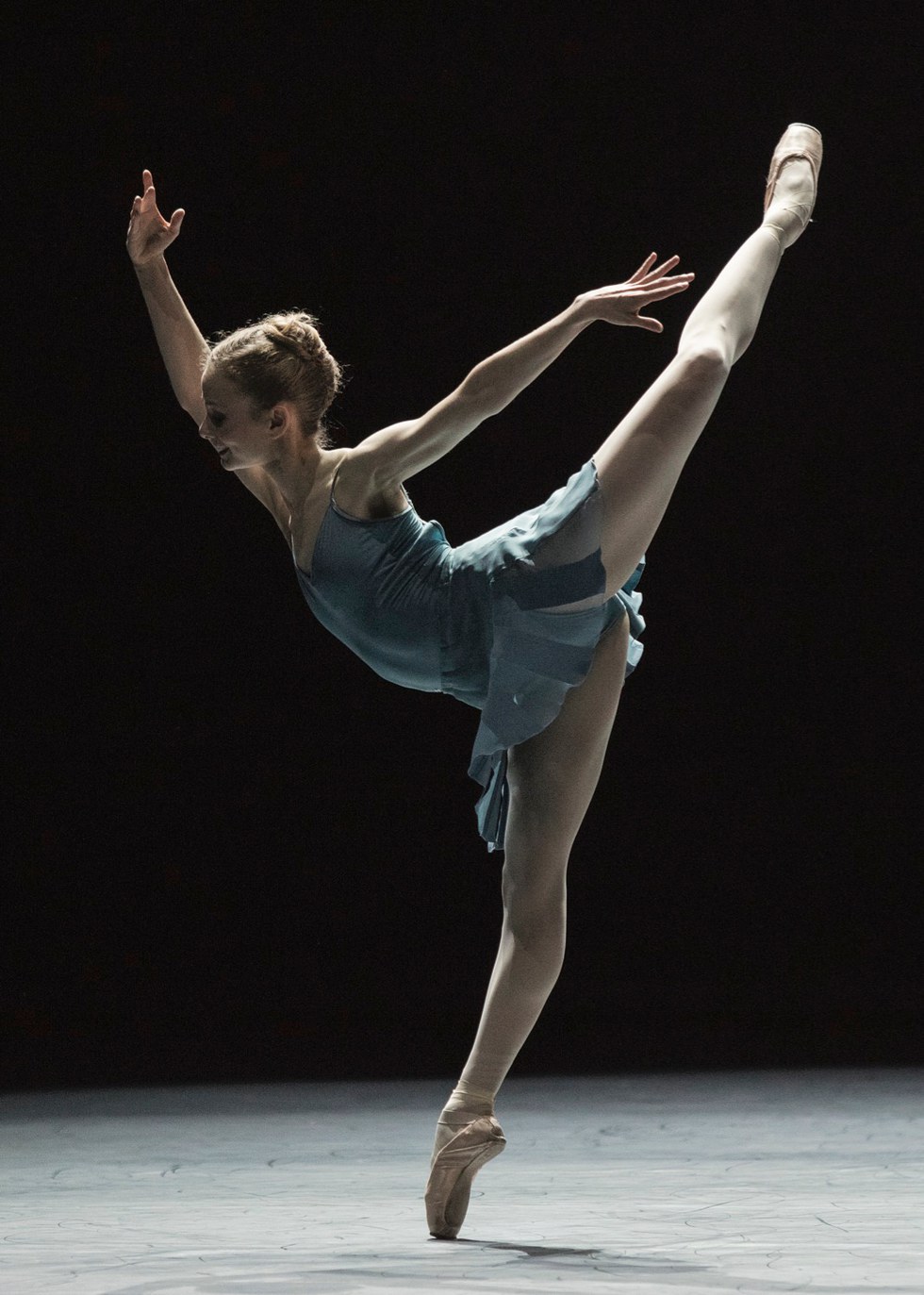 Baulac in Forsythe's Blake Works I. Photo by Ann-Ray, courtesy Paris Opera Ballet
Despite her steady rise, with promotions every year since 2014, her appointment as étoile still came as a surprise. Baulac was only an understudy for Odette/Odile, her one performance coming as a result of injuries. "For me," says Dupont, "it was already done. I was just waiting for the right role to promote her."
Baulac is honest about the weight of responsibility as an étoile: "You're supposed to be excellent all the time, but I don't feel excellent that often." A short period of therapy, before and after her promotion, helped her to embrace the pressure without complacency.
A balanced home life is part of the secret: Outside work, Baulac, whose mother hails from Norway, swears by hygge, the Scandinavian concept of coziness and warmth. In Paris, she lives close enough to walk to work. After a high-profile relationship with fellow POB dancer François Alu, her current boyfriend is in the field of biological agriculture. "It's refreshing, because when I go home, I can really leave the ballet world behind."
Onstage, one of Baulac's dreams came true this fall when she performed Pina Bausch's Rite of Spring. The next item on her wish list—working with the recently retired Mats Ek—may have to wait, but she hopes for more female choreographers in Paris, including the return of Crystal Pite. "I love the way she makes women move. They have the same strength and power as the men."
She still enjoys the traditional tutu-and-tiara roles, but deems it "crucial that creations depict women in new ways, for the classics of the future." In Paris, expect Baulac to be center stage for them.
Subscribe to get the print edition!
Related Articles Around the Web
Alice Sheppard photographed by Jayme Thornton for Dance Magazine
It can be hard to focus when Alice Sheppard dances.
Her recent sold-out run of DESCENT at New York Live Arts, for instance, offered a constellation of stimulation. Onstage was a large architectural ramp with an assortment of peaks and planes. There was an intricate lighting and projection design. There was a musical score that unfolded like an epic poem. There was a live score too: the sounds of Sheppard and fellow dancer Laurel Lawson's bodies interacting with the surfaces beneath them.
And there were wheelchairs. But if you think the wheelchairs are the center of this work, you're missing something vital about what Sheppard creates.

Keep reading...
Show less
Omar Román De Jesús in rehearsal with Joffrey Academy trainees. Photo by Todd Rosenberg
So far, the fervor to create diversity in ballet has primarily focused on dancers. Less attention has been paid to the work that they'll encounter once they arrive.
Yet the cultivation of ballet choreographers of color (specifically black choreographers) through traditional pathways of choreographic training grounds remains virtually impossible. No matter how you slice it, we end up at the basic issues that plague the pipeline to the stage: access and privilege.
Keep reading...
Show less
Get the print edition!
Yuka Oba, Ednis Ariel Gomez Mallol and Connie Flachs in Swing by Olivier Wevers. Photo by Ryan Jackson, courtesy Flachs
"I'm sorry, but I just can't possibly give you the amount of money you're asking for."
My heart sinks at my director's final response to my salary proposal. She insists it's not me or my work, there is just no money in the budget. My disappointment grows when handed the calendar for Grand Rapids Ballet's next season with five fewer weeks of work.
Keep reading...
Show less
"Off Kilter" has real dancers playing dancers. Still courtesy CBC Arts
"It just...always looks better in my head."
While that might not be something any of us would want to hear from a choreographer, it's a brilliant introduction to "Off Kilter" and the odd, insecure character at its center, Milton Frank. The ballet mockumentary (think "The Office" or "Parks and Recreation," but with pointe shoes) follows Frank (dancer-turned-filmmaker Alejandro Alvarez Cadilla) as he comes back to the studio to try his hand at choreographing for the first time since a plagiarism scandal derailed his fledgling career back in the '90s.
We've been pretty excited about the series for a while, and now the wait is finally over. The first episode of the show, "The Denial," went live earlier today, and it's every bit as awkward, hilarious and relatable as we hoped.
Keep reading...
Show less
We suspect it will be...a thriller.
Giphy
Christopher Wheeldon is going to be giving Michael Jackson some new moves: The Royal Ballet artistic associate is bringing the King of Pop to Broadway.
The unlikely pairing was announced today by Jackson's estate. Wheeldon will serve as both director and choreographer for the new musical inspired by Michael Jackson's life, which is aiming for a 2020 Broadway opening. This will be Wheeldon's second time directing and choreographing, following 2015's Tony Award-winning An American in Paris.
Wheeldon is a surprising choice, to say the least. There are many top choreographers who worked with Jackson directly, like Wade Robson and Brian Friedman, who could have been tapped for the project. Or the production could have even hired someone who actually choreographed on Jackson when he was alive, like Buddha Stretch.
Keep reading...
Show less
Popular
Jun. 06, 2018 01:13PM EST
Stagestep's Encore hardwood flooring for full-service broadcast production facility, dance center and venue, Starwest, in Burbank, CA.
What is the right flooring system for us?

So many choices, companies, claims, endorsements, and recommendations to consider. The more you look, the more confusing it gets. Here is what you need to do. Here is what you need to know to get the flooring system suited to your needs.
Keep reading...
Show less
In rehearsal for Dreamgirls. Photo Courtesy DM Archives.
Broadway musicals have been on my mind for more than half a century. I discovered them in grade school, not in a theater but electronically. On the radio, every weeknight an otherwise boring local station would play a cast album in its entirety; on television, periodically Ed Sullivan's Sunday night variety show would feature an excerpt from the latest hit—numbers from Bye Bye Birdie, West Side Story, Camelot, Flower Drum Song.
But theater lives in the here and now, and I was in middle school when I attended my first Broadway musical, Gypsy—based, of all things, on the early life of the famed burlesque queen Gypsy Rose Lee. I didn't know who Jerome Robbins was, but I recognized genius when I saw it—kids morphing into adults as a dance number progresses, hilarious stripping routines, a pas de deux giving concrete shape to the romantic yearnings of an ugly duckling. It proved the birth of a lifelong habit, indulged for the last 18 years in the pages of this magazine. But all long runs eventually end, and it's time to say good-bye to the "On Broadway" column. It's not the last of our Broadway coverage—there's too much great work being created and performed, and you can count on hearing from me in print and online.
Keep reading...
Show less
Get the print edition!
It's already on its way to legendary status. (screenshot via YouTube)
Popular
May. 25, 2018 12:14PM EST
Travis Wall draws inspiration from dancers Tate McCrae, Timmy Blankenship and more.
One often-overlooked relationship that exists in dance is the relationship between choreographer and muse. Recently two-time Emmy Award Winner Travis Wall opened up about his experience working with dancers he considers to be his muses.
"My muses in choreography have evolved over the years," says Wall. "When I'm creating on Shaping Sound, our company members, my friends, are my muses. But at this current stage of my career, I'm definitely inspired by new, fresh talent."
Wall adds, "I'm so inspired by this new generation of dancers. Their teachers have done such incredible jobs, and I've seen these kids grown up. For many of them, I've had a hand in their exposure to choreography."

Keep reading...
Show less
News
Jun. 18, 2018 02:12PM EST
MADBOOTS DANCE in MASC. Photo by Scott Shaw, Courtesy Richard Kornberg & Associates
This week, New York City's Joyce Theater presents two companies addressing LGBTQ+ issues.
Keep reading...
Show less
Kerollis and students in his 8-week Absolute Beginner Workshop at Broadway Dance Center
When most people think of dance students, they imagine lithe children and teenagers waltzing around classrooms with their legs lifted to their ears. It doesn't often cross our minds that dance training can involve an older woman trying to build strength in her body to ward off balance issues, or a middle-aged man who didn't have the confidence to take a dance class as a boy for fear of bullying.
Anybody can begin to learn dance at any age. But it takes a particular type of teacher to share our art form with dancers who have few prospects beyond fun and fitness a few nights a week.
Keep reading...
Show less
Get the print edition!
News
Jun. 16, 2018 09:15AM EST
Gina Gibney's organization has grown invaluable to the NYC dance scene. Photo by Scott Shaw, Courtesy Gibney
New York City–based dancers know Gibney. It's a performance venue, a dance company, a rehearsal space, an internship possibility—a Rubik's Cube of resources bundled into two sites at 280 and 890 Broadway. And in March of this year, Gibney (having officially dropped "Dance" from its name) announced a major expansion of its space and programming; it now operates a total of 52,000 square feet, 23 studios and five performance spaces across the two locations.
Six of those studios and one performance space are brand-new at the 280 Broadway location, along with several programs. EMERGE will commission new works by emerging choreographic voices for the resident Gibney Dance Company each year; Making Space+ is an extension of Gibney's Making Space commissioning and presenting program, focused on early-career artists. For the next three years, the Joyce Theater Foundation's artist residency programs will be run out of one of the new Gibney studios, helping to fill the gap left by the closing of the Joyce's DANY Studios in 2016.
Keep reading...
Show less
Jay Sullivan Photography, courtesy Julie Granger
Dancers crossing over into the fitness realm may be increasingly popular, but it was never part of French-born Julie Granger's plan. Though Granger grew up a serious ballet student, taking yoga classes on the side eventually led to a whole new career. Creating her own rules along the way, Granger shares how combining the skills she learned in ballet with certifications in yoga, barre and personal training allowed her to become her own boss (and a rising fitness influencer).
Keep reading...
Show less


Get Dance Magazine in your inbox