Why Seattle Has Fallen For PNB's New Principal, Leta Biasucci
Leta Biasucci's on and offstage charm has made her a company favorite. Photo by Jayme Thornton for Dance Magazine.
Rehearsal is in full swing, and Leta Biasucci, Pacific Northwest Ballet's newest principal dancer, finds herself in unfamiliar territory. Biasucci is always game for a challenge, but choreographer Kyle Davis wants her to lift fellow dancer Clara Ruf Maldonado. Repeatedly. While she's known for her technical prowess, lifting another dancer off the floor is a bit daunting for Biasucci, who stands all of 5' 3". She eyes Maldonado skeptically, then breaks into a grin.
"It's absolutely given me a new appreciation for the partner standing behind me!" Biasucci says with a laugh.
Looking at Biasucci, 29, with her wide smile and eager curiosity, you think you see the quintessential extrovert. In reality, she's anything but. "I was an introverted kid," Biasucci says. "That's part of the reason I fell in love with dance—I didn't have to be talkative."
It's only one of the seeming contradictions in Biasucci's life: She's a short, muscular ballerina in a company known for its fleet of tall, long-legged women; she's also most comfortable with classical ballet, while taking on a growing repertoire of contemporary work.
---
Biasucci has enchanted Seattle ballet fans almost from the moment she arrived seven seasons ago. She has a charismatic stage presence that belies her size and exudes authentic joy, no matter what she's performing. She's also technically precise, known for her footwork, jumps and speed.

Meanwhile, her hard work has garnered her respect from her colleagues and her boss, artistic director Peter Boal. That dedication has propelled Biasucci through PNB's ranks, earning her a promotion to principal last September. It was the capstone of a whirlwind year that also included Biasucci's marriage, college graduation and a company tour to Paris.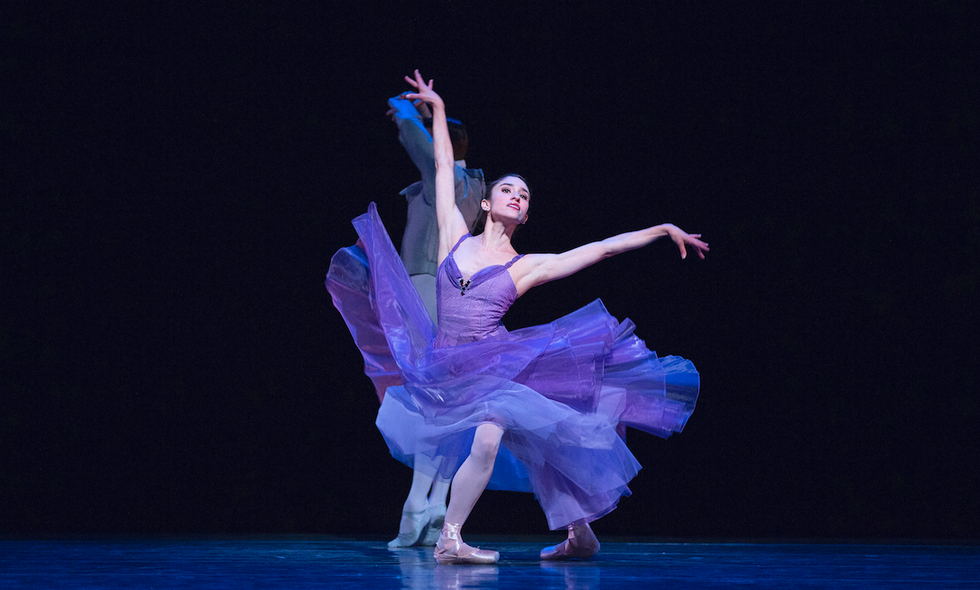 Biasucci in Jerome Robbins' In the Night. Photo by Angela Sterling, Courtesy PNB.
Biasucci grew up in Carlisle, Pennsylvania, the youngest of three girls. Although neither her parents nor her siblings danced, she was hooked as soon as she started a weekly tap/ballet combo class at age 6. After building her technique at Central Pennsylvania Youth Ballet, she finished her training at San Francisco Ballet's two-year trainee program.
She landed her first job with Oregon Ballet Theatre in Portland. During her second year there, OBT was facing significant financial challenges, and put some of its dancers on partial contracts.
"So I had a second job," Biasucci recounts. "I sold jeans. I was pretty good at it."
But Biasucci wanted to dance. On a lark, she and a friend drove three hours north to Seattle to take company class at PNB. Boal noticed her immediately.
"She was beguiling," Boal says. "Her turns were sometimes on and sometimes really off. But the way she'd come up with finishing combinations when they didn't go well, she had a unique quality."
Boal hired Biasucci, but he knew from the outset that she didn't really fit in with PNB's corps. "She was not always in line, her arms would be slightly different," Boal says. "She would sometimes drive us crazy."
Boal could have chosen not to renew Biasucci's contract; instead, he wound up promoting her to soloist.
"Leta has been growing as an artist since she was first hired," says Boal. "She's become more polished, more refined and more identifiable." He loves how Biasucci exudes a natural artistry onstage, excelling in everything from classical roles like Swanilda to Balanchine's jazzy "Rubies" to contemporary work.
In her first seasons at PNB, Biasucci was initially cowed by the expansive new repertoire. "Certainly, when I came I was a classical dancer. Put me in pink tights and a pointe shoe, I can do that," she says. Contemporary ballets remain a challenge. But she loves tackling them, and renowned choreographers like William Forsythe and Crystal Pite have featured her in their pieces.
She's not afraid to stretch herself. Last September, Biasucci and frequent partner Benjamin Griffiths danced the first pas de deux in Jerome Robbins' In the Night, a dreamy, romantic duet. "That was a role I probably wouldn't have cast myself in," Biasucci says, laughing. "It was outside my comfort zone: romantic, adagio, all of the qualities that I'm not!" Nevertheless, waltzing with Griffiths in her flowing purple skirt, Biasucci was the picture of a young woman in the midst of her first love.
Griffiths says Biasucci's willingness to throw herself into unfamiliar material is just one reason PNB's male dancers all want to partner her. "She is very passionate," he says, "but also extremely kind, gracious and fun."
Boal promoted her to principal not only because of her artistic abilities, but also her attitude. "She's just the most pleasant person to work with," he says. "She's so respectful of other people. She has the talent as well, but it's got to be both."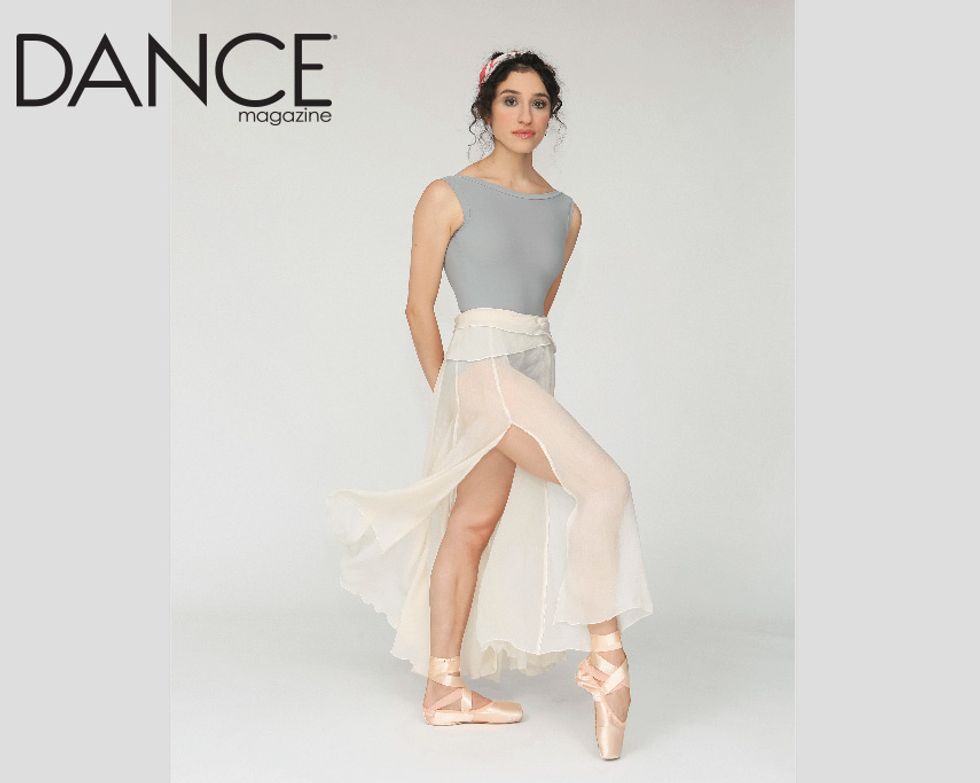 Leta Biasucci just earned a degree in arts leadership. Photo by Jayme Thornton.
Despite the demands of her career, Biasucci has a full offstage life. Like many people in the Pacific Northwest, she and her new husband, a design director, enjoy spending time outdoors. She says they're also homebodies who like to putter in the kitchen.
But Biasucci doesn't have a lot of downtime; she's spent the past seven years studying for a college degree in arts leadership. She's thrilled about graduating, but she hasn't really given much thought to life post-ballet. She still dreams of dancing the leads in classics like Giselle. But in her newest role, principal dancer, she has another goal.
"Being a role model and a mentor," Biasucci explains. "When I look back at my time as a younger dancer, I have such clarity of conversations with principals. Their kindness and generosity didn't go unnoticed."
Back in the studio, Biasucci is still struggling to lift Maldonado. Finally, fellow principal dancer James Moore walks over to demonstrate where Biasucci should place her hands, and how to tuck her elbows close to her torso for extra power. Biasucci watches carefully, then gives it a try, hoisting Maldonado by the waist, pivoting, then setting her down gently. Biasucci will keep rehearsing and refining the lift until it becomes second nature. As always, when the curtain goes up, she'll give the audience everything she's got.
From Your Site Articles
Related Articles Around the Web
Rachel Papo
In the middle of one of New York City Center's cavernous studios, Misty Copeland takes a measured step backwards. The suggestion of a swan arm ripples before she turns downstage, chest and shoulders unfurling as her legs stretch into an open lunge. She piqués onto pointe, arms echoing the sinuous curve of her back attitude, then walks out of it, pausing to warily look over her shoulder. As the droning of Ryuichi Sakamoto and Alva Noto's mysterious "Attack/Transition" grows more insistent, her feet start to fly with a rapidity that seems to almost startle her.
And then she stops mid-phrase. Copeland's hands fall to her hips as she apologizes. Choreographer Kyle Abraham slides to the sound system to pause the music, giving Copeland a moment to remind herself of a recent change to the sequence.
"It's different when the sound's on!" he reassures her. "And it's a lot of changes."
The day before was the first time Abraham had seen Copeland dance the solo in its entirety, and the first moment they were in the studio together in a month. This is their last rehearsal, save for tech, before the premiere of Ash exactly one week later, as part of the opening night of City Center's Fall for Dance festival.
Keep reading...
Show less
Ailey II artistic director Troy Powell teaching an Ailey Workshop at NYCDA. Courtesy NYCDA
Back in 2011 when Joe Lanteri first approached Katie Langan, chair of Marymount Manhattan College's dance department, about getting involved with New York City Dance Alliance, she was skeptical about the convention/competition world.
"But I was pleasantly surprised by the enormity of talent that was there," she says. "His goal was to start scholarship opportunities, and I said okay, I'm in."
Today, it's fair to say that Lanteri has far surpassed his goal of creating scholarship opportunities. But NYCDA has done so much more, bridging the gap between the convention world and the professional world by forging a wealth of partnerships with dance institutions from Marymount to The Ailey School to Complexions Contemporary Ballet and many more. There's a reason these companies and schools—some of whom otherwise may not see themselves as aligned with the convention/competition world—keep deepening their relationships with NYCDA.
Now, college scholarships are just one of many ways NYCDA has gone beyond the typical weekend-long convention experience and created life-changing opportunities for students. We rounded up some of the most notable ones:
Keep reading...
Show less
Getty Images
Dancers are understandably obsessed with food. In both an aesthetic and athletic profession, you know you're judged on your body shape, but you need proper fuel to perform your best. Meanwhile, you're inundated with questionable diet advice.
"My 'favorite' was the ABC diet," says registered dietitian nutritionist Kristin Koskinen, who trained in dance seriously but was convinced her body type wouldn't allow her to pursue it professionally. "On the first day you eat only foods starting with the letter A, on the second day only B, and so on."
Keep reading...
Show less
Left: Hurricane Harvey damage in Houston Ballet's Dance Lab; Courtesy Harlequin. Right: The Dance Lab pre-Harvey; Nic Lehoux, Courtesy Houston Ballet.
"The show must go on" may be a platitude we use to get through everything from costume malfunctions to stormy moods. But when it came to overcoming a literal hurricane, Houston Ballet was buoyed by this mantra to go from devastated to dancing in a matter of weeks—with the help of Harlequin Floors, Houston Ballet's longstanding partner who sprang into action to build new floors in record time.
Keep reading...
Show less