Lin-Manuel Miranda Has Had an Insane Couple of Weeks
Lin-Manuel Miranda showed up in the first teaser trailer for Mary Poppins Returns. Photo courtesy Disney, via IMDB
It's been a while since we checked in on Lin-Manuel Miranda, who at this point really needs no introduction. Today marks the 10-year anniversary of the Broadway debut of In the Heights, Miranda's first big hit that laid the groundwork for him to revolutionize the Great White Way with Hamilton.
But aside from that, he's had a pretty insane couple of weeks, even by Miranda standards. Here's what you might have missed.
---
Miranda got emotional telling Oprah about bringing Hamilton to Puerto Rico.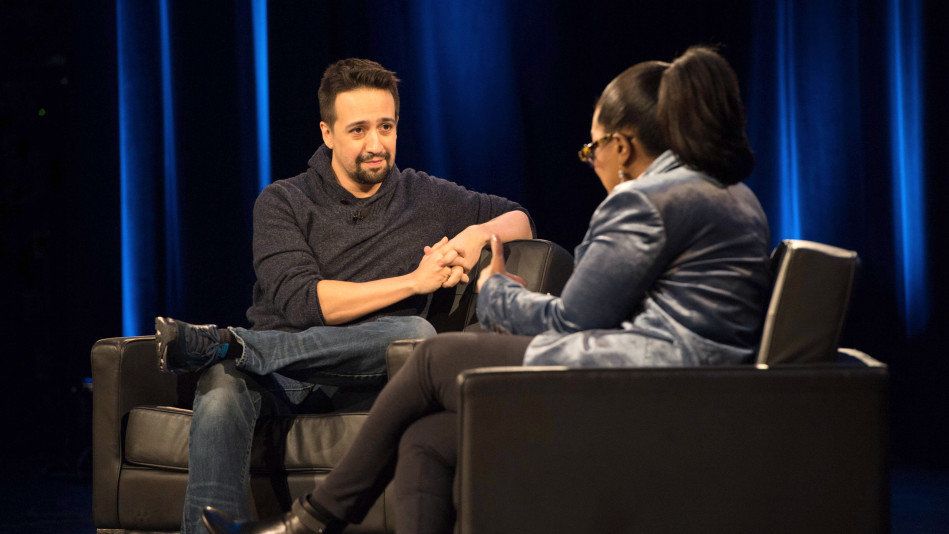 Miranda spoke to Oprah Winfrey for her "Oprah at the Apollo" series. Screenshot via oprah.com.
If you can listen to him talk about taking Hamilton home to Puerto Rico without tearing up, you're a lot tougher than we are. He'll be reprising his Tony-nominated role as part of his ongoing efforts to assist with recovery after Hurricane Maria. The hit musical lands in Puerto Rico January 2019.
We got our first glimpse of him in Mary Poppins Returns.
The teaser trailer for the sequel to the seminal movie musical is—dare we say it?—positively supercalifragilisticexpialidocious. (We're hoping for just a smidge more dancing in the full trailers.) It dropped during the Academy Awards, during which Miranda and his co-star Emily Blunt presented the award for Best Original Song (the category in which he was nominated last year for Moana).
Hamilton set a new record for Olivier Award nominations.
Lin-Manuel Miranda and the original Broadway cast of Hamilton. Photo by Joan Marcus, Courtesy Hamilton
Hamilton has broken so many records at this point that it's practically blasé, but scooping up 13 Olivier Award nominations (the British equivalent of the Tony Awards) is incredible. Beyond the Best New Musical nomination, Miranda is up for Outstanding Achievement in Music, Andy Blankenbuehler got a nod for Best Theater Choreographer and the West End cast has nominations in every eligible acting category except Best Actress in a Musical (including three of the four Actor in a Supporting Role nominations).
Miranda did an incredible, ridiculous lip sync performance of Weird Al's "The Hamilton Polka."
The March 2 February 30 Hamildrop was a Hamilton reimagining/remix/mashup by none other than "Weird Al" Yankovic. And if that weren't crazy enough, Miranda and Yankovic teamed up with Jimmy Fallon for an epic lip sync of the track.
James Beaudreau, Courtesy Lara
Inside a bustling television studio in Los Angeles, Lindsay Arnold Cusick hears the words "Five minutes to showtime." While dancers and celebrities covered head to toe in sequins whirl around preparing for their live performances on "Dancing with the Stars," Cusick pauses to say a prayer to God and express her gratitude.
"I know that it's not a given, and I'm grateful for the opportunity to do what I love for a living," says Cusick, a member of The Church of Jesus Christ of Latter-day Saints. For her, prayer is a ritualized expression of her faith that she has maintained since she was a girl in Provo, Utah. Even with her seven-plus years of industry experience, she always takes a moment to steady herself and close her prayer in Christ's name before rushing onto the stage.
Keep reading...
Show less
The hotly-debated Michael Jackson biomusical is back on. Not that it was ever officially off, but after its pre-Broadway Chicago run was canceled in February, its future seemed shaky.
Now, the show has secured a Broadway theater, with previews starting July 6 at the Neil Simon Theater.
Keep reading...
Show less
Jacques d'Amboise leading a National Dance Institute class. Photo by Lois Greenfield, Courtesy DM Archives
In the October 1969 issue of Dance Magazine, we spoke with Jacques d'Amboise, then 20 years into his career with New York City Ballet. Though he became a principal dancer in 1953, the star admitted that it hadn't all been smooth sailing.
Keep reading...
Show less
These days, social media is an essential tool for dance companies looking to promote their work. Karole Armitage's company, Armitage Gone! Dance, recently posted ads for their upcoming show at New York Live Arts, You Took A Part Of Me, a "mysterious and hypnotic display of erotic entanglement and unresolved attachment" inspired by traditional Japanese Noh drama.
Keep reading...
Show less